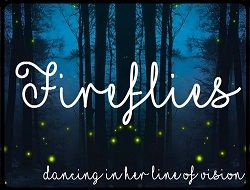 If you missed the first book - Fireflies - you might want to start there. It's here in its completion, written for Steemit. If you enjoy it, feel free to ask to be added to the subscriber list for the sequel, where new chapters are being released daily.
FIREFLIES (book 1) Chapters
1
2
3
4
5
6
7
8
9
10
11
12
13
14
15
16
17
18
19
20
21
22
23
24
25
26
27
28
29
30
31
32
Epilogue

FIREFLIES: Pupa
(book 2)
Entry 34
Irina?
Severing the connection abruptly, she quickly stopped the flow of essence and sealed the fissure that she had created. It was ok. She was still in control. He had never tugged against her or tapped into any latent power that he possessed - at least, not yet. He was open, and that was a good thing. Now she could begin preparing him for what she really had planned.
This was a grand experiment into the unknown, but one thing was certain: Resistance produced destruction. She had seen it now three times. The times when there had been a battle of the minds had only produced losses of varying degrees. But with her mother? Talia had seen the memory that was exclusive to Derek before she closed the flow between them. Aria had held her hand out to him, and trusted him. She had passed into Talia's world through Derek, and remained all that she was. Whatever happened next between Derek and herself, she knew that it needed to be cooperative.
But, Irina. Who was she?
Derek sat before her, eyes still closed. Waiting. Expectant. Tentative.
"You can open your eyes."
The sound of her voice disrupted the silence in the room. His dazed look convinced her that he was almost in a hypnotic state, vulnerable to suggestion, temporarily uncloaked. She didn't trust how long this state would last, so she spoke quickly.
"Who is Irina?"
"You." He simply had no other answer, and so that was all he provided.
Then, she would be Irina, and wait to see what time would reveal.



There are a lot of posts on Steemit, thanks for making this be on your list!

A few friends that asked to be notified of the next chapter
If you'd like to be added, I'd be honored.
These are the subscribers/readers that had either asked to be added to the subscribe list for the first book or joined in after it was published. I've only added you onto this list - just to make you aware that the sequel is coming out. Simply let me know in DM or as a comment that you'd like to be removed, and I'll do it immediately.
@enginewitty
@andysantics48
@monchhichi23
@scuzzy
@happysmileyman
@freedomtowrite
@kiwideb
@countrygirl
@creatr
@creed221
@quirky.countess
@coachjj
@notconvinced
@bethalea
@saffisara
@zen-art
@youngboss
@silversaver888
@cecicastor
@penderis
@tamala
@swolesome
@hazem91
@kchitrah
@arthur.grafo
@bluefinstudios
@snook
@yidneth
@joelithic33
@ydraz
@ancapbarbie
@eaglespirit
@eveningart
@dreemit
@misslasvegas
@chireerocks
@chinyerevivian
@kaerpediem
@dkkarolien
@jamerussell
@priyanarc
@dutybound
Thank you to @penderis for making my beautiful dreemgirl divider :)
Font used in this post