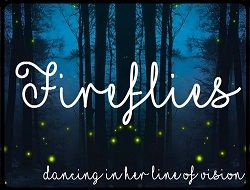 FIREFLIES: Pupa
(book 2)
Entry 38
As she opened her eyes in her world, she took a deep inhalation and cycled all the surrounding energy through her body. This world had always been her special place, but now it was becoming her home. The two people she cared about most resided here, in some form, and it was where her body, mind, and energy could rest.
Closing her eyes, she slowly dematerialized and flowed to where she felt the concentration of love. As her atoms and molecules began to piece themselves back together, her vision was reinstated. While she was "deconstructed", she could still "see", much like she imagined Bryd could see her. It was more like a recognition of the concentration of atoms in certain patterns - like seeing the blueprints for a building, rather than the building itself.
"Can't you rebuild yourself?" Talia suddenly spat out the most obvious question that had not occurred to her before then.
"I tried."
Talia could hear the resignation in Bryd's voice and it disheartened her. The next thought progressed naturally, but was unexpected and fortunate.
"What if I could help you?"
"How?"
"I don't know," she lied, "but would you be willing to try?" She knew exactly how, she just needed his willingness.
Always trusting, Bryd didn't hesitate to agree. "It would be wonderful to be able to actually see you again. I'll try anything."
Relief that the next step in her plan was accomplished was quickly replaced with guilt - which seemed to be a familiar fellow, following her from world to world.



There are a lot of posts on Steemit, thanks for making this be on your list!

A few friends that asked to be notified of the next chapter
If you'd like to be added, I'd be honored.
These are the subscribers/readers that had either asked to be added to the subscribe list for the first book or joined in after it was published. I've only added you onto this list - just to make you aware that the sequel is coming out. Simply let me know in DM or as a comment that you'd like to be removed, and I'll do it immediately.
@enginewitty
@andysantics48
@monchhichi23
@scuzzy
@happysmileyman
@freedomtowrite
@kiwideb
@countrygirl
@creatr
@creed221
@quirky.countess
@coachjj
@notconvinced
@bethalea
@saffisara
@zen-art
@youngboss
@silversaver888
@cecicastor
@penderis
@tamala
@swolesome
@hazem91
@kchitrah
@arthur.grafo
@bluefinstudios
@snook
@yidneth
@joelithic33
@ydraz
@ancapbarbie
@eaglespirit
@eveningart
@dreemit
@misslasvegas
@chireerocks
@chinyerevivian
@kaerpediem
@dkkarolien
@jamerussell
@priyanarc
@dutybound
Thank you to @penderis for making my beautiful dreemgirl divider :)
Font used in this post