My grandparents were quite advanced in age when my father, Wayne became unemployed.
He had been working at a unionized textile plant for 30 plus years and was making very good money as a boiler operator, making steem to run the machines.
The plant could no longer afford the outrageous wages that the union demanded so the company moved the plant to Mexico to take advantage of the inexpensive labor.
Two of my 4 uncles were still alive and neither one cared much about helping their parents. My father, had just become unemployed so the consenus was to move him in with my grandparents and allow him to provide care for the two.
Wayne, was not skilled in caretaking. At first it it wasn't an issue because my grandparents were in fairly good health but both began showing signs of dementia not long after he moved in with them.
Wayne struggled with providing the care that was needed. At this time my father began experiencing bad stomach pains and went to a doctor for treatment.
The doctor did minimal testing and sent him home saying "I think it is just gas pains".
This happened a number of times. Wayne would go to the doctor only to be sent home, but the pain and frequency kept increasing.
He finally switched to a different doctor and suprise....Lymphomo was the cause of the pain.
After tests were run it was determined that 2 growths were in his abdomen, one the size of a football, the other the size of a grapefruit.
Inopperable they said.
For a year he struggled.
He was always a believer in GOD but became especially close over that last year.
One day I received a call ftom the hospital...."it's time" the nurse said.
I told my wife "it's time. I am going to the hospital".
The children were very small then and was best for my wife to stay at home.
I hurried to the hospital. The nurses were administering pain medicines.
They allowed me to talk briefly with my father.
He was in a great deal of pain and the last large shot of morphine, I am convinced, was the cause of death.
The room felt different as he passed. It felt as if I could feel his spirit in the room watching, observing.
I drove home both sad about the loss and relieved his pain was over. This was at 2:30am.
I walked into the house and my wide eyed wife met me at the door with amazement. She asked "what time did you dad pass?"
I told her the time, it had only been half an hour or so since.
She said "I was sitting at the computer and something flew past my head. I looked and a mourning dove flew past my head and landed on the bookshelf over there!"
"It landed on the back of the chair and went behind the chair. Then when I looked behind the chair it was gone". She stated.
No windows or doors had been opened and mourning doves are not typically active in the early hours.
All I could do was go look behind the chair.
I found no dove but I did find a fresh feather behind the chair that upon inspection, belonged to a mouring dove.
The bird itself we never saw again.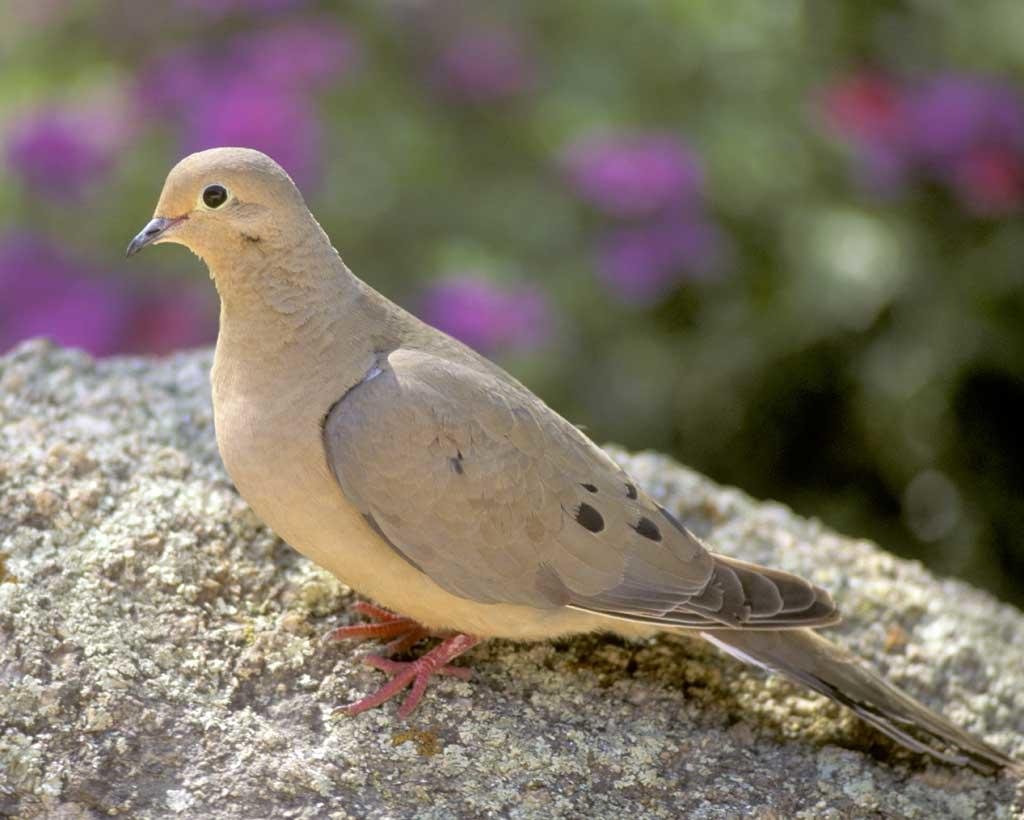 Image courtesy of: National Audubon Society
===============================
My dear friends sorry if this seems a sad tale. I do not think of it as sad.
I myself am recovering from a stomach bug and am doing better. This has been on my heart to write about for some time. If not a single person reads it I am happy to put a few words on screen and be my sole fan. I believe in the dove and held the evidence in my hands. I truly believe my father was saying "don't worry, all is well".
@saffisara
@dreemsteem
@thealliance
@swedishdragon
@brisby
@kerrislravenhill
@veryspider