I was pondering over what to write next for my little blog posts, just minding my own business when Along Came A Dragon.
Now, I have read about dragons in fantasy/lore and know there are different kinds of dragons. I am not an expert on dragons but do know from what little research I have done that dragons can be fantastical, legendary, mythical and more.
Never having actually met a dragon before, I was fearful at first, having one appear to me on Steemit. Once I got over the initial shock I began to interact with the dragon through comments and on discord.
I discovered that this particular dragon lives across the big blue ocean, in the country of Sweden.
I am guessing that is why she is called Swedish Dragon.
Now Swedish Dragon has been especially kind to me. I am not used to receiving gifts from people, let alone dragons. After knowing her for a short time I was given some extra valuable advice about Steemit. For this, I am very thankful.
After a few scant days of knowing this dragon I was looking at my Steemit wallet and something seemed strange to me. I had a small delegation going to @thejollyroger but when I looked at my SP I saw (899.00) or some large number like that.
My first thought was that somehow my delegation had been tampered with. Being a newbie here I wasn't sure what was going on so I asked my new friend Swedish Dragon and discovered that she had delegated 1000 SP to me.
This was a surprise and a shock.
I am not used to generosity such as this.
She did admonish me with "If I catch you misbehaving I will pull it ASAP!"
I assured her that "I write my little posts, vote, comment and encourage people". I added, "I am not misbehaving".
She replied, "That kind of behavior gets rewarded".
I am very thankful for the SP. I am very thankful for the pleasant surprise.
Dragon and I were talking that same day and I mentioned a little problem I was having at home romantically.
Everything worked fine (I know what you are thinking...Shame on you).
Everything worked fine but something was out of sync with my wife and me that prevented certain things from happening.
Dragon gave me some female advice.
I was resistant to it. "I know what I am doing...I have been doing this for a long time" I thought to myself.
As I kept pondering what the dragon had said, it occurred to me that I HAD been doing things a long time the same way. My way of doing things was causing the same lack of results to happen over and over.
Dragons are known for their wisdom.
A foolish man runs away from wisdom.
So I decided (finally) to do what my friend Swedish Dragon had suggested.
Bada Boom Bada Bing positive results happened.
In one day my dragon friend had cheered me up, made me laugh, taught me some Steemit tricks, rewarded me financially and sprinkled some "results" magic on me in one fell swoop.
She did all of this from many miles away and I am guessing with a stomp of a foot, a flap of a wing or swish of a tail.
Dragons I am finding are Wise, Magic, Generous and take care of their friends.
I am honored and blessed to have Swedish Dragon on my side.
Thank you, lady, for taking notice, caring about me and being a friend.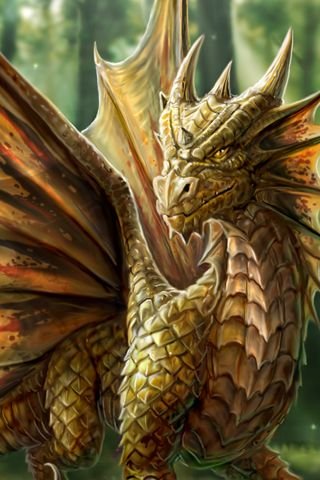 image by: https://www.soulinspirationllc.com/store/p163/Dragon_Reiki_of_the_Golden_Dragons_.html