"Woman, you and your daughter will do as I say!"
"We will do no such thing! You will not sell off my daughter like a bag of corn!"
"Oh, now she is your daughter! Where were you when the headmaster was demanding his fees?! Eh...?!"
I hid underneath Mama's wrapper and watched the shouting match between she and papa go on for almost two hours. I was only fourteen years old, but I knew enough to understand that I was the reason for their fight. I also understood why...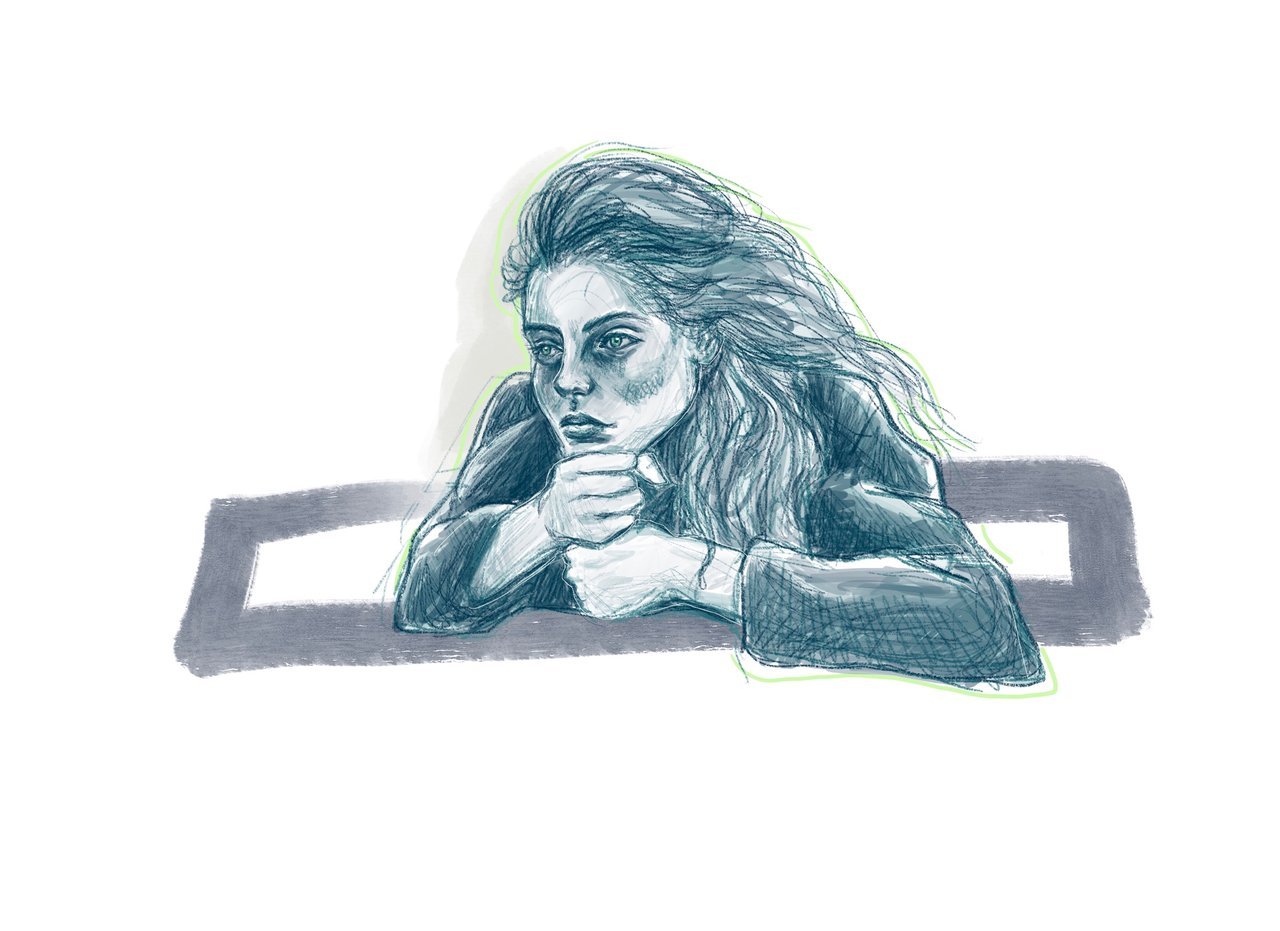 Defiled...
Image source: @vermillionfox
...
It was only about two months ago that the items had started arriving. First, they had brought the yams. Yams that had made even papa gape with admiration. They were as big as three large heads put together.
"A farmer indeed!" That was all papa had uttered for twenty minutes after seeing the first tuber (which was a rarity given papa had the peculiar gift of tongue - he could talk for hours on end without getting exhausted).
Then the beans had arrived, followed by rice. By the time the wrappers began to arrive, even I myself could tell. And I began to wonder whose marriage was being arranged.
Then he came. That man whose desire for a wife changed the course of my entire family. He came with his big car, the one whose front looked as ugly as the big nose of our village school headmaster.
I didn't like Chief (for that was what everyone called him) as soon as I saw him. With big rounded head, and a protruding stomach, Chief looked like the funny picture of Humpty Dumpty that my little brother used to draw. And sometimes when he talked, the way his big round head bubbled made me think it would fall off imminently.
Papa was intent on marrying me off to Chief. It was clear from the way he smiled and talked whenever Chief came around, or sent a message. For a couple of weeks Mama had kept quiet in public while she acted the dutiful wife. She had tried to convince papa in private that I was not yet ready for marriage. I had heard their whispers in the night while I pretended to sleep.
"Papa Ukamaka, but your daughter is only fourteen."
"Woman, if I had enough money like Chief, you would have been in my house long before you turned fourteen. Look at Uka, she even looks more grown up than you were when I married you."
"But papa Uka..."
I had forced my eyes close all those nights while I prayed for sleep. I didn't know all what marriage entailed, or the many different aspects of it that papa and mama argued about. But I was certain of one thing, I didn't want to go stay with Chief.
So when the day had come, I had told papa as much. And papa had finally erupted...
"Woman, you and your daughter will do as I say!"
"We will do no such thing! You will not sell off my daughter like a bag of corn!"
"Oh, now she is your daughter! Where were you when the headmaster was demanding his fees?! Eh...? When she needed school books? Where were you woman?!"
I held Mama's wrapper tighter, scared of what papa might do. But he only shouted, and soon after he walked out on us as mama continued to protect me.
Perhaps I should have never have said no to Papa's wishes, or maybe mama should have protected me more.
Because that night papa came into my hut. And right behind him was Chief...
...
"He's dead..." The words fell out of the doctor's mouth like cold hard drops of rain on a work morning.
Its effect both painful and cold, it was felt throughout the small room where we all gathered. I looked at mother. She sat across from me, her hands folded in fists, one atop the other. Both, a resting place for her set jaw.
"We tried our best, but..." The doctor's sympathetic speech faded into the background as I continued to focus on mother. I admired her steeliness, her calm..
She didn't even move, as if she had been stung by a numbing insect. Her disheveled hair and unkept look made her worthy of sympathy. And if I didn't know I would also have pitied her. Maybe I truly even did.
But I knew, I saw... I know it was mother who had poisoned father...
And somehow, I envied her...
THE END...?
---
The last couple weeks have been quite busy for me, having to make plans towards a change in location, and selling off stuffs not needed for the movement and whatnots. Somewhere in between all of that I decided to start writing this story as it came to mind.
It has taken me a couple of days to finish (if this is actually the end), and I hope someone enjoyed reading...
---