Russia vs. Egypt
Egyptian coach Hector Cuper praised Mohamed Salah and said he should be ready to perform on Tuesday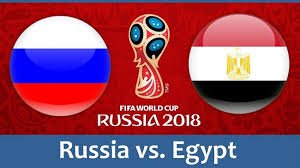 Salah is fit. We always carry out a last physical test before we announce our line-up and today we will have an important test for him to see how he does. I think he will be able to play. He is an essential piece in our team. He's a great player, a crucial player, that much is perfectly clear. Salah is one of the best players in the world. For me there's no shadow of a doubt there. It's an honor and a privilege to coach him. On top of being talented, he is humble. He is a team player and that at least for me is extremely important now. He's an important player for us. Nobody can deny that. I say it with all due respect to the other players in the Egyptian squad…. I think he'll be able to play.
Former Russian striker Dmitri Kirichenko thinks this match is too close to confidently predict a winner for
I think both teams have 50/50 chances of winning, because Egypt are quite a solid team. Playing them is not easy. They are competitive and quite strong physically. [Egypt] didn't create any chances without [Mohamed Salah] in the Uruguay game… How can we deter him? With concerted actions and good backup. It's clear that he won't be in his best shape, because he was absent for a long time. I think we could deal with him.