We went to see Miss Sloane last night at our local Cineworld.
What a movie..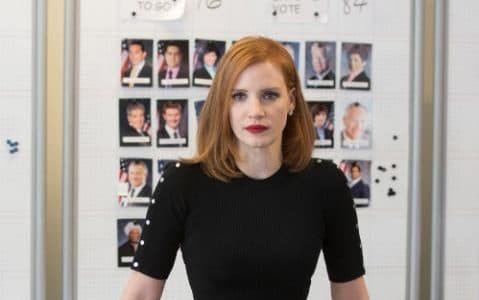 This film started with explosive dialogue and never stopped for 2 hours. If you like the Good Wife as that's how I am comparing you are in for a treat with this outstanding film which has so many twists and turns and has you on your edge of your seat all the way through.
It stars Jessica Chastain in the lead role and leading she certainly does .
Elizabeth Sloane is the most sought after and formidable lobbyist in D.C. Known equally for her cunning and her track record of success, she has always done whatever is required to win. But when she takes on the most powerful opponent of her career, she finds that winning may come at too high a price.
It also stars John Lithgow, Mark Strong, Alison Pill and Sam Waterston which are all good but Jessica Chastains performance as Elizabeth Sloan is outstanding.
The film is about the second amendment and the Gun Lobby. To say any more would ruin the film.. Strange how some film critics have not given this film higher ratings but then again I can only presume it depends which side of the fence you agree with.
I see new movies every week and I can honestly say this is the best movie I have seen this year.
A pure masterpiece which will have you thoroughly entertainedzabeth Sloane is absolutely outstanding and directed by John Madden.
This film is fast and furious with compelling dialogue and makes you really think about the Gun Lobby as this is the focus of the film and the second amendment.
The case Elizabeth Sloane takes on has a very topical resonance.
She pits herself against the gun lobby in Washington There is no sense that she is doing so because of her disgust at high school shootings or the escalating rate of homicide.
To her, the challenge is that this is a battle no-one thinks she can win. Early in the movie, her firm is approached to represent the gun manufacturers as they try to snuff out a bill that would place some restrictions on gun ownership.
They already have a strategy to "get women into guns" and to portray gun ownership as a tool of "female empowerment".
Sloane doesn't want the job. It isn't so much her aversion to guns or her disgust at the cynicism and sexism of the gun lobby that puts her off. The case just seems too easy.
It is strange that Rotten Tomatoes and a few other film critics have not given this film higher ratings as deserved but then I can only presume it is which side of the fence you vote for that may be blurring their vision.
I,m sorry but I cant write any more otherwise it woulkd ruin your enjoyment.
Go and see Miss Sloane as this is without doubt the best film I have seen this year
image courtesy of the telegraph