If you are old enough to remember the original 1970,s version of Wonder Woman with the former Miss World Lynda Carter I think you will be pleasantly surprised at this new remake with Gal Gadot who is a former Miss Israel.
Directed by Patty Jenkins and stars ; Gal Gadot, Chris Pine, Lucy Davis, Ewen Bremner, Saïd Taghmaoui, Danny Huston, Elena Anaya, Robin Wright, Connie Nielsen and David Thewlis.
What is nice is to see a woman Patty Jenkins directing this movie and directing this movie rather well.
The plot traces back to a magically hidden Mediterranean Island inhabited by a fearsome tribe of absolutely gorgeous warrior women.
The film starts with a young Diana daughter of Queen Hippolyta honing her fighting skills under the watchful eye of her warrior aunt Antiope , played by Robin Wright.
By the time Diana is all beautiful and grown up its clear that her talents runs far beyond those that might be developed in the Island's outdoor arenas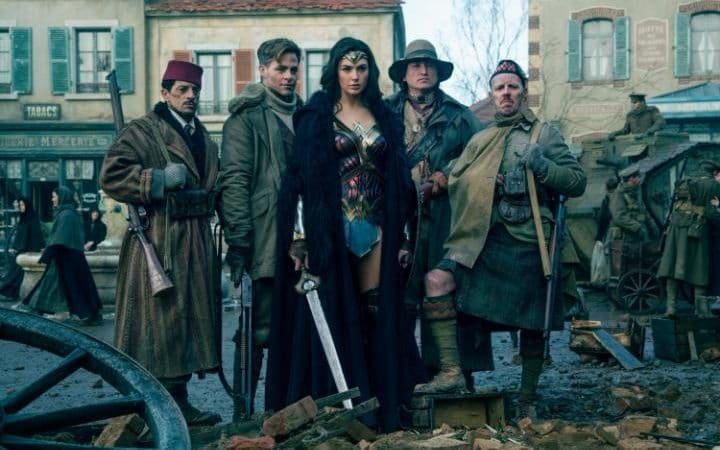 But while we are all wondering who her Father may be the story gets underway as the Island's foggy barrier is breached by a damaged World War One plane, flown by a man dressed in a German Uniform but turns out to be an American working for British Intelligence played by ex Star Trek fame Chris Pine .
Some great lines in the movie when Diana asks a question to Chris Pine when he is naked and just getting out of a hot pool.
Q. Would you say you are a typical example of your sex
A. I,m above average.
Naturally they now have a mutually established attraction which is clearly evident all through this film and played so well from both actors.
This is quite an action packed movie, well directed and well acted by all with some lovely lines and comical phrases, coupled with all her bullet dodging superpowers.
Great movie and a must to see..
images courtesy of the telegraph