The following review makes reference to the 2010 film True Grit and does not contain spoilers.
---



>>Source <<
---
Year: 2010
Category: Anti-Western.
Director: Joel Coen and Ethan Coen.
Cast: Jeff Bridges, Hailee Steinfeld, Matt Damon, Josh Brolin, Barry Pepper, Paul Rae, Ed Corbin, Domhnall Gleeson, Dakin Matthews, Jarlath Conroy, Elizabeth Marvel, Roy Lee Jones, Leon Russom, Bruce Green, Candyce Hinkle, Peter Leung, Don Pirl, Joe Stevens, David Lipman, Orlando Storm Smart, Ty Mitchell, Nicholas Sadler, Scott Sowers, Jonathan Joss, Maggie A. Goodman, Brandon Sanderson.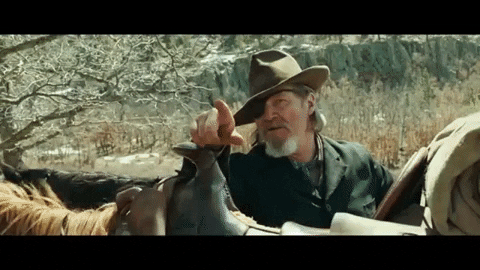 ---
Plot
Mattie Ross hires Marshal Reuben J. "Rooster" Cogburn, and allies with Texas Ranger LaBoeuf, to find Tom Chaney, her father's killer, after he fled to some part of Indian territory.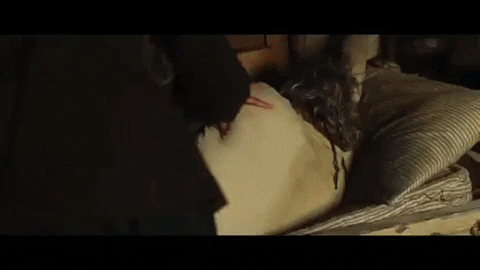 ---
Opinion
The movie begins with Proverbs 28: 1 on screen: "The wicked flee when no man pursueth." and immediately we heard a voiceover narrating how Tom Chaney, after getting drunk and losing all his money playing cards, murdered Frank Ross, and because nobody stopped him, he managed to escape.
Now, the little Mattie Ross, Frank Ross daughter, with only 14 years old is sent by her mother to Fort Smith, where her father died, to prepare the transfer of his body, but Mattie has her own plan in mind, she wants to capture to Tom Chaney and make him pay for his crime, then she hires Reuben J. "Rooster" Cogburn, a Deputy US Marshal, to do the job, also, Mr. LaBoeuf, a Texas Ranger who is looking for Tom Chaney because he is accused of the murder of a Texas State Senator, decides to join them and start the search for Chaney in the Indian Territory.
This film, directed by the Coen brothers, who previously directed Fargo, Burn After Reading and No Country for Old Men and other good films, is an adaptation of the novel by Charles Portis originally published in 1968, and which had already been made a film in 1969, directed by Henry Hathaway and starring by John Wayne.
I did not see the film made by Henry Hathanway in such a way that I can not make a comparison between the two films, I can simply judge this version by itself, and I think it's pretty good, it has a well written script, interesting characters with whom the viewer can sympathize, an excellent photography, with a lovely music by Carter Burwell accompanying the entire film and a fairly acceptable direction.
In the acting work we find Jeff Bridges as Deputy U.S. Marshal Reuben J. "Rooster" Cogburn, and does a convincing job; Matt Damon as Texas Ranger LaBoeuf and that despite not being his best performance he also does an excellent job; in addition to Josh Brolin as Tom Chaney and Barry Pepper as "Lucky" Ned Pepper, who have a short but effective participation. But Hailee Steinfeld is the true surprise of the film, because although now she has a career that has some other films, this is probably her best performance, for which she was nominated for an Oscar for Best Supporting Actress.
It is a film that takes the classic elements of the Western and blurs them, making their characters more human and not stereotypes of good and bad. The resulting chemistry of the relationship between the main characters formed by the triangle Jeff Bridges, Hailee Steinfeld and Matt Damon is quite good and makes the film remains entertaining even in its slowest moments. A story that is not too complicated, but that is narrated with charm and becomes a friendly story with which any viewer can enjoy.

---
Trailer
---
Score
8/10
A good script accompanied with an excellent direction, and a set of sympathetic performances make this a very entertaining and extremely delicious film. I like it and I recommend it, although I can not say if it is better than the 1969 version or if it is loyal to the novel. At the time of publication of this review the film is available in the Netflix catalog of Belgium, Germany, Greece, Netherlands and Switzerland.
---