---
---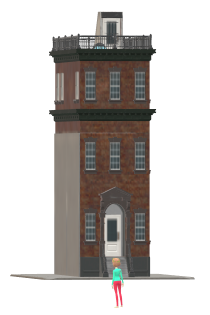 When I was eleven years old my family moved to New York City, and I met my first cockroach. It was a one-sided romance. As much as I detested these bugs, they seemed drawn to my apartment. The phrase, "patter of little feet", held particular meaning, as I could hear the critters running around at night (or did I imagine that?). Cockroach nightmares were inevitable. So when I read the beginning of this story, written by @f3nix, the roach caught my imagination. It was easy for me to reproduce a roach nightmare, backed up by a little bit of research.
---
---
A few "fun" facts, incorporated into the story:
*Roaches really like the smell of each other's poop.
*Roaches like to hang out together--they are quite social, though not highly organized (as compared to ants, for example).
*Roaches are omnivores. They will eat anything.
*Roaches have been known to eat human eyelashes.
*Roaches are rather familial. Generations of roaches may stick together.
---
---
At the end of my (gruesome) tale, I'll add a bit of positive information about roaches.
Right now, prepare to enjoy the combined efforts of @f3nix and @agmoore, in this week's edition of #finishthestory, sponsored by that font of creativity @bananafish.
---
---
The First Part of the Story, by @f3nix
---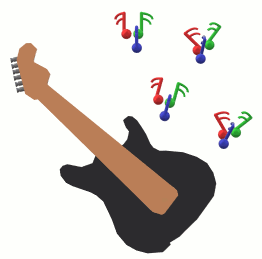 Blue Inferno for Tres Culos
"They're coming outta the walls! They're coming outta the goddamn walls!"
Tres Culos awoke startled, at the sound of his own raving nightmare. A muffled sound that multiplied in the bottled and synthetic sounds of a dinghy seen from the inside.
Where the hell was he?
Around him, a blue claustrophobic hell jolted convulsively, smashing him repeatedly against plastic walls encrusted with unspeakable miasmas.
"I was hoping that hell was more spacious and above all less shitty, in the literal sense of the term." He thought as a trail of excremental smell slapped him almost with the same physical strength of the umpteenth jolt.
Tres Culos was still too stunned and disoriented to react to that torture. He tried to faint again, but the smell did not allow it. Even the after-effects of what looked like a colossal hangover couldn't help him.
Now that he was slowly focusing on himself, he tasted something different in his mouth than the usual rancid of the after-booze. Something bitter. Something that moved jerkily.
"Yearrrrrrgghhhhhhhhhhhh!" He spat and screamed together. On the grey floor stood a cockroach still tangled in Tres Culos' saliva. The brown insect seemed to look at him scornfully as if it wanted to say "Wassup, never seen a roach?" If it had a small arm, it would surely have shaken his fist as a challenge to the wide-eyed Tortillas De Pelo bass player.
"Mum, there's a screaming toilet!" On the sidewalk of Allerton Avenue, a child tried to interfere in the conversation between his mother and the neighbour with the only result of receiving a frowning look.
For Tres Culos, the revelation took place progressively, triggered by the irreverent attitude of the cockroach. The bassist's eyes slowly moved from the insect to the wall ahead of him. On the blue-spotted plastic stood an inverted heart that could very well be interpreted as a bum: he knew that sign. A ubiquitous symbol in all rock festivals in which he had participated.
The brand of the renowned Montezuma porta-potties. He was imprisoned inside a fucking chemical bath.
He tried to open the door. He tried to undermine, crack, push his shoulder against the bloody door, but there was nothing to be done. At the umpteenth jolt, another moment of awareness struck him: the door would not open because it was pressed against other toilets, all piled above a van in movement.
He screamed asking for help until almost vomiting. And it was between one gagging and the other that he heard a guitar riff coming weakly through the wall. His beady eyes widened as his already fine lips blanched and stretched out in surprise.
"Machete is that you! What the hell are you doing here?!"
"Hi Tres, did you hear this riff?" Answered the unmistakable voice of the Tortillas guitarist.
"Machete are you telling me that while we die slowly because of the shitty smells, your only idea is to play? And then, for God's sake, why were you in a toilet with the guitar? "
The presence of the guitarist made his hypothesis of an accidental post-concert kidnapping unlikely.
"Très .." The guitarist continued complaining "There's very little we can do. Have you ever heard of the legend of the Masonic porta-potties association?"
"If there was Mendoza, he would take us out with one of his plans." Tres Culos thought desperately.
"This guitar riff is really cool. If only there was Tìo Billy, I would ask him to follow me with the drums." Machete thought.
---
---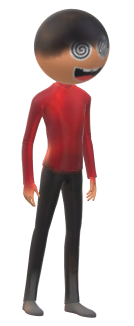 My part of the story:
---
The Cockroach Rules
By @agmoore
He'd taken a right turn into an orifice rich in nutrients. Delectable tidbits were scattered throughout the cavity, and he made a note of where they were located. He intended to eat every last one. At the very moment of his expulsion, he'd begun to munch on a tasty bit of roast beef. Extracting the morsel from a tight crevice had been difficult, but well worth the effort. Then, the explosion. The Thing spat him out with the roast beef still clutched in his mandibles.
Viscous saliva allowed for a cushioned landing. This slime was rather pleasant to his senses, but contained little in the way of nutritive value. The minutest fragments of this and that were spread throughout the goo. What really bugged him, though, was not so much the loss of a meal, but the rough treatment he'd received from the Thing. Summary judgment, and crass disrespect for personal dignity. This would not be tolerated. He, Luis Mangione, could not let insult from the Thing stand without response.
What to do, what to do. The assailant was large. This would take a grand plan, and lots of help.
He began to poop. That would summon enough allies to work his revenge. They were all nearby, hanging around the porta-potty. Everybody knew everyone else, and most of them were related. Best of all, none of them could resist the smell of roach poop. Given the amount of food he'd recently consumed, generating this product was not a challenge.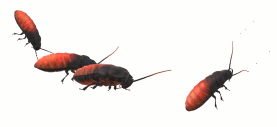 Soon the place was literally crawling with buddies. Hundreds of them. He told them to poo, because hundreds wouldn't be enough for what he had in mind. And so his buddies applied themselves to the task. In a very few moments, the mass of cockroaches in the porta-potty left little room for the Thing.
Once critical mass was reached, Luis explained what had happened to him and what he intended to do.
This was a loyal crew. They were all indignant and recognized that the plan was good, because the Thing was vulnerable. He was alone, trapped in a porta-potty with a blocked exit. It was dark, and he was disoriented. Overwhelming him would be easy, if the roaches acted in concert.
And so they did. They swarmed up his pant legs, onto his groin. Into his ears, through his hair. They made a beeline for the eyes and quickly removed his lashes. He swatted frantically but with little effect as every entry point in his body was invaded. He gagged as they climbed through his nose and down his throat.
The army of roaches finished their mission long before the truck carrying the porta-potty stopped. When the door to the ambulatory toilet unit opened, and fresh air poured in, the human was discovered with his mouth agape, his lashes stripped and large red welts all over his body.
---
---
---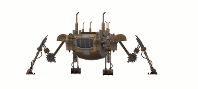 ---
To end on a more positive note:
Cockroach Robots
---
Researchers at the University of Berkely have studied how cockroaches climb walls. It seems that, when a roach runs into a wall, it absorbs the energy from the impact and uses that energy "to go up the wall in approximately 75 milliseconds".1 With this information in hand, members of the robotics and biology departments worked together to create a shell for robots that would act like the cockroach's body. In this way, a robot could collide with something without doing harm. The energy from the collision would be absorbed by the robot.
The Berkely researchers envision developing rescue robots that can squeeze into spaces. This would be a great asset in extracting people from collapsed buildings--say, after an earthquake.
Check out this "roach" video to see how these creatures inspire robot design.
By the way: cockroaches play an important role in nature. While they torment humans in the home, elsewhere they are important decomposers and also help to spread seed for a certain species of plant (see previous citation). They also are a food source for many animals.
---
---
This post has been both entertaining for me to write, and also an opportunity to learn more about the despised cockroach. While these critters don't belong in our homes, they do have a place on earth.

Footnote
UC Berkeley researchers build wall-climbing robot based on cockroaches http://www.dailycal.org/2018/02/15/uc-berkeley-researchers-build-wall-climbing-robot-based-cockroaches/

All illustrations created with the help of
Paint
/
Paint 3D
/
GIMP