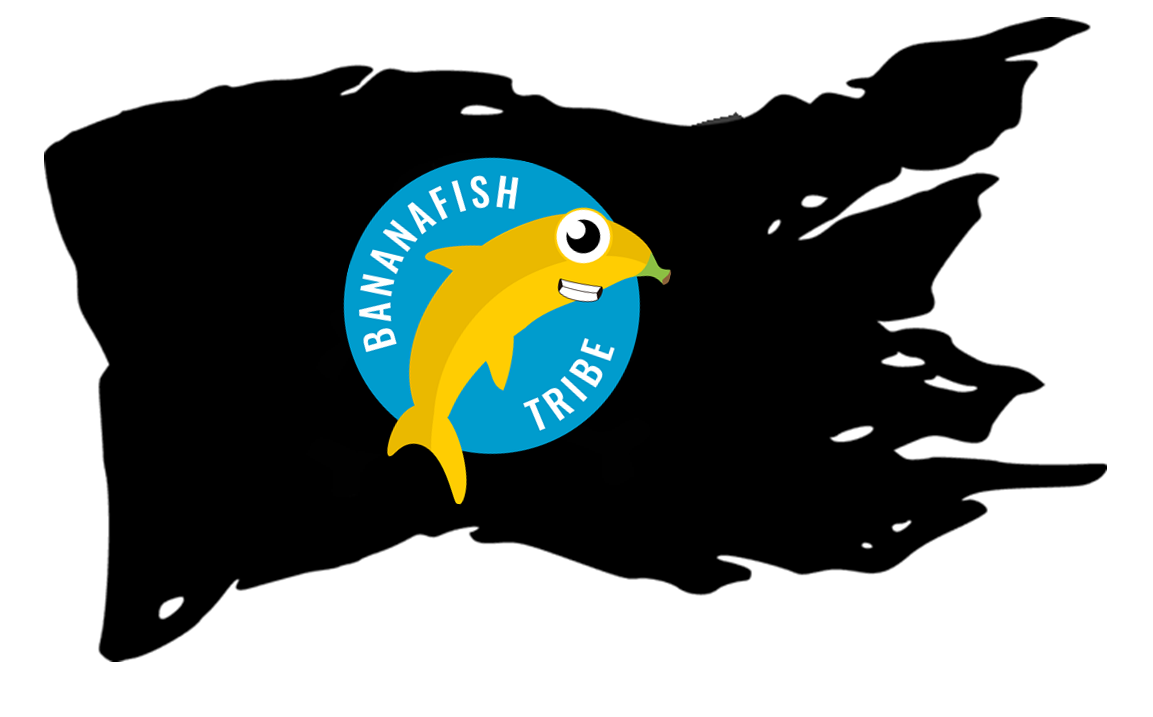 This is what we are and what we believe in this growing family of writers
REALMS OF THE BANANAFISH
Welcome to the Bananafish! This is a weekly contest which developed in a community of writers. The Bananafish is peaceful, inclusive, multi-cultural, non-politically or religiously oriented. We welcome every point of view, as long as it's expressed in a respectful and non-dogmatic way. The Bananafish is irreverent and totally independent. We love jokes. We don't like tags of any sort. We are a bunch peaceful writers, averse to any form of violence, intellectual or physical. We don't like people with attitudes. We laugh at people boasting themselves for their steem power or taking themselves too seriously. Our weekly initiatives offer to everyone a caring environment in which training creativity, improving as a writer, gaining rewards and growing with likeminded steemians. Such focus on contest initiatives makes us different and allows us to enrich our blogs with great contents in a friendly competition setup.
OUR CORE VALUES
Freedom, creativity, inclusion, diversity, solidarity, empathy, quality, human growth.
FINISH THE STORY CONTEST
Relax and feel at home. You don't have to be a writer to participate or having any writing skill at all. We'll improve and have fun together. The contest is half a creativity workshop, half a mind training to enhance open-mindedness and inspiration. The first goal of this contest is to stimulate everyone's creativity and fiction ideas. That's why we encourage people, writers or not, to take it easy and just enjoy the many benefits coming from such weekly practice. The contest rewards quality. When posting, we'll always point on quality over quantity. There are no rules but shared behaviors. In our family on Steemit, we encourage mutual interaction, empathy, and solidarity between members.
MIZU NO OTO CONTEST – EVERY IMAGE HAS ITS HAIKU
With the same relaxing and cozy atmosphere as the Finish the Story, this contest is open to every poetic soul, regardless of experience or skill. It's the only place on Steemit where people can study together the original haiku, starting from the classical Japanese aesthetic concepts, and can experiment it in the more contemporary forms. It's also a bridge between cultures and sensibilities, open to different languages. The contest is an excuse to know each other better and to learn together this elegant and delicate form of poetry. We are all students and we can all be masters in this since nobody stands as an expert, but only as a researcher.
Thanks to everyone who's making all this possible and growing. Every constructive comment is welcome! Don't forget to join our discord server, the Bananafish Realms. In the Realms, you will update yourself about the Finish the Story and the Mizu no Oto contests and meet all sort of bizarre creatures.

Esto es lo que somos y en lo que creemos en esta creciente familia de escritores.
REINOS DE BANANAFISH
¡Bienvenidos a Bananafish! Este es un concurso semanal que nació en una comunidad de escritores. Bananafish es pacífica, inclusiva, multicultural, apolítica y sin orientación religiosa. Estamos abiertos a cualquier punto de vista, mientras sea expresado de una manera respetuosa, sin dogmatismos. Bananafish es irreverente y totalemente independiente. Nos encantan las bromas. No nos gustan las etiquetas de ninguna clase. Somos un puñado de escritores pacíficos, en contra de cualquier tipo de violencia, intelectual o física. No nos gusta la gente con actitudes. Nos reímos de aquellos que se dan ínfulas por su steem power, y de quienes se toman demasiado en serio. Nuestras iniciativas semanales ofrecen a todos un ambiente de apoyo en el cual entrenar la creatividad, mejorar como escritor, ganar recompensas y crecer junto a otros steemians de ideas afínes. Concentrarnos en iniciativas de concursos es lo que nos diferencia y nos permite enriquecer nuestros blogs con buen contenido, en un entorno de competencia amistosa.
NUESTROS VALORES
Libertad, creatividad, inclusión, diversidad, solidaridad, empatía, calidad, crecimiento personal.
CONCURSO FINISH THE STORY
Relájate y siéntete en casa. No tienes que ser un escritor ni tener habilidad escritora alguna para participar. Mejoraremos y nos divertiremos juntos. Este concurso es mitad un taller creativo, mitad un entrenamiento para abrir la mente y mejorar la inspiración. El principal objetivo es estimular en todos la creatividad y las ideas para ficción. Por eso animamos a todos, escritores o no, a tomárselo con calma y disfrutar los muchos beneficios de esta dinámica semanal. Premiamos la calidad. En cuanto a posts, siempre preferimos calidad sobre cantidad. No hay reglas, sino comportamientos comunes. En nuestra familia en Steemit alentamos la interacción mutua, la empatía y la solidaridad entre miembros.
CONCURSO MIZU NO OTO - CADA IMAGEN TIENE SU HAIKU
Con el mismo ambiente relajante y acogedor que Finish the Story, este contest está abierto a todas las almas poéticas, independientemente de su experiencia o habilidad. Eso es el único lugar en Steemit donde las personas pueden estudiar juntas el haiku original, a partir de los conceptos estéticos japoneses clásicos, y pueden experimentarlo en las formas más contemporáneas. También, es un puente entre culturas y sensibilidades, abierto a diferentes idiomas. El concurso es una excusa para conocernos mejor y para aprender esta elegante y delicada forma de poesía. La mejor parte es que todos somos estudiantes y todos podemos ser maestros en esto, porque nadie es un experto, sino solo un investigador.
Gracias a todos los que hacen que esto sea posible y continúe creciendo. ¡Cualquier comentario constructivo es bienvenido! No olviden unirse a nuestro servidor de Discord, Reinos Bananafish . En los Reinos encontrarán más información sobre los concursos Finish the Story y Mizu no Oto, y podrán conocer toda clase de criaturas extrañas.