Q: Back Arch March? What is that?
It's a month long 'challenge' for those that stretch to practise and improve their backbends. One of my current goals is to improve my basic backbend (aka bridge, wheel pose) so this is the perfect opportunity for me to be accountable for my progress by blogging about it! For me, my goal is to achieve a higher level of flexibility than is needed for normal day-to-day life as it's important for my dancing.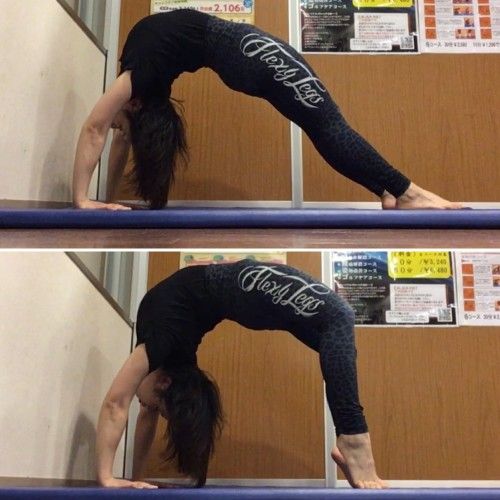 Q: What is the point of back flexibility?
For those who don't share the same goals as me, backbending can seem as an unnecessary thing to do. When will you need to do a full backbend (aka bridge or wheel pose)? Who wants to risk back and spinal injury just for the sake of a cool photograph?
Well for starters, when you start to get old it will make a world of difference in your basic functionality and quality of movement. Sitting down and standing up, picking things off the floor, tying shoelaces etc. If you don't work and maintain your back flexibility now, you will regret it later. Flexibility in all areas of your body is important for healthy aging and back flexibility is no exception.
Also:
It improves your mental well being
Reduces the risk of injury
Improves your posture
Release excess muscle tension
I hope that anyone who reads my posts will find some useful information, however small. I'm in no way an expert in the matter of stretching but I'd like to consider myself at least knowledgeable in the subject, having danced for over 10 years and currently teaching stretching online as well as working towards a stretching certificate.
I don't have any products to advertise, I don't have a YouTube channel that I want you to subscribe to, I don't have a Patreon account etc. My main purpose is to share my flexibility journey - what I found difficult, what stretches worked for me and to be accountable for my stretching goals.
Q: Will this be useful for me?
Well I hope that this will be -
Easy to understand - anatomical terms are difficult to understand but I hope I can explain it simply.
Informative - stretching covers a wide range of topics, from your eating lifestyle to the time of day you stretch. There's a wealth of information out there but I'm going to pick out what I think is important.
For everyone - there's always new methods of stretching that promise weight loss, insane flexibility etc. but I promise you, the only way to be more flexible is to stretch the 'boring' way - that is, consistency. By being consistent, anyone - regardless of gender, age, lifestyle, income and injuries - can improve their flexibility.
Interactive - I'm always looking to connect with like-minded people so if you know of any blogs or tags to follow please let me know as I am still very much new to this site.
Q: What topics will you cover?
I'm planning to cover:
Beginners guide to back stretching
What happens when you backbend?
How to backbend safely
Stretches to strengthen the back
Stretches to alleviate back pain
Back stretches to do in the office
Back stretch routines
Stretches for a healthy, mobile back
So if you have any questions please feel free to comment!