LET THE GAINS BEGIN!
Have you ever hit a wall when you are looking to build the ideal version of your body? I know I have, and it can be a very frustrating time in our training journey.
What prevents you from deflating and giving up at these frustrating and painful times? For one, we must understand why we have hit the wall, and how we can continue to progress.
It is incredibly easy to waste time in the gym, and without a structured battle plan for which to achieve your goals, you are likely to continue to see little to no results for your actions.
THE GOAL OF THIS ARTICLE IS TO BOIL DOWN THE BASICS IN ORDER TO GIVE YOU SOMETHING YOU CAN USE IMMEDIATELY.
No more bashing our heads into the brick wall of stagnation, or hitting a plateau when there is a simple solution (though not always an easy one!) to our current problem.
MUSCLE HYPERTROPHY, which is a fancy way of saying "making your muscles bigger", is a very complex subject. Lucky for us, we can extract the main concepts and put them to use for us in our training and diets without a major headache or spending countless hours reading dry material.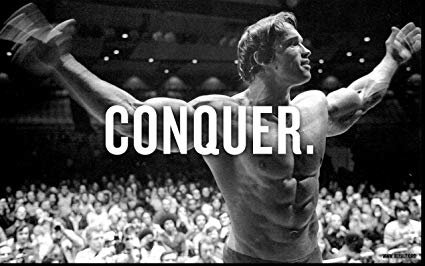 Image Source
First thing is first. LET'S KEEP IT AS SIMPLE AS WE CAN WITHOUT CAUSING LOSS OF GAINS.
1) DIET: MAINTAIN AN APPROPRIATE CALORIC SURPLUS: I consider this the most important step in our quest for muscle hypertrophy, because without this you will DEFINITELY FAIL. This means if you want muscle to grow, you must feed your body more calories than you burn every day.
If you want to confirm this information, here is an article that goes into detail about how to do exactly that:
https://jcdfitness.com/2010/03/the-perfect-caloric-surplus/
And if you REALLY want to dig deep, a peer reviewed article linking excess protein accumulation to muscle hypertrophy and the anabolic after effects:
https://www.physiology.org/doi/abs/10.1152/jappl.1996.81.6.2509
A) SET YOUR DAILY CALORIC INTAKE AT 500 CALORIES MORE THAN YOUR TDEE(Total Daily Energy Expenditure). This is a rough estimate of what will get the job done most effectively, without adding a ton of fat to your body in the process (and one that I personally use)
Easily calculate your TDEE here:
B) MAKE SURE TO EAT AT LEAST 1G OF PROTEIN PER POUND OF BODY WEIGHT A DAY. Your excess calories to meet your daily calorie total can come from any combination of protein, carbohydrate, and fat that you wish. Just make sure you get enough protein!
This is backed by years of proven research in scientific peer reviewed articles. If you want to know why, then check this out:
http://www.biochemj.org/content/156/1/185
2) TRAIN WITH HEAVY WEIGHTS, FAVORING COMPOUND EXERCISES (Bench Press / Squat / Deadlift / Overhead Press): Compound exercises recruit a significantly larger amount of muscle fibers at once compared to isolation exercises. This signals to your body that it is time to grow! There are countless studies and articles proving why this is the case, and here is one to glance at if you are so inclined:
https://www.muscleforlife.com/compound-exercises/
A) MAINTAIN PROGRESSIVE TENSION OVERLOAD: You should always aim to lift heavier weights with every new training session (it will not always happen, and can be slow, but you must proceed!)
Here is a peer reviewed article showing why this is so important to building muscle:
https://link.springer.com/article/10.1007/s00421-010-1601-9
B) LIFT IN THE 6-8 REP RANGE, AND LIFT TO FAILURE: This is because you want to recruit as many muscle fibers as possible, and lifting heavy enough to fail in this rep range will recruit a lot of muscle fibers, thus maximizing your chances of stimulating muscle growth.
Refer to this great guide on how to best stimulate muscle hypertrophy while training:
https://legionathletics.com/hypertrophy-how-to-build-muscle/
C) STRIVE FOR 12-15 WORKING SETS PER WORKOUT: Any more than this is totally unnecessary, and if you are really working in the rep ranges with heavy weights as mentioned above, you will be tapped out and likely exhausted!
Again, refer to this great guide for why this works so well:
https://legionathletics.com/hypertrophy-how-to-build-muscle/
3) REST: No fancy explanation necessary here, other than you have to give your muscles time to recover and grow. This is best done with adequate sleep, clean eating, and staying hydrated post workout and on your days off.
I hope you enjoyed the read as much as I enjoyed writing it!
Feel free to comment and let me know how you feel about this method of training and dieting for muscle growth.
*I am not a professional trainer, nor does any of my advice replace the council or consent of a physician or professional trainer. This article assumes one is training naturally, without the use of performance enhancing drugs. Do your research and diet/train at your own risk. Heavy weights have the potential of being dangerous, so use the help of a spotter if needed, and make sure you use proper form in all exercises! Best of luck in your journey! *