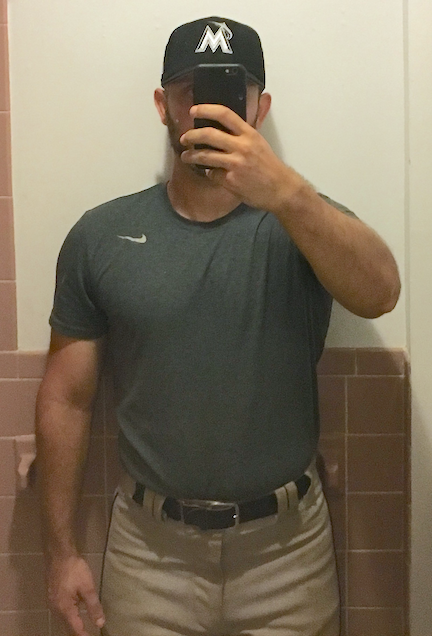 Here's a shot after my 2 baseball games today. I'm getting back in proper shape and feeling 10 years younger from this challenge. You can benefit from it too.
I played catcher for the entire first game, an easy task after all of my recent squats. I then played second base for the next game, and pitched a scoreless inning -- striking out a nemesis on three huge swings. My bat came alive with 3 hard hit balls in play and one pop out. I had one absolute rocket of a hit, a deep fly out to left I got slightly jammed on (one inch more towards the sweet spot of my bat and it'd have been a moon shot), and a hard grounder right at the shortstop's glove side. I finished 1-4, but had a strong swing today. Sometimes the ball just doesn't go your way. People were buzzing about my laser beam down the third base line for a few innings. You can't hit a ball much harder.
By popular demand, shoulder presses have been added to the challenge options. Please include the weight. Thanks, @thevillan. Hope to see you around more now.
-- 400 reps from 4 Steemians for this round.
Please step up for yourselves to improve your health right now. It's our most valuable asset.
---
You can work together to produce "team reps" to more easily get involved.
As long as 100 reps of a combo of push-ups, squats, and shoulder presses are done, reply on my post with those who helped.

I encourage more of this so people don't feel intimidated. The goal is to be happy, proud, and healthy from this exercise and participation.

Excuses are thinning!
Current charts with everyone's stats and progress: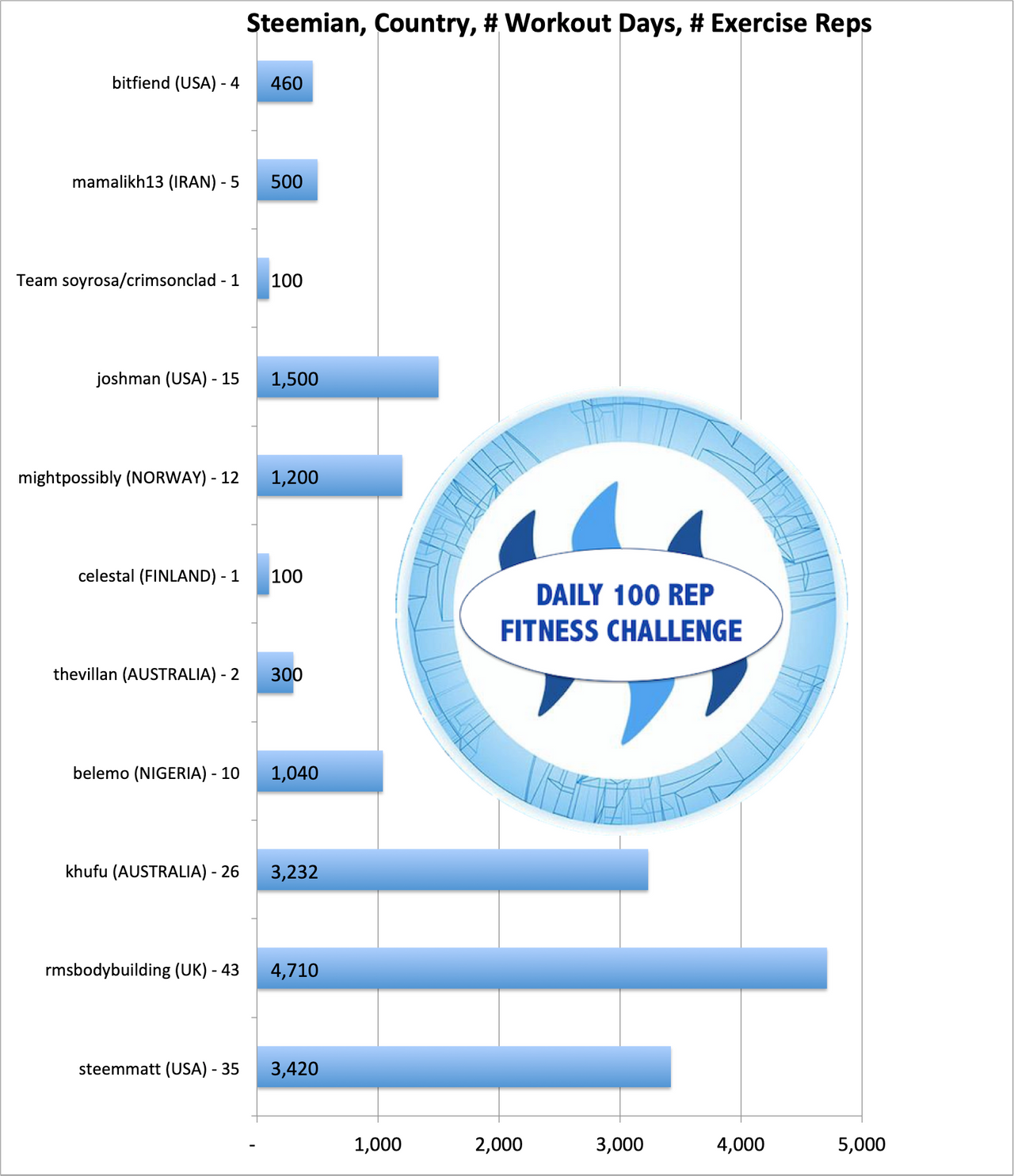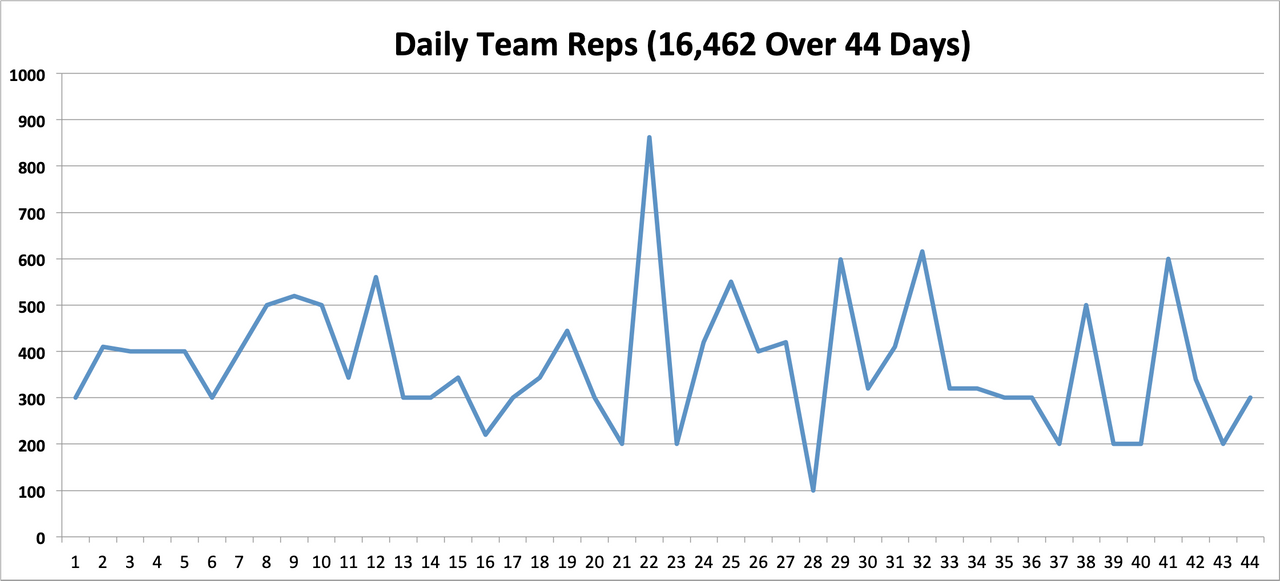 It's not a competition between people, but it's one with ourselves to improve our health and wellness.
---
Day 44 Results: 400 reps from 4 Steemians for Saturday EST, 9/28.
Talk is cheap. Actions matter. Thank you for being involved!
---
My 9/28 Reps & Feedback: Rest day for baseball on Sunday AM. I desperately needed it. I also had a light 90 minute baseball workout.
I'm still amazed every day at how fit my legs are getting from these squats. Yes, I've been tired from them and walking constantly, but my quads, hamstrings and calves are getting in unbelievable shape... all from air squats without weight. I really can't believe it.

Weight ~193 pounds, down from ~211 in March.

I never use supplements or any type of cheating. Just food, hydration, passion and hard work.
---
Today's Highlights:
By popular demand, and to get @thevillan involved more, shoulder presses have now been added to the challenge.
---
What's the challenge?
100 reps from:
Push-ups
Air squats/squats
Shoulder presses (include weight)
Reply below with an affirmation, pic, link, or video. We're on the honor system.
*Team entries are now accepted.
If you can't do all of the push-ups, I know you can do squats for the rest. Get involved!
To people new, see the kickoff post linked below. We'll be opening up to other exercise types in due time. I'm trying to keep this simple for now to get everyone assembled and on the same page.
This is for your health. Why not try to join us just once to see how it goes?
---
To any interested Steemians who want more info/background: *Please see this link from the kickoff post for details.
Everyone please support and encourage the team here. They're working hard to build a community the hard way. It's about the bigger picture.
Again, this is just a baseline of activity for the day. Use good form to avoid injury and to get the best results.
This will be far from all I do on most days, and the same can go for you.
---
Markets and spirits may be down now, but our health should always be on the rise.
Rep on,
@steemmatt
P.S. - Please use the fitnesschallenge tag if you can.