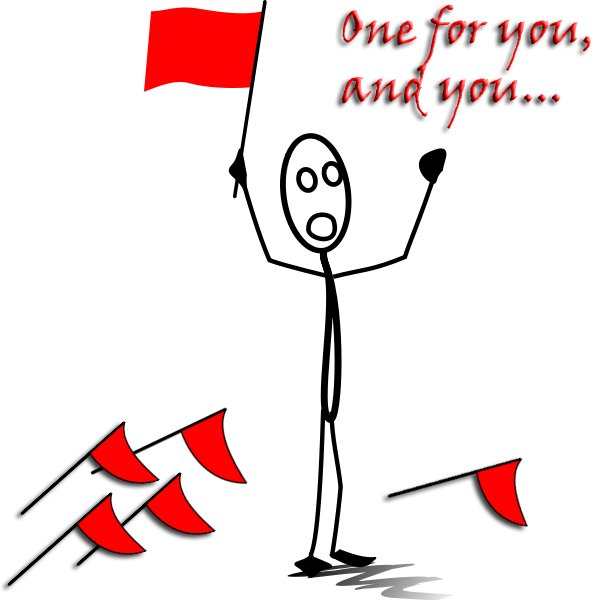 I've heard mention in Discord that someone has broken out some small account to do mass or random flags.
It stinks that people are doing this, but it is also part of our Freedom culture.  For most of us it isn't a big hit.
Here is the repeat of my Flagging:  How it works post.  I have used it a couple of times before, so vote accordingly.
People talk of flagging and reasons to flag, but at the end of the day the Blockchain makes the laws. Other new sites built on the Steem Blockchain might be able to change the rules, but for now this is how it works. 
Simple Explanation of how the reward system works:
Each day the Steem Blockchain creates new Steem 
That Steem is distributed via our votes
The more stake you hold the more your votes are worth
When you post (or comment) the community has 3 options

upvote
downvote/flag
no action

A post is active for 7 days
When that week is over you get to claim whatever the balance is.
Whether or not you like how it works, that is all there is to it. 
 
 Anyone can flag anyone at anytime for any reason during the 7 days a post is open.  
After that is all reaction.
We give lip service to the reasons we think people should flag... But the blockchain doesn't care.  Those with the most stake can give the biggest upvotes and downvotes.  Their stake gives them the right to allocate those funds.  
 
If you get one small flag, it's probably best just to ignore it.
If someone is targeting you, try to find some support, depending go to steem.chat or Discord, message someone who can help you either with a vote or to negotiate peace for you.  If you freak out you are giving a troll what they want. 
They want to create drama.

Flagging is important to our quality and abuse fight, so put up with the occasional silly flag, because the world is filled with assholes.  Remember some one has to use their own voting power to flag you, so it likely will not last.

@whatsup
Anothertime I wrote about flags