Wow, 9000 followers. That's a lot! That's way more than I've gotten on Facebook from posting my information. I appreciate the upvotes, feedback and interaction on my content. Thank you Steemians for your support :)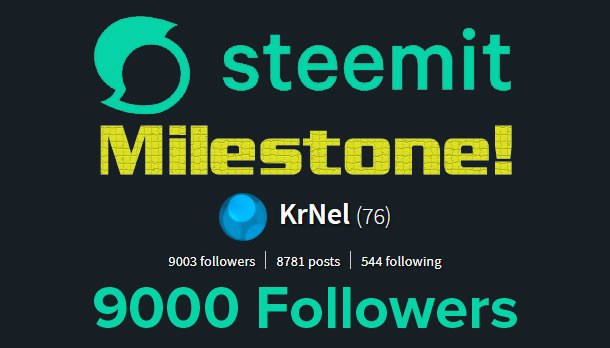 But wait a second. Hold the celebration... 9000 followers? Are these really followers of my content/work? Where are they all?
Since my return to Steem 3 months ago, I noticed I was getting 20 or more followers each day. It just kept going up, and up. It was going so fast that I used to have more posts that followers, but then my posts fell behind the amount of followers I had. At one point I had 500 more followers than posts. Then it was only ahead by 400. Then 300. Now it's a bit under 300 followers more than my posts, with posts likely going to overtake the followers again.
How did this happen? I would make a post, and boom, 1 follower, then another follower, then another, all within a few minutes. That has since slowed down considerably. Since I'm a pretty old user on the platform (August 2016), it's mostly new users who are starting to follow me.
But, are these new followers even going through my content? It doesn't seem like it. It seems they follow when new posts are made, and some might be duplicate or bot accounts. I don't get any new upvotes from these accounts (usually). I don't get any new comments from these accounts (usually). Over the past 2 months, I have attracted few new users to comment and upvote on my posts, despite having climbed from 6000 to 9000 followers in just over 3 months.
I've gained over 3000 followers in 3 months, yet only a few upvoters and commenters in support of my content. Who are these 3000 followers, and why do they follow people if they aren't interested in the content?
I wonder if my high reputation score has anything to do with it? They could care less about the content, but the high level reputation is attracting them to follow in hoes it gain some positive feedback on my part? I'm not sure. Or maybe it's the SP int he "bank" account (even tough I'm not an orca or whale status)?
In reality, I have more like 100 or less people who actually follow my content/work. I certainly don't have 100 people commenting. And let's face it, most upvotes are automated on the platform.
I just wanted to gripe/rant about the empty follower issue that I've noticed, as I'm pretty sure many others have noticed as well, and I took the opportunity to do so when I hit 9000 followers.
9000 followers is still 9000 followers nonetheless :) I appreciate all the support from everyone, be they manual votes or auto-votes. Thank you for all your interactions and support.
Do you not care if the follower count isn't really the amount of people who follow your content?
Would you prefer to have your follower count reflect lower numbers of people who actually follow you instead?
---
If you appreciate and value the content, please consider: Upvoting, Sharing or Reblogging below.


me for more content to come!
---
My goal is to share knowledge, truth and moral understanding in order to help change the world for the better. If you appreciate and value what I do, please consider supporting me as a Steem Witness by voting for me at the bottom of the Witness page.