I haven't done one of these for a while and since I have recently come across some incredibly talented and hard-working Steemies, I thought it was about time I heralded them and gave them a spotlight so I could showcase their talents.
Also, this week came the news that @surfermarly was quitting Steem because it was no longer worth her while to produce great content which I don't understand, I mean when you see my list of superstars here and their content, @surfermarly pales into insignificance by their standards and with these guys around, her content won't be missed.
At the end, I will also introduce you to a seriously terrible and lazy content creator, the likes of which I know, no-one wants to see on this platform. A real reward-pool rapist, because life is about balance right? And we need to take the good with the bad.
So here goes....
First up is @abrockman . In his own words, he is
"An award-winning artist, entrepreneur, motivational speaker, advocate and visionary."
With such an amazing CV, you'd be expecting something special and he doesn't disappoint. Each day he posts an incredible picture of a nebula he has created, we are now on day #178. Each one is different and I really don't know where he gets his ideas and inspiration from. Here are a few examples of his incredible work.


I'm sure you'll agree, he is someone to be inspired by and deserving of his large post payouts.
Next up is @finprep who simply shares some incredible content that I would never have been able to discover myself and to make sure it is available for as many people as possible to see, bid bots it to trending. What an altruistic user!
https://steemit.com/bitcoin/@finprep/why-bitcoin-tycoon-barry-silbert-thinks-bitcoin-will-replace-gold which currently sits on over $150 of rewards but well deserved, because this user doesn't use the bid bot straight away, he waits 3 days to give his hordes of admiring followers time to vote and increase their curation rewards! What a toff. He even posts a few empty 'test posts' just for his curators too. What incredible effort he must put in to be able to find other peoples work to share with us all.
I can't speak highly enough of this member, he is a real member within the community. Please, get over to his page and tell him how you feel :-)
@taifkhan records himself playing games on his highly specced computer and then posts them to Steem for us all to share his joy in pretending to blow up a few tanks. I can't take my eyes off his videos and really appreciate his skills. I am particularly grateful to him for not adding loads of wasted text to his posts, who needs words to read when you're watching a video of a game being played.
A nice touch is the fact he always posts the spec of his PC and a link to the screen recorder he uses. Love this guy, real community member and I hope you all take the time to pop over to his blog and give him your best wishes in his endeavours to complete a computer game.
Don't forget to give him an upvote too. I can't believe he is only making $160 with his daily post.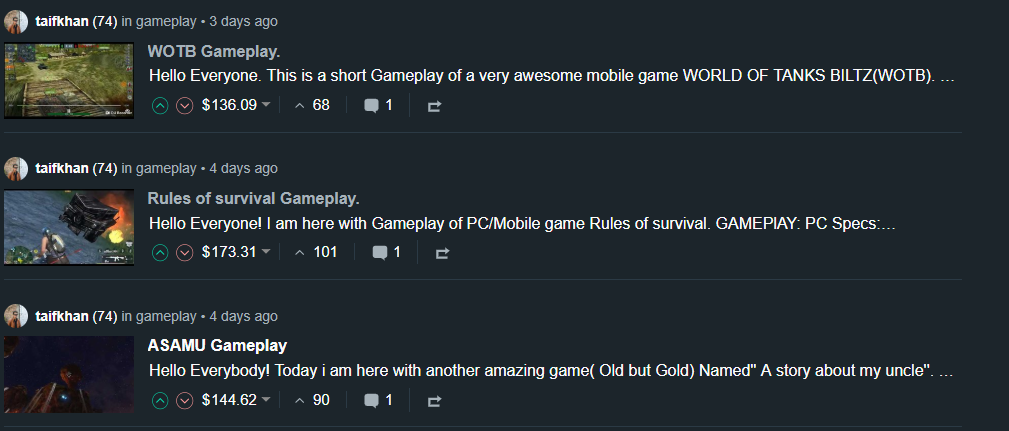 @uio is a deeply religious person who got his first freelance job as a gift from Allah 5 years ago....or was it 4 years ago? and since then hasn't looked back. This is a very shy member who doesn't actually follow anyone. How quaint is that? @uio posts really helpful inspirational articles each day based on his own true-life experiences and I for one am thankful for this opportunity to share their wisdom.
Take a look at his latest work Law of attraction these three hundred words and video link to the top quality book of the same name could change your life and its shocking to see that this post will only be receiving $84 rewards. Perhaps if he included a video of himself playing a game and a pic of space he coloured in too, he might start to get close to the rewards he deserves. Just a thought.
Get over and check him out and show some gratitude!

All these great Steemians have one thing in common, I'm touched by their work. I read their posts and emotion wells up inside me and I often have to dab a tear from the corner of my eye........
One thing I do know is that the universe is about balance, and so now I will show one user who just doesn't get Steem and the sort of person we MUST discourage from using our glorious platform.
@livvu is guilty of creating one of the shittest posts I have ever seen on Steemit.
I'm a self-taught Artist and Sculptor. I love to create and encourage others to explore their creativity. Let's share more Love and Compassion
Right!! You haven't won any awards like @abrockman have you?
This post entitled - Born of Stone (seriously, how pretentious is that title?) is just a post about playing with some clay and making an ugly sculpture thing of a baby in a plant....seriously?
Look at it? Someone even put it in a proper exhibition!!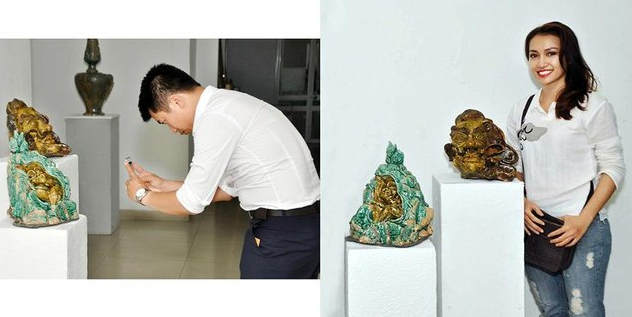 No wonder she's smiling after robbing $5 in rewards!
She then subjects us to screens full of spammy words and even has the audacity to show us the process she used to create it. Who needs to read crap like this. More fool me for spending time on her shitpost I guess, I could have been watching @taifkhan blow-up Computer generated tanks or staring deeply into one of @abrockman s enchanting nebulae.
And the disgusting thing is, she got over $5 in rewards!!! I mean who in their right mind upvotes bollocks like this? Don't even bother visiting her blog, you'll be shocked!

Finishing on a more positive note, at least @surfermarly has fucked off with her boring hi-def surfing videos (yawn)
and hopefully, some of these bloody other 'self-congratulatory' reward-pool raping wasters like @livvu will soon be on their way too, leaving the rewards to the real top-drawer content creators and engagement kings like the wonderful people I've highlighted today.
All that remains for me to say is thanks for reading, have a wonderful safe and happy weekend and in the immortal words of @abrockman quoting Stephen Hawking....
Look up at the stars and not down at your feet. Try to make sense of what you see, and wonder about what makes the universe exist. Be curious. - Stephen Hawking
Sends a shiver up my spine.............