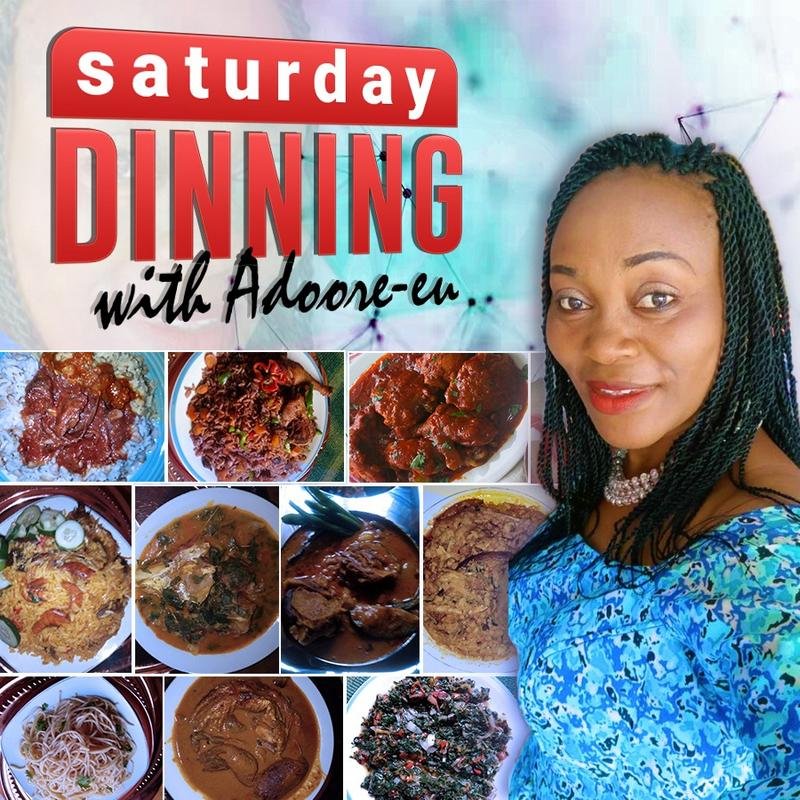 A lovely, bright morning to you all . How do you do today? I trust that after the wonderful soccer yesterday, we feel lifted.
Welcome to yet another webisode of your favourite program on the blockchain- "Saturday dining with adoore-eu*
crowd cheering
Last week, we had a wonderful time with @gee1, the steem evangelist. She had a nice time too, she said. Thanks all for being nice to her.
To our new friends in the house,I say welcome to your favourite blockchain restaurant, here we eat with the eyes. Hahaha. We present some sumptuous meals to you and get a taster to come appraise our cooking. At the end, we take you through how the meal was made.
Our guest for today is already in the house. He just arrived. Am so honoured he could come. However, before we introduce him, as usual, lets show you last week menu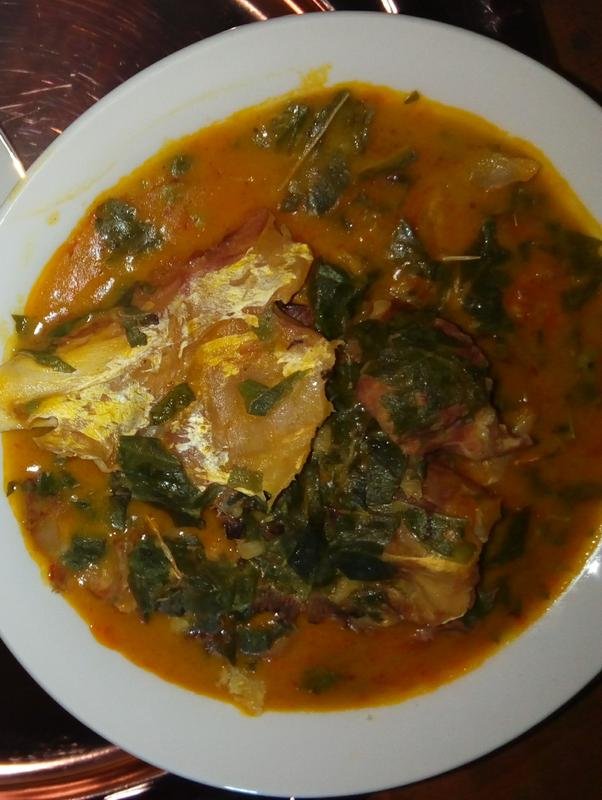 That is OHA SOUP presented before @gee1.
Other foods in our kitchen include but not limited to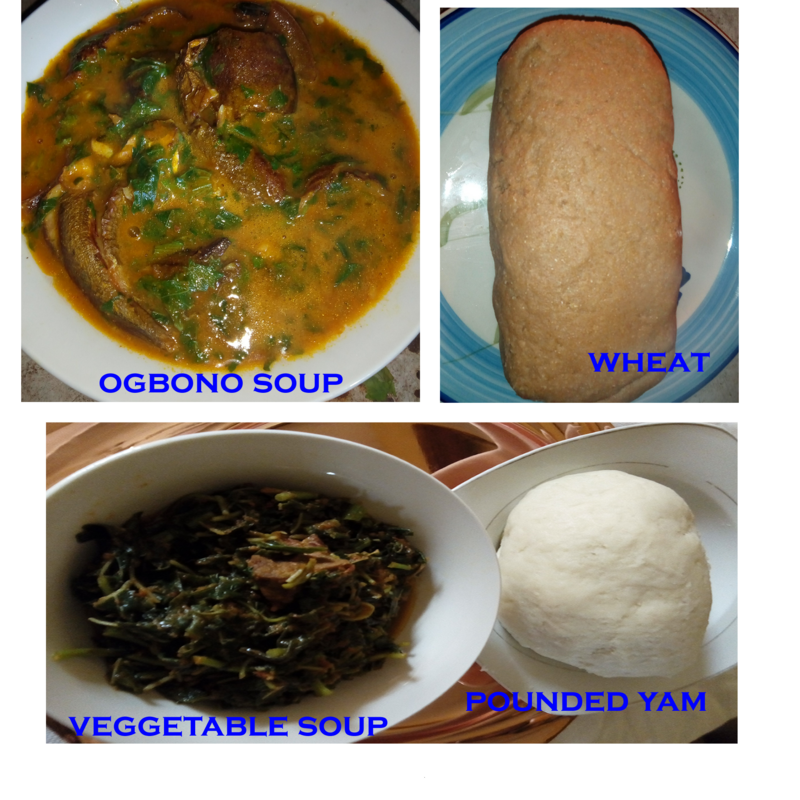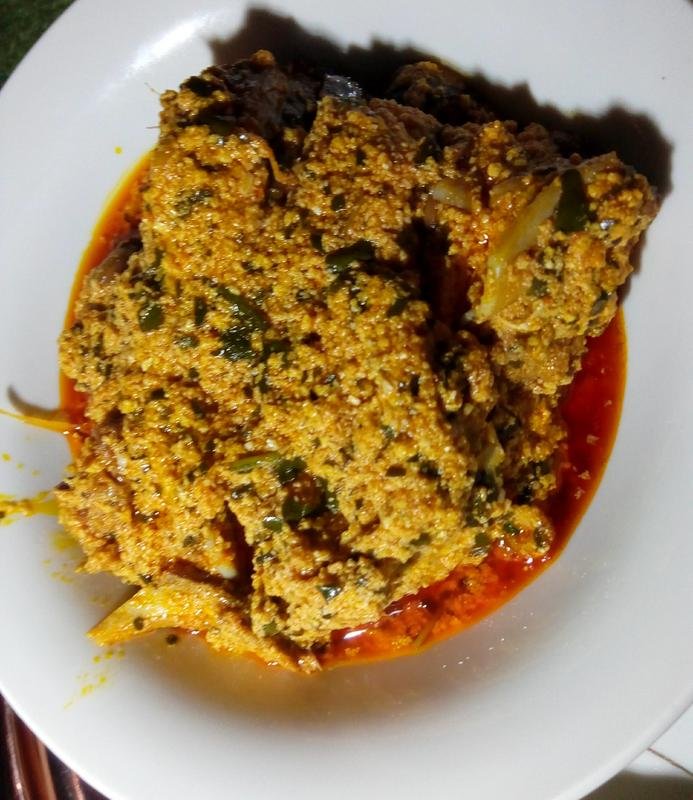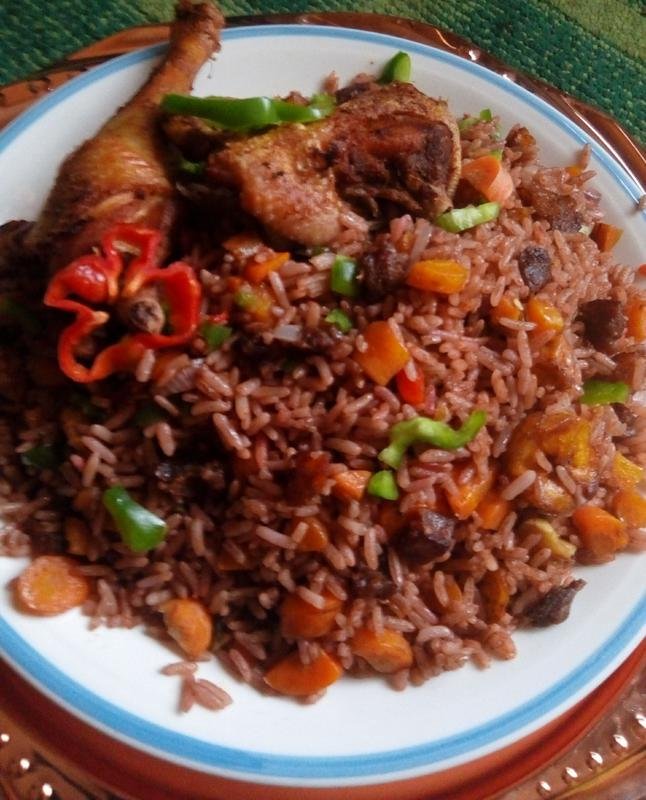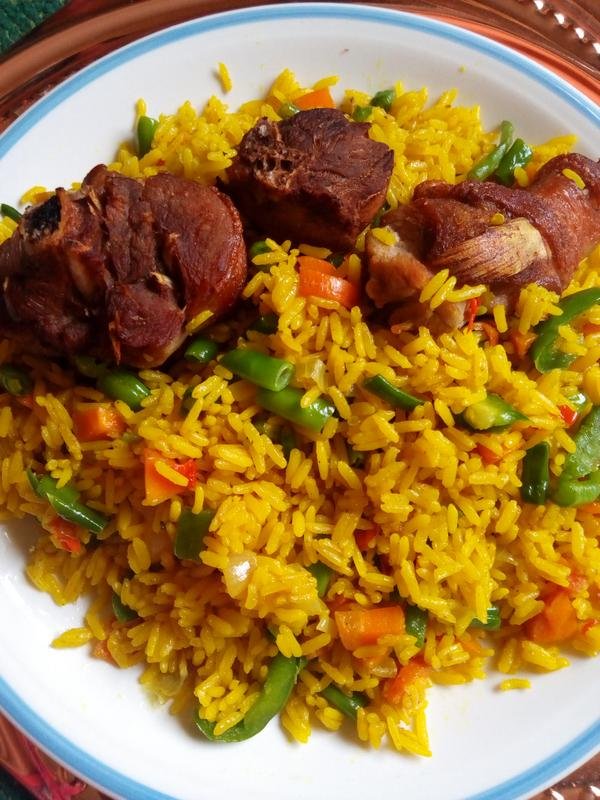 and many more
Did you like what you saw??You will learn for free how to make all by checking the posts on this blog, @adoore-eu.
---
---
**LETS BEGIN** Ladies and gentlemen, its time to start the show. Join me in welcoming our guest. Most of you must have heard of him but you really may not know him. His friends even may not have met him. Lols. Please welcome this amiable, hardworking, handsome youngman.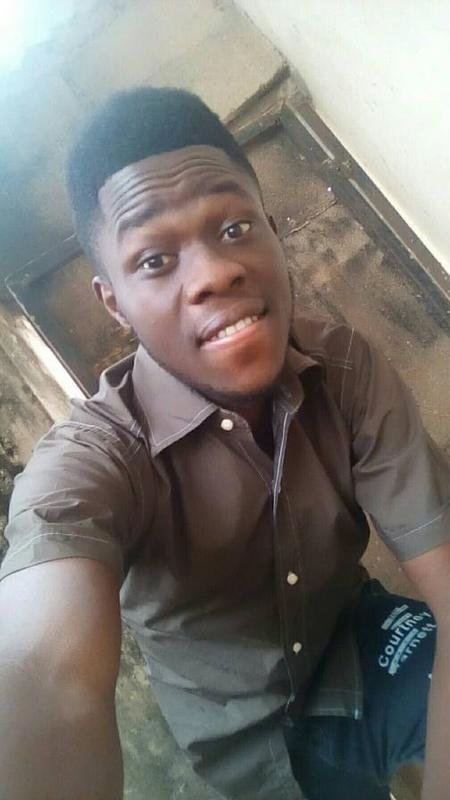 This is @rufans of @airhawk-exchange.
clouds cheering
clapping continues
He made it all the way down here in spite of his busy schedule.
@adoore-eu ~ So nice to have you sir.
@rufans~ Wow, @adoore-eu, so good to be here. Thanks for the intro
@adoore-eu ~ An honour to meet you. You really do have a lot of fans. How come? They kept clapping and clapping.
@rufans~ What can I say?well, waving to the crowd thanks guys. One love.
@adoore-eu~Welcome bro to my kitchen. This program is called **Saturday dining with @adoore-eu. Many friends are in the audience watching right now, even on twitter, i just want to know you better, I mean you and food aspect of you. So if i may ask do you like food?
@rufans~ Lols. Is there someone who does not like food? Mehn I love food.
@adoore-eu~ Its good to know. I wanted to make sure its not just sbd trading alone you love
@rufans~ Hahaha, quite alright I do my job at @airhawk exchange but for real I love food
@adoore-eu~Ok, let meet you. Who is @rufans?
@rufans~ I'm Solomon Stephen, Also known as Rufans. A computer engineering student, Delta State son 😌, grew up in Lagos State and schooling in Ogun state
@adoore-eu~ Wow, still Schooling and busy like that in @airhawk?
@rufans~ Yes, thats why I am a man.
@adoore-eu~ hmmm. Strong man, i must say. Please whats your favorite food?
@rufans~Rice of any kind ( jollof , white , coconut etc😃
@adoore-eu~ Hmm, i like the sound of coconut rice. Quite a long time i ate it too
@rufans~Its one of my best
@adoore-eu~ What's your first cooking experience like?
@rufans~ It was awesome, delicious and surprising 😮 because, I really enjoyed it even tho I didn't add the ingredients when I was suppose to. But the meal ended up having the right taste.😋
@adoore-eu~Hahaha, thank God it came out right.But what was your fear the first time you cooked?
@rufans~Too much /less of salt 😒
@adoore~ Wow, what meal didn't you like while growing up and why?
@rufans~ I hated these ones below:
(1) Any type of soup that draws
(2) beans
(3) yam ( porridge or white yam) 😞
Naturally I don't like these meals. I don't like the soups because they're irritating (draws), I get tired chewing yam and I think I have not eaten enough of beans in my life. In fact I have only eaten beans like 5times this year(2018)
@doore-eu~ Hahaha, five times? Jeez, you really dont like it then
@rufans~I'm telling you
@adoore-eu~What food do you enjoy making any time, any day?
@rufans~ Rice with sardine.
@adoore-eu~Hahahaha, permit me to speak pidgin English. Dem dey take sardine chop rice?You are really a student
@rufan~ Hahahaha. I make it everytime
@adoore-eu~ What's your worst mistake in the kitchen?
@rufans~Maybe not adding enough salt to a meal
@adoore-eu~ Lols. Tell me some funny food combinations you never think you could try
@rufans~ I will never try eating rice with ogbono, okro and ewedu soup😞
@adoore-eu~ Hahaha, how about those you tried that worked or you enjoyed
@rufans~ Ah, they are:
(1) Milo + powered milk + bread ( no water)😋 @ezinwakenneth can testify 💯
(2) eba and beans 😝
@adoore-eu ~eba and beans?
@rufans~ Yes
@adoore-eu ~ Wow, it has been nice chatting with you . pls what do you think about my kitchen. Any suggestion?
@rufans~ It is awesome blog niche ✌️. Thank you so very much for having me here
How about starting Video call interviews ? 🤔
@adoore-eu~ That would be nice. Thank you So much. I appreciate. Please come over to the dining area, let me fix you a meal.
serving his favourite food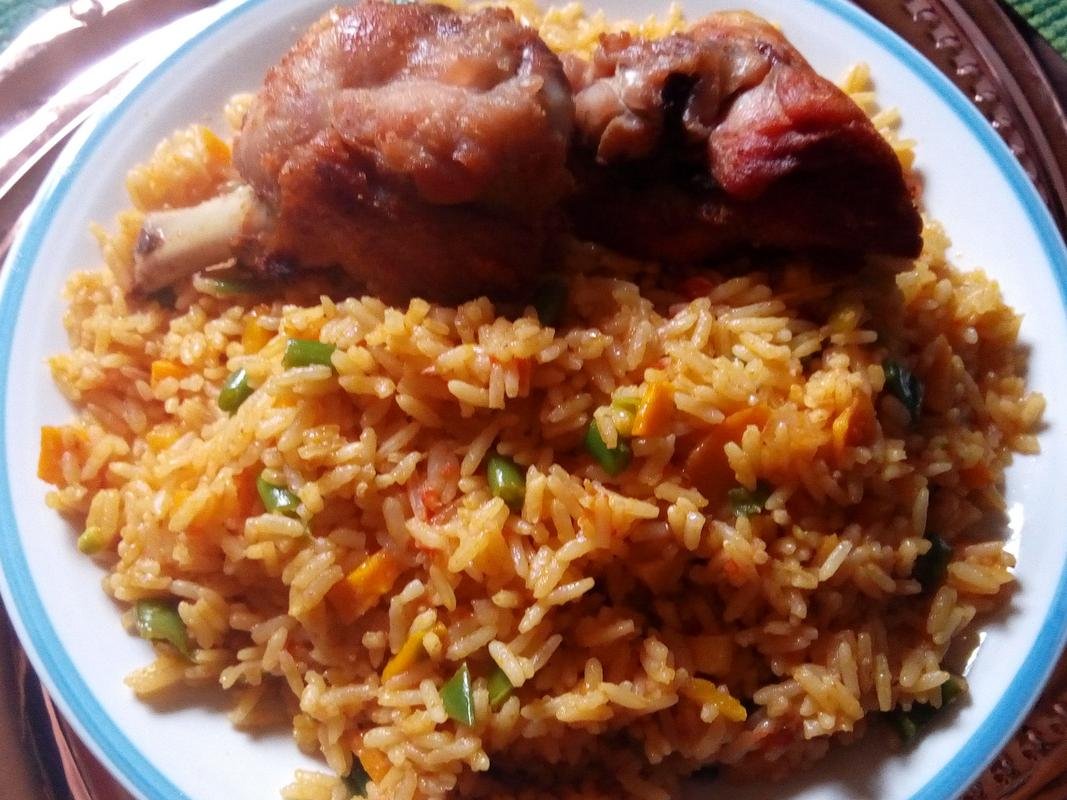 @adoore-eu~ Please , taste my cooking and appraise my kitchen. I will prefer to have your comment in the reply or feedback section ok?Thank you so much for coming.
@rufans~ Right. Thank you so much for the great meal and opportunity
@adoore-eu~ My pleasure. Bye for now.
guest leaves
That was @rufans of @airhawk. Follow him in his blog and get quality review of products or all about cryptocurrency trading.
Thank you viewers and readers its been wonderful having you here. Stay a little while longer and enjoy the rest of the program
---
---
COOK CORNER
The guest's favourite meal is rice of any kind. So jollof rice was served. Lets share the recipe here
THE MAKING OF JOLLOF RICE
Ingredients
~Rice
~ Meat(Turkey)
~Tomatoes/ pepper/ onions
~Groundnut oil
~Tomato paste
~Seasoning/ salt
~Carrot (optional)
~Runner beans(optional)
STEPS
~Slice all there is to slice
~Blend your tomato (optional)
~Wash and boil the meat
~Fry the meat . When soft, keep the stock aside
~Fry the onions, pepper and tomato paste
~Add the fresh tomato and fry together. The fresh tomato should fry up to your taste.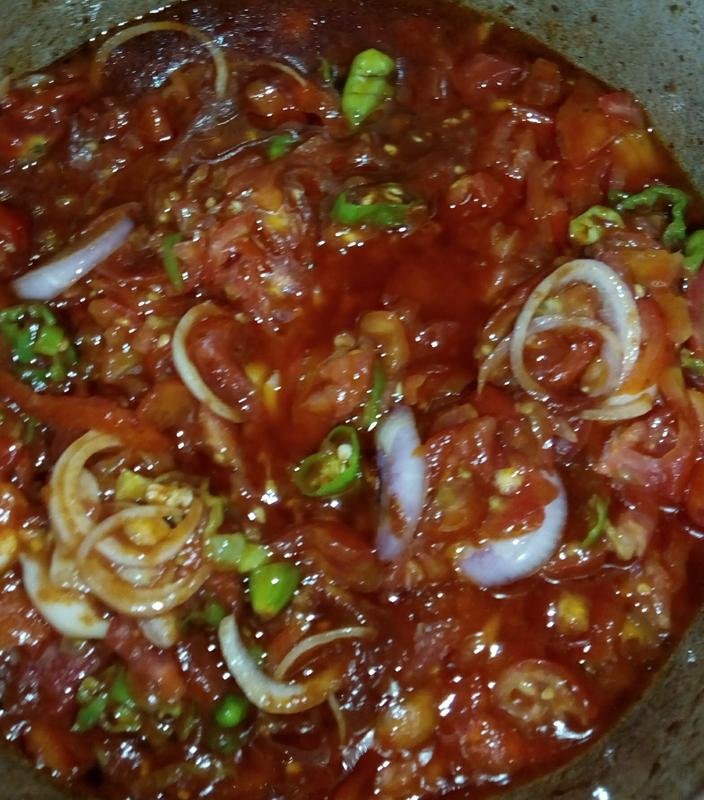 ~Add the meat stock, add seasoning and salt to taste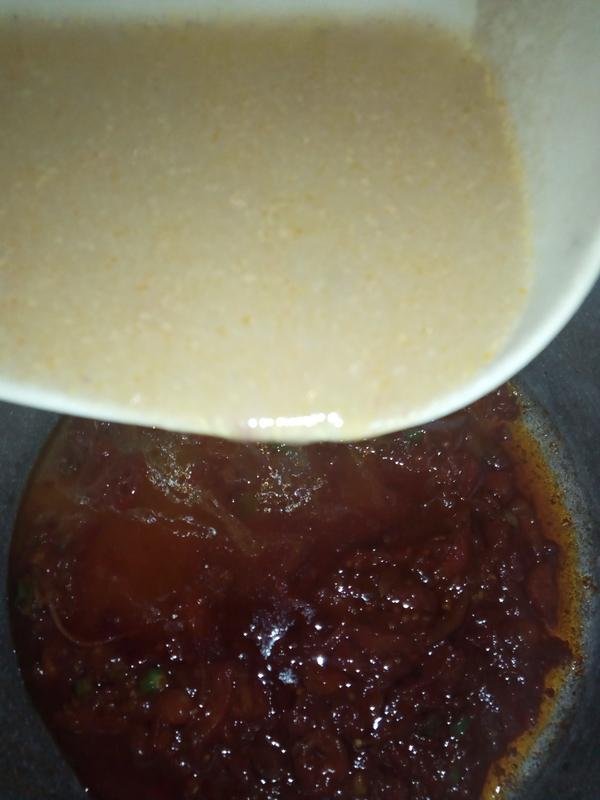 ~Add little water ( depending on the quantity of rice)
~Allow to boil
~ Wash the rice into the boiling stock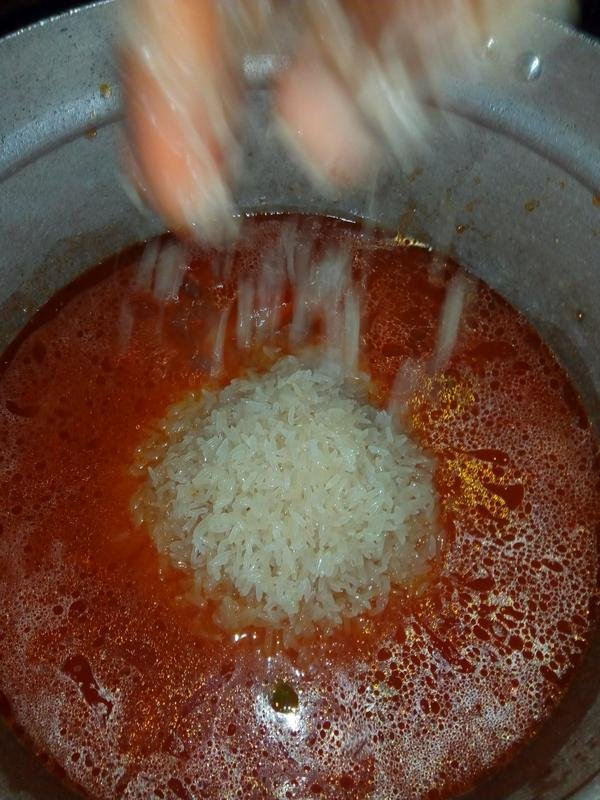 ~Taste for salt and seasoning if necessary
~Cover and all to cook
~When the rice is 95% cooked, add your carrot and runner/ spring beans.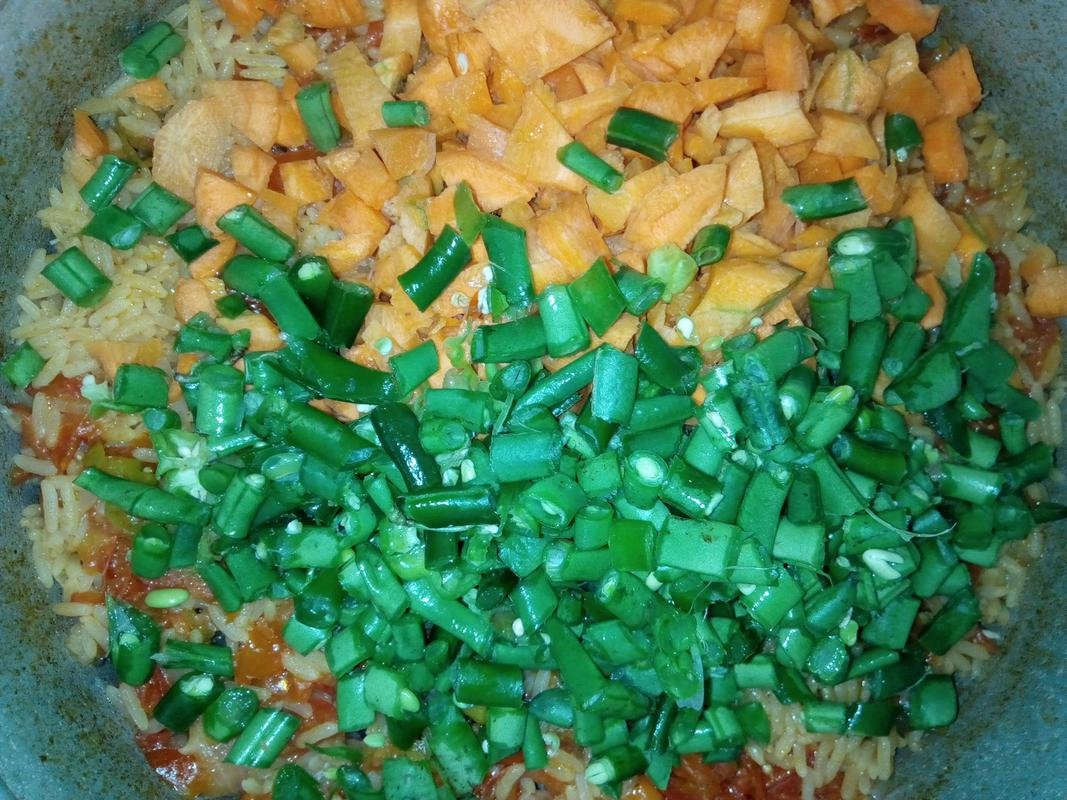 ~Simmer for 2-3 minutes and put it down.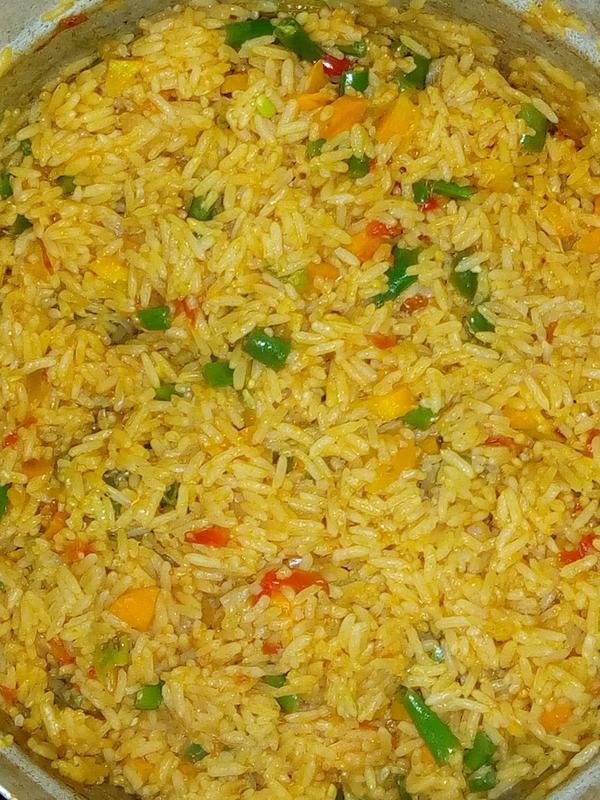 Oulalalacious!! Your jollof rice is ready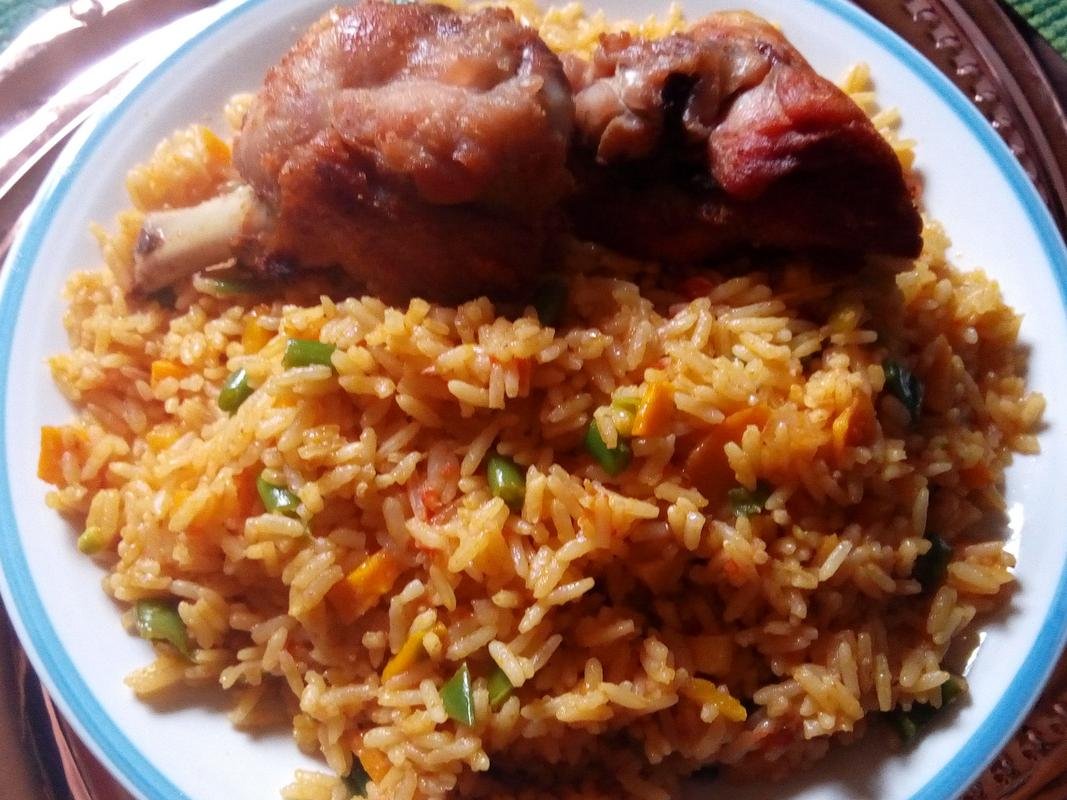 Do you care for a taste too? Join in
BEST CUSTOMERS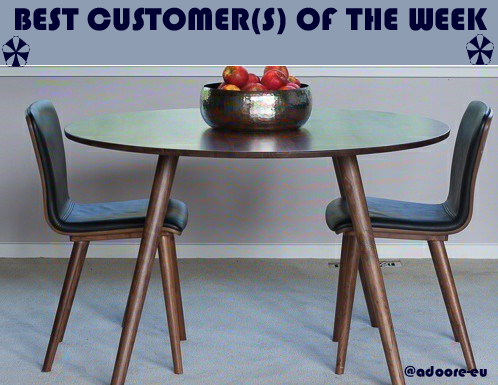 Source
Rule
~Answer only one question
~Mention the username of the customer.
Questions
1.She is a relationship therapist who features on Saturday morning.
He is a co-founder of steempinsula ( if not the real founder)

She is a young beautiful pharmacist, never lost any contest
A kitchen token awaits every correct responder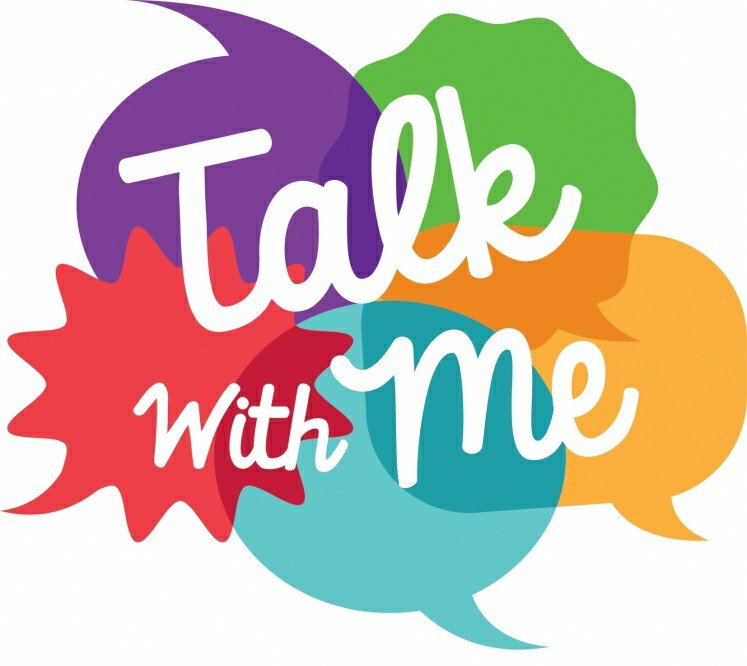 Source
What do you think? Should a man take food to work everyday with a flask or eat out?
i.e
Should a woman always wake up to cook and fill her husband's flask with food every morning?
Express yourself . You might win a kitchen token
IMPORTANT ANNOUNCEMENT
Our activity for next week will include our kitchen review for the past 3months. Feel free to drop your comments about my kitchen with/without your name on my:
Discord: @adoore-eu #8902
Whatsapp: 08034625048
Email: brigieangel@gmail.com
BE PART OF THE SHOW
---
APPRECIATION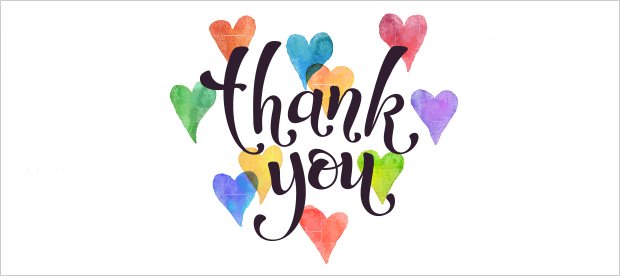 Source
I like to say thank you to all who have been of immerse support of this program and my blog.
My donators so far , @eurogee, @nairadaddy, @jeaniepearl and @jeline I say thank you so much. May God richly bless you .
To my guest @rufans, thanks for your time, for honouring my invite and for everything. Its a pleasure having you this week.
To my dearies- my supporters, readers, viewers, upvoters, and resteemers, without you, there will not be this program. Thanks for your generous comments also. It has given me more confidence to go on.
Once again, thanks everyone. See you same time next week.
All food images are mine, made and presented here
I adore you
From @adoore-eu
Your block chain chef