Hey everyone - I'm quite new to Steemit, and had I known I would be posting this, I would have taken more photos! But seeing as people here seem to love food/travel in every measure, I thought I'd go ahead with this short, but tasty post. In the future, should I have any adventures, I'll be sure to better document where I am, and what I'm eating!
Some Context:
I had plans to show a friend from California around New York City, and I thought it would be nice to have a great meal together. Luckily, our day of exploration lined up with NYC Restaurant Week. If you're into trying new food and restaurants, NYC Restaurant Week - which lasts for about three weeks, despite the name, and comes every summer and winter - is exciting to say the least. Many restaurants participate, including a number of very high-end, Michelin-starred restaurants. But instead of paying what you would regularly, lunch is $29, and dinner is $42. If you choose a good restaurant, this price is more than worth it, and you get to try food that would easily cost $100+ a person otherwise.
This time around, I chose Vaucluse, a brasserie in the Upper East Side of the city. I didn't know much about it except for the fact that it's headed by Chef Michael White, and that it's in the Upper East Side, a part of the city I wanted to introduce my friend to. I once saw Chef Michael White in a video with Action Bronson, and he seemed like a good guy, and the menu looked great, so, good enough for me! I pulled the trigger and made a reservation.
Time For Lunch!
After stopping at Ladurée for some macarons, and hiding from the rain under some trees in the Central Park Zoo, only feet from where the sea lions were enjoying the downpour (now you see why I regret this post being light on photos!), it was time for lunch. The interior of the restaurant was beautiful - open, bright and elegant, yet somehow cozy all the same. We were led to one of the restaurant's two main dining rooms and seated at a corner booth, covered in a soft green suede (I love booth seats!).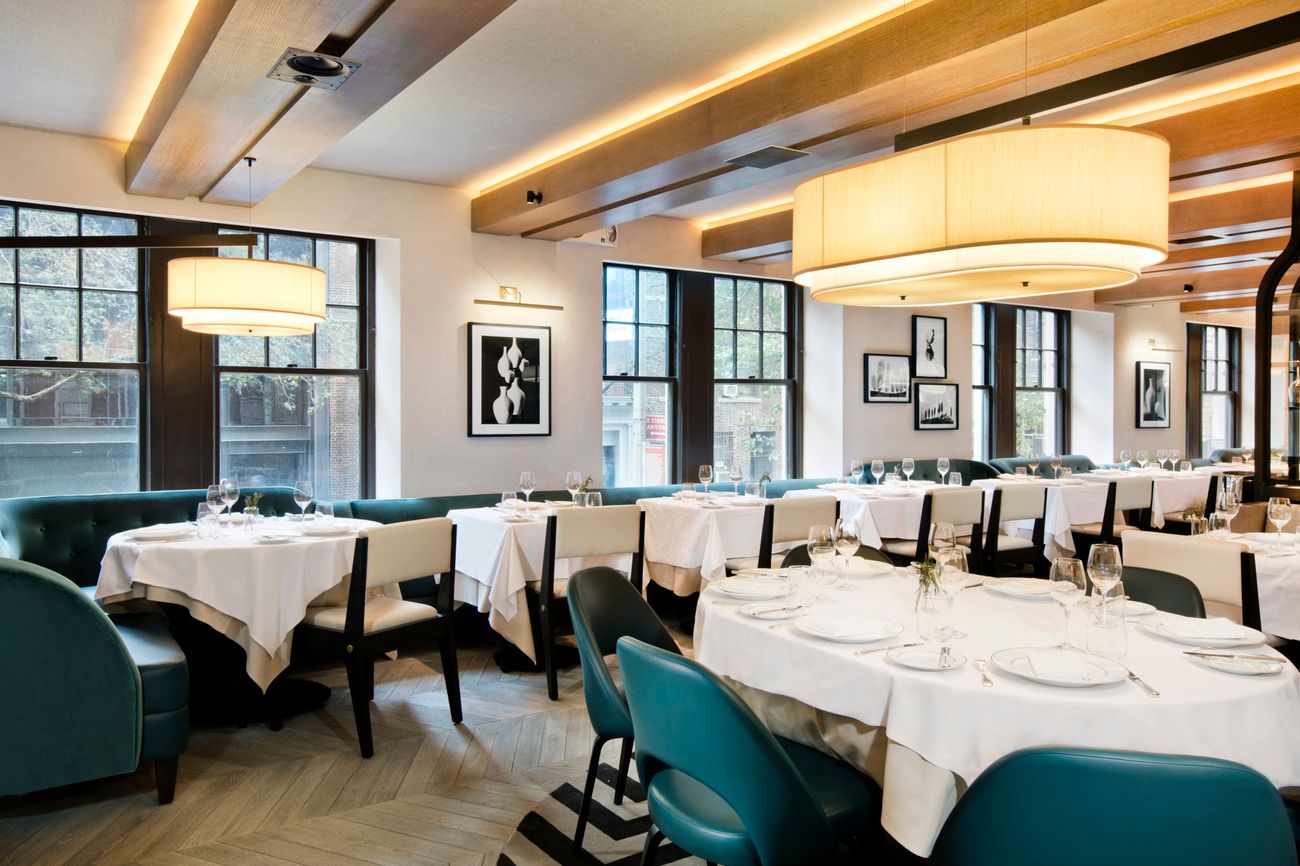 [This is the one photo in this post I did not take - it's from Vaucluse's website - but I wanted to provide some idea of the interior!]
While neither of us wanted wine or alcohol, we both ordered an Elderflower Fizz, made of elderflower cordial and lime.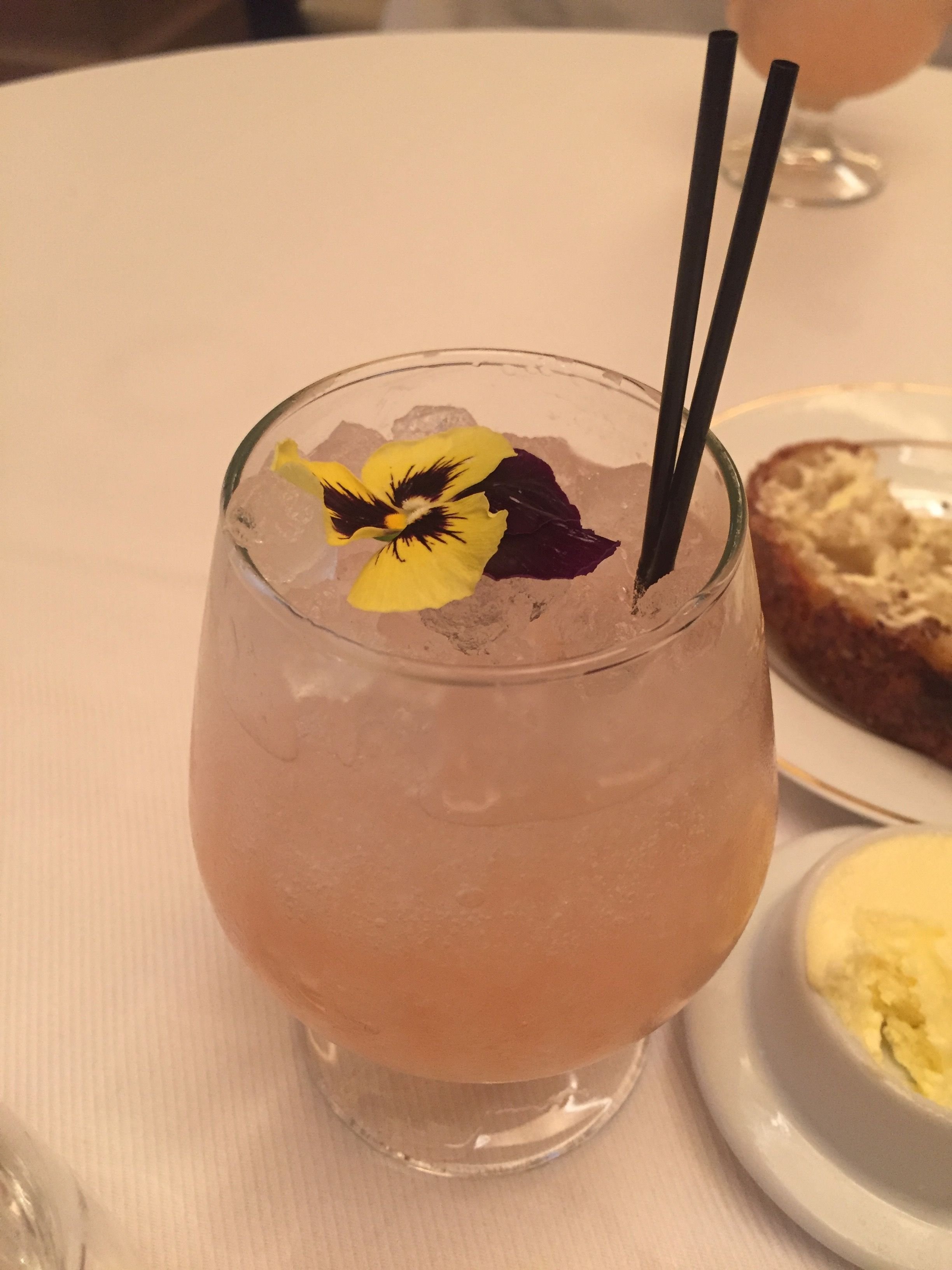 [In the periphery of this photo is the bread and butter that was brought out just before - amazing sourdough bread with a flavorful crust, and butter that had a wonderful flavor (what good is butter when it doesn't taste like anything?)]
The Elderflower Fizz came over crushed ice, which is a sure way to my heart (I like ice, I guess?), and was sweet, citrusy, refreshing - almost like a floral lemonade! If you haven't tried a drink made with elderflower before, I highly recommend it.
The Appetizer
Our first course came very quickly, which was welcome after building up an appetite from walking. I chose the Poireaux appetizer - grilled leeks, toasted almonds, mustard seed vinaigrette.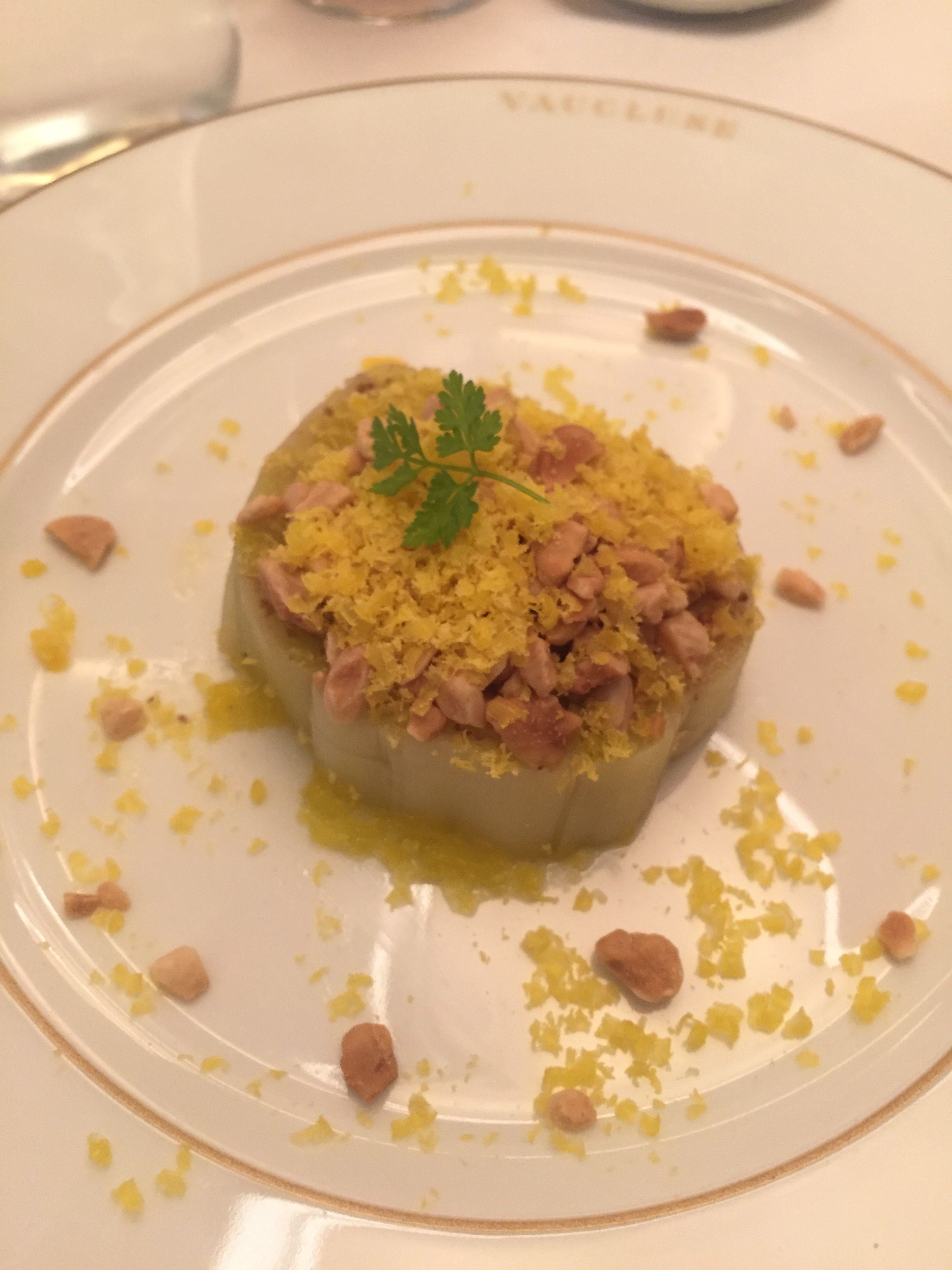 Now, leeks are one of those things that I think I shied away from as a kid, and then just never tried. But these...oh man, if these leeks were representative of all others, I'd eat leeks every day! They were lighter than I expected, had a subtle onion-flavor, were tender, and along with the almonds and vinaigrette had the effect of a more hearty salad. They were filling, but not overly so, which made them the perfect prelude to the next course...
The Entrée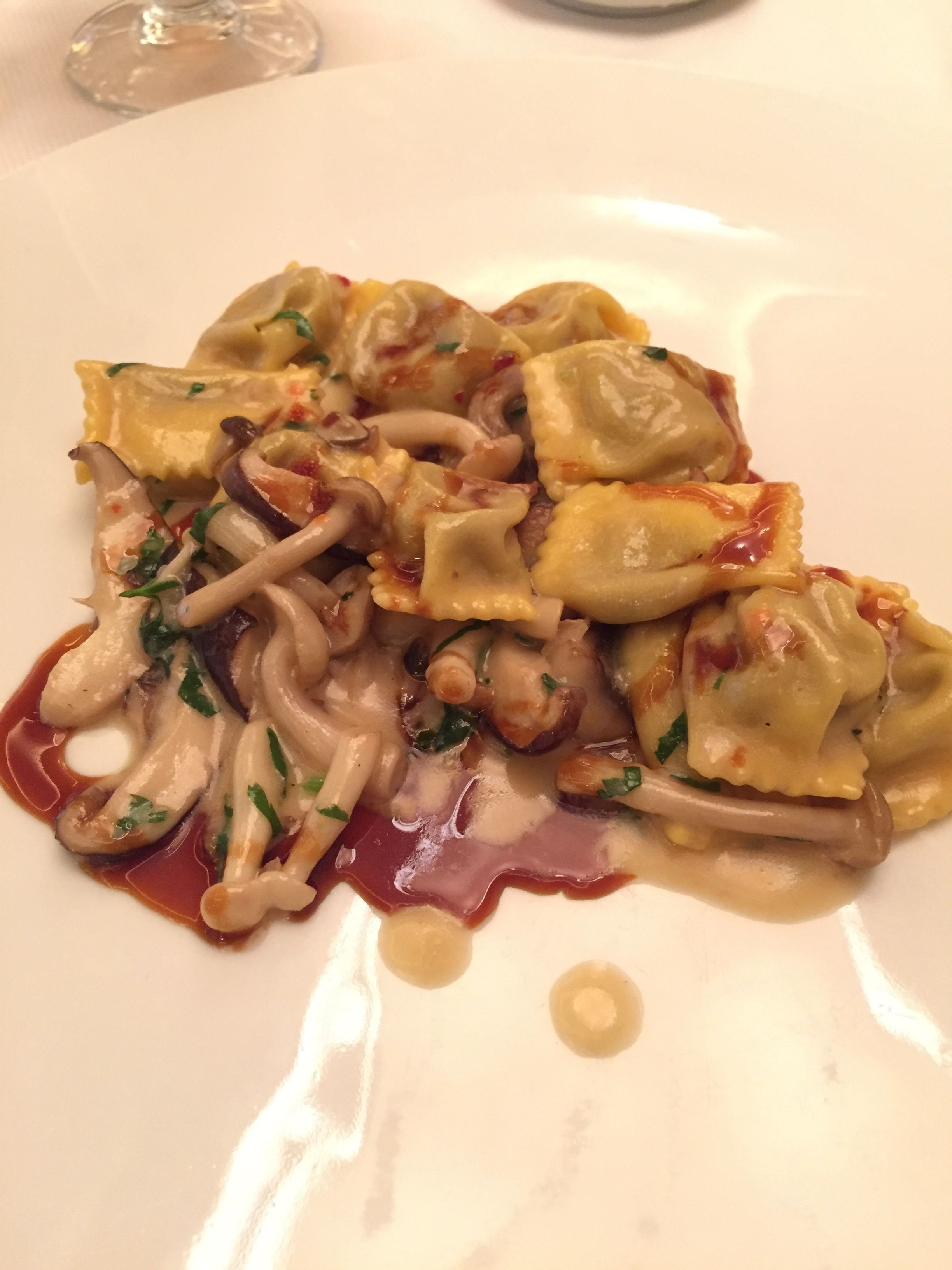 [Duck confit ravioli. Sauce forestière. Summer savory. Parmesan: the Agnolotti entrée.]
You ever eat something so good that you want to walk out onto the street and slap someone? Something so gratifying that you want to stand up, pick up your chair, throw it through the window and let out a joyous scream? Yeah, it doesn't make sense to me either, but I don't know how else to describe how incredible the Agnolotti was. Where do I begin? How about the way they were cooked: perfectly, with chewy, al dente sections where the seams had been pressed closed. The duck inside was fatty but not overpowering, mixing with the parmesan sauce to coat my palate in a delicate layer of heaven. The sauce forestière provided a slight edge of acidity, keeping my mouth on an edge, always wanting more savory, then more acidity, then more savory. And the mushrooms - usually I don't like mushrooms! But these made me think that I needed to reconsider my official position on mushrooms.
Fortunately, while my friend hadn't ordered the same appetizer, she did get the Agnolotti. We ate in near silence, slaves to the deliciousness, periodically closing our eyes in disbelief - we might have looked crazy, or just hungry - good thing they put us in a corner!
I expected that the Agnolotti would be heavy given that the duck was cooked in duck fat (which is what duck confit is), but it wasn't, not at all. My friend and I were still reeling from how good the ravioli was, but we were ready for dessert.
Dessert!
There were two options for dessert: 1. Mousse aux chocolate, and 2. Parfait aux fruit. I'm pretty much a chocolate addict, so I went with the mousse, as did my friend.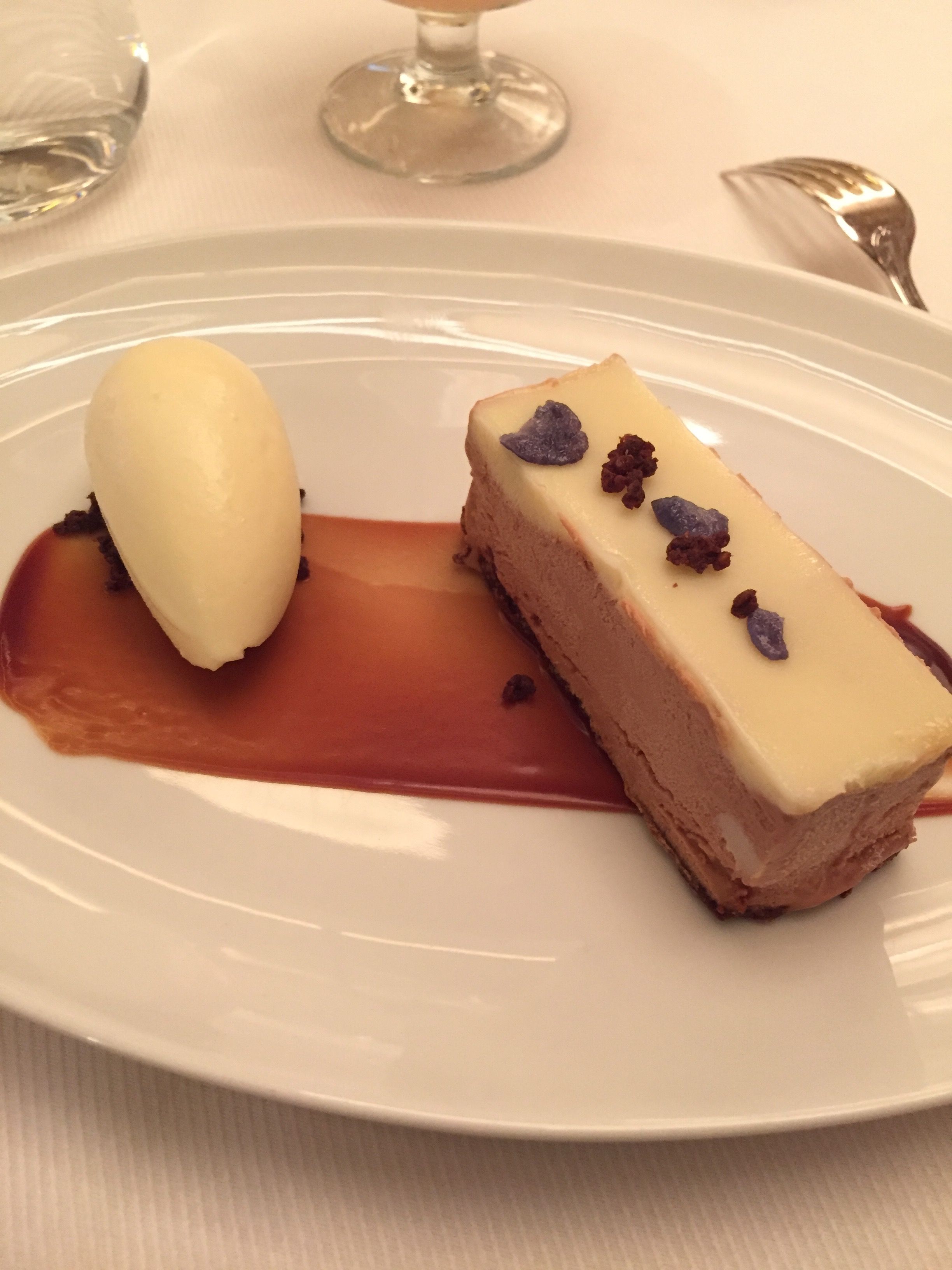 [Is it mousse? Is it some sort of ice cream cake? Does it even matter?]
When the dessert arrived, it wasn't what I was expecting. When you think of chocolate mousse, you probably imagine some kind of light, airy, whipped mousse in a dish, or even in crystal stemware (Jeeves the Butler's voice "A-hem, your moouuussee, Sir.") But this was something different - this was mousse made into some kind of classy, frozen-mousse-ice-cream-cake.
At first bite I noticed the milk chocolate flavor, the way the mousse melted in my mouth, and the crunchy, buttery cookie that formed the base of the mousse and ice cream (maybe Vaucluse's version of the chocolate cookie crumble that is in most ice cream cakes?). On second bite I got one of the purple, almost cornflake-looking pieces, which turned out to be an explosion of lavender flavor. On third bite, I tried the ice cream, which was more or less like chewing on a bunch of sweet lavender flowers, presumably grown by Willy Wonka. That is, it was an incredible punch of floral flavor in the form of a cool, addicting (if only I could get more) ice cream. The dessert, in all of its chilly, chocolate-y, buttery, flowery sweetness, was the perfect come down from the ravioli high my friend and I experienced.
We finished our dessert, sipped the last of our elderflower concoctions, paid our check, and decided a stroll was much needed, both of us now stuffed. All in all, between the elegant (yet not stuffy) setting, the very kind waiter, and the amazing food, I'd say it was a lunch well planned. If you're ever in NYC during restaurant week, check out Vaucluse! :)