Spiced Zucchini Carrot Muffins
Ready in 45 mins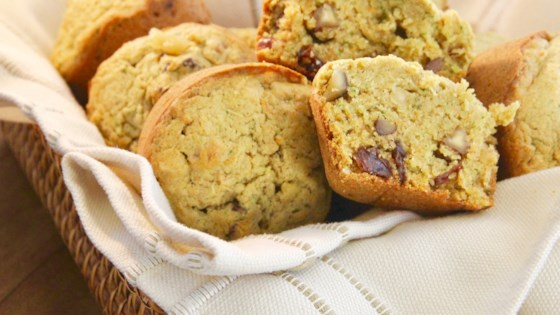 Ingredients
1 cup butter

1 cup white sugar

3 eggs

2 cups grated zucchini

1 cup grated carrots

3 teaspoons vanilla extract

3 cups all-purpose flour

2 teaspoons ground nutmeg

2 teaspoons ground cinnamon

1 teaspoon salt

1 teaspoon baking soda

1/4 teaspoon baking powder

1/2 cup raisins (optional)

1/2 cup chopped walnuts (optional)
Directions:
Preheat the oven to 350 degrees F (175 degrees C). Grease two 12-cup muffin tins or line cups with paper liners.

Combine butter, sugar, and eggs in a large bowl; beat with an electric mixer until creamy. Beat in zucchini, carrots, and vanilla extract.

Combine flour, nutmeg, cinnamon, salt, baking soda, and baking powder in a separate bowl. Mix into the creamed butter mixture. Stir in raisins and walnuts. Pour batter into the greased muffin cups.

Bake in the preheated oven until a toothpick inserted into the center comes out clean, about 17 minutes.
Footnotes:
Cook's Note:
Substitute pumpkin pie spice for the nutmeg if preferred.
Nutrition Facts
Per Serving: 227 calories; 11.6 g fat; 28 g carbohydrates; 3.6 g protein; 50 mg cholesterol; 254 mg sodium. Full nutrition