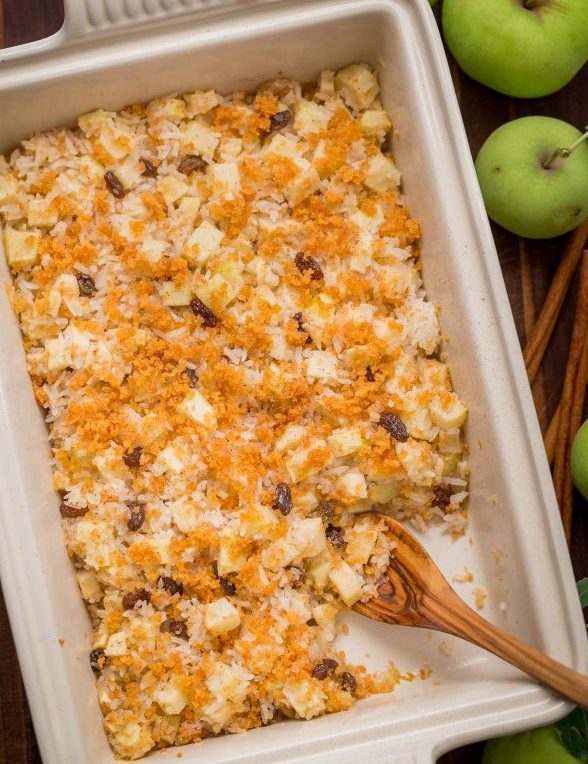 Fixings
4 Tbsp (1/4 glass unsalted margarine)
½ glass plain dry breadcrumbs, for example, Panko crumbs*
4 medium (1½ lbs) granny smith apples, peeled, cored and diced ½" thick
⅓ glass granulated sugar
½ tsp ground cinnamon
2 mugs cooked white rice, for example, Jasmine (from ⅔ container uncooked) **see underneath
¼ glass raisins (white or darker raisins)
3 Tbsp drain
Directions
Prep: Preheat stove to 350˚F. Spread base and sides of 9x13x2" heating goulash dish
Place medium skillet over medium warmth and liquefy in 4 Tbsp spread. When margarine is finished gurgling and marginally carmelized, include ½ container bread morsels and blend continually until gently toasted and brilliant dark colored at that point promptly expel from warmth and put aside to avert overcooking.
In a substantial blending dish, consolidate diced apples, ⅓ container sugar and ½ tsp cinnamon, at that point mix in 2 mugs cooked white rice and ¼ glass raisins. Hold 2 Tbsp bread pieces for garnish and mix remaining bread scraps into apple/rice blend. Shower 3 Tbsp drain over the blend and mix until joined.
Spread the blend into the buttered goulash dish and sprinkle held 2 Tbsp bread scraps over the best. Cover firmly with thwart and prepare at 350˚F for around 35 minutes or until the point that apples are delicate.
Notes
*Use gluten free bread scraps to influence this gluten to free
**To Cook the white rice:
(Alternative 1): In a medium pan with well fitting cover, consolidate 1 glass rice, 2 containers water, ½ tsp salt and 1 Tbsp margarine. Heat to the point of boiling at that point diminish warmth, cover and cook at a stew 20 minutes (you ought to here swoon murmuring with the top on).
(Alternative 2): Follow rice creator, ordinarily consolidating 1 glass white rice with 1½ mugs water, ½ tsp salt and 1 Tbsp margarine, cover with top and turn on the white rice setting.