Bad Mr Bread! Naughty naughty! Not writing for so long... Zły Pan Chlebek! Nu Nu Nu! Tyle czasu niczego nie pisać...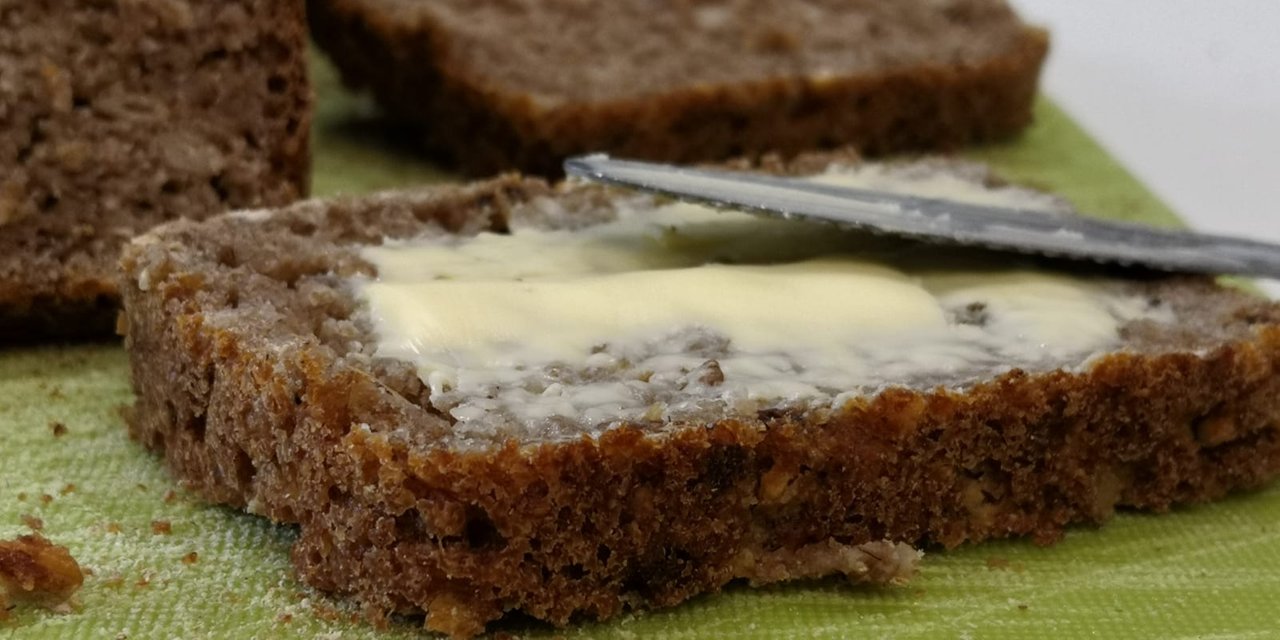 English
I haven't written for long and I apologize, but I have been pretty busy with AWS DeepRacer. I finished twentieth out of 860 competitors in the first race so it wasn't bad, but I still have a long way ahead of me. I write about what I have learned and experienced as @codelikeamother - so be sure to read and follow (and resteem pretty please).
The bread
I have prepared a typical cupboard cleaner this time, using my wholemeal rye as a base, but altering the extras so that I can use up this and that.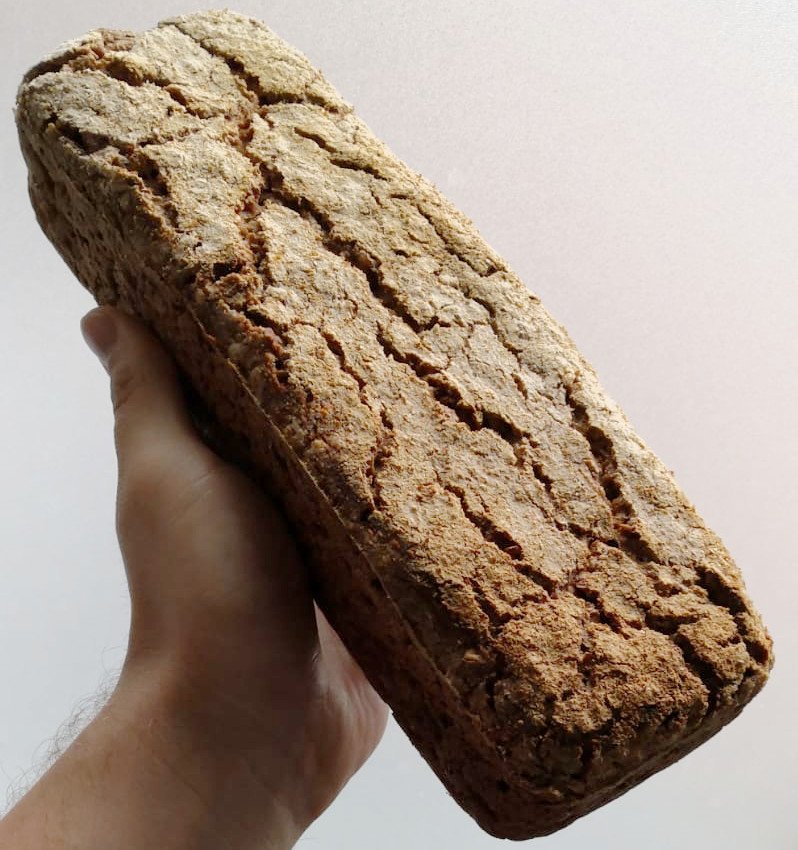 Ingredients
125 g rye sourdough
400 g rye wholemeal flour
50 g semolina
50 g rolled oats
25 puffed buckwheat
50 g malted wheat flakes
5 g caraway seeds
12 g salt
500 g water
I decided to use more water than usual since I added more flour (semolina) and flakes and puffed buckwheat which has the capacity to soak water.
Preparation
The usual: mix everything thoroughly together, put in a buttered tin, put a bit of flour on top (for decoration), cover and leave in warm until it rises by about 50% (wholemeal rye breads won't rise more than that).
Once ready to bake, set your oven to 170-180 C degrees with a fan (know your oven, in mine it's more like 160), put the bread in the oven, generate steam and bake for 70 minutes.
Let it cool down on a cooling rack.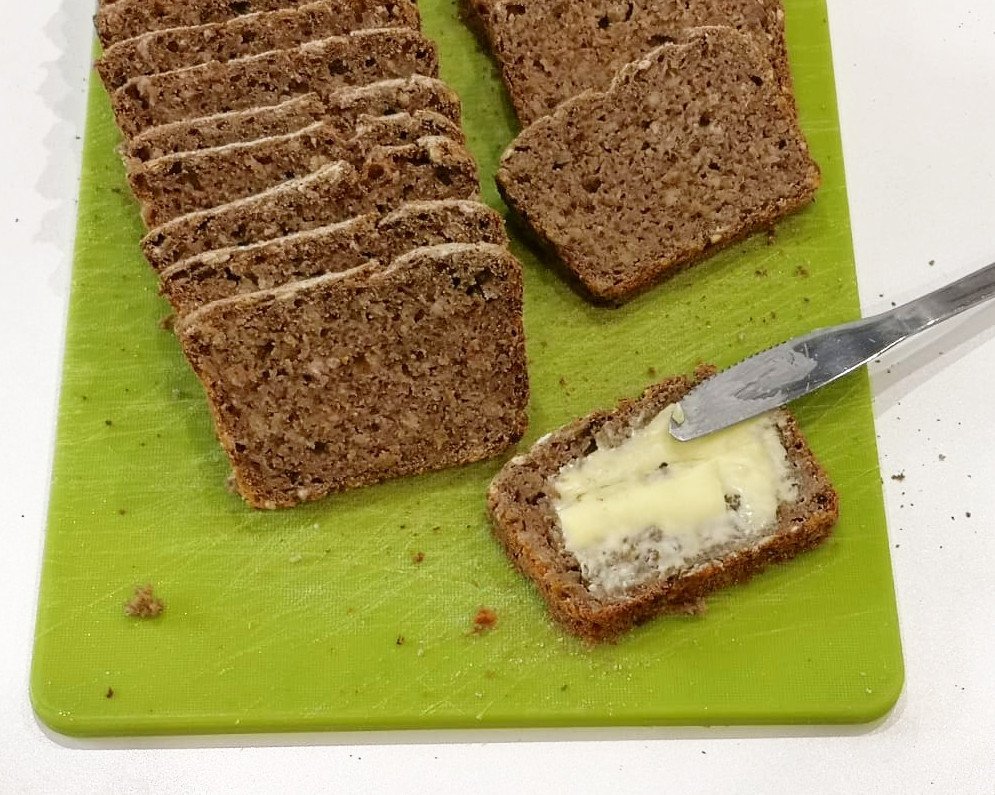 The verdict
I was afraid what the buckwheat would do to the bread. I used to have a buckwheat flour for gluten free baking and once we tried it in wheat bread. This is when I learned I hated buckwheat in bread.
In the end it was quite a nice result, quite sweet due to rye and malted wheat. I think I could add even more puffed buckwheat to it.
I made two loaves, one for home and the other for the office. It got eaten reasonably quickly with people mentionigh it was high time to bring something in. Even the newcomers already heard I was bringing bread every now and then. I've built myself a reputation, it seems.
Final word
For now I am expecting to be more active as @codelikemother since this is taking the most of my time. Hopefully I will find more time for other things as I learn my ways around machine learning and hopefully win the tickets to AWS DeepRacer League finals in December.
I'm happy that you're still here. It's not about whether you believe in Steem or not. I believe we have a bit of community that brings values into this place and enriches each other's lives. I don't really care that much about whether everything's good or bad in here in technical terms as long as we still have a chance to meet, value, exchange and appreciate each other.
Polish
Jeszcze pół biedy że nie piszę. Obiecałem sponsorować konkurs kulinarny na Wielkanoc. W zeszłym tygodniu przekazałem @pl-kuchnia sumkę. Przepraszam za spowodowane opóźnienie.
Postanowiłem dopełnić przestrzeń zachowań do @fervi - nie napisałem że rezygnuję ze Steem, a przestałem pisać ;) W ostatnim miesiącu niewiele robiłem ogólnie - znaczy się robiłem wiele, ale tylko w jednym - AWS DeepRacer. Zająłem dwudzieste miejsce na 860 uczestników w pierwszym wyścigu, więc nie wyszło źle, ale jeszcze długa droga przede mną. Postępy opisuję tylko w języku angielskim na koncie @codelikeamother - zapraszam do lektury i podążania za kontem.
W międzyczasie odwiedziłem Kraków. Żeby nie było, że od dawna nie było niczego o chlebie, chciałem dziś pójść do Piekarni Zaczyn i zrobić zdjęcie, ale właśnie remontują. Niestety. Ale obwarzanka zjadłem.
Chleb
Przygotowałem typowy chleb na winie (co się nawinie), wykorzystując mój przepis na pełnoziarnisty żytni jako bazę, ale zmieniając dodatki aby móc zużyć to i owo.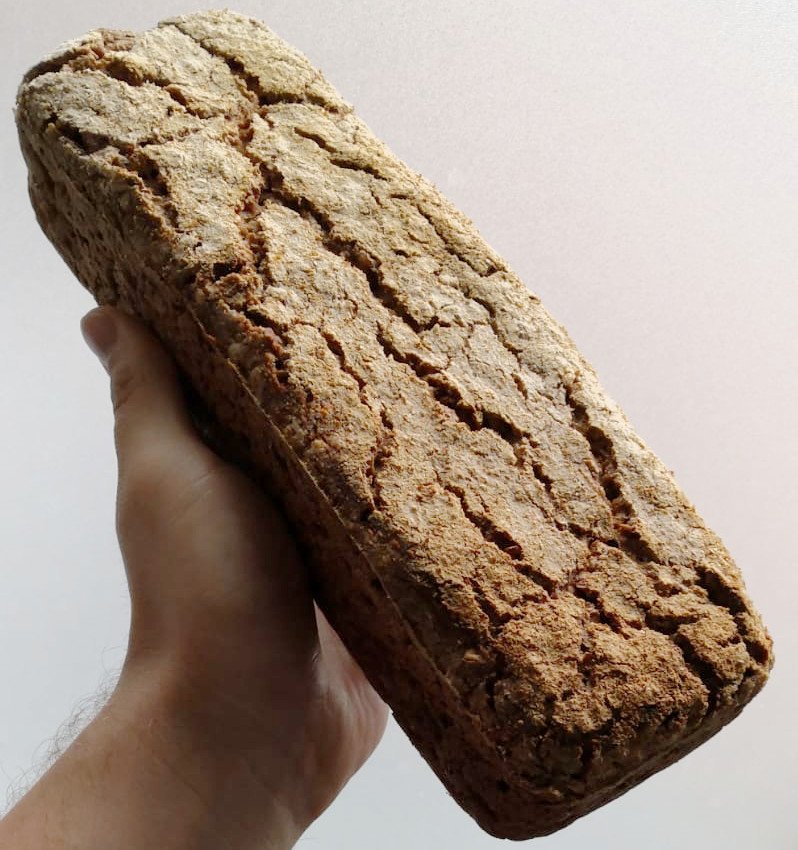 Składniki
125 g żytniego zakwasu
400 g żytniej pełnoziarnistej mąki
50 g semoliny
50 g płatków owsianych
25 preparowanej gryki
50 g słodowanych płatków pszennych
5 g kminku
12 g soli
500 g wody
Użyłem więce wody niż zwykle, ponieważ dodałem więcej chłonnych składników. Tak na wszelki wypadek.
Przygotowanie
Standard: wymieszać wszystko dokładnie, umieścić w posmarowanej masłem foremce, posypać mąką po wierzchu (dla dekoracji), przykryć i zostawić w ciepłym miejscu aż urośnie o okło 50% (pełnoziarniste żytnie raczej więcej mi nie rosną).
Kiedy chleb jest gotowy do pieczenia, nastaw piekarnik na 170-180 stopni z termoobiegiem (znaj swój piekarnik, u mnie to jest raczej 160), umieść chleb w piekarniku, zapodaj parę i piecz przez 70 minut.
Pozostaw na kratce do ostygnięcia.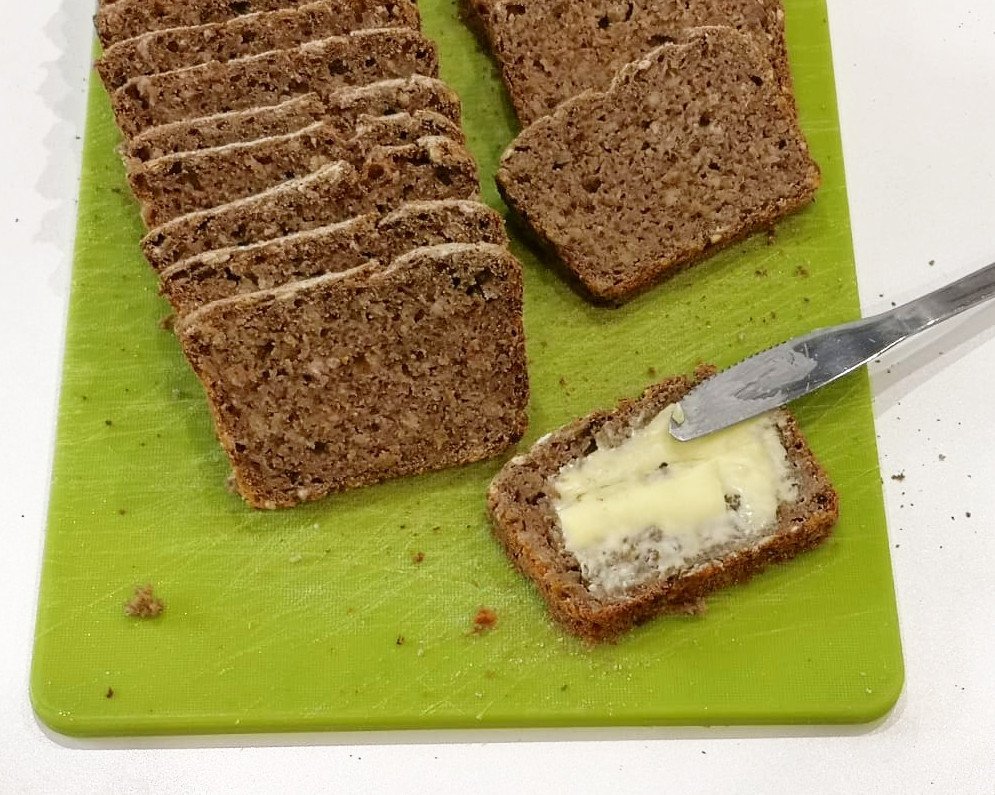 Werdykt
Obawiałem się wpływu gryki na chleb. Kiedyś używałem mąki gryczanej do wypieków bezglutenowych. Raz wypróbowaliśmy ją w zwykłym chlebie pszennym i wtedy dowiedziałem się, że nie cierpię gryki w chlebie.
Koniec końców jednak wynik był niezły. Dało się czuć słodycz z żyta i słodowanej pszenicy. Mógłbym chyba nawet dać więcej preparowanej gryki.
Przygotowałem dwa bochenki: jeden do domu i jeden do biura. Biurowy zniknął dość szybko, a ludzie wspominali, że kazałem im długo czekać. Nawet nowozatrudnieni już słyszeli, że przynoszę chleby od czasu do czasu. Zbudowałem sobie chyba markę.
Podsumowanie
Na razie pewnie będę głównie aktywny jako @codelikemother ponieważ zabiera mi to większość mojego czasu. Mam nadzieję, że uda mi się znaleźć go więcej na inne rzeczy gdy nauczę się więcej o uczeniu maszynowym i może nawet wygram bilety na finały AWS DeepRacer League w grudniu.
Cieszę się, że wciąż tu jesteś. Nie chodzi mi o to, czy wierzysz w Steem czy nie. Ja wierzę w to, że zbudowaliśmy społeczność, która wnosi wartość do tego miejsca. Nie obchodzi mnie tak bardzo czy tu jest wszystko dobrze czy źle w sensie technicznym tak długo jak długo mamy możliwość spotkać się, szanować się nawzajem, wymieniać się i doceniać swój wkład.