This traditional wet cake has a delicious and soft texture so it is not surprising that until now it is still very popular among the public. Although it has a name that is almost the same as Putu cake, the basic ingredients used are very different. For putu ayu use some ingredients commonly used in making steamed sponge.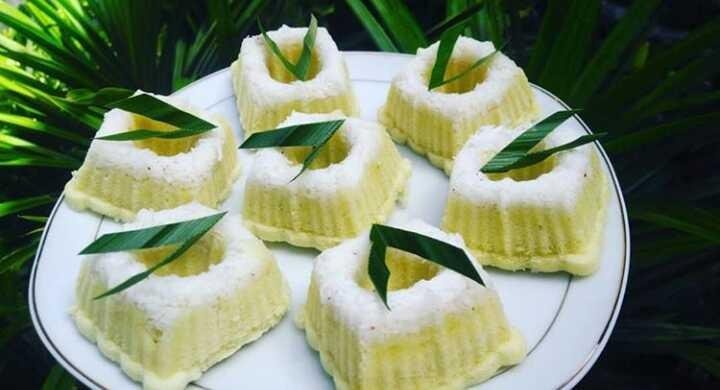 The equation of the two cakes is only the use of grated coconut as an outer curd or topping. The sweetness of sugar and the savory grated coconut is a delicious blend. A beautiful color with a sprinkling of white grated coconut is a very interesting combination.
Ingredients
Low or medium protein wheat flour - 125 grams Maize - 15 grams Sand sugar - 100 grams Egg - 2 grains SP - 1 tspVanili - 1/2 tsp Salt - 1/2 tsp Instant coconut milk - 1 pack (65 ml) Pandan paste - 1/2 tsp Fried oil, for spread - to tasteSari Pandan (blender into one and strain): Pandan leaves - 1 sheetWater - 35 mlTopping: Grated coconut - 100 gramsMaize powder - 2 tsp Salt - 1/4 tsp
Step
Prepare a steaming pan / heat and heat it on the stove. Set aside. Prepare the putu ayu mold. Rub it thin with oil. Set aside. In containers, mix all topping ingredients evenly. Take 1 teaspoon of topping mixture and place it on top of the mold. Press down until solid. Do it until all the topping is finished. Set aside. In containers, mix coconut milk, pandan paste and pandan juice. Set aside. In a container, shake the sugar, eggs, SP, vanilla, and salt until they expand stiffly. Enter the flour alternately with a solution of coconut milk and pandanus. Stir back with a spatula until smooth. Put the mixture in a plastic triangle. Cut the ends then spray into the putu ayu cake mold (over grated coconut) until full. Do it until it's finished and all the molds are filled. Putu steamed for 20 minutes until cooked. Lift and remove from the mold. Prepared to be served.