In Indonesia, the coconut sugar cake putu mayang is part of the Betawi culinary arts. However, the origin of this cake might be related to the putu mayam cake from South India. Both of them have the form of starch or rice flour dough that is printed to resemble a lump of noodles or noodles, there is also a mixture of brown sugar into the dough so that it is a recipe for natural brown sugar, green putah, and maybe jelly nutrijell ingredients can mixed into the mixture are all various processed creations and variations of your creativity. But the Indonesian grandmother is a little different compared to the Indian Putu which can also be found in Sri Lanka, Malaysia and Singapore. Indonesian putu mayang lumps are more unified and thick with small lump sizes, while Indian putu mayam has finer noodles and wider size.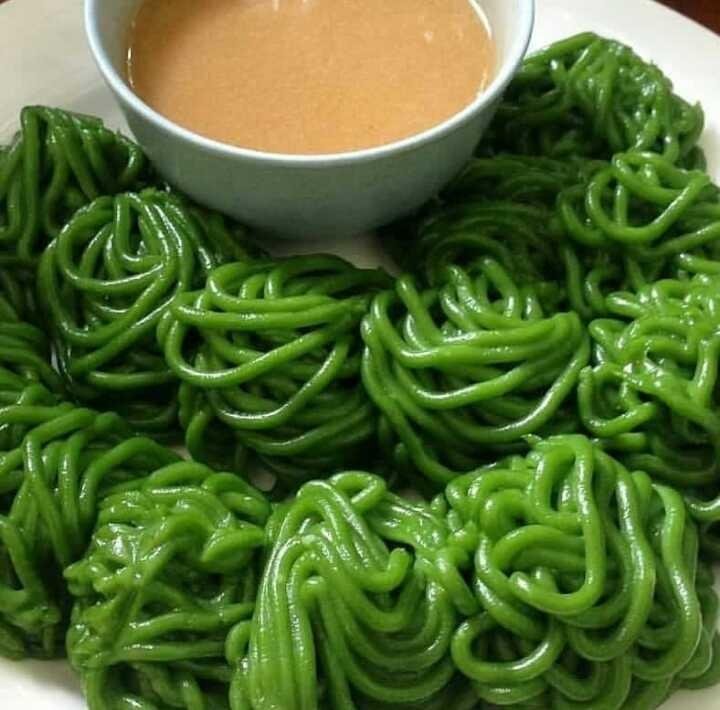 AmbarPicture of Putu Mayam India
Eating this cake can be done by pouring brown sugar and coconut milk, or giving a little extra coconut sprinkles to the sugar putu mayang. So the taste of the putu mayang cake is savory, sweet and delicious. The point is steady.
The putu mayang cake recipe can also be made from corn rice vermicelli for the ingredients of corn noodles putu mayang, soun vermicelli, or even yellow noodles. Rainbow food coloring can be used in this recipe to make this cake more beautiful, unique and interesting and can also be given a sprinkling of grated coconut on top. Here are a variety of recipes from the delicious NU complete with a special way to make yourself in a home-style home (Homemade) that is simple, easy and practical for self-consumption or to try to sell a variety of traditional wet cake market snacks.
INGREDIENTS :
200 grams of rice flour 2 tablespoons flour starch 250 ml water100 ml water of suji pandan leaves SANTAN SAUCE:
750 ml of coconut milk is 200 grams of brown sugar, fine comb 3 tablespoons of sugar1 sheet of pandan leaves, cut into pieces
HOW TO MAKE PUTU MAYANG:
Mix the two flour together. Sprinkle with a little water until the flour becomes moist. Steam steaming with banana leaves. Steam the flour until it's hot. Remove the remaining water and water from the suji pandan leaves. Enter the hot flour, stir until smooth and thick. Lift. Divide into 3 parts. One part with red coloring, one part with green. Leave the rest white. Pour into putu cake mold. Press until it's bumpy. Put it on banana leaves. Do it until the ingredients run out. How to make a kinca Santan Sauce: Boil all ingredients until boiling and sugar dissolves. Lift and strain. Serve putu mayang with Santan Sauce or brown sugar sauce for 6 servings.