This is a simple and tasty recipe for making black glutinous rice porridge, and I'm sure you will love it. Porridge is a really good snack when served warm in the morning. The taste is soft and sweet in the tongue, often addictive to many people. This black glutinous rice porridge is actually very flexible, because if daylight can be added ice together with dawet. What are the health benefits of black glutinous rice porridge? ... Of course like other types of rice, black sticky rice contains lots of carbohydrates for energy, as well as some minerals and vitamin B. So it can be said if this food is healthy for your consumption, as long as it's not excessive ? ...
Here's how to make delicious black sticky rice porridge
Slurry material:
300gr of black glutinous rice, and 200gr of white glutinous rice, choose the good one so the results are soft. Soak overnight or at least three hours before and wash thoroughly.250 grams of brown sugar, finely chopped 2 liters of water Two pandan leaves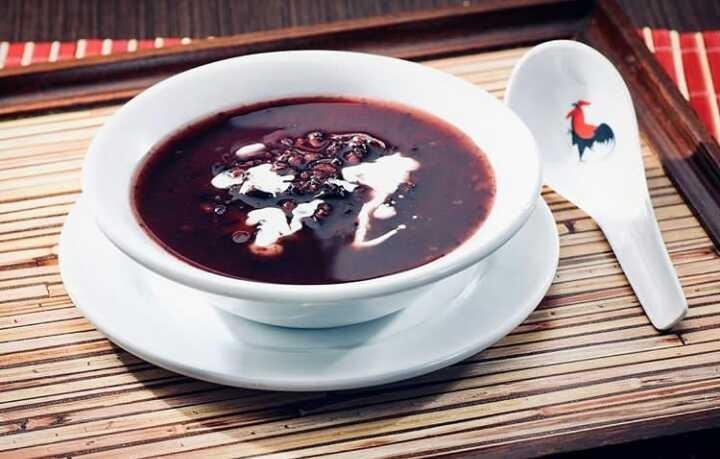 Coconut Sauce Ingredients:
250ml ready to use coconut milk, or coconut milk from half a coconut, 1.5 tsp salt. A piece of pandan leaf, knotted
How to make coconut milk sauce:
Cook all ingredients with low heat while stirring until boiling, you can add a little water. Lift, set aside
How to Make Porridge:
Cook with 1.5 liters of water, add pandanus. Use low heat and must be stirred frequently so it doesn't burn at the bottom of the pan, cook sticky rice until it becomes soft and thick. Put brown sugar and salt, stir until the sugar dissolves and is not runny. Add sugar, if the porridge has not tasted sweet. Serve black sticky rice porridge along with coconut milk sauce.
Tips
Can only use black glutinous rice (without white glutinous rice) You can add more water if the porridge is still not really soft.
Now that's the recipe for making delicious, nutritious and energetic black glutinous rice porridge to support your activities.