Chicken balls in teriyaki sauce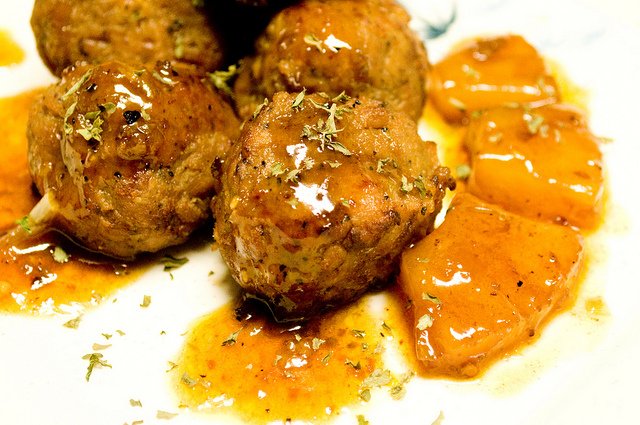 Image source
Ingredients
For chicken:
450 g of ground chicken;
1 egg;
2 teaspoons corn or potato starch;
several feathers of green onions;
2 cloves garlic;
2 teaspoons fresh grated ginger;
2 teaspoons of soy sauce;
salt - to taste;
ground black pepper - to taste;
a little vegetable oil;
several salad leaves;
1 tablespoon sesame seeds.


For sauce:
80 ml of water + 2 tablespoons;
120 ml of soy sauce;
110 g of liquid honey;
1 clove of garlic;
½ teaspoon freshly chopped ginger;
2 tablespoons corn or potato starch.


Preparation


Add egg, starch, chopped onion (leave for decoration), minced garlic, ginger, soy sauce and spices. Stir well and place on a baking sheet, oiled. Bake at 220 ° C for 15-20 minutes.
In the saucepan pour 80 ml of water, soy sauce and honey, add crushed garlic and ginger. Dissolve the starch in the remaining water and pour into the saucepan. Cook the sauce over moderate heat, stirring occasionally until it thickens.
Remove the sauté pan from the fire, put the chicken balls in it and mix until they are completely covered with sauce. Cover the dish with lettuce leaves, put chicken balls on them and sprinkle with sesame seeds and chopped green onions.
---
Thanks for reading. Stay Healthy.