As we round up the best Christmas cookie recipes for the holiday season, we turn to Martha Stewart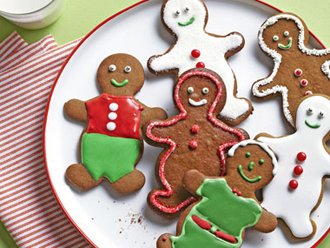 As we round up the best Christmas cookie recipes for the holiday season, we turn to Martha Stewart for a sentimental favorite.
"My mom was a very big cookie baker at Christmas, and I am the direct descendant of that enthusiasm," says Martha. "I've made these cookies to eat, to decorate Christmas trees, and to make a gingerbread house. They're easy to roll out, the dough is fragrant and spicy, and the cookie shapes stay true if they are chilled after cutting and before baking. Frosted, they are charming."
Time: 1 hour 45 minutes (plus chill time)
Yields: About 24 cookies
Ingredients
• 3½ cups all-purpose flour
• 1½ tsp. baking soda
• ¼ tsp. salt
• 1¼ tsp. ground cinnamon
• 1¼ tsp. ground ginger
• 1¼ tsp. ground allspice
• ¼ tsp. ground cloves
• 1 cup (2 sticks) unsalted butter, softened
• ¾ cup granulated sugar
• ¾ cup packed dark brown sugar
• 4 tsp. peeled and grated fresh ginger
• 1 egg
• ¼ cup unsulfured molasses
• Royal Icing, optional (recipe below)
Directions
In large bowl, whisk together flour, baking soda, salt, cinnamon, ground ginger, allspice, and cloves; set aside.

In bowl of electric mixer fitted with paddle attachment, beat together butter, sugars, and fresh ginger on low speed until combined. Increase speed to medium; beat until light and fluffy, 2 to 3 minutes, occasionally scraping bowl with rubber spatula. Beat in egg and molasses until blended. Reduce speed to low and gradually add in flour mixture, beating until just incorporated.

Transfer dough to clean work surface. Dough will be very sticky and wet. Divide dough in half, and flatten each half into a disk and wrap in plastic. Refrigerate at least 4 hours or overnight.

Arrange 2 racks in upper and lower thirds of oven. Preheat oven to 350°F. Line 2 cookie sheets with parchment paper; set aside. Remove dough from refrigerator, and let stand until slightly softened. (This will help keep dough from cracking when rolled.) On large piece of parchment paper lightly dusted with flour, using a floured rolling pin, roll dough to about ¼-inch thickness. To prevent dough from sticking to parchment while rolling, occasionally run large metal offset spatula under dough, and sprinkle work surface with more flour. Place parchment paper with rolled-out dough on another cookie sheet; freeze until very firm, about 15 minutes.

Remove dough from freezer; working quickly, with floured cookie cutters, cut out desired shapes. (If dough begins to soften and cookies don't hold their shape, return to freezer for a few minutes.) With wide metal spatula, transfer cutouts to prepared baking sheets; refrigerate until firm, about 15 minutes.

Bake cookies until crisp but not darkened, 12 to 15 minutes, rotating sheets between upper and lower racks halfway through baking. Keep cookies on parchment and transfer to wire rack to cool completely. Decorate as desired with decorative sugar or Royal Icing.
Royal Icing Recipe:
• 2 cups confectioners' sugar
• 2 tbs. meringue powder (an edible product available at baking and craft stores)
• Food coloring, as desired
In bowl of electric mixer fitted with whisk attachment, beat confectioners' sugar, meringue powder, and 3 tbs. water until blended. Scrape side of bowl with rubber spatula. Increase speed to medium; beat until soft peaks form, about 10 minutes. Icing should be just stiff enough to hold its shape. Thin with more water, if needed.

Tint icing with food coloring as desired; cover surface with plastic wrap until ready to use.