The holidays just wouldn't be the same without cutout cookies. This easy recipe yields cookies so soft they'll melt in your mouth. Have fun baking them in your favorite holiday shapes! —Cathy Hall, Phoenix, Arizona.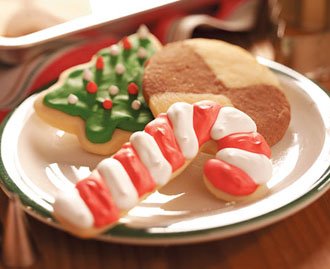 Prep: 1-1/2 hours + chilling Bake: 5 min./batch + cooling Yield: 42 Servings
Ingredients
1 cup butter, softened
1-1/2 cups confectioners' sugar
1 egg
1-1/2 teaspoons vanilla extract
2-1/2 cups self-rising flour
FROSTING:
2-1/2 cups confectioners' sugar
1/4 cup water
4 teaspoons meringue powder
1/4 cup light corn syrup
Green, red and yellow food coloring
Directions
In a large bowl, cream butter and confectioners' sugar until light and fluffy. Beat in egg and vanilla. Gradually add flour. Divide dough in half. Cover and refrigerate for 2 hours or until easy to handle.
On a lightly floured surface, roll out one portion of dough to 3/16-in. thickness. Cut with floured cookie cutters. Place 2 in. apart on ungreased baking sheets.
Bake at 375° for 5-7 minutes or until set. Cool for 2 minutes before removing from pans to wire racks to cool completely. Repeat with remaining dough.
For frosting, in a small bowl, beat the confectioners' sugar, water and meringue powder on low speed just until combined. Beat on high for 4 minutes or until soft peaks form. Add corn syrup; beat 1 minute longer.
Tint with food coloring of your choice. Cover frosting with damp paper towels or plastic wrap between uses. Spread and/or pipe frosting on cookies. Let stand until set. Yield: 3-1/2 dozen.