Ingredients (serves 4) 4 pieces lavash bread 1/2 cup tomato salsa 200g shaved pastrami 200g low-fat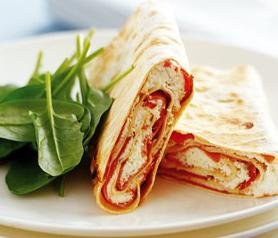 Ingredients (serves 4)
4 pieces lavash bread
1/2 cup tomato salsa
200g shaved pastrami
200g low-fat ricotta cheese (see note)
80g baby spinach, trimmed
Method
Preheat a sandwich press (see tip). Place lavash on workbench. Spread with salsa, leaving a 1cm border around the edges. Top with pastrami.
Crumble ricotta over the pastrami. Season with salt and pepper. Roll up lavash to enclose filling.
Place lavash, seam side down, in sandwich press. Cook for 1 to 2 minutes or until toasted and heated through. Cut in half diagonally. Serve with spinach.
Notes
Buy ricotta from the deli. Ricotta sold in tubs is too soft and watery to crumble.
Tip: If you don't have a sandwich press, preheat oven to 210°C. Place lavash on a baking tray. Bake for 10 minutes or until filling is warmed through.
Nutritional information
This information is per serve.
Protein Dietary Fibre
20.90g 3.60g
Fat Total Energy
5.00g 1249kJ
Fat Saturated Sodium
1.40g 1131mg
Carbohydrate Total Cholesterol
40.20g 2.00mg
Carbohydrate Sugars