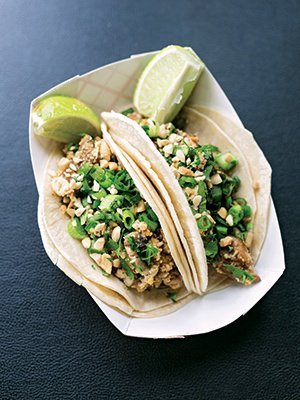 Ingredients:
For the chicken marinade:
3 to 4 lb (1.4 to 1.8kg) boneless, skinless chicken thighs
1/4 cup (59ml) rice wine vinegar
1/4 cup (40g) minced garlic
1/4 cup (59ml) light soy sauce
2 tbsp (31g) chili paste
1/4 cup (48g) sugar
For the pad thai veggie mix:
1 cup (66g) sliced mushrooms
1 bunch scallions, chopped
1/4 cup (63ml) pad Thai sauce
1 tbsp (26ml) cooking oil
4 eggs
20 (5" [12.5cm]) white corn tortillas
For the toppings:
1 bunch cilantro, chopped
1 bunch scallions, chopped
1/4 cup (40g) chopped peanuts
2 limes, cut into wedges
Directions:
To make the chicken marinade, combine all the ingredients in a bowl and let rest overnight in the refrigerator. Cook the chicken on an open flame grill or on the stove for 8 to 10 minutes, until cooked through. Once the chicken is cooked and has cooled, dice the meat.
To make the veggie mix, combine the mushrooms, scallions, pad Thai sauce and the oil in a large skillet over medium-high heat. Let the mushrooms and scallions cook through for 2 to 3 minutes, then add the eggs. Scramble the eggs with the veggie mix until the eggs are cooked. After another 2 to 3 minutes, add the diced chicken and stir to combine.
Heat the tortillas up on a griddle or stovetop for 1 minute on each side, then add the pad Thai mix (double up the tortillas if you prefer). Garnish with the cilantro, scallions and peanuts and serve with a lime wedge.
Excerpted from Food Truck Road Trip by Kim Pham & Philip Shen. Reprinted with permission. All rights reserved.
Amazon.com