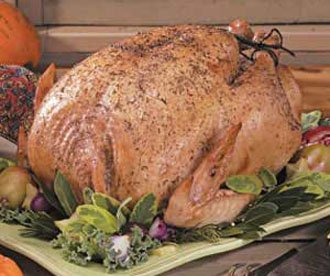 Herb-Glazed Turkey Recipe.jpg
Honey and corn syrup blend with savoy herbs and seasonings to give turkey a slightly sweet flavor. This tried-and-true recipe never fails to win me compliments.
Prep: 10 min. Bake: 4 hours + standing Yield: 16-18 Servings
Ingredients
1 turkey (14 to 16 pounds)
1/4 cup olive oil
2 teaspoons dried thyme
1-1/2 teaspoons salt divided
1-1/4 teaspoons pepper, divided
1 cup honey
1 cup corn syrup
1/4 cup butter, melted
2 teaspoons dried rosemary, crushed
1 teaspoon rubbed sage
1 teaspoon dried basil
Directions
Brush turkey with oil; tie the drumsticks together. Place turkey breast side up on a rack in a roasting pan. Combine the thyme, 1 teaspoon salt and 1 teaspoon pepper; sprinkle evenly over turkey. Bake, uncovered, at 325° for 2 hours.
In a small bowl, combine the honey, corn syrup, butter, rosemary, sage, basil and remaining salt and pepper. Brush over turkey. Bake 2 hours longer or until a meat thermometer reads 180°, basting frequently with pan drippings.
Cover loosely with foil if turkey browns too quickly. Cover and let stand for 15 minutes before carving. Yield: 16-18 servings.
Nutritional Facts
1 serving (1 pound) equals 570 calories, 25 g fat (8 g saturated fat), 197 mg cholesterol, 380 mg sodium, 30 g carbohydrate, trace fiber, 56 g protein.