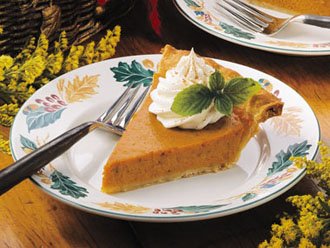 5pumpkin-pie-milk.jpg
"My husband is on a restricted diet, so his mom shared the recipe for these pared-down pies," says Carol Kloes of Arlington, Texas. "Now my family enjoys them on holidays."
This recipe is: Healthy
Prep: 20 min. + freezing Bake: 50 min. Yield: 16 Servings
Ingredients
2 cups all-purpose flour, divided
2 teaspoons sugar
1/2 teaspoon salt
6 tablespoons shortening
6 tablespoons cold water
FILLING:
1/2 cup egg substitute
1 egg
1 cup packed brown sugar
1/2 cup sugar
1 teaspoon salt
1 teaspoon ground cinnamon
1/2 teaspoon ground ginger
1/4 teaspoon ground cloves
2 cans (15 ounces each) solid-pack pumpkin
2 cups fat-free evaporated milk
2 cups reduced-fat whipped topping
Directions
In a small bowl, combine 1-1/2 cups flour, sugar and salt; cut in shortening until crumbly. In another bowl, whisk water and remaining flour until smooth. Gradually add to crumb mixture, tossing with a fork until dough forms a ball. Divide pastry in half. Roll out each portion between two pieces of plastic wrap into an 11-in. circle. Freeze for 10 minutes.
Remove one sheet of plastic wrap from one pastry; transfer to a 9-in. pie plate coated with cooking spray. Remove remaining
plastic wrap. Trim pastry to 1/2 in. beyond edge of pie plate; flute edges. Repeat with remaining pastry.
In a large bowl, beat the egg substitute, egg, sugars, salt and spices until blended. Beat in pumpkin. Gradually beat in milk. Pour into crusts. Bake at 375° for 50-60 minutes or until a knife inserted near the center comes out clean. Garnish with whipped topping. Yield: 2 pies (8 servings each).
Nutritional Analysis:
One serving (1 piece with 2 tablespoons whipped topping) equals 245 calories, 6 g fat (2 g saturated fat), 14 mg cholesterol, 282 mg sodium, 41 g carbohydrate, 3 g fiber, 6 g protein.
Diabetic Exchanges: 2-1/2 starch, 1 fat.