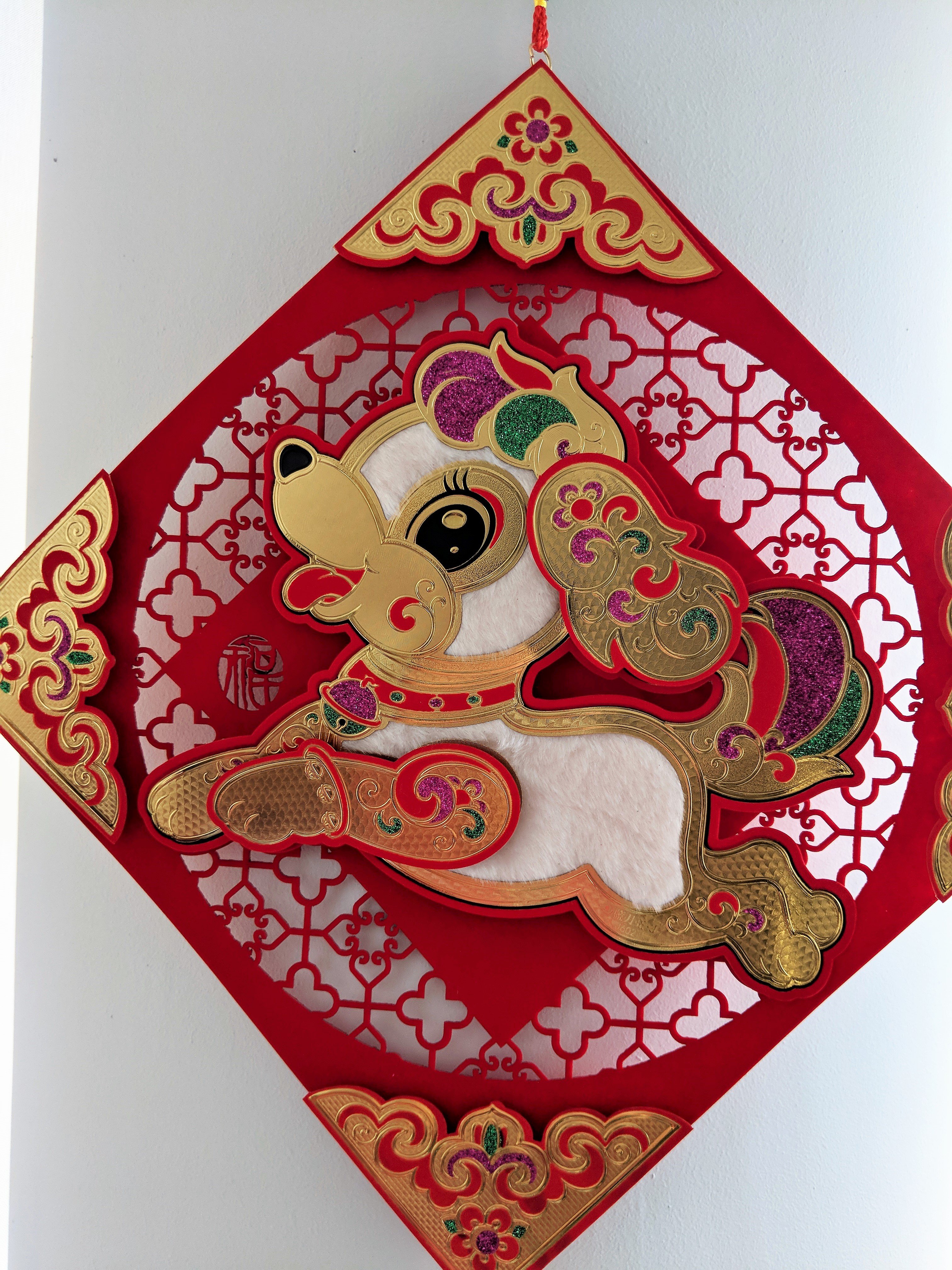 Happy Chinese New Year everyone!
I'm quite exhausted, most likely from the cleaning and the drinks. We hosted a food gathering, and it was just a non-stop eating bonanza. And so I'm told that's how it goes. First to do a deep cleaning of the whole house to welcome the new year (a recurring theme, I know). Then, to mess it up with a giant eating party, and then clean again. Ha.
Messing up the Clean
As part of the purifying, breakfast is to be vegan. We fried some rice cakes that we bought. For this we tried coating in flour and frying it. After asking other later, it's usually a flour and egg coating. The flour that we used probably didn't have any real effect.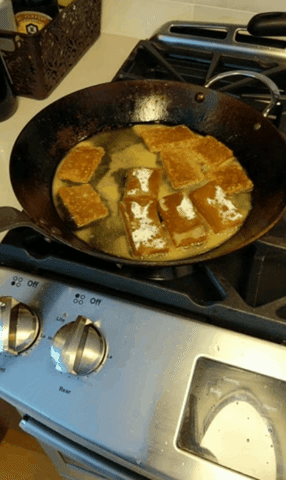 It's satisfying to watch those rice cakes pop and hop. But the oil splattered like crazy as you could possibly imagine. Great way to start messing up the clean right?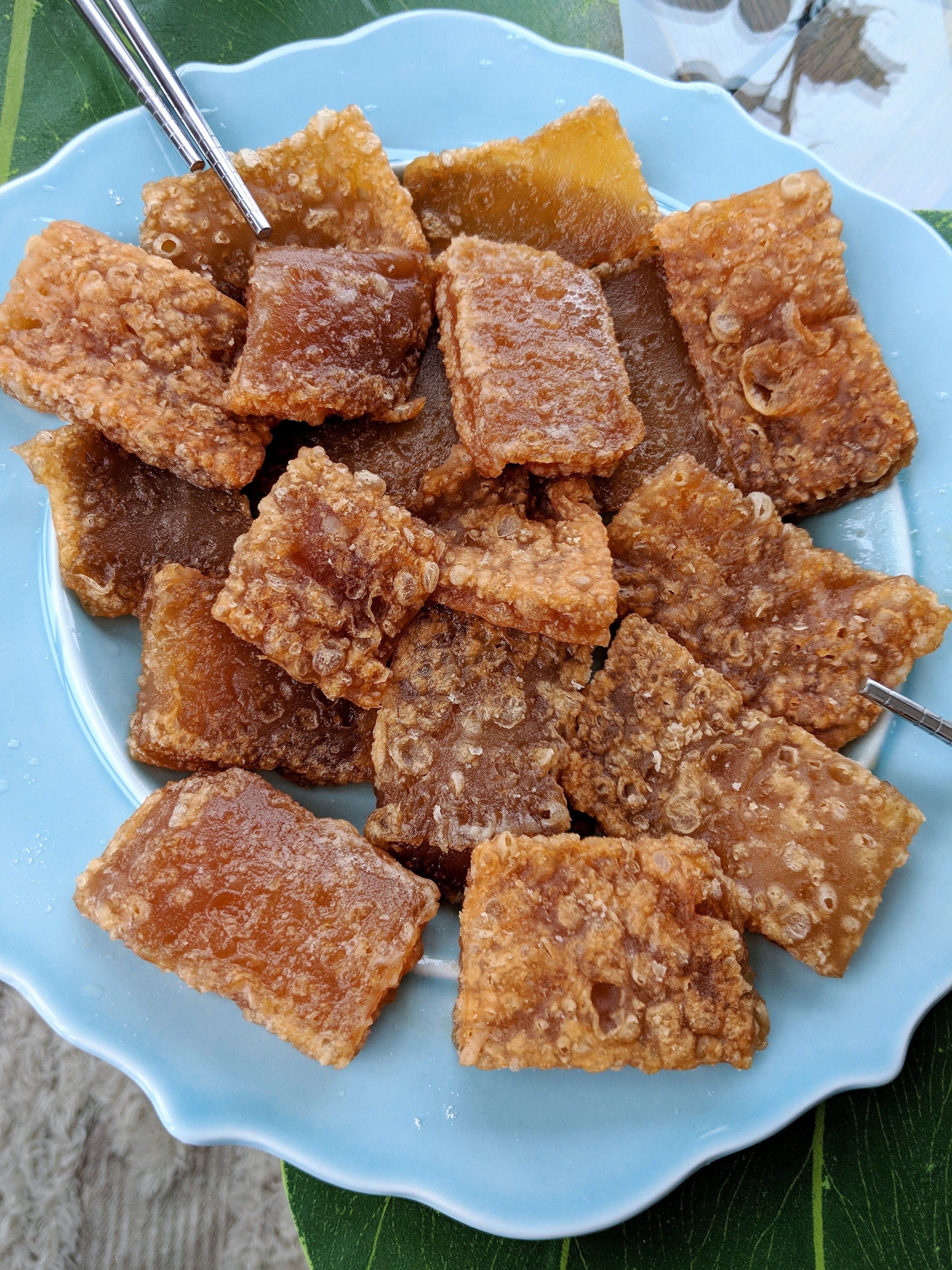 This is what we ended up with. It looks like meat right? Yeah, that surely disappointed my brain. Still, they were delicious. Crispy outside and sticky inside, and slightly sweet. I ate too many of them that day and was not feeling so good for a few hours after.
Food
We prepared a lot for the food gathering, as another theme of Chinese New Year is that of abundance, and having a table filled with all sorts of food.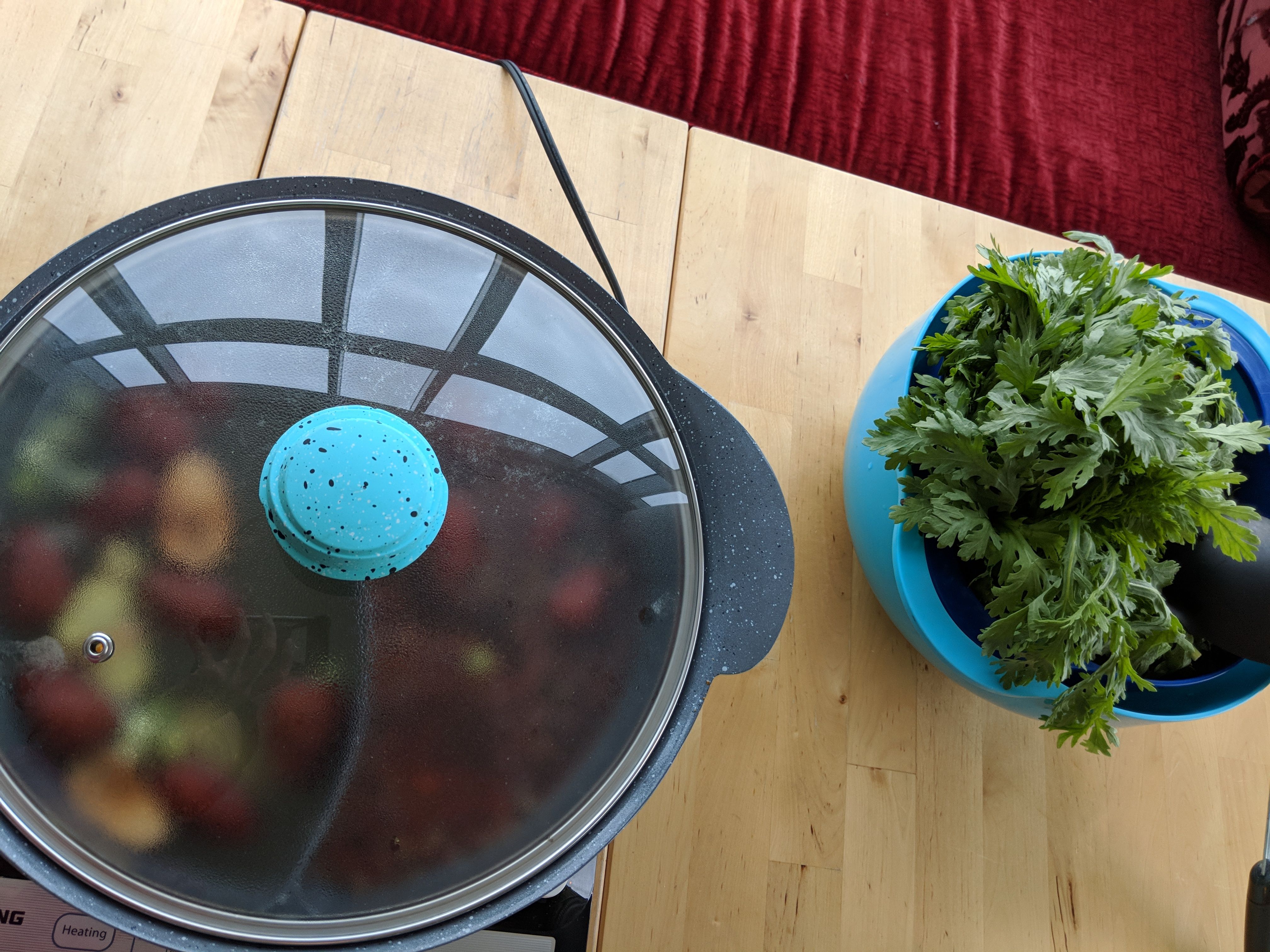 Hot pot, as usual. Easy to manage any number of folks.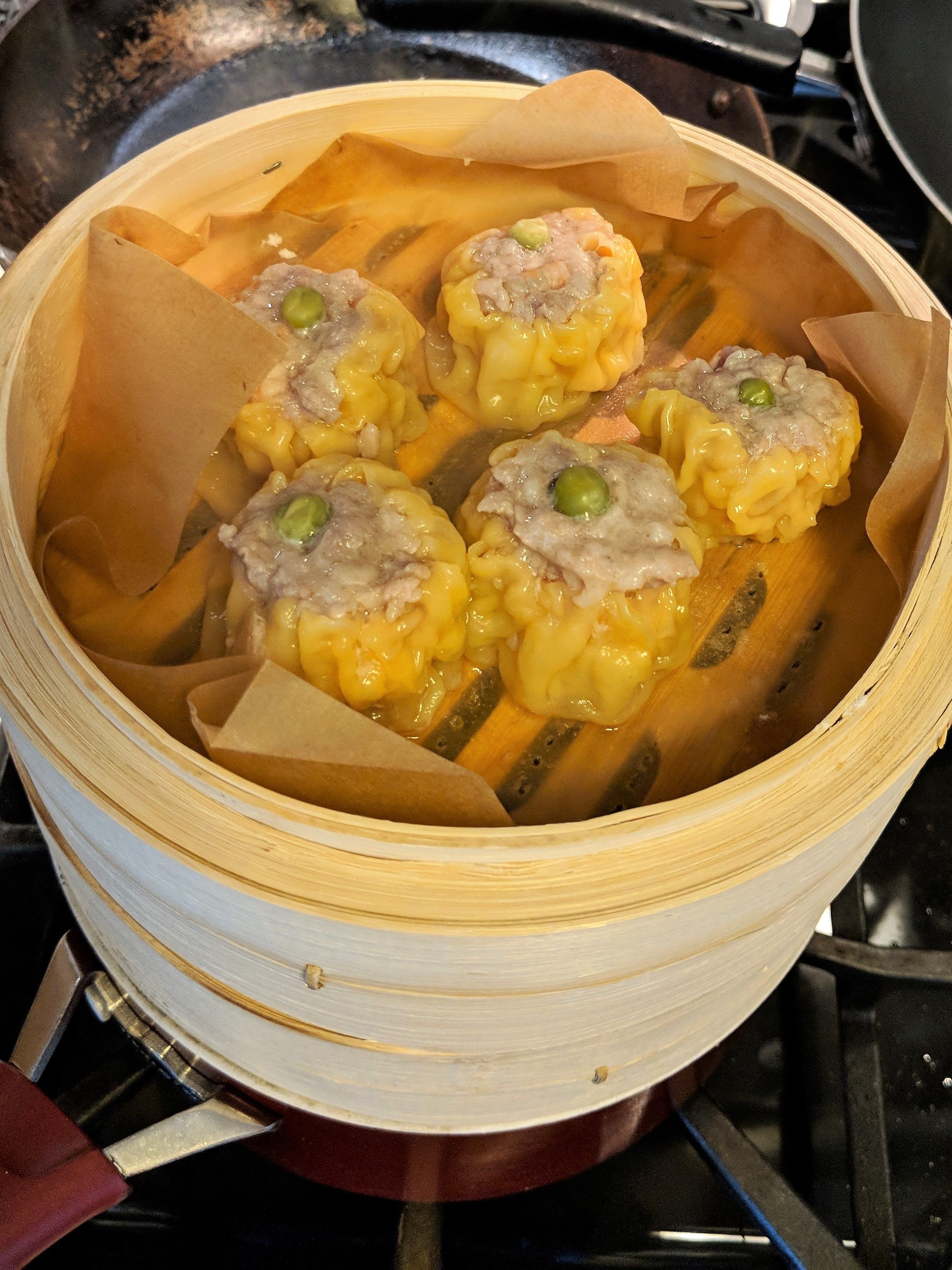 Steamed a bunch of dim sum. Stupidly, I also managed to destroy an older pot in the process for not putting enough water and steaming for too long.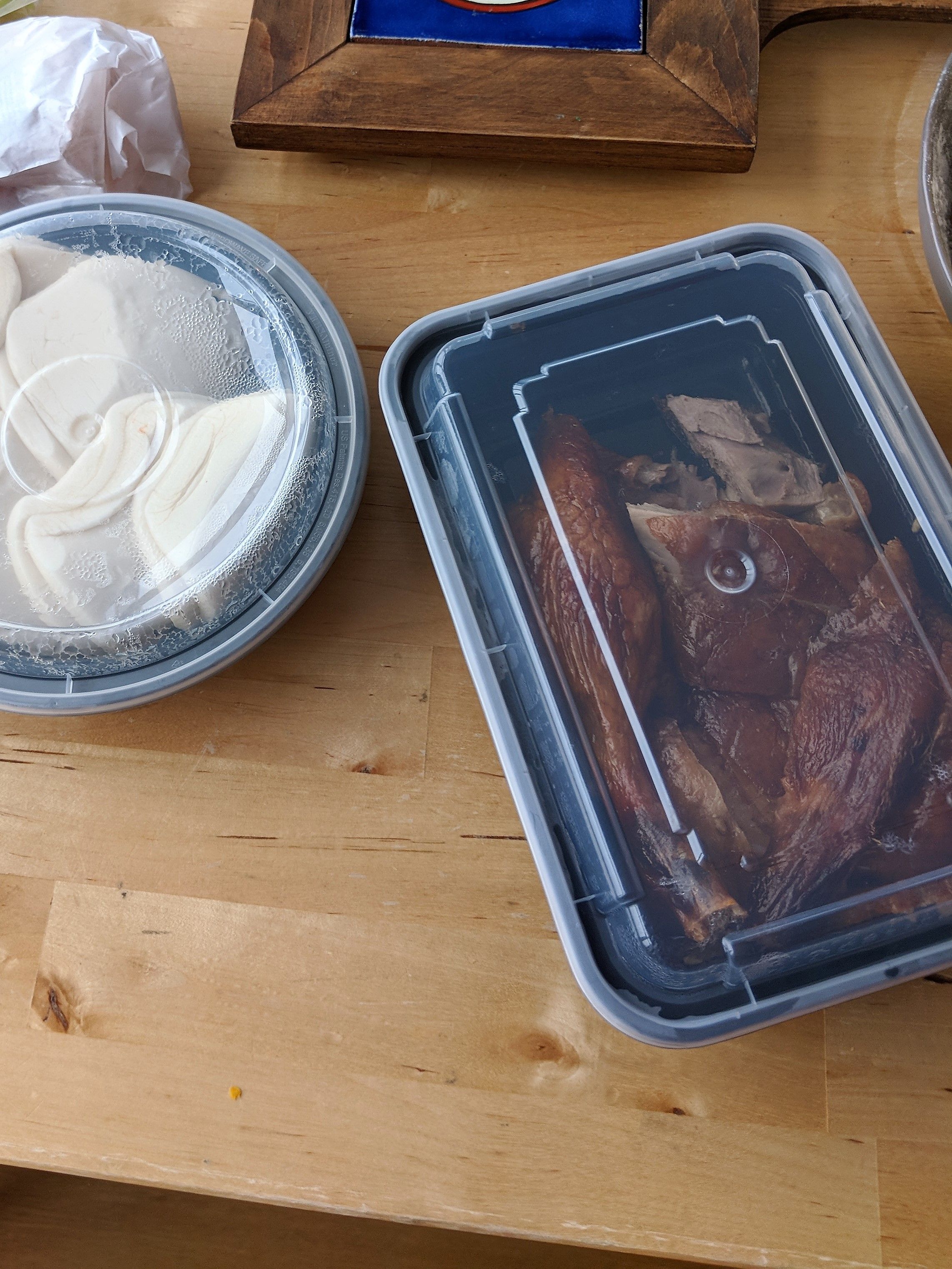 Wrapped Smoked Duck Bao that someone else brought.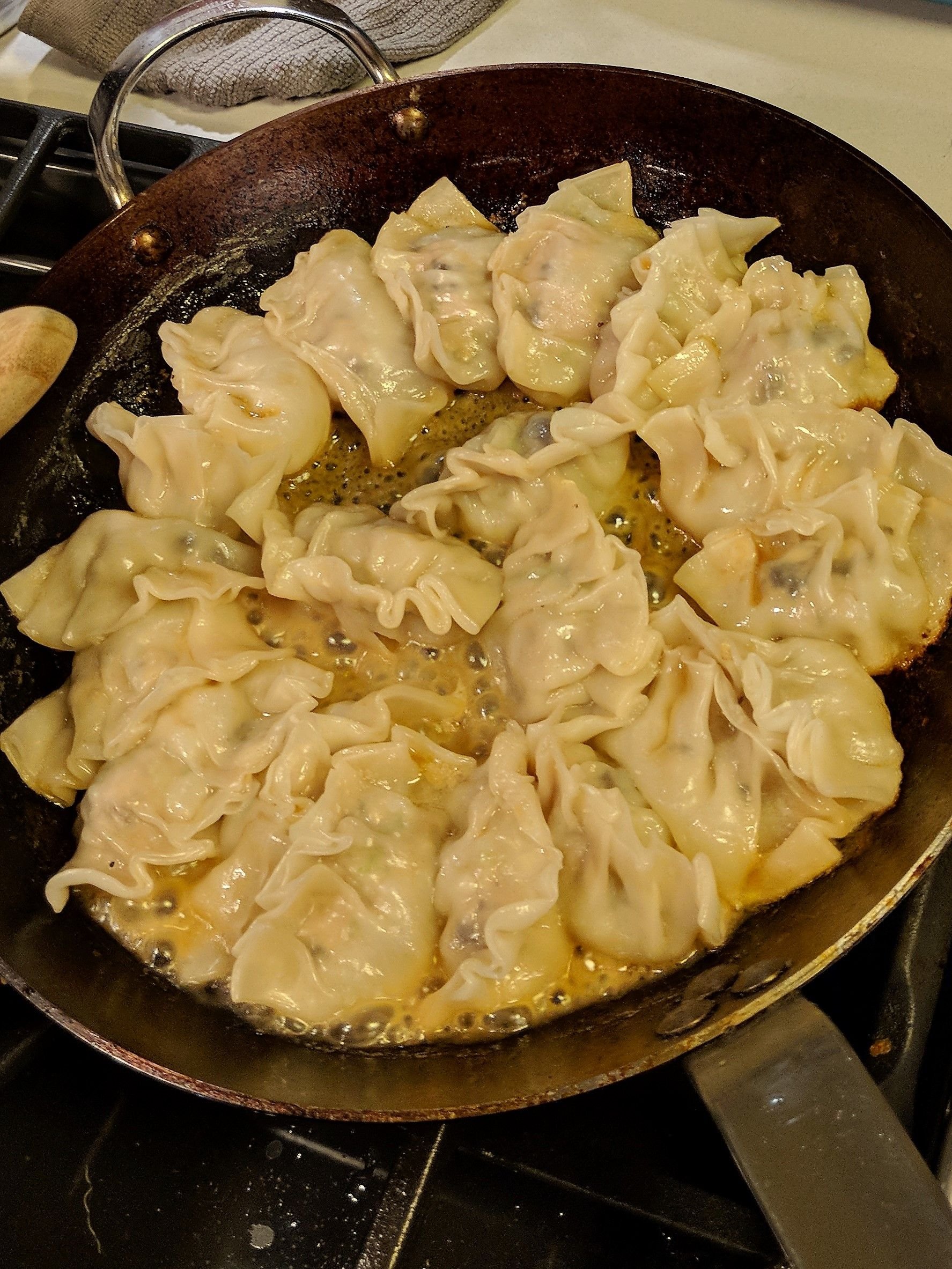 Handmade dumplings turned into potstickers. One of the traditions in Chinese New Year is to make your own dumplings, and someone brought ingredients for us. These ones are chicken mushroom celery dumplings.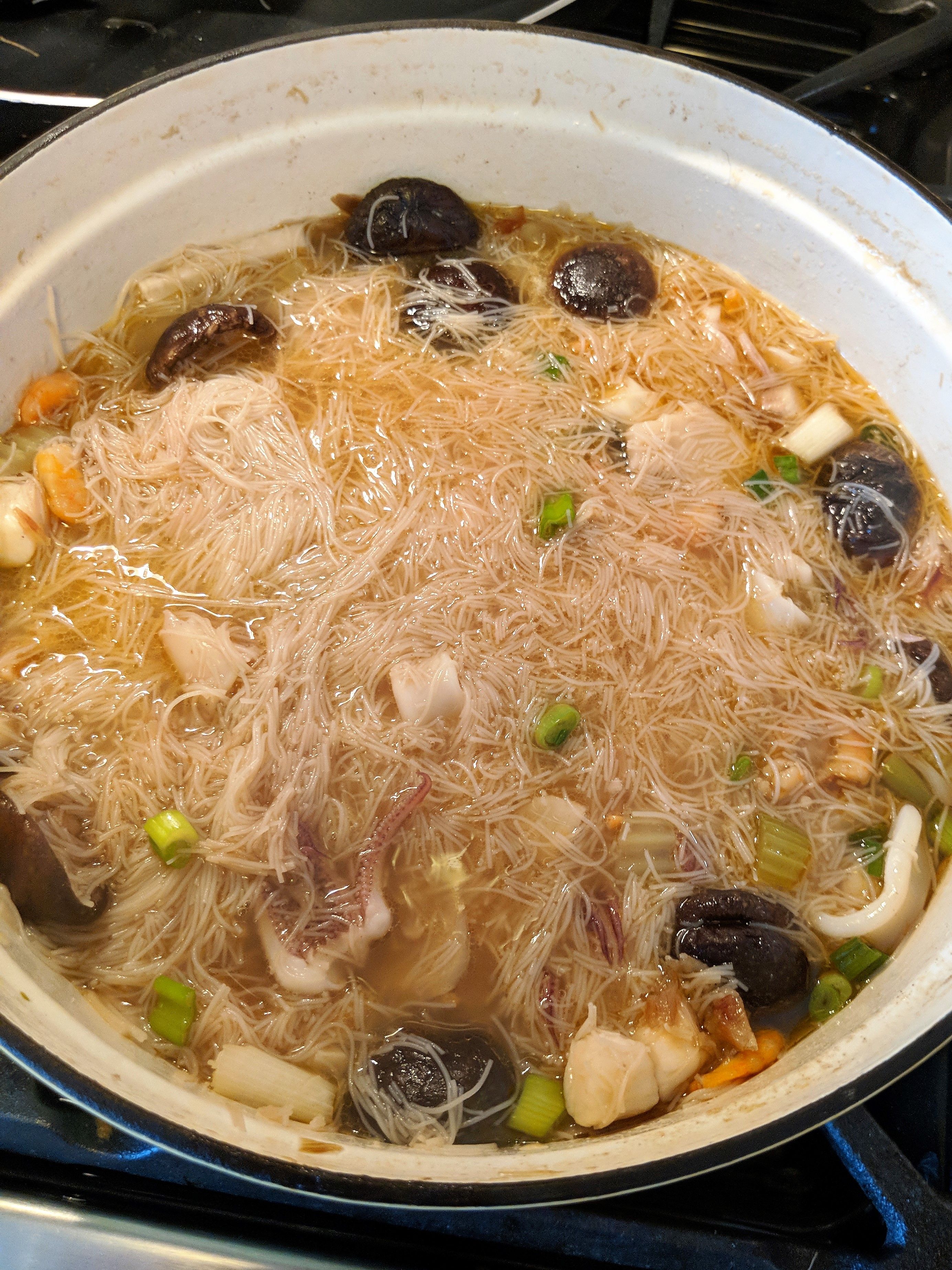 This is what my wife cooked together after finding a recipe online. A seafood rice noodle soup. This was a hit, it got completely cleared out.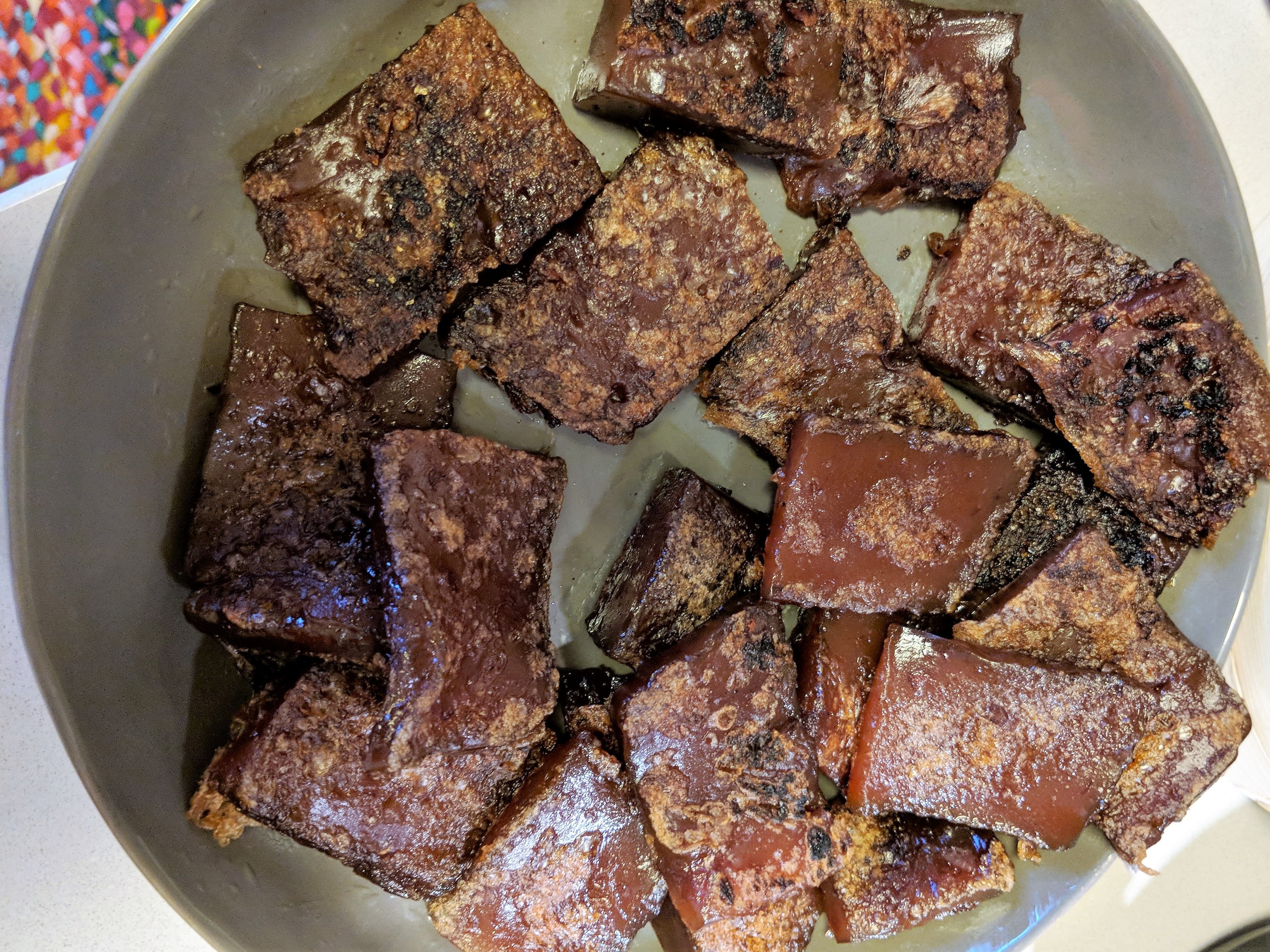 More rice cakes. We burnt them this time, trying to use less oil than this morning. Still, it tastes good, from what I heard. I could not eat any of these because I had so many that morning.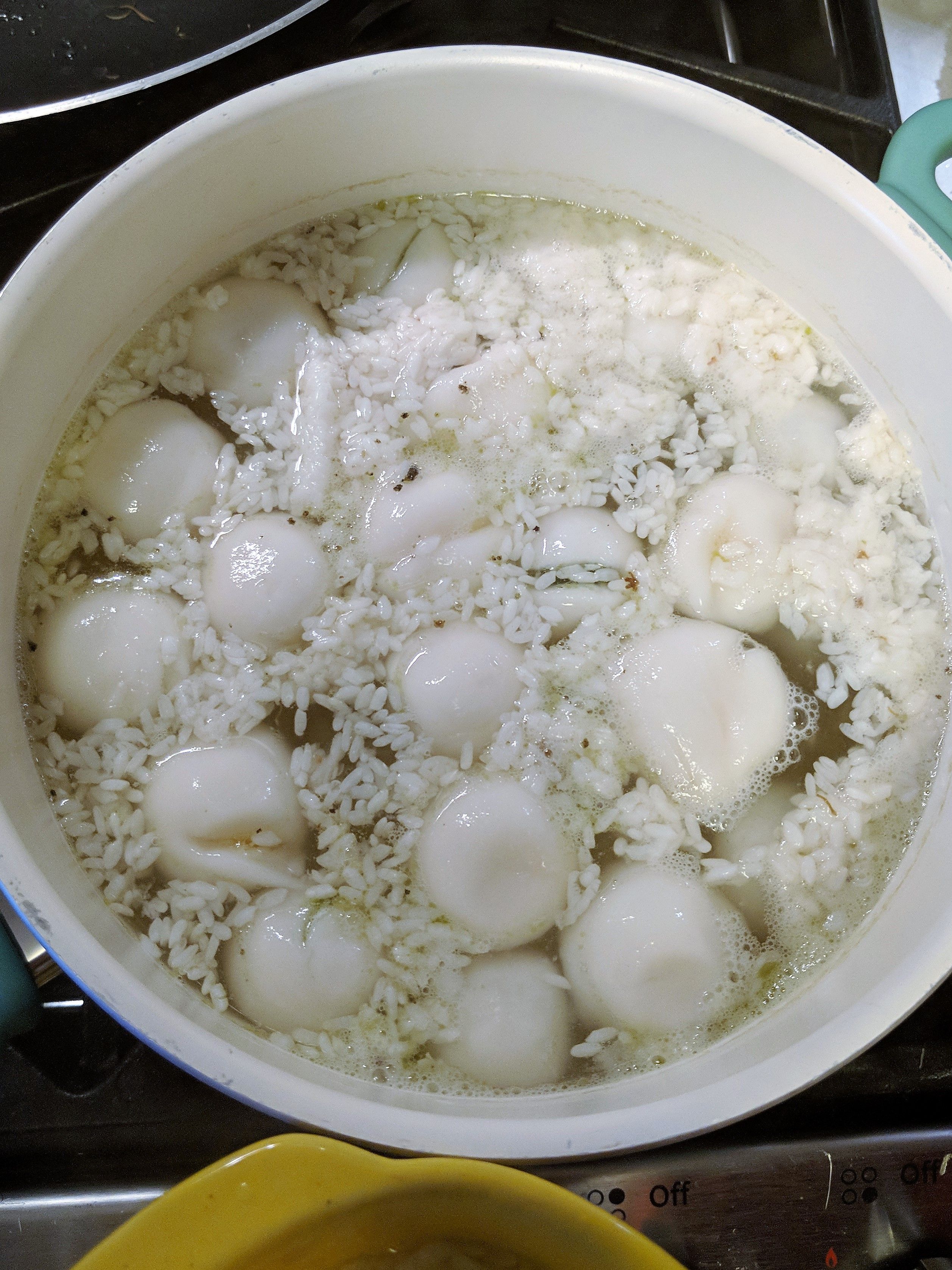 Dessert: Rice balls soup, some filled with black sesame, and some filled with custard. Essentially what we also had in previous gatherings like for Lidong.
Seafood Rice Noodle Soup
The Seafood Rice Noodle Soup gets its own special section. It is a fairly simple procedure.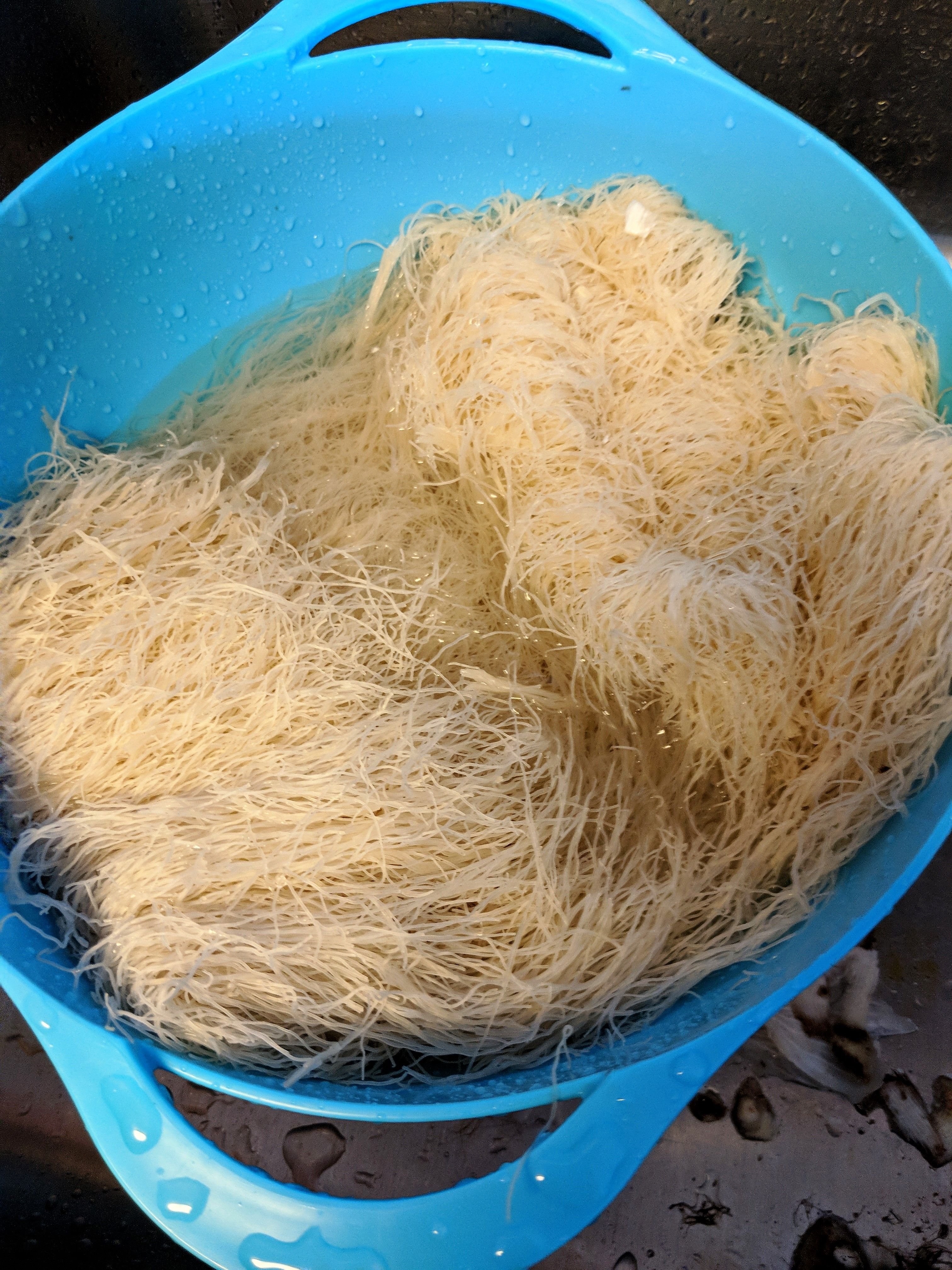 Soaking the rice noodles in cool water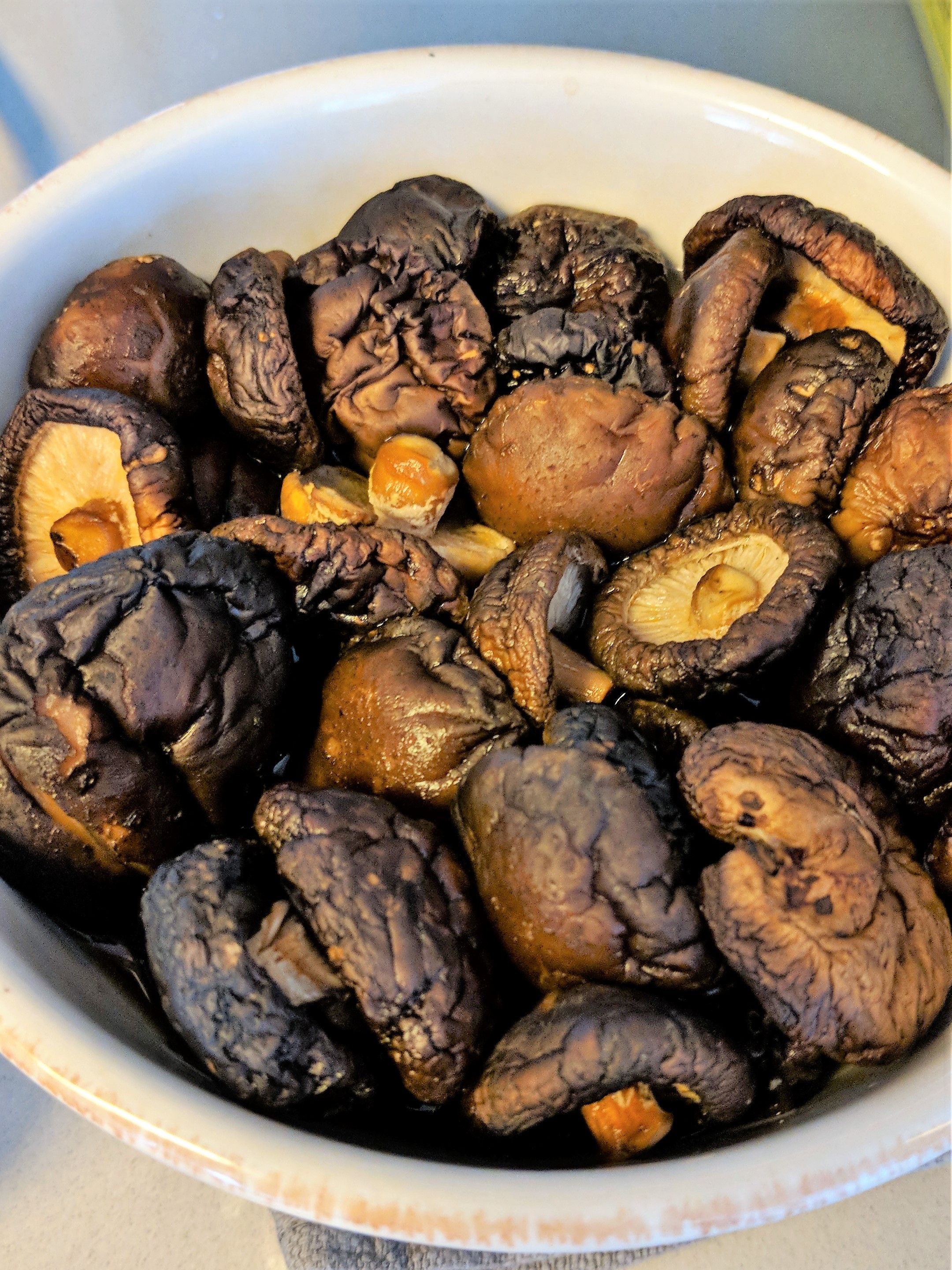 Soaking dried mushrooms in warm water, until softened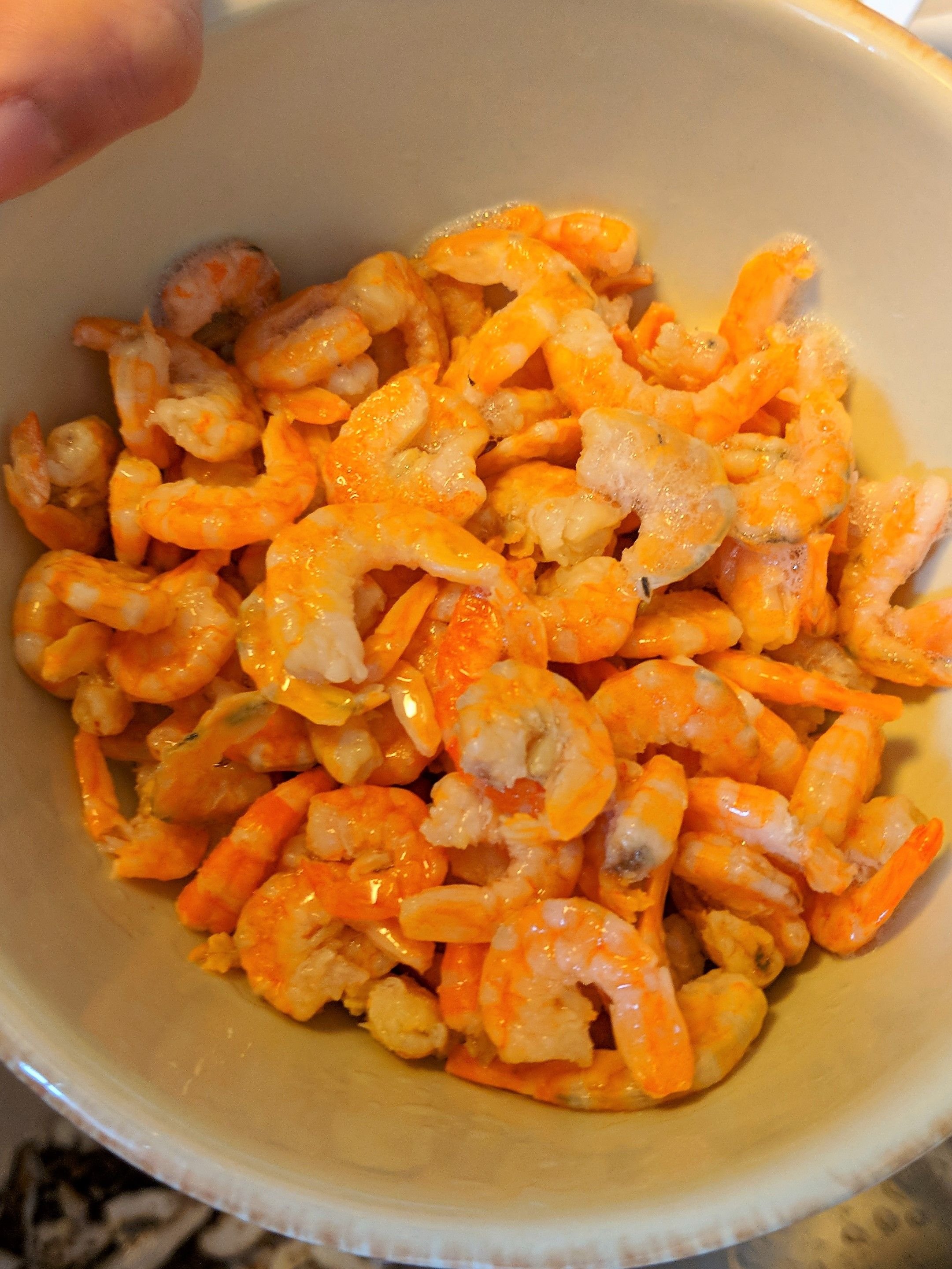 Soak dried shrimp in warm water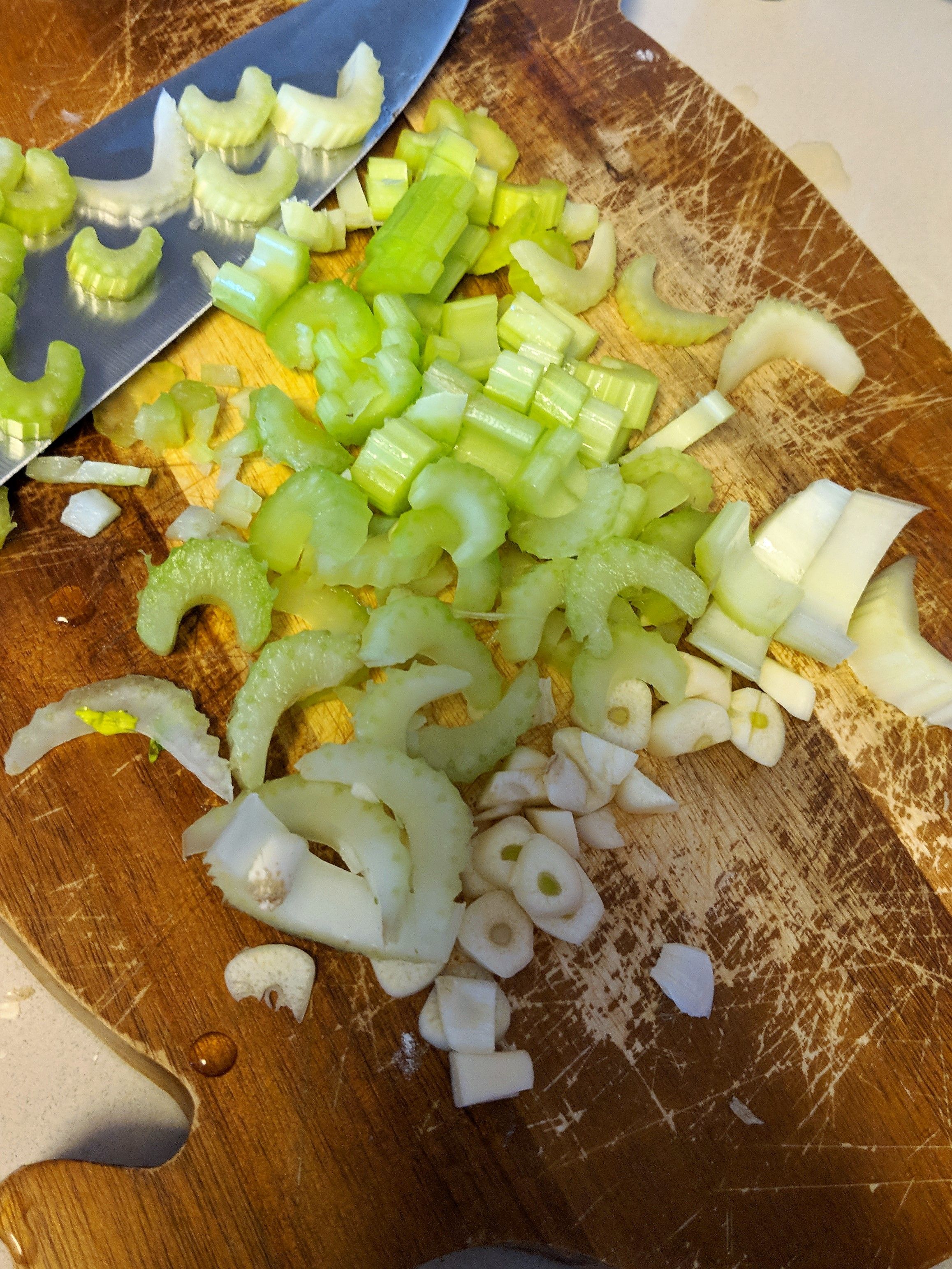 Cut up celery and garlic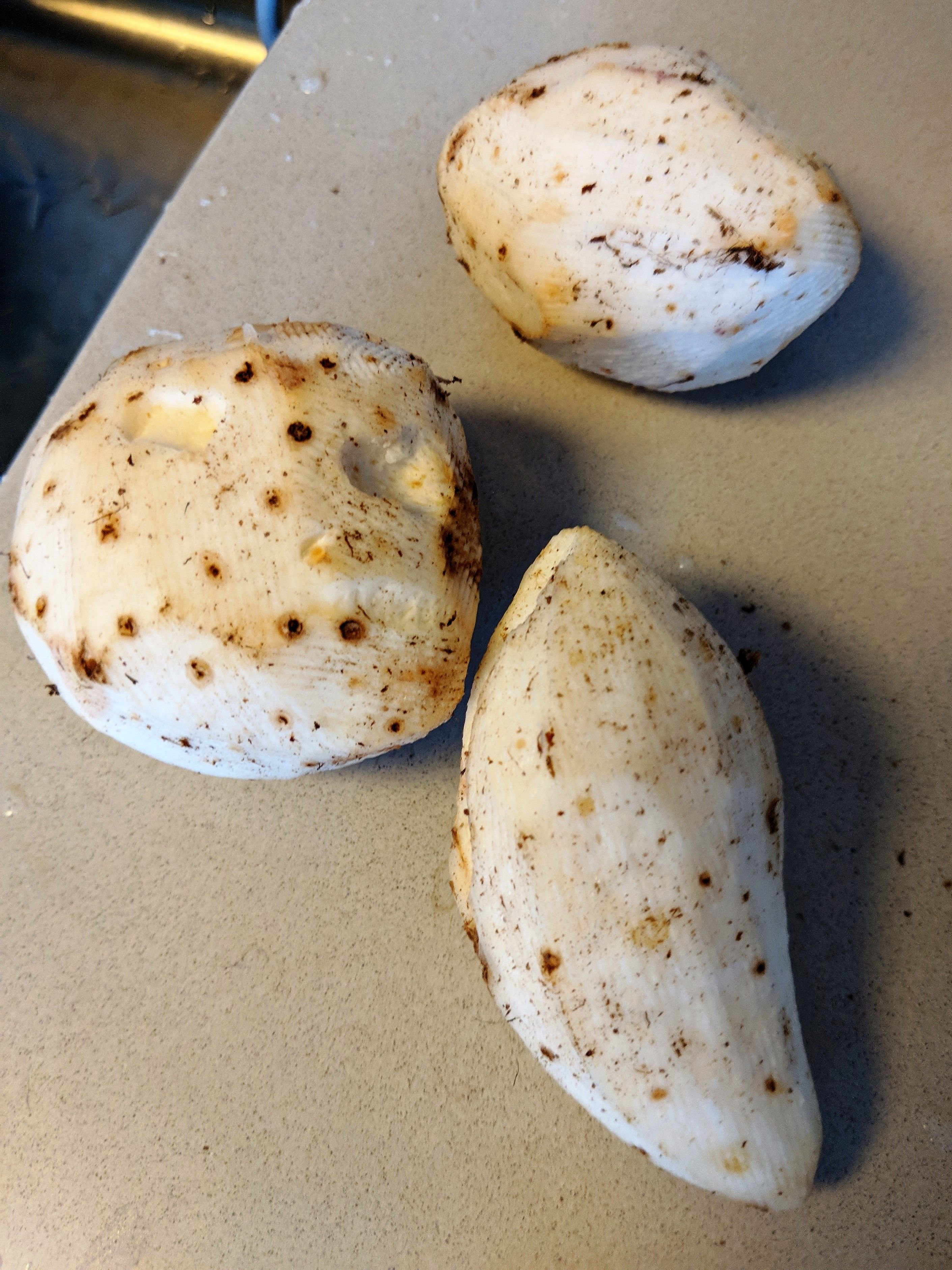 Peel and chop taro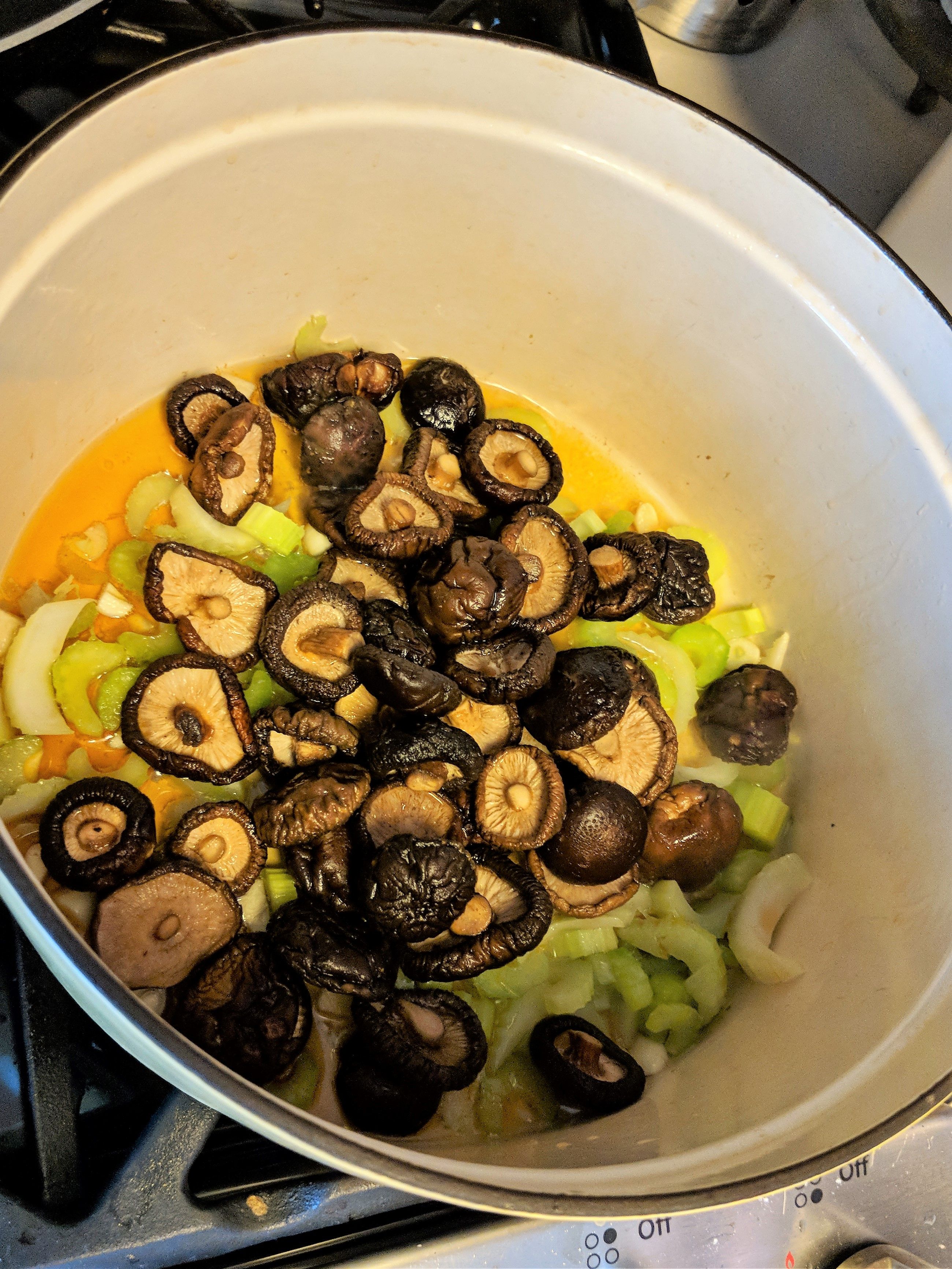 Celery, garlic, mushroom, dried shrimp
After, throw in chicken stock, bring to a boil. Throw in the rice noodles. Shortly after, the seafood: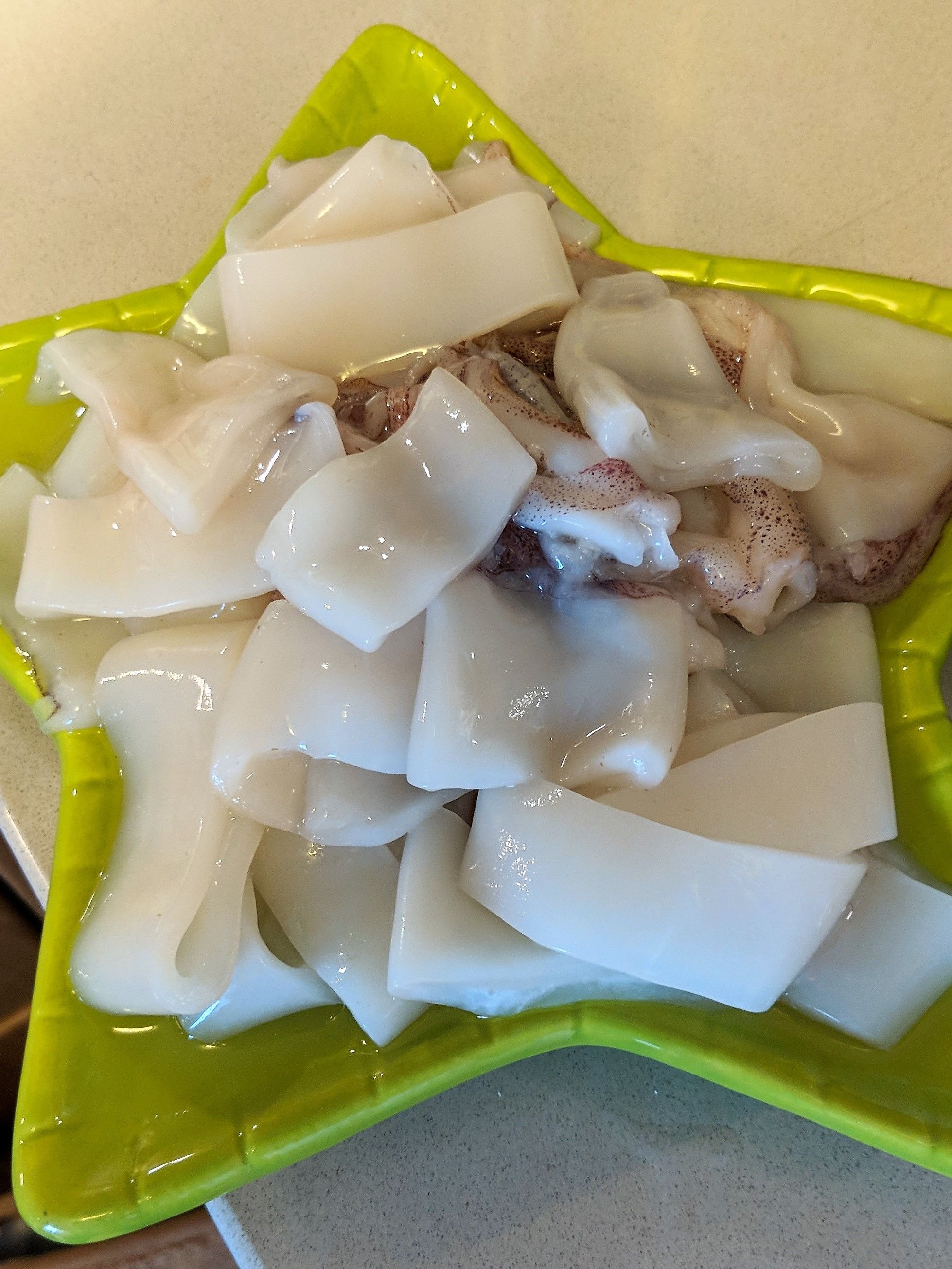 Cut up Squid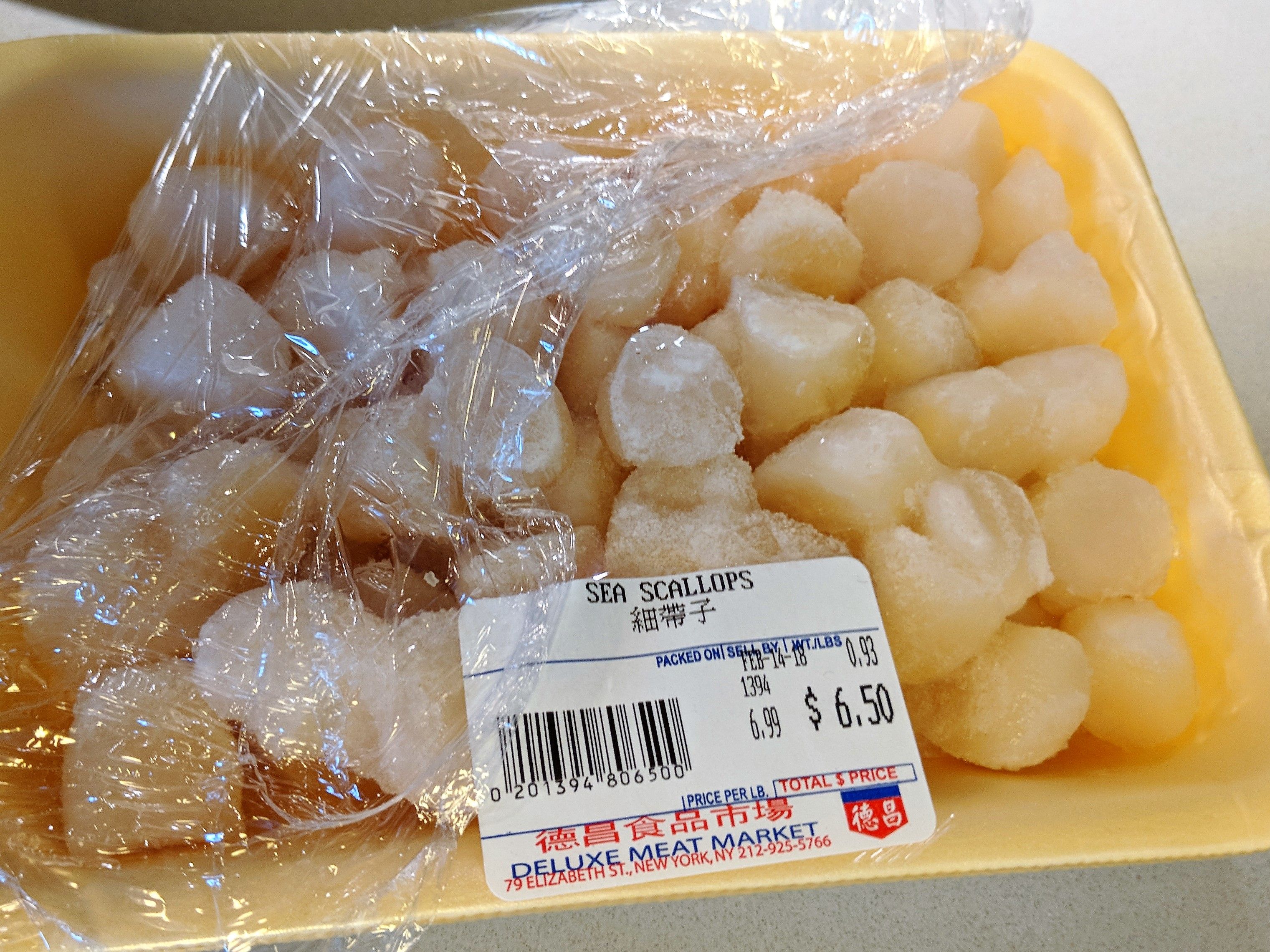 Frozen Scallops
Garnish with soy sauce, sesame oil, salt and pepper, and also these crispy fried onions: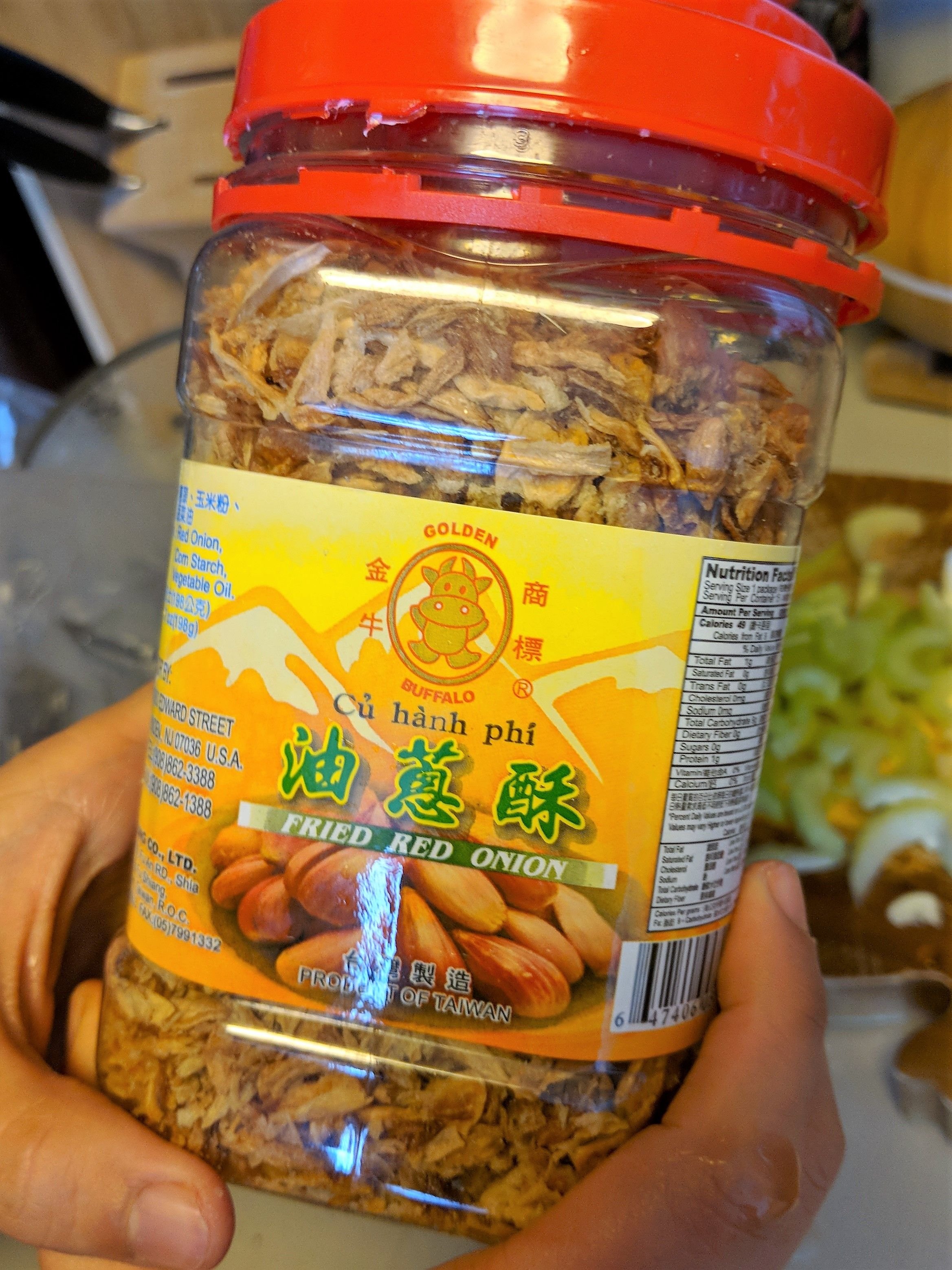 I know, these instructions are kind of terrible. I think I wanted to share what was in it more than the process.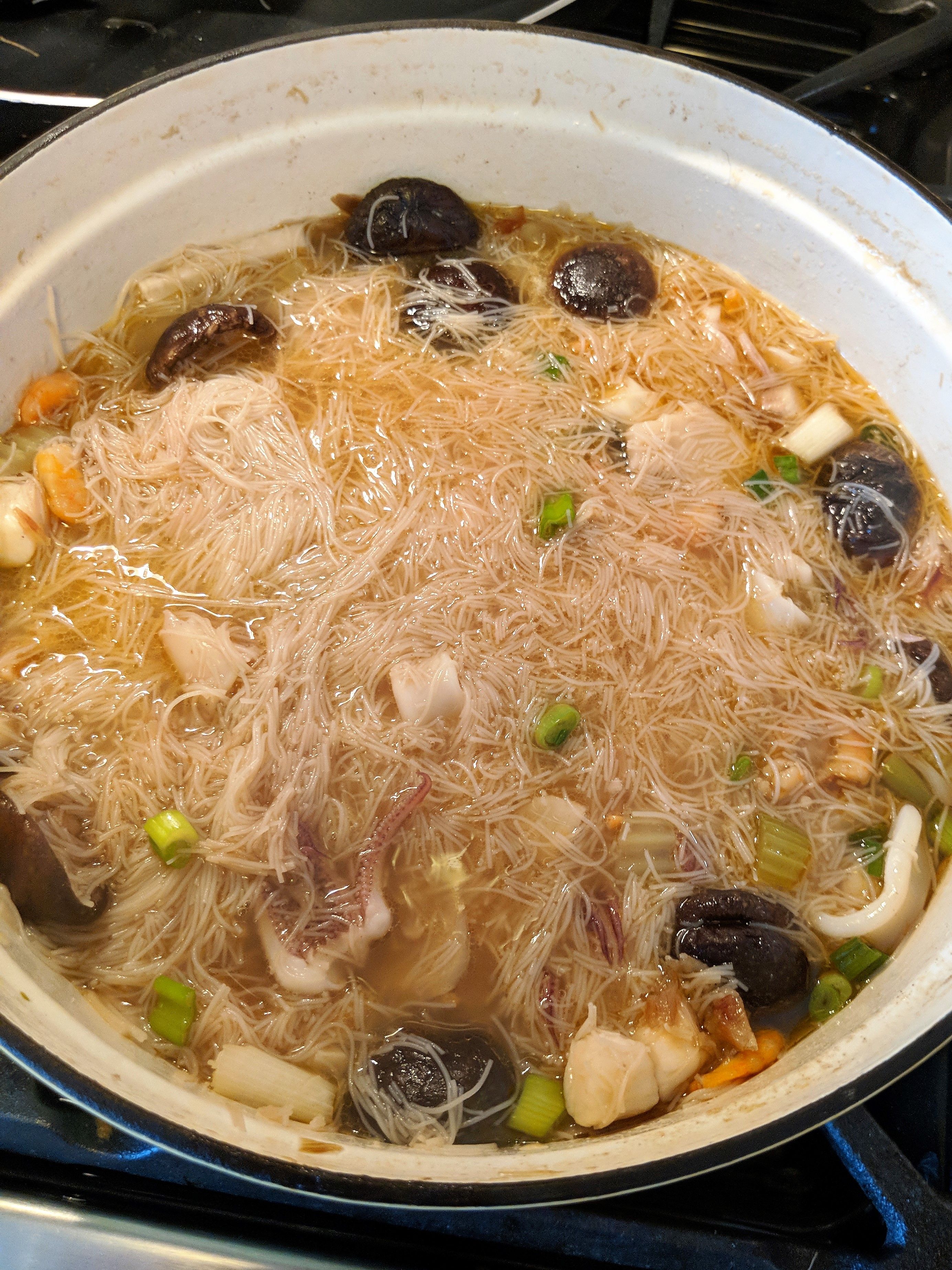 And this is what you get in the end! If you ask me to cook this it would probably take me awhile to do, but my wife is pretty efficient at that process. She just tells me to peel the taro, because that part is not so much fun.
Opal Reunited
Opal, who is a married dog, reunited with her lover.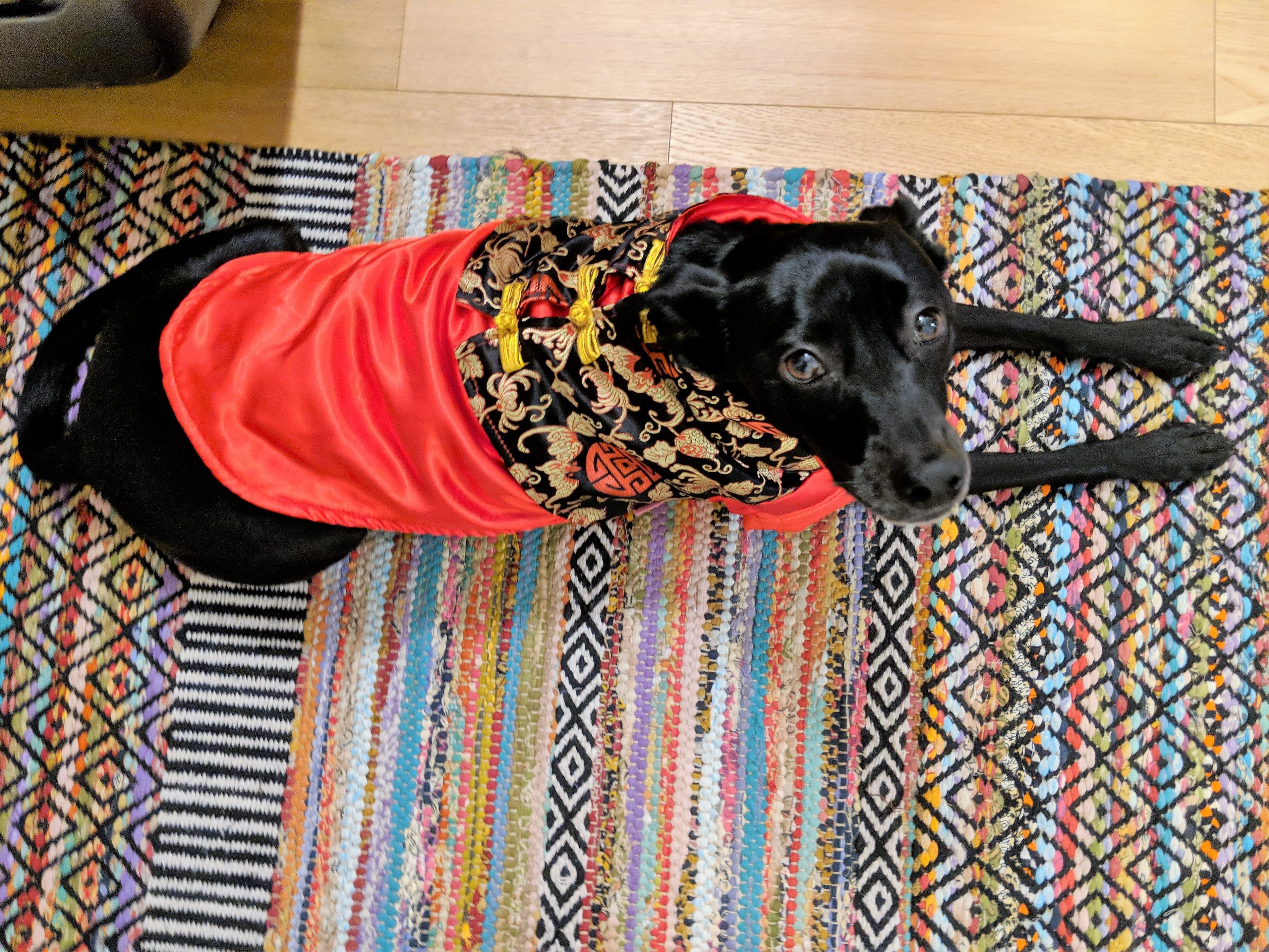 This is her in her Chinese New Year themed outfit!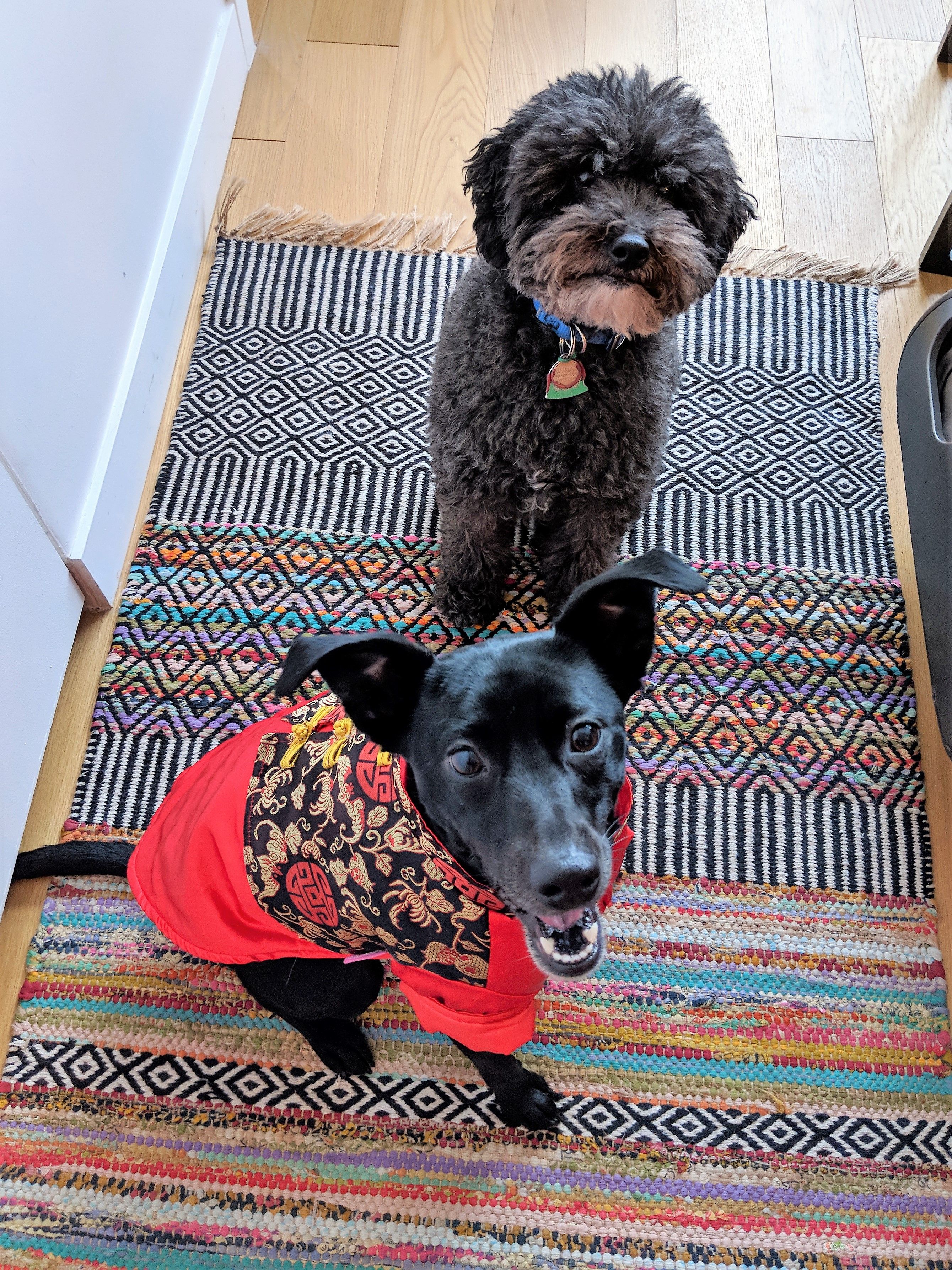 Aw, finally together again.
And she was a tad too excited to be with him. The groom, not so much. Working abroad and probably has a separate lover on the side. Opal wants to hire a private investigator. In the meantime, she wants him to know who wears the pants in the family.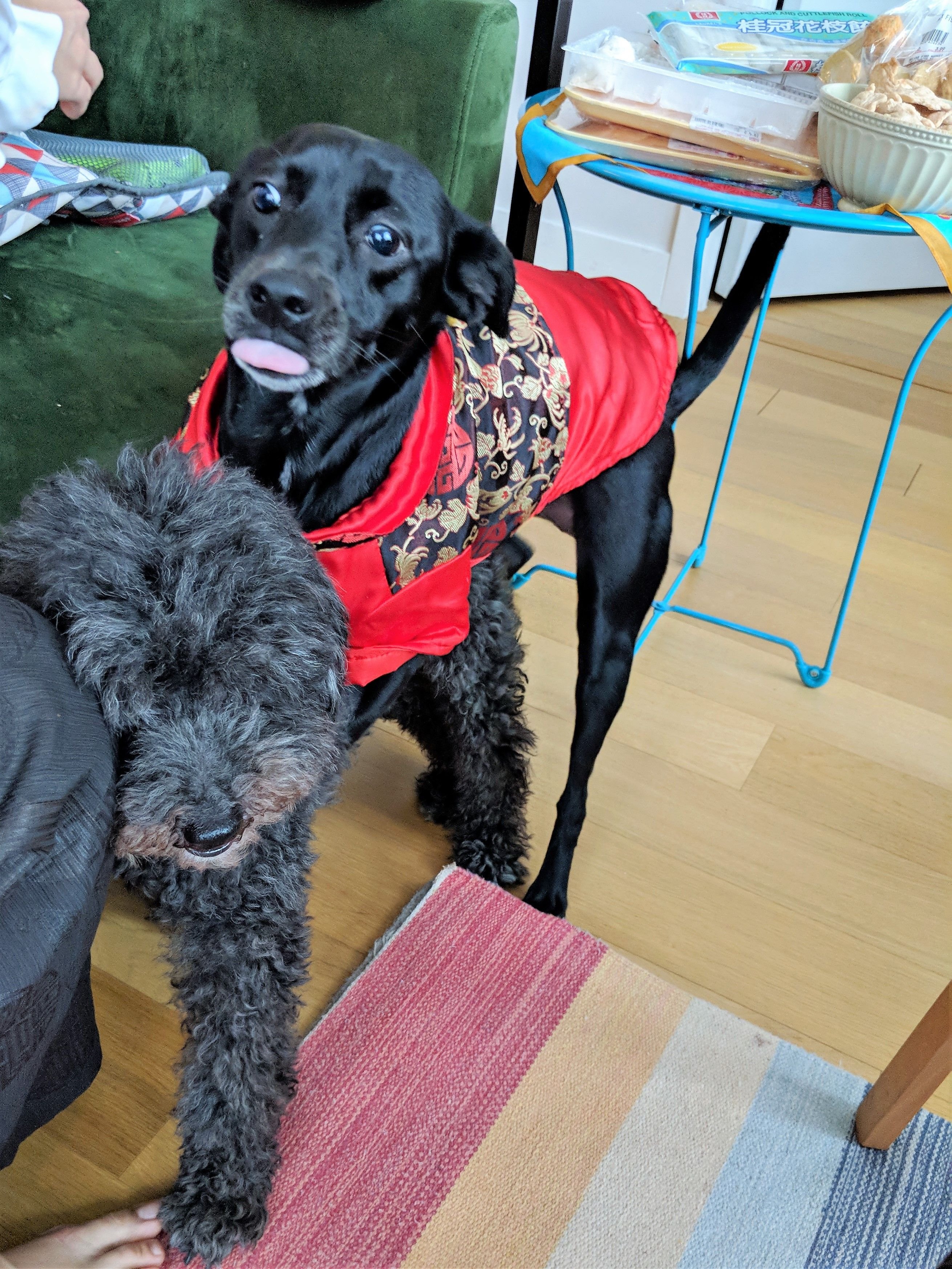 That's how. Almost knocked over a table of foodstuffs too. Crazy dog.
Chatty Folks
Things I remember talking about:
Steemit. Always trying to encourage more people to come and join the party. @lulumeng was there and has recently started to post more, which is great. She is a visual artist, and I feel her writing reflects that well. Feel free to give her blog a peek :). Another friend wants to start but may have forgotten what the profile is. sigh. And yet another is thinking to give it a try. But all in all, pretty productive.
Crypto. First time I found someone at such a gathering that actually jumped in at one point. He was a holder of NEO for a spill, but has already exited after a bit of a run. Hum. I did not tell this person about Steemit, which is odd. Some others folks bought bitcoin at 12k were lamenting not buying more at the dip at 6.5k. I also walked someone through sending bitcoin to me, because I bought bitcoin for this person and accidentally sent her too much of it.
Dogs. We watched in fascination as Opal kept prodding Deegan. Got some insights about how one might train Opal. She's already really well-behaved, but it would be good to train her not to bolt the moment she gets the willies (loud noises). The idea is to get her acclimated to such environments by simply making her sit around such environments for a long period of time. I guess we'll try it out.
Babies. Someone else brought a baby that was very cute. She was very friendly and kept smiling at eveyone shyly, and also seemed to like Opal a lot.
Calligraphy
We also prepared a few activites for everyone to do. This reminded me of something I did in my childhood Chinese school.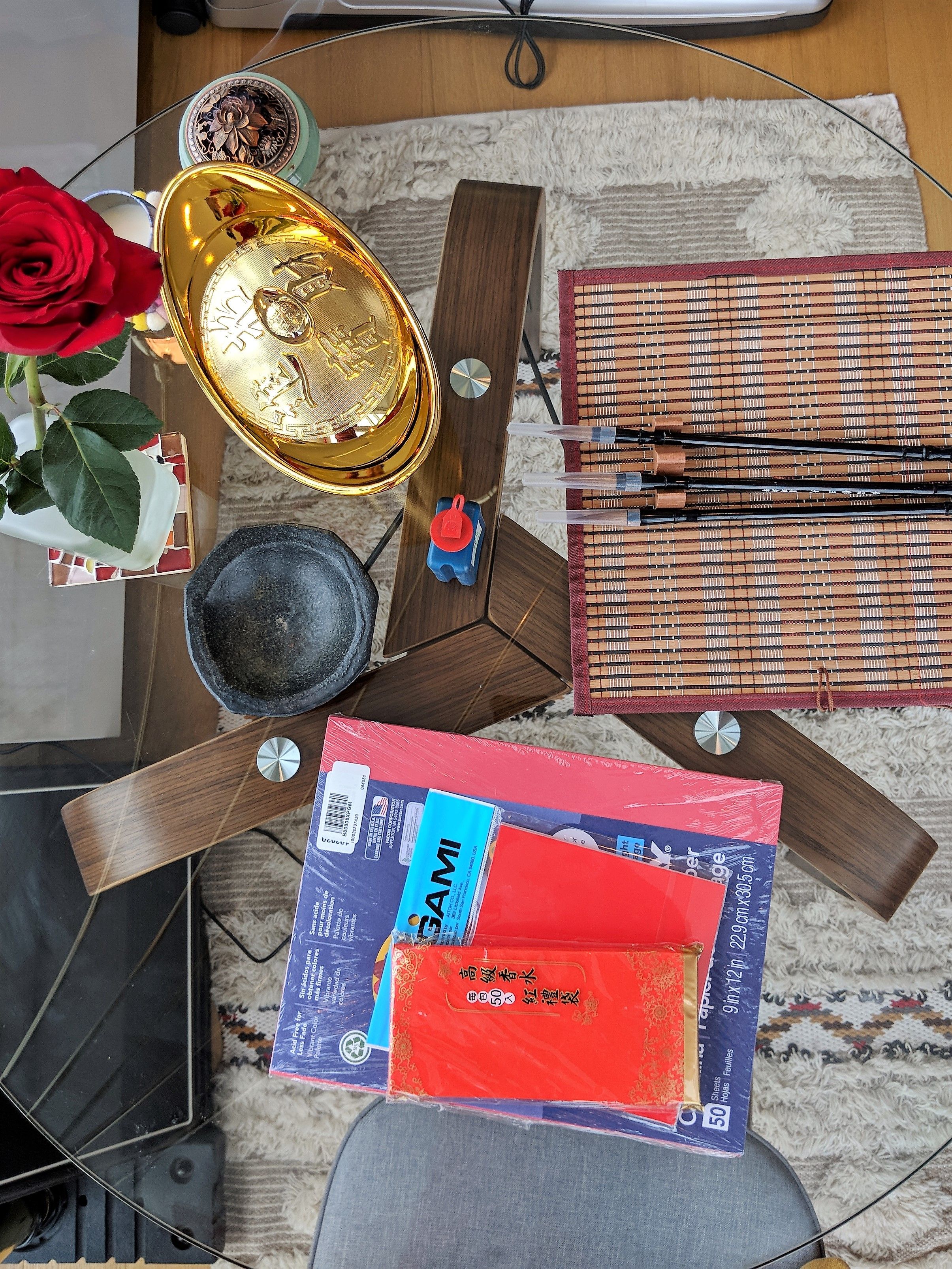 Calligraphy table setup. There's a brush, red paper, and ink. There's also a golden boullion container that contains candy. I think it's some hardened plastic material. Stronger than I usually find them, we bought it at Costco.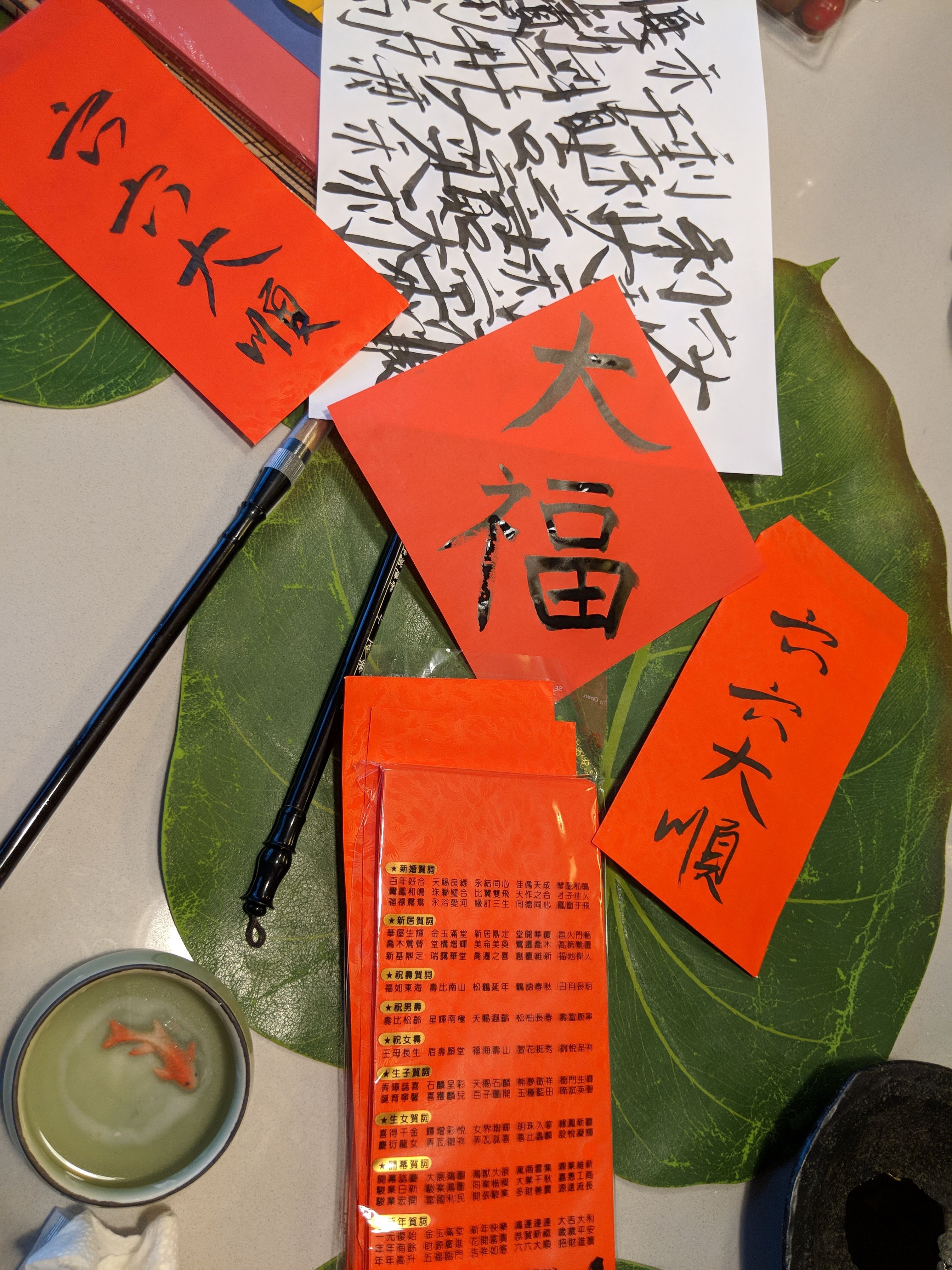 Here's a sample of some stuff people wrote. Some of them did a good job. I did not do it for some reason, was too busy chatting with folks. At some point I'll probably give it another go on my own time, I remember it can be pretty fun.
Spring Decorations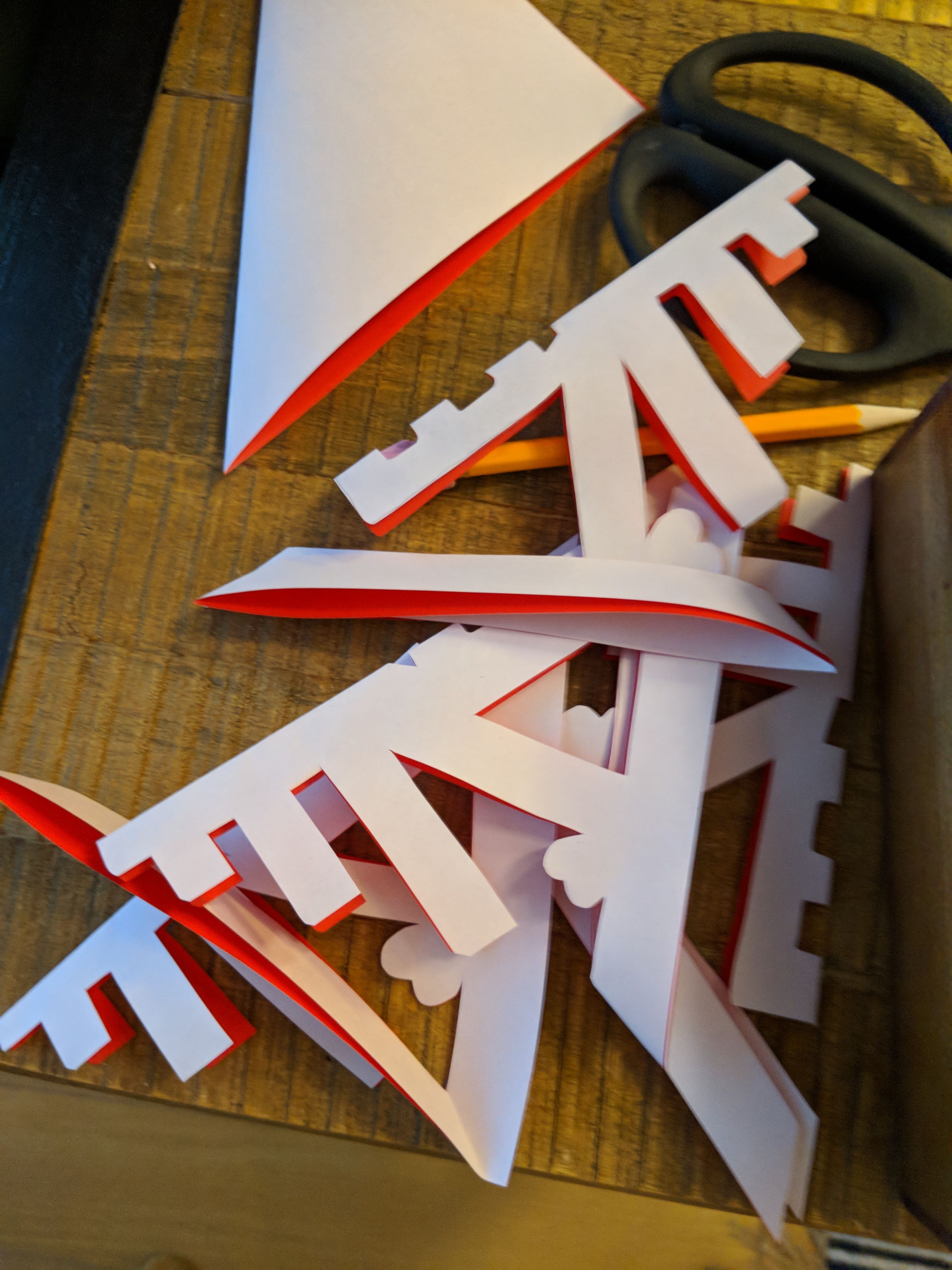 A few of us cut out a decoration that outlines the word for spring.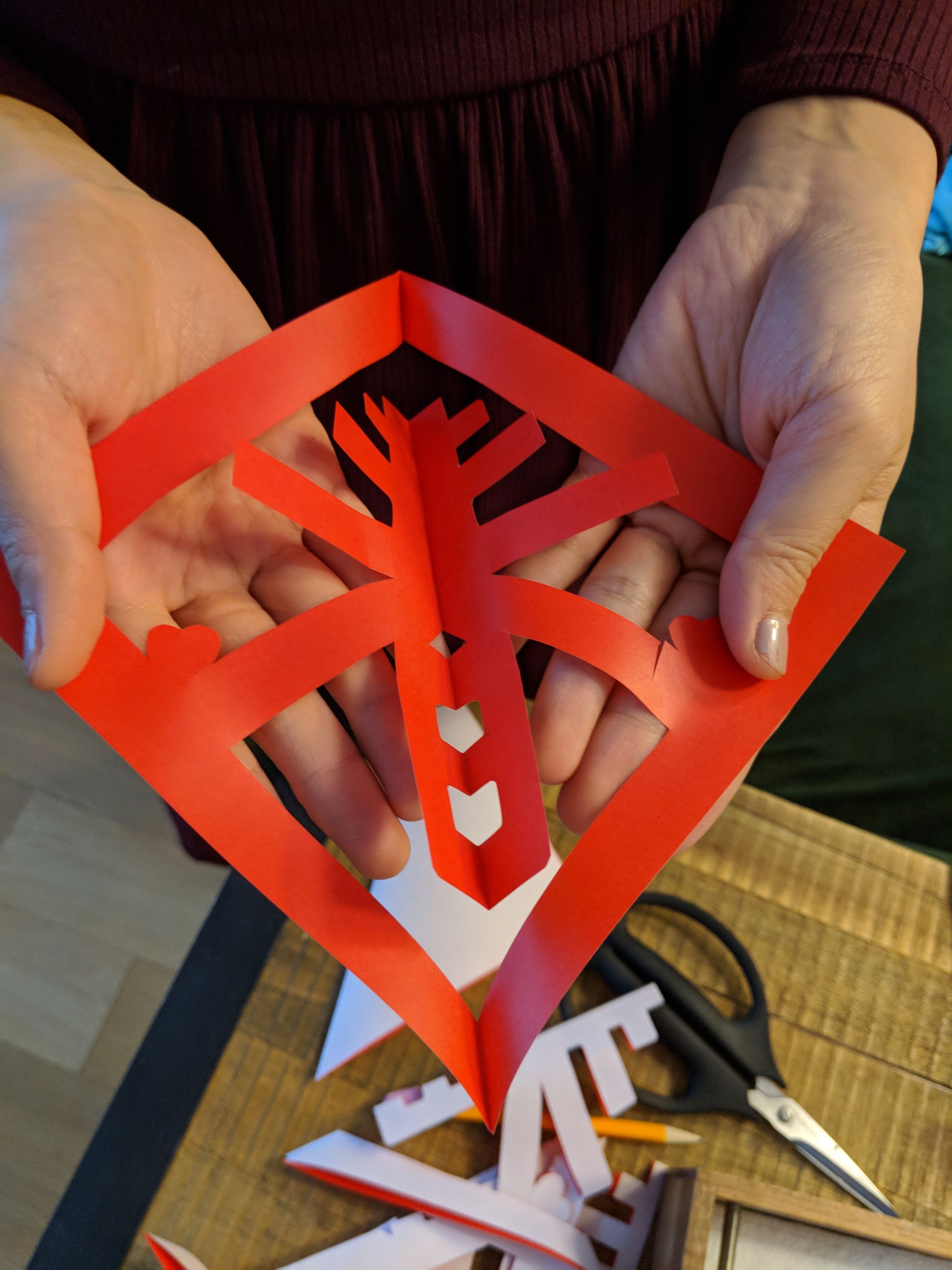 Here it is unfolded. This one kind of looks like a bug. Another tradition is to hang it with the character upside-down. The phrase "Spring, upside-down" in Chinese is a homophone to "Spring is here", so that's always a fun visual pun that amuses me.
Dumpling Making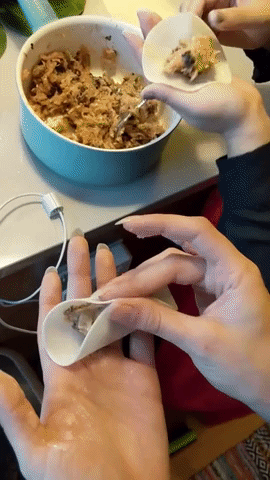 This is a video showing the dumpling wrapping that we were doing. I helped with the eating part of it.
Summary
Now that I type that all out, I realize why I am just exhausted. So much going on, but really it's the cleaning afterwards. Accompanied with a good old drink as well.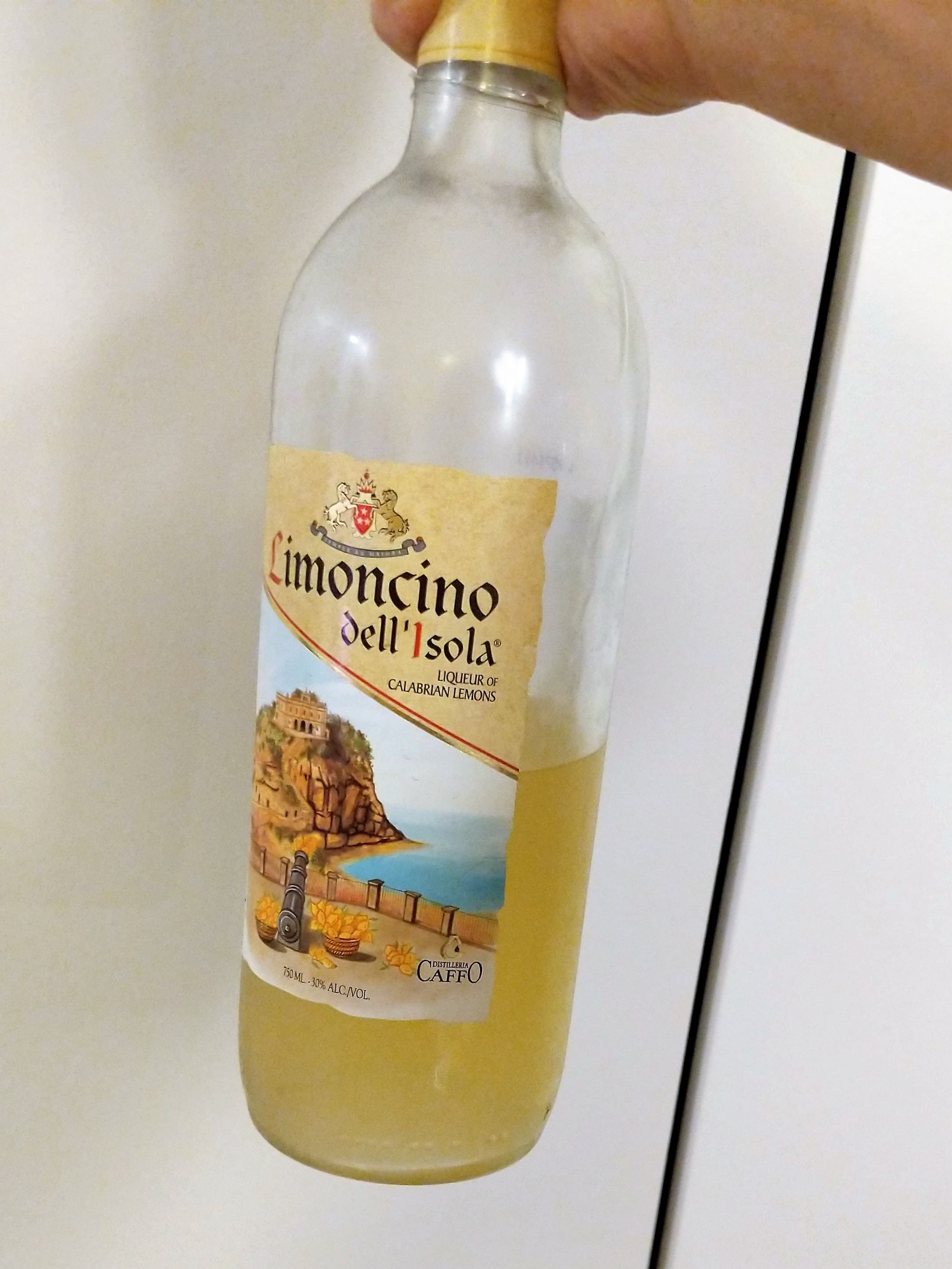 Anyone have this before? It's tasty, good dessert liquor.
Anyway hope you all had an enjoyable day. If you saw that potsticker image above, after that one the surface of the pot was black. It's a cast iron pot, and I spent a good amount of time scrubbing it down and reseasoning the pot. At least I hear cast iron pots are very resilient, and no matter how much you mess it up you can get it to a good condition again with a bit of maintenance.
Cheers!
---
Click the banners to learn more about each community!
---
---