(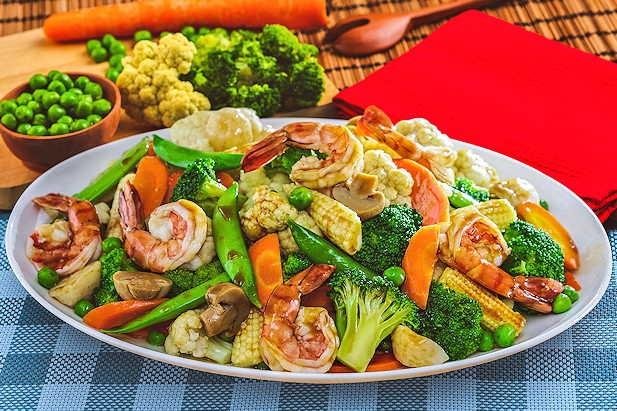 )
Capcay oyster sauce, stir-fry creations that contain healthy vegetables. This menu is indeed familiar to hear, even many who make it as a menu is because of the easy way to cook it. Used as a breakfast menu or daily menu, the capcay menu of fried gravy or capcay is never boring. In order for the seafood capcay menu to be more varied and taste more delicious, friends can try making it using the taste of oyster sauce. Oyster sauce tastes are versatile sauces made from quality ingredients and without preservatives. So that it can make it easier for friends to cook various sauces to be more delicious and healthy! The content of oyster extract is more so that it makes the taste of cuisine more savory and arousing appetite. Friends Must be curious about the taste? Immediately prove the deliciousness in the family.
Material :
3 tablespoons of cooking oil
500 gr shrimp, remove the skin, cut the back and sides of the tail
2 sachets of oyster sauce taste
300 ml of water
500 grams of young corn, sliced
50 gr button mushrooms, slices
25 grams of peas
50 grams of broccoli, boiled 1/2 cooked
50 gr cauliflower, boiled 1/2 cooked
20 gr kapri, remove the tip
1 carrot, boiled 1/2 cooked
4 fish meatballs, cut into pieces
2 scallions, sliced ​​serong
How to make :
Heat the oil, saute the shrimp until they change color.

Enter the taste of oyster sauce and water, stir until smooth.

After boiling, add young corn, button mushrooms and peas.

Add broccoli, cauliflower and peas. Then re-enter the carrot and fish meatballs. Stir and cook until cooked.

Put the leeks. Lift and capcay oyster sauce for enjoy.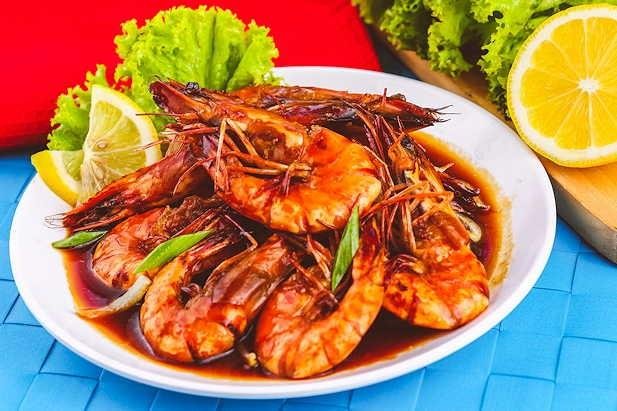 Material :
250 grams of shrimp, split back and poop
1 lemon
1 sachet of oyster sauce taste
3 tablespoons of cooking oil
How to make :
Wash the shrimp and give lemon juice, set aside.

Sprinkle the crushed shrimp with oyster sauce and 2 tablespoons of cooking oil until blended. Leave it for about 15 minutes.

Heat 1 tablespoon of cooking oil on Teflon. Add the shrimp and cook until it changes color.

Lift and shrimp oyster sauce is ready to be served.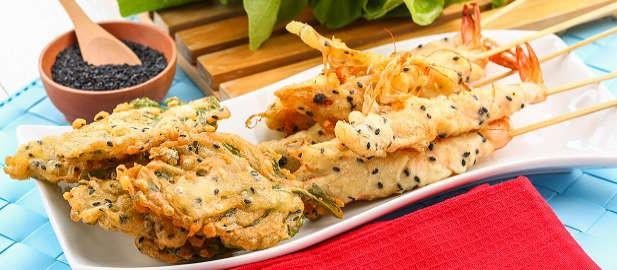 Tempura is one of the most popular Japanese dishes. Tempura is made from various food ingredients dipped in flour mixture and then fried. And shrimp tempura is a favorite menu for tempura lovers. How to make tempura is not difficult. Use kobe bakwan flour and dumplings, friends can already get the crunchy and savory tempura. Moreover, coupled with spinach chips, more perfect tempura dishes Friends.
Material :
300 gr jerbung shrimp
Lime to taste
2 packs of kobe perched bakwan flour, size 75 gr
300 ml of water
1 tablespoon of black sesame
400 ml of cooking oil
6 wide spinach leaves, wash and drain
10 pcs of skewers
How to make :
Peel the shrimp. Leave the head and tail.

Wash thoroughly and give lemon juice.

Mix kobe bakwan flour and cakes with water. Mix well until nothing clots.

Add black sesame stir well.

Skewer shrimp one by one with a satay prick.

Dip and roll the shrimp into the wet mixture.

Fry in hot oil until crisp, remove and drain.

Dip the spinach leaves into the wet mixture. Fry in hot oil until crisp.

Lift and drain.

Serve black sesame shrimp tempura with spinach leaves while warm and crispy.
< ~ ~ ~ ~ ~ ~ ~ >
Thank you for visiting my blog, please Upvote Resteem and Follow @fikar21
All photos taken from : jpg