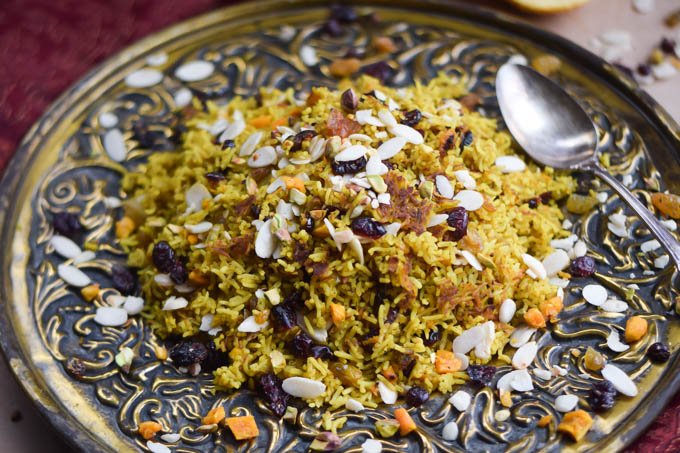 I hope you're all in the mood for a little excursion with your tastebuds!
Hey, it's the no-passport-required way to travel, don't you love that? Last weekend a friend of ours offered to share some of his awesome cooking with us and bring over some Persian food (with extra saffron) for dinner to go with whatever sides I wanted to make. I'm always thrilled with these kind of arrangements. Now sides, those I was in charge of. In fact, since I'm such a sucker for a theme I got all into this Persian thing and went digging through different recipes on the internet to decide what to make.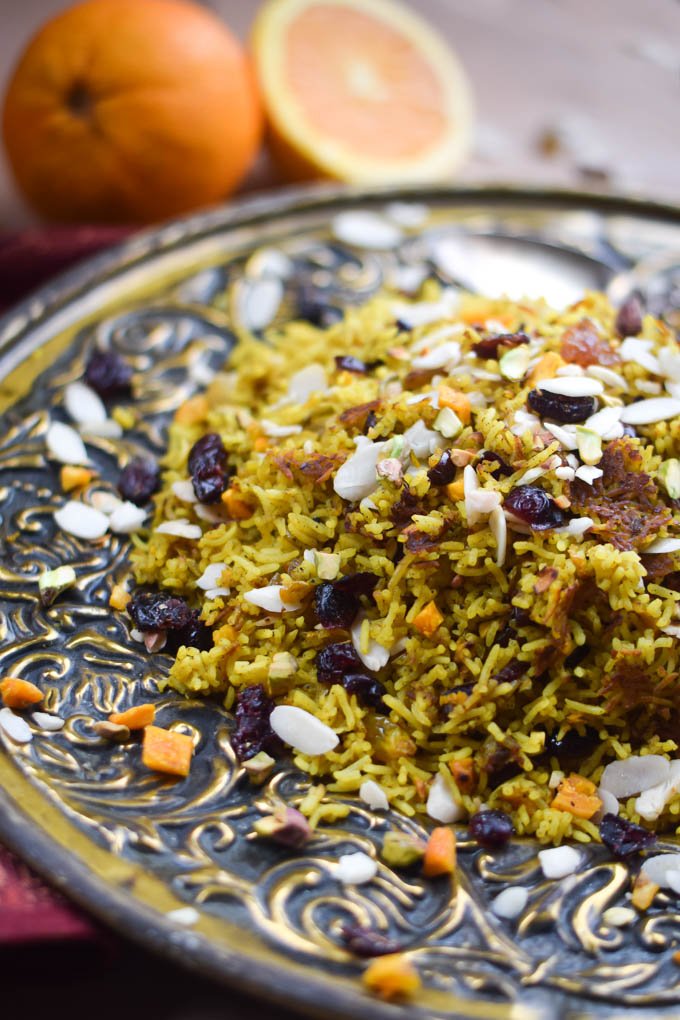 I even tried to get everyone to have a movie marathon of anything even remotely related to our menu to get them in the mood like Aladdin and Prince of Persia. They didn't really go for it (#boringpartypoopers) but the kiddos did seem pretty excited when I explained that we were having a dinner straight out of Agrabah sort of like what princess Jasmine would eat. I made flatbread and hummus and then this basmati rice that I'm sharing. If it's any indication of whether or not this was good, you should know that literally everyone in my family tried and liked it, even the pickiest of my younger siblings.
Typically you'd add saffron along with the other spices but I didn't have any on hand so I skipped it and the rice was still layered with flavor. I've listed it as optional. Also, pomegranates are another thing that a lot of recipes use but, wouldn't you know it, the one time recently I've wanted to use them they didn't have them at the store and I had just run out. That's pretty lame considering how they're in season here and I've had them on hand at all times for the last few months except now, but anyway, pom arils are great to garnish the top and add that fun sparkly effect to the dish.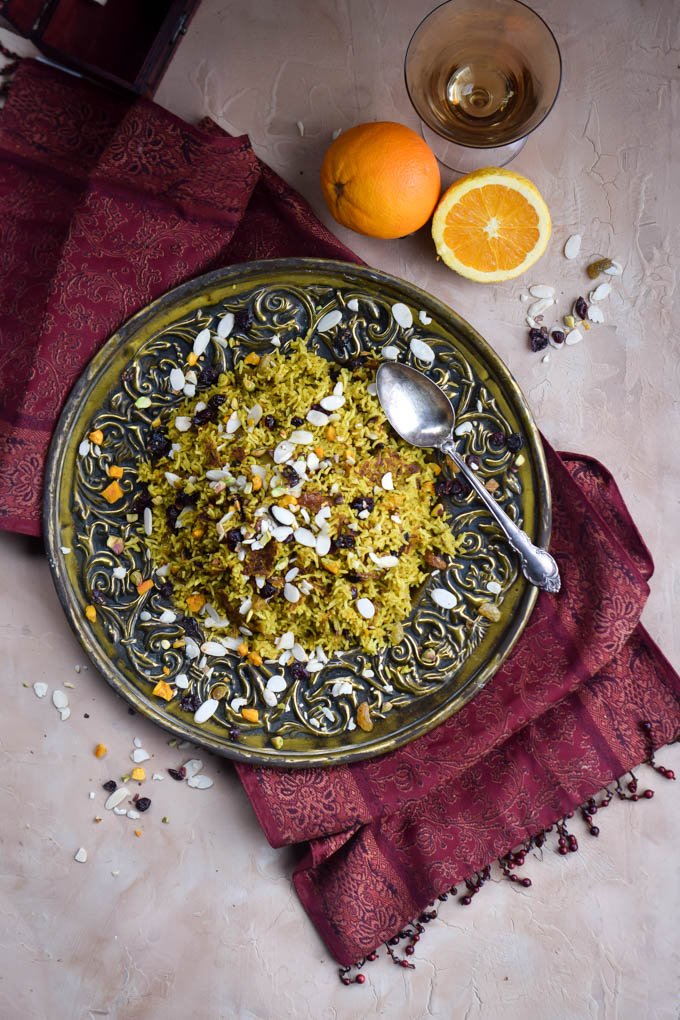 And finally, one of the best parts about this rice is what happens in the last few minutes. See, you let the rice on the bottom of the pan get all golden brown and crispy, while watching carefully not to burn it, then you flip it onto the top right before serving and that toasted texture and flavor is so good. Of course, after that you have to top it all off with plenty of extra "jewels" to garnish which makes it look all vibrant and inviting when you plate it. Alright, so I'm going to continue humming Arabian Nights to myself and let you guys go make this!
Persian (Iranian) Jeweled Basmati Rice Pilaf
Spice up your rice tonight and try this flavor filled recipe with all kinds of textures and tastes going on.
Prep Time 25 minutes
Cook Time 45 minutes
Total Time 1 hour 10 minutes
Ingredients
3 cups long-grain white basmati rice
1 tablespoons salt
1 large sweet onion diced
2 large oranges
1/4 cup olive oil
2 cups vegetable broth
1 1/2 teaspoons turmeric
1 1/2 teaspoons cumin
1 teaspoon cinnamon
1/2 teaspoon allspice
1/4 teaspoon cardamom
1/2 teaspoon saffron soaked in 3 tablespoons hot water optional
1/3 cup granular sugar
1/3 cup dried barberries or dried cranberries
1/3 cup dried apricots roughly chopped
1/3 cup golden raisins
1/2 cup chopped pistachios
1/2 cup blanched slivered almonds
additional salt & freshly cracked black pepper to taste
Instructions
Rinse the rice in a mesh strainer under cool water then pour into a medium bowl and cover with about 2 inches of water. Soak the rice for a minimum of 30 minutes and up to 24 hours (the longer you can let it soak the better). Drain and rinse the rice and set aside.
Bring the a small to medium pot of water to a bowl and add the rice. Cook for 6 - 7 minutes until just tender then drain and rinse in cold water to stop it from cooking. Pour the rice into a bowl and gently fluff with a fork to loosen then set bowl aside.
Add the nuts to a small skillet over low heat and stir constantly until nicely toasted, being careful not to burn. Season with salt and set aside for the moment.
Wash oranges and use a box grater to grate the orange skins and remove as much zest as possible, stopping at the white. Slice oranges in half and use a lemon juicer to squeeze out juices. Heat the olive oil in a large skillet or a shallow wide-mouthed pot over medium high heat and add the onions and your zest shreds. Cook for 2-3 minutes while stirring until onions are getting translucent. Pour in chicken broth, orange juice, and spices, then stir over heat for 3-4 minutes until part of the liquid has evaporated. Add the sugar and most of the dried fruit (save back a little to sprinkle on top) and cook for another 3-4 minutes until fruit is softened and more liquid has cooked off.
Reduce heat to low then add the rice and gently stir with a blunt tool (such as a rubber spatula or spoon) to avoid breaking your grains. Add most of the toasted nuts (save some of these for the top too) and stir to combine, then season to taste with additional salt and pepper. Cover pan and cook over low heat for about 10 minutes, stirring often.
Remove cover and allow the rice to cook for about 5 minutes more without stirring to get a nice brown on the bottom. Let your nose help you here, you should smell when it's toasted but not burned. Remove pan from heat as soon as you think it's there and cover with lid then allow it to sit untouched for 8-10 minutes.
Loosen rice from pan and scoop into a large serving bowl or platter, placing the crispy parts on the top. Sprinkle your reserved dried fruit and nuts over the top and serve immediately.
Recipe Notes
Garbanzo beans and pomegranate arils make a great addition to this dish. Also, the dried fruits can be substituted with preferred types such as regular raisins or dried cherries.

ALL CONTENT IS MINE AND ORIGINAL! All of these food photos were taken with my Nikon D750 and my favorite Lens, the Nikon AF-S FX NIKKOR 50mm f/1.8G. You can find out more in my INTRO POST.
Also, a huge shoutout to @rigaronib for designing my logo!
If you're looking for more recipes check out some of my other recent posts!
Also, I've been starting to vlog in case you missed it.