Gluten free, vegan, oil free crust IS possible! (What do you know?)
---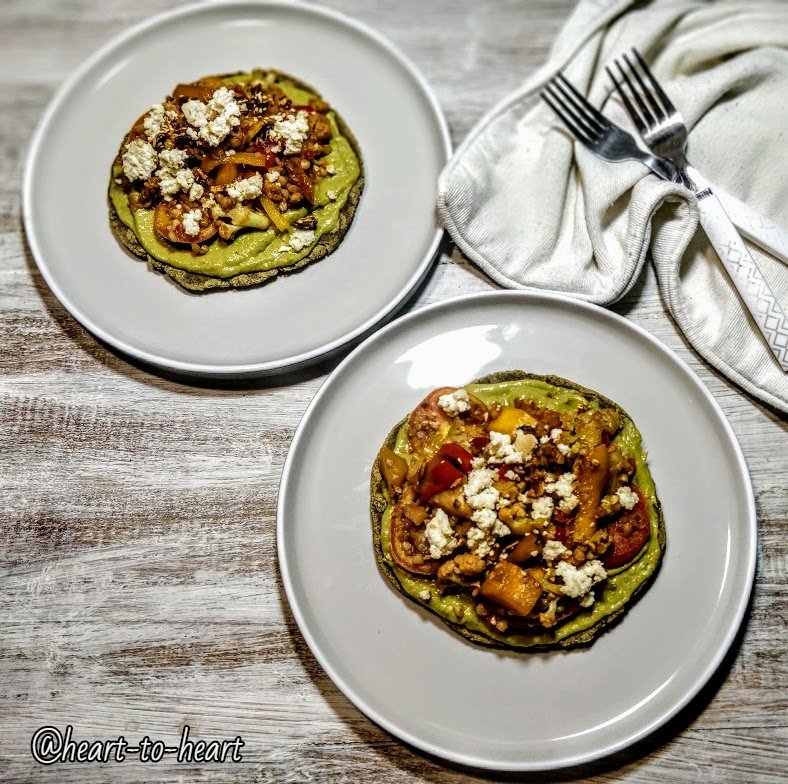 ---
I'd say one of the recipes I am asked for most is gluten free pizza crust and you know why?
I'm just going to come out and say it-- because GF pizza crust typically sucks!
I'm not going to lie to you right now. This isn't an Italian, perfectly crafted doughy fluff ball of heaven that crisps on the edge and melts in your mouth. It's just not and I am not a liar.
So, what it is... is a gluten free, vegan, oil free carrier to your delicious toppings!
Most importantly:
It sticks together really well
The consistency is great
The garlic powder helps to calm down the buckwheat's flavor
What to carry on it:
You can get as crazy as you want loading your pizza up! I made an avocado sauce for the base, some roasted smokey BBQ tomatoes, cauliflower and peppers with some vegan feta on top!
Mmmmm, right?
Crust That Stays Together
---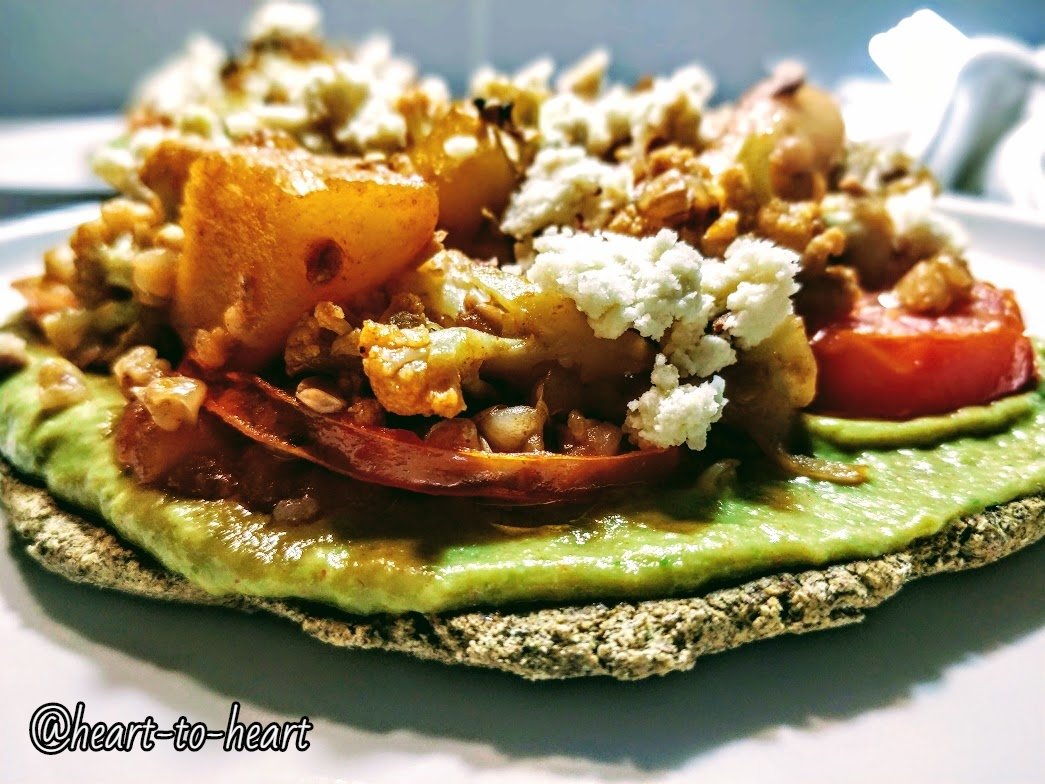 ---
What You Need:
---
2 cups buckwheat flour
1 cup water
½ tsp + garlic salt (season to your liking!)
½ cup arrowroot powder
---
What To Do:
---
Preheat the oven to 350'C
Start with the arrowroot, garlic and buckwheat flour in a big bowl and whisk together any clumps (I used an electric hand mixer!)
Keep mixing, adding in water slowly as needed to get a play-dough like consistency.
You don't want it to be too wet or too dry, it needs to be able to mold in your hands.
Let the dough rest for 30 mins, covered
Ball it out and roll it into either personal pan pizzas like seen in the picture or make one extra large!
If you're making a thin crust, this will cook in about 10 mins on the front and 5 mins on the back.
Give more time on each side if the dough is thicker!
Top it with whatever you like best on your 'za! :)
---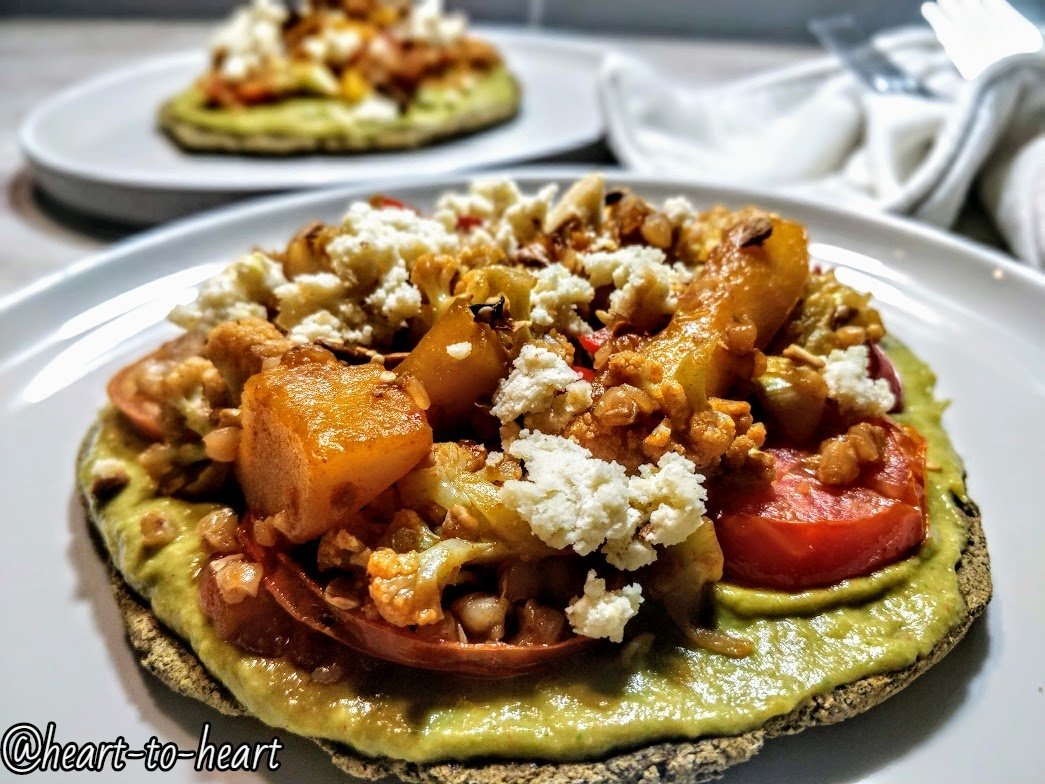 ---

I wish you yummy in your tummy!
Love and Light ✨
Cece 😘🧙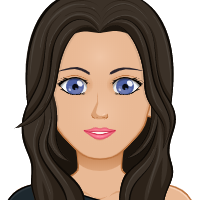 What did you miss from me? Here's what I've been up to lately:
Fysh Curry
Coffee Talk
Guiltless Brownies
Green Protein Fiend
Balinese Rendang
Loaded Jicama Fries
Cookies and Cream
CocoNutty Dream Cream Curry
Spinach and Quinoa Bathing in Tahini
Deliciously Unsuspecting Cabbage Fry
Pesto Impresso
Oriental Tacos
Delicious Treat You Right Granola
Communication 101 (for Angry Lions)
Breakfast Cupcakes
I-N-D-E-P-E-N-D-E-N-T Bread
Spaghetti Vibes Salad
Rainbow Rice
Mas-A-Better-Man-Curry
Unsuspecting Veggie Drool Inducer
Thai Squoodles
Handheld Avos
Pumpkin Spice "Latte" Nibbles
Jicama Hash Mash Bash
Rad Rainbow Coleslaw! (Rainbows are ALWAYS DELICIOUS!)
Something Like Ratatouille
Not Your Plain Ol' Veggie Tray