Smell the enchanting scents of Bali rushing in on you through the screen.
It's such a shame they haven't invented "smell-o-vision" yet, but they will soon and I'll be there for you!
---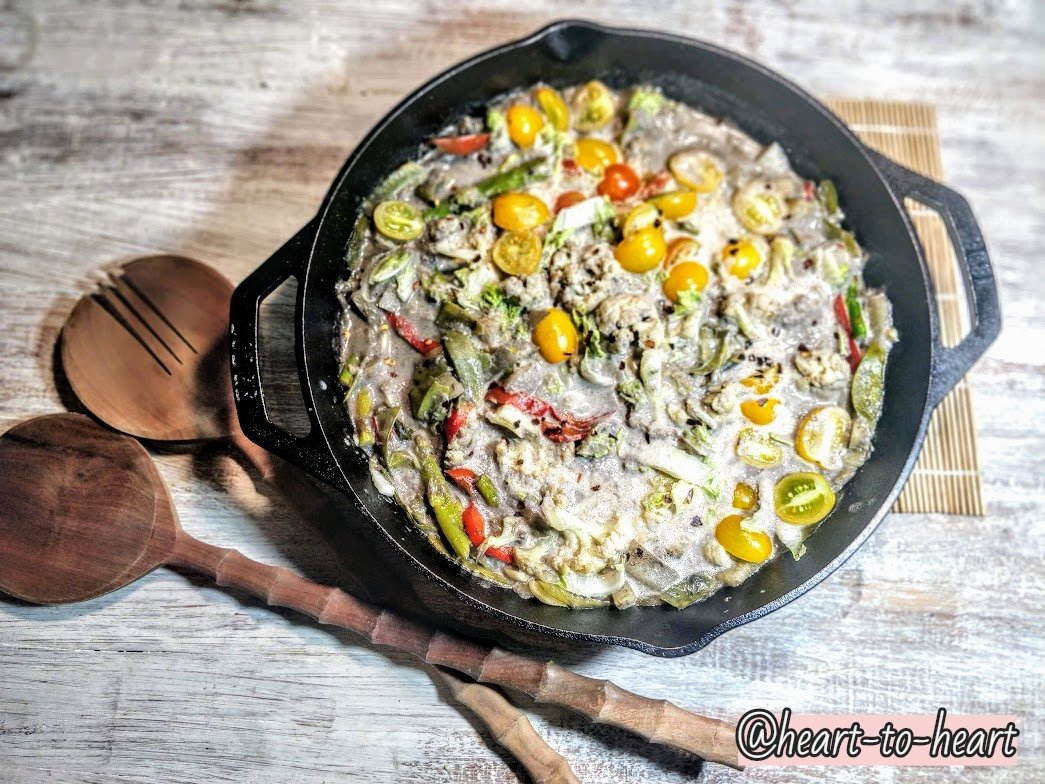 ---
Some of you may know that my home-base is in Bali and one of my favorite Balinese dishes is called "rendang."
Let me explain this to those who haven't had it... it's similar to a curry, it's a very spiced sauce that is authentic and creamy and everything just melts into your mouth!
Rendang is usually made with meat but obviously, I have created an alternative that soaks up the flavors and gives you a delicious experience without any cows being harmed in the process! The real star of this dish is the spices and the coconut mylk is like a smooth slice of heaven! :)
Little tip: If you like mushrooms, throw some into this recipe as they LOVE soaking up the coconut mylk in this dish! I'm omitting them right now as part of my cleanse but you go on if you're not on the same path as I am and enjoy!
I went to the market the morning of this recipe and collected some fresh coconuts to make the most creamy mylk ever with! That said, my liquid is more on the cream side than mylk but you can use whichever you wish! If you use cream, you can add water to make it less thick if that's what floats your boat! The spices are going to carry you into deliciousland!
Dang, I Love Rendang!
---
What You Need:
---
½ red bell pepper (sliced)
3 shallots (minced)
3 cloves of garlic (minced)
1 tsp galangal (minced)
1/2 yellow onion (cubed)
1 ½ cup jicama (cubed)
1 head of cauliflower (florets)
½ cup cherry tomatoes (halved)
1 cup squash (cubed)
1 cup Chinese cabbage (chopped into small pieces)
1 cup snow peas
1 tsp cayenne
1 tsp onion powder
1 tsp garlic powder
1 tsp cardamom powder
1 tsp clove powder
1 tsp lemongrass powder
1 tsp black pepper
1 tsp pink Himalayan sea salt
2 cups coconut mylk
---
What To Do:
---
In a skillet on medium heat, pour in 1 tbsp olive oil and add in the minced garlic, shallots, galangal, onion and red bell pepper. Mix everything around and let set in the oil for about 3 minutes.
Add in the cauliflower florets, squash, snow peas, and jicama and spices and stir frequently
After another 3-5 minutes, pour the coconut mylk over the mixture and reduce the heat to low.
Add in the cabbage and cherry tomatoes
Cover and let simmer for about 10-20 minutes, stirring occasionally
When the squash is tender enough to be poked with a fork, it's ready to go!
---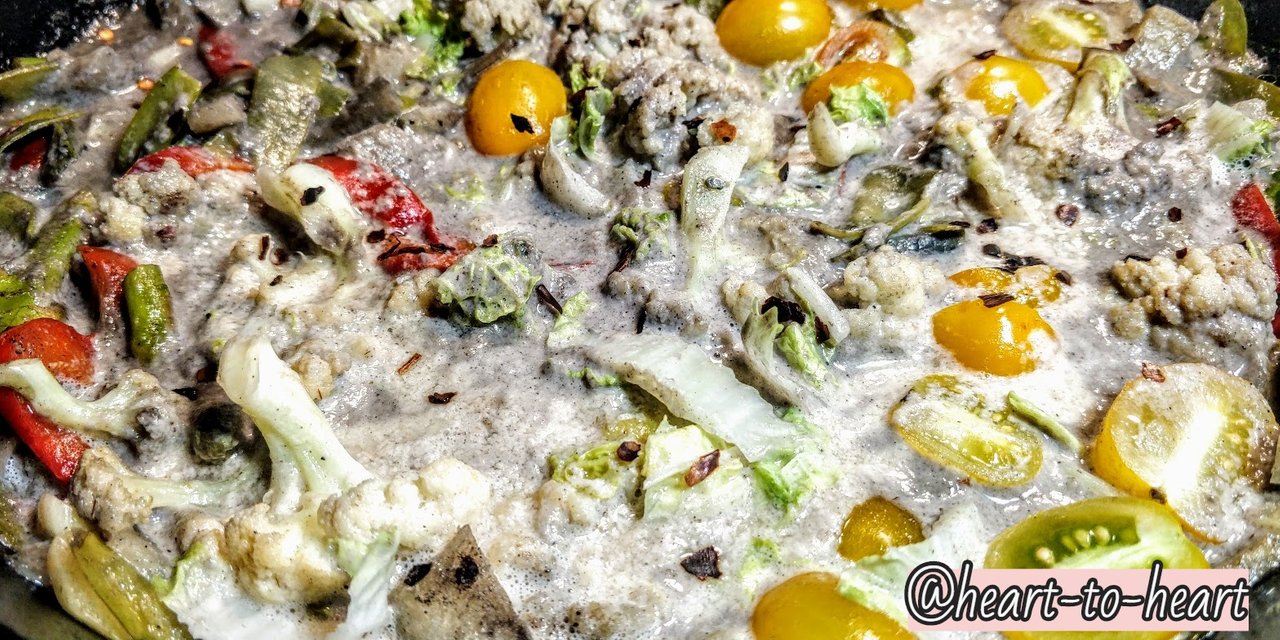 ---

I wish you yummy in your tummy!
Love and Light ✨
Cece 😘🧙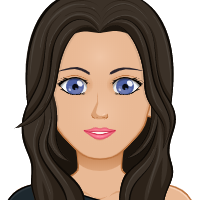 What did you miss from me? Here's what I've been up to lately:
Loaded Jicama Fries
Cookies and Cream
CocoNutty Dream Cream Curry
Spinach and Quinoa Bathing in Tahini
Delicious;ly Unsuspecting Cabbage Fry
Pesto Impresso
Oriental Tacos
Delicious Treat You Right Granola
Communication 101 (for Angry Lions)
Breakfast Cupcakes
I-N-D-E-P-E-N-D-E-N-T Bread
Spaghetti Vibes Salad
Rainbow Rice
Mas-A-Better-Man-Curry
Unsuspecting Veggie Drool Inducer
Thai Squoodles
Handheld Avos
Pumpkin Spice "Latte" Nibbles
Jicama Hash Mash Bash
Rad Rainbow Coleslaw! (Rainbows are ALWAYS DELICIOUS!)
Something Like Ratatouille
Not Your Plain Ol' Veggie Tray