This turned out so good I almost didn't share.
(Not not share with you guys you sillies... but share any of this big skillet because I wanted to eat it all!)
---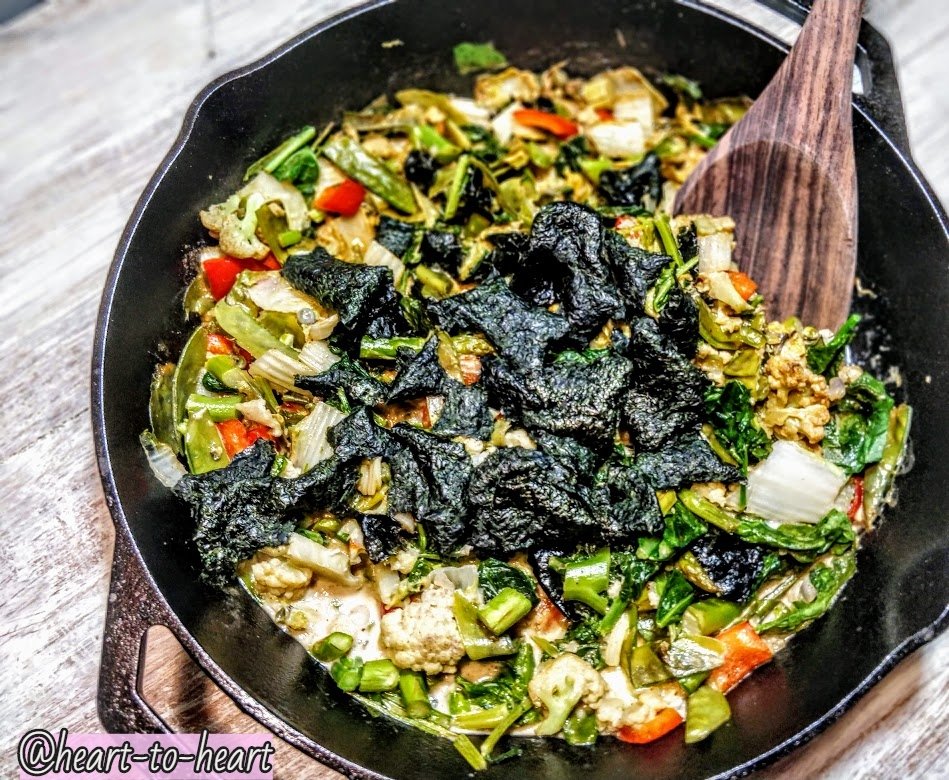 ---
I was feeling a little adventurous... I had just rearranged my entire living room and dining area and something frisky in me said... "try something out there!"
Now, to be fair... I know the "nori trick" from making sushi... nori is what gives the taste people love, if you match it with the texture and some boss sauce, there is no need for dead sea life at all!
(When I first went vegan, the thing I missed most was sushi so I got really good at making it without using any fish to do so!)
That said, I wasn't sure what was happening in my kitchen when I added the nori into my delicious curry but what happened was something that will absolutely 100% be happening again and again and again as I fell in love with the flavors of this!
Now, if you could have something that tastes like fish but doesn't require any of the negative impact of having fish... wouldn't that be something to give a whirl?
Before I went vegan, I thought fish was still OK until I learned about bycatch which put things into perspective... Watch this 2min video to learn about bycatch!
For example: hundreds of thousands (if not millions) of fish and other sea life die in the nets of fishermen. All manner of life gets caught in those nets and sorted and discarded dead if it wasn't what they were fishing for. SO much needless death. (Yes, that includes dolphins and Nemos and sea turtles!)
I know none of us want that, so let's make this friendly version instead!
Let's keep the live fish in the water and give us all some fysh to munch on!
Friendly Fysh Curry
---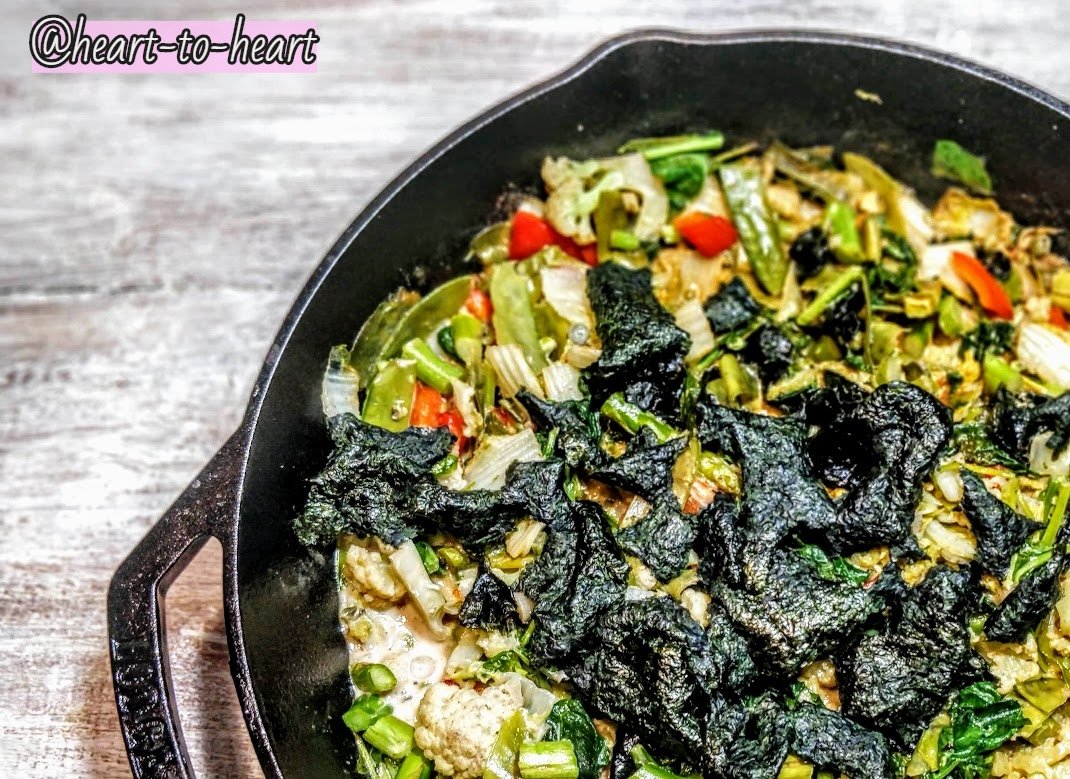 ---
What You Need:
---
4 nori sheets
1 bunch kailan (about 2 cups)
1 ½ cups snow peas
1 head cauliflower
2 cups chinese cabbage
3-4 shallots
½ cup asparagus
½ red bell pepper
3-4 garlic cloves
1 tbsp red curry paste
1 tsp ginger powder
1 tsp pink Himalayan sea salt
1 ½ cups coconut cream
1 tsp olive oil
½ cup veggie broth
---
What To Do:
---
In a skillet on medium heat, pour in the olive oil and add the minced garlic, onion and red bell pepper. Let them cook together for about 3 minutes.

Next, gather the snow peas, cauliflower and asparagus and add them into the skillet. Stir them around with the red curry paste and ginger, then let them mix together for a couple of minutes.

Add in the veggie broth to help the veggies cook and then add in the kailan, cabbage and turn down the heat. (These greens are more delicate!)

Pour in the coconut mylk, cover and let everything simmer, stirring occasionally.

After about 10 minutes, you can check to see how the veggies are cooked. If everything is soft, you can eat it now or let it play together on low heat for a little longer to let the spices blend in.

When you're ready to eat it, break up the nori sheets and throw the pieces in. Mix them around and these give you a "fishy" flavor.
Voila! No fishies harmed in the making of this curry!
Doesn't that feel great knowing?
---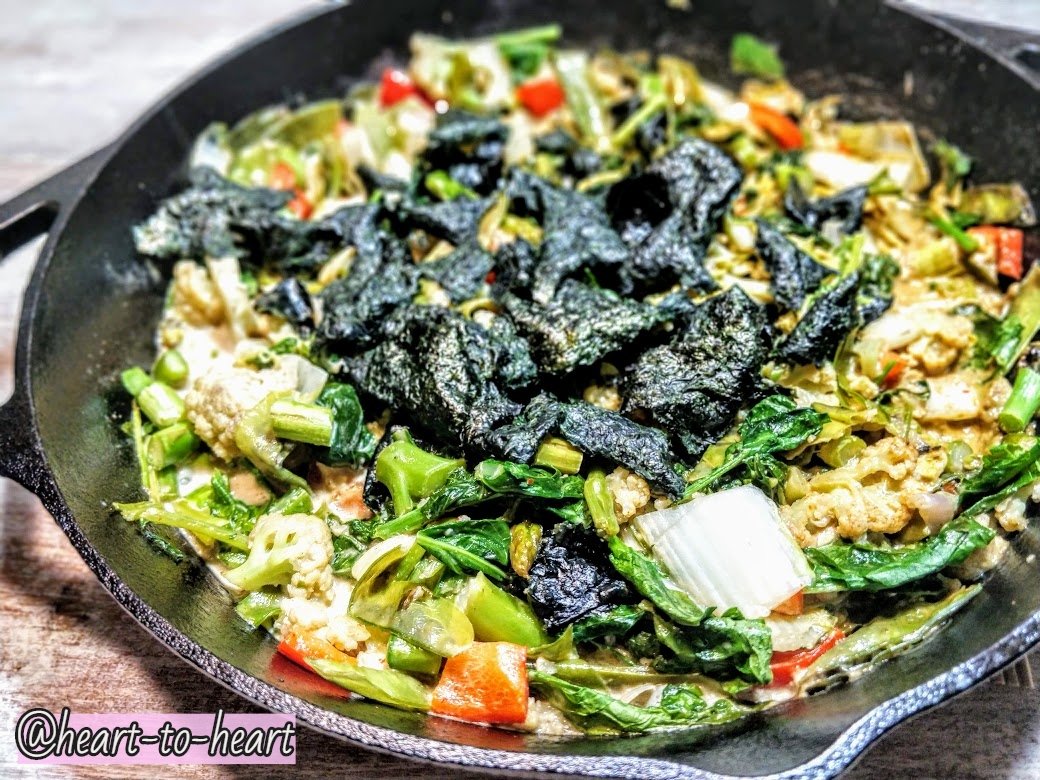 ---

I wish you yummy in your tummy!
Love and Light ✨
Cece 😘🧙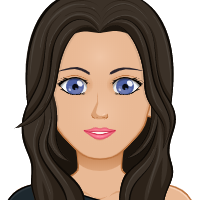 What did you miss from me? Here's what I've been up to lately:
Coffee Talk
Guiltless Brownies
Green Protein Fiend
Balinese Rendang
Loaded Jicama Fries
Cookies and Cream
CocoNutty Dream Cream Curry
Spinach and Quinoa Bathing in Tahini
Deliciously Unsuspecting Cabbage Fry
Pesto Impresso
Oriental Tacos
Delicious Treat You Right Granola
Communication 101 (for Angry Lions)
Breakfast Cupcakes
I-N-D-E-P-E-N-D-E-N-T Bread
Spaghetti Vibes Salad
Rainbow Rice
Mas-A-Better-Man-Curry
Unsuspecting Veggie Drool Inducer
Thai Squoodles
Handheld Avos
Pumpkin Spice "Latte" Nibbles
Jicama Hash Mash Bash
Rad Rainbow Coleslaw! (Rainbows are ALWAYS DELICIOUS!)
Something Like Ratatouille
Not Your Plain Ol' Veggie Tray