Just what the doctor ordered... brownies and coconut mylk!
---
---
Ohhhh my chocolate loving stars!
Who says you can't have your cake and eat it too?
Are you looking to be more conscious about your snacking but wishing you could just scarf down some chocolate instead?
I may have hacked that for you!
In my laboratory, I was making these treats gluten free, as low carb as possible, vegan, sugar free and candida diet friendly so, I have a lot of bases covered that will make your tummy happy!
Let's start with the main blend that holds it all together:
Flours: coconut, all pupose GF blend, and almond
Eggs: chia seeds (get your omegas in!)
Milk: freshly made (compassionate) coconut mylk
Sugar: mesquite powder-- a naturally sweet flavored root that is low GI (you can sub for stevia or monk fruit)
Butter: cacao butter
Note: I was kind of hungry when I was making these so I didn't think to add nuts but you definitely can! (On candida diet avoid peanuts and cashews however!)
I'm sharing these easy and delicious plant-based brownies on a Fruits and Veggies Monday to support @lenasveganliving's amazing imitative to bring people together in the love of fruits and veggies!
Let's make them!
---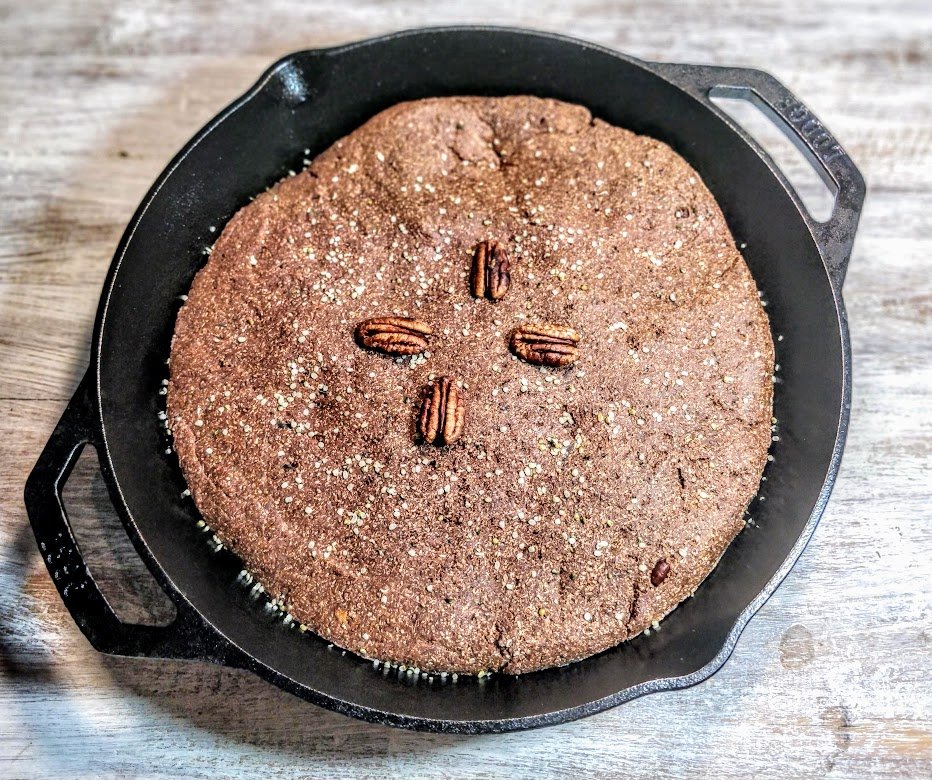 ---
What You Need:
---
1 tbsp coconut oil (for the pan)
3 cups coconut flour
1 ½ cups all purpose gluten free flour
1 cup almond flour
1 cup cacao butter
3 tbsp cacao powder
1 tsp baking powder
1 tbsp vanilla
1/2 tsp pink Himalayan sea salt
1-2 tbsp mesquite powder
1-2 tbsp maca powder
2 tbsp hemp hearts
½ cup chia seeds + 1 cup water
2 cups coconut milk (add more as needed)
1/2 cup cacao butter (melted)
Optional sauce:
1/2 cup coconut butter
1/4 cup coconut mylk
1 tsp mesquite powder
1/2 tsp cinnamon
---
What To Do:
---
Pre-heat the oven to 350'C
Oil up your baking pan with coconut oil (I am using a seasoned cast iron)
In a big bowl, mix together all of the flours and powders (coconut flour, almond flour, all purpose GF flour, cacao powder, mesquite powder, maca powder, baking powder) and the salt
Whisk everything to remove any chunks
In another bowl, combine the chia seeds with water. I start with 1/2 cup chia and add 1 cup water then set it aside and add more water to create the consistency I am going for once the chia soaks up the water. Usually about 1 part chia, 2-3 parts water. Keep stirring and adding water, you want the chia to be thick enough to hold everything together but not stiff.
Pour everything into the big bowl with the dry ingredients or pour into a food processor if you have a mixing feature adding in the vanilla, cacao butter and coconut milk
Whenever the ingredients are combined, pour into the pan and place in the oven for about 15 minutes (ovens vary so do the toothpick test to check if yours is done!)
The outside will be a bit crispy and the inside will be super soft!
Mix the sauce ingredients in a bowl and pour over the baked brownies!
---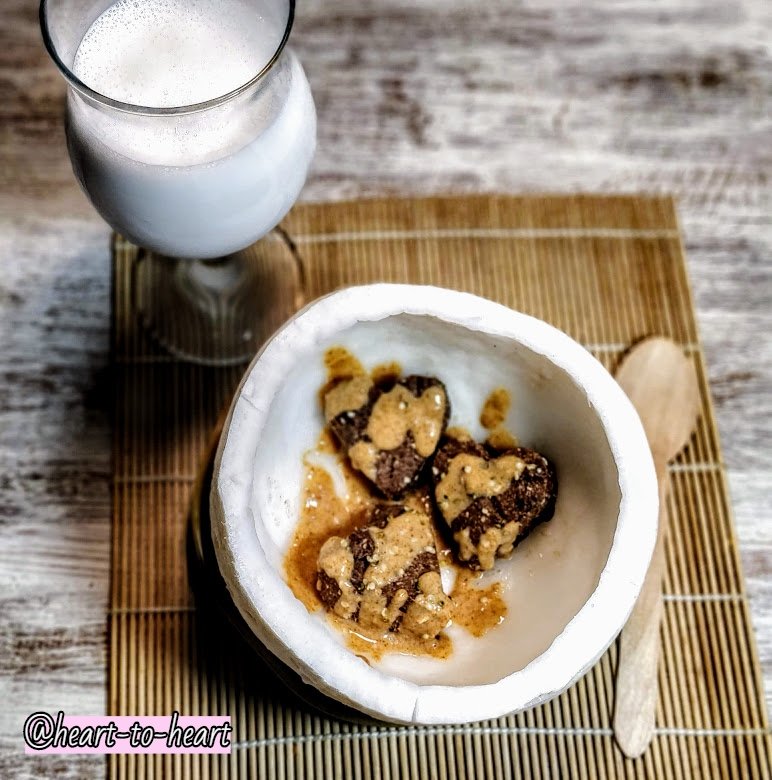 ---

Serve with a glass of coconut mylk and optional coconut butter sauce!
I wish you yummy in your tummy!
Love and Light ✨
Cece 😘🧙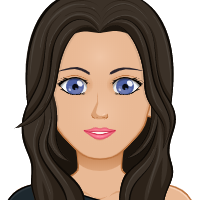 What did you miss from me? Here's what I've been up to lately:
Green Protein Fiend
Balinese Rendang
Loaded Jicama Fries
Cookies and Cream
CocoNutty Dream Cream Curry
Spinach and Quinoa Bathing in Tahini
Deliciously Unsuspecting Cabbage Fry
Pesto Impresso
Oriental Tacos
Delicious Treat You Right Granola
Communication 101 (for Angry Lions)
Breakfast Cupcakes
I-N-D-E-P-E-N-D-E-N-T Bread
Spaghetti Vibes Salad
Rainbow Rice
Mas-A-Better-Man-Curry
Unsuspecting Veggie Drool Inducer
Thai Squoodles
Handheld Avos
Pumpkin Spice "Latte" Nibbles
Jicama Hash Mash Bash
Rad Rainbow Coleslaw! (Rainbows are ALWAYS DELICIOUS!)
Something Like Ratatouille
Not Your Plain Ol' Veggie Tray