The other night I heard a very loud voice screaming from somewhere I couldn't see...
The voice shouted and whined for a long time as I tried to distract myself and ignore it.
Finally the voice cut through my walls and I heard the message...
I want a salty, comforty-food SNACK NOWWWW! It wailed.
---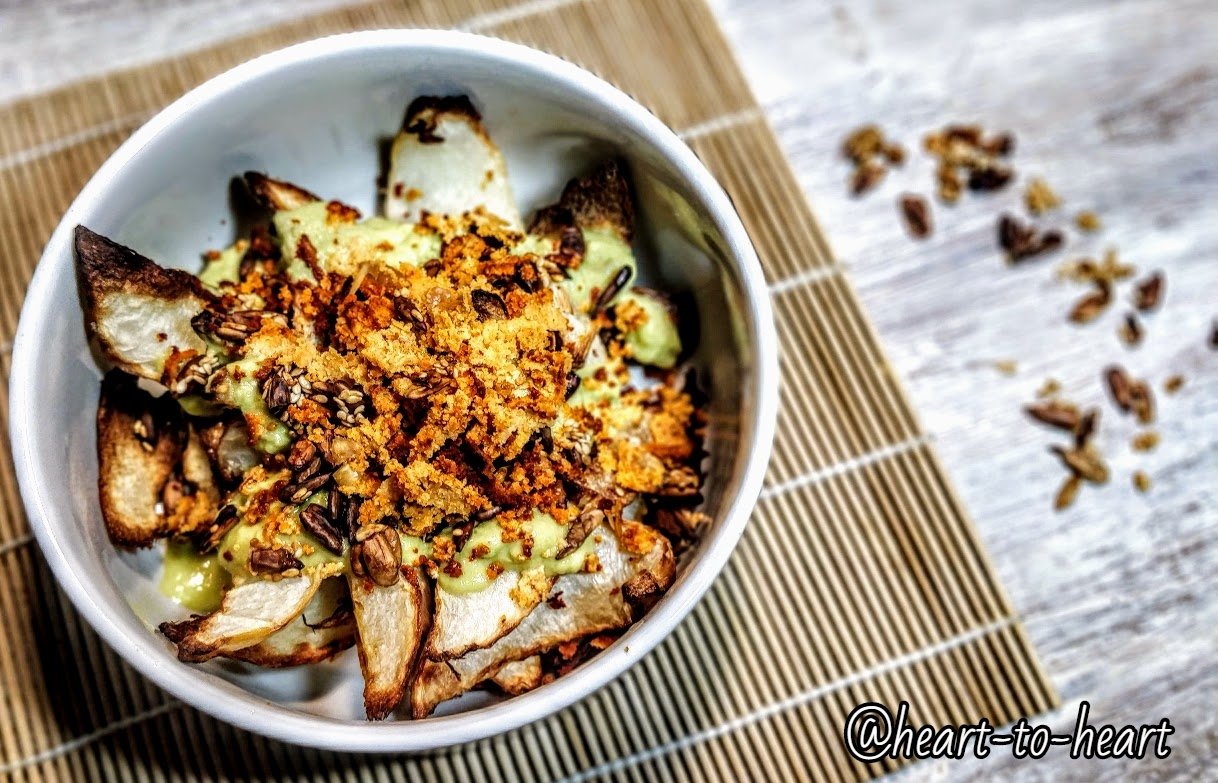 ---
I opened my fridge, looked inside and started to panic. It was after dinner and I was not about to go get ingredients to do what I normally do and go all out so I kept opening and shutting the fridge door reminding myself that I could let the feeling pass... when I saw the jicama on the counter.
Out came the air fryer (if you don't have one of these -- oh my oh my! They are a dream! They reduce oil and you can leave them going on their own!) But not to worry, an oven will do just fine but you'll need to flip half way through!
OK so anyway, I decided to load these babies up and make it a whole comfort food experience! Inspiration had hit!
Now, I told you this in my last jicama recipe but in case you missed it, the famous russet potatoes have 27.1 grams of carbs per 100 grams and they are fullll of starch. (No one is crying more about this than I.)
If you're trying to follow a keto, candida or low carb diet that's just not going to work for you! (Cue sad face.)
Jicama is kind of like a brown paper wrapped super-antioxidant rich pear/potato nutty/ consistency thing going on and I'm becoming pretty obsessed with them I've got to say!
Here's some good news-- jicama has only 9 carbs for that same 100 gram serving and I've been really impressed at its ability to take the place of my beloved potato!
So, let's load these bad boys up and see what they can do to satisfy a night time snack craving!
Loaded Jicama Wedges
---
What You Need:
---
2/3 jicamas (about 1 per person)
1 avocado
1 tbsp tahini
1 tsp lime juice
1 tbsp coconut oil
1/2 tsp pink Himalayan sea salt
1 tsp paprika
1 tbsp roasted sunflower seeds
1 tbsp roasted sesame seeds
1/2 cup vegan cheeze of your choice! (I used smokey paprika sunflower cheeze)
---
What To Do:
---
Peel the skin off the jicama (you can tear the skin off with your hands if you start by cutting the top and bottom off and pull along the edges)
Cut the jicama into wedges
In a big bowl mix the jicama with the sea salt, paprika and coconut oil and either throw it all in an air fryer or the oven
In another bowl, mix the avocado, tahini and lime juice together (feel free to add some salt and pepper here or some cayenne for a kick!)
When the wedges get crispy (about 25 mins in my air fryer which has only one setting) take them out and let them cool down a bit
Put the wedges in a bowl and pour the avocado/tahini mixture all over them
Sprinkle with the roasted seeds and vegan cheeze and voila-- you have a delicious snack!
---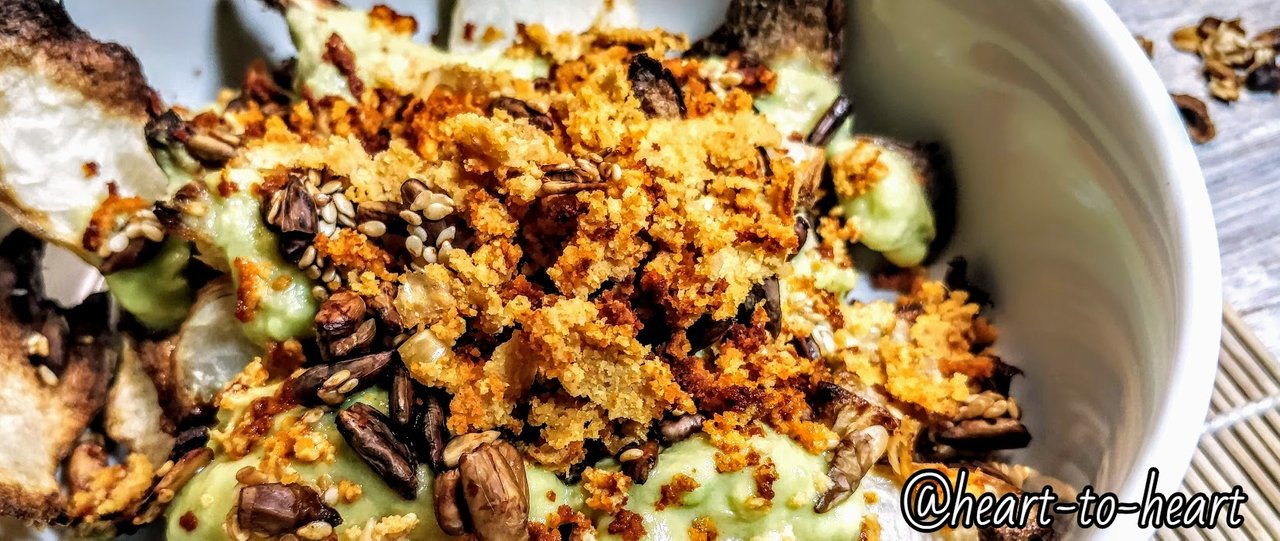 ---

I wish you yummy in your tummy!
Love and Light ✨
Cece 😘🧙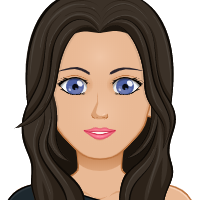 What did you miss from me? Here's what I've been up to lately:
Cookies and Cream
CocoNutty Dream Cream Curry
Spinach and Quinoa Bathing in Tahini
Delicious;ly Unsuspecting Cabbage Fry
Pesto Impresso
Oriental Tacos
Delicious Treat You Right Granola
Communication 101 (for Angry Lions)
Breakfast Cupcakes
I-N-D-E-P-E-N-D-E-N-T Bread
Spaghetti Vibes Salad
Rainbow Rice
Mas-A-Better-Man-Curry
Unsuspecting Veggie Drool Inducer
Thai Squoodles
Handheld Avos
Pumpkin Spice "Latte" Nibbles
Jicama Hash Mash Bash
Rad Rainbow Coleslaw! (Rainbows are ALWAYS DELICIOUS!)
Something Like Ratatouille
Not Your Plain Ol' Veggie Tray