Good evening my dearest steemians,
I've made this lovely 3 layered caramel chocolate cake without oven & eggless and it was so yummy and i love to share it with you.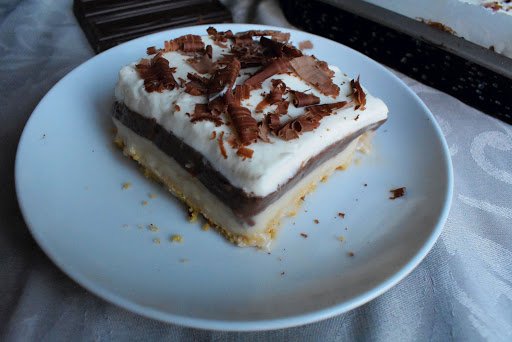 3 LAYERED CARAMEL CHOCOLATE CAKE
Prep Time: 30 minutes
Chill time: 4 hours
Serving: 8 persons
Ingredients:
For crust:
170 g crackers
80g melted butter
For caramel layer:
1/2 cup sugar
1/2 cup cream
2 and 1/2 cups milk
2 Tablespoon cornstarch
2 sheets gelatin
For Chocolate layer:
2 and 1/2 cups milk
3 Tablespoon sugar
3 Tablespoon cacao powder
2 Tablespoon cornstarch
40g dark chocolate
2 sheets gelatin
For topping:
1 cup whipped cream
2 Tablespoon sugar
Chocolate chips
The way:
Make the crust: Smash the crackers with a roller or with food processor, pulse the crackers into crumbs. Pour into a medium bowl and stir with melted butter until combined. Press firmly into the bottom with spatula or a bottom of a measuring cup to pack the crust down tightly.
Make the caramel layer: sink the gelatin sheets on a cold water. In a saucepan caramelize the sugar on medium heat, let the sugar caramelize without stirring, otherwise you will get a sugar lumps. On your caramel add the butter and stir with a whisk beater until dissolved. Heat cream, then add it to caramel gradually keep stirring.
melt cornstarch in the milk, stir with a spoon to combine ( never add cornstarch to a hot liquid to avoid a lumpy mixture)
pour milk on caramel sauce and keep stir until thickened, add 2 gelatin sheets (dry it from extra water), give it a quick mix and remove from heat.
On the crust pour the caramel layer using a sieve to filter from any lumps. Chill at room temperature while making the chocolate layer.
Make chocolate layer: In a saucepan add milk, sugar, cornstarch and cacao powder. Stir together on a medium heat until thicken, add dark chocolate, stir until melted. Add gelatin sheets, then remove from heat. Stir the chocolate layer to reduce heat before add it into the caramel layer. Pour chocolate layer gradually. Chill at room temperature before refrigerating it for 2 hours.
Whipped your cream with sugar or add a ready to use whipped cream, on the top of the cake. Chill cake for another 2 hours before serve it.
Decorate with chocolate chips.
Enjoy!
Thanks for stopping by.
Love,
Angie