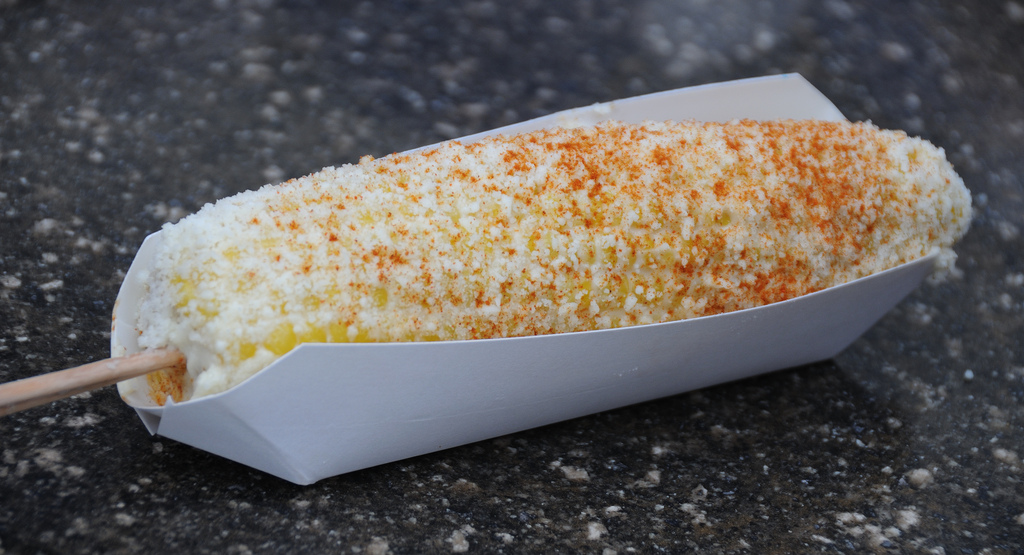 Yesterday I posted about grilled corn, someone scolded me for not mentioning Mexican street corn. To be honest I was told about it by my brother a few months back, they serve it on food trucks in NY, I have not tasted it myself, but he says it's an awesome product. Here in Ohio this recipe has not made it to the streets yet, we still have the old fashioned grilled corn.
This is a video by Serious Eats on how to make Mexican Elotes:
---
Now how to make this at home?
To make 6 cups of corn you will need:
4 Tablespoons Mayonnaise
4 Tablespoons Creme Fraîche ( It's the mexican version of sour cream, if you can not find it, just mix heavy cream and buttermilk)
1/2 tsp Chilli Powder
1/2 cup of Cotija Cheese, you can substitute Queso Blanco, or Goat Cheese.
1 lime
Rub hot corn with a wedge of lime, spread creme, mayo, a decent coat of cheese then sprinkle some chilli powder and salt all over. The mayo and creme help the grated cheese stick to the cup. My brother adds melted butter as well so be creative you can also choose your favorite cheese.
---
This video show how it's served on a mexican street corner:
---