If you believe bread is not good for you then
let me tell you about sourdough,





the way bread was intended to be.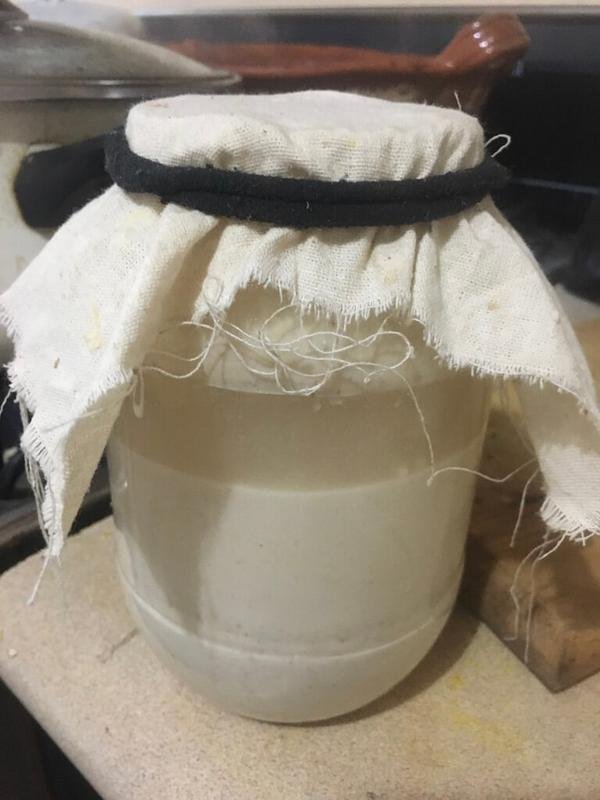 Sourdough bread is REAL bread.
The first breads were made this way...for thousands of years.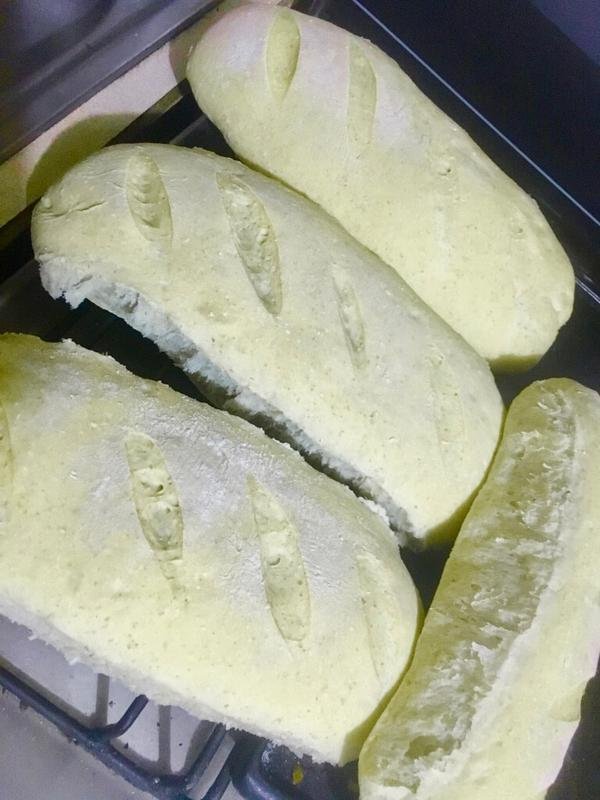 The yeast you buy in the store and the breads you see in plastic bags
would make Old World bread artisans roll in their graves (the dead ones, that is)
if they only knew what humanity is passing off as bread today.
Those who enjoy foods like Kombucha and Kim Chi
will love the world of fermented breads.
Once you learn the basic process of catching yeast,
maintaining a starter and
making the breads then it is possible to really
play with it
and develop your own signature rustic breads.
I encourage you to learn about sourdough science and bacterias.
Do a Google search for "sourdough science pdf".
You will find a long list of PDFs explaining every aspect of sourdough imaginable.
Download for studying and referencing.
Some interesting facts about sourdough:
The early gold miners carried around a jar of sourdough starter because the separated liquid on top makes a strong whiskey, thus the name "doughboys".
Many southern european families have starters that have been passed down through the family for countless generations.
A sourdough starter is like a family member, as it must be fed and stirred everyday.
A portion of the family sourdough starter is given as a traditional wedding gift to continue the bread line.
Sourdough is full of bacterias that regulate digestive enzymes, boosts the immune system and aids in optimal digestion.
Every place you go in the world will have a different yeast flavor. For example: If I take a starter that tastes really good from the mountains of Colorado to the deserts of Arizona the yeast will have a different taste.
Old places catch the best and most yeast such as old neighborhoods, old houses, rooms with lots of old stuff.
There's not many rules to maintaining a starter so there's lots of "wiggle-room" to play with it.
When I was a small child I began to learn to bake bread.
It wasn't until I was a young adult that I discovered sourdough.
SInce then I have created many successful sourdough starters.

The first ingredients are persistence, dedication and passion.
For the first few months it's really important to
feed your starter every day,
stir it a couple of times and make something...anything, with the starter.
It's true, you could just pour it out to feed it but
that's wasteful and unadventurous.
Everyday, when developing a new starter,
you will stir it then several hours later stir it again
but this time pour half of it out, replace the liquid and
feed it by stirring in flour until it's a loose pancake mix consistency.
Always cover your glass starter jar with a piece of cloth
fastened tightly around the neck with a rubber band.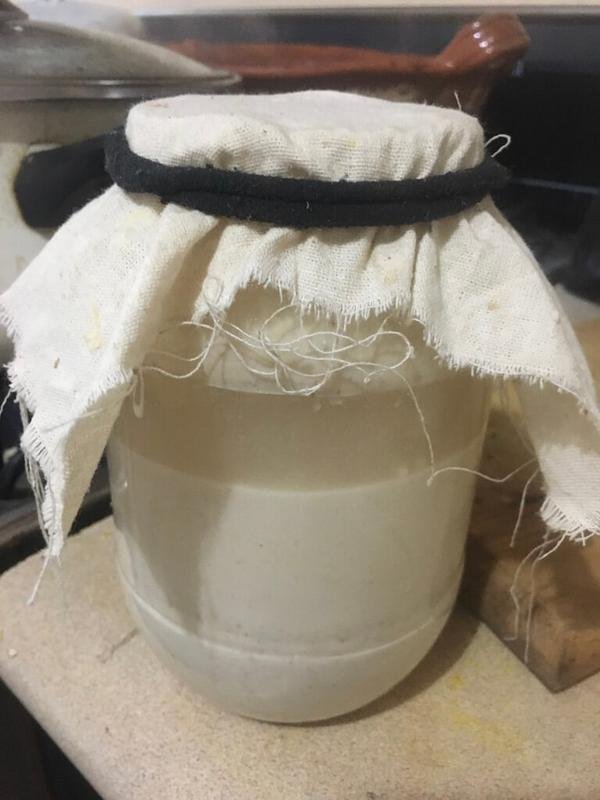 Things you can make with the discarded liquid of a developing starter:
Bread (you will have to add store bought yeast in the beginning)
Pancakes (add baking soda and baking powder)
Cookies
Do a search for more sourdough recipes. Experiment with substituting the liquid for the starter.
To make a starter you will need:
A quart jar with large mouth
Clean pure water
Flour (all-purpose, unbleached white or bread flour)
Sugar
Yeast
Piece of cloth that easily covers the jar mouth
Rubber band for fastening the cloth around the jar neck.





Fill the jar ¾ full with water.
Add about a Tablespoon of sugar and
a pinch of yeast (this is the only time you will ever add yeast).
Stir with a non-metal spoon.
Add flour and stir until the starter has a milky pancake mix consistency.


Don't worry. It's really hard to get this wrong.


Store it in a warm place.
My favorite is on top of the refrigerator.
Stir and feed it everyday.
It's a living thing therefore, it's a new family member.
Go ahead, give it a name...something like, Clint Yeastwood.
When it's about a month old you will notice the flavor
of your bread starting to develop the sour flavor.
At this time, it will likely also start producing bread with a noticeable
spongy texture and a beautiful crispy crust.
When this begins it's time to make the bread without adding store bought yeast.
Begin the bread making process early in the morning
as it will take a full day.
However, I promise, it will be worth it.
SIDE NOTE: There are many ways to make sourdough bread. This is my method.
Basic Sourdough Bread process: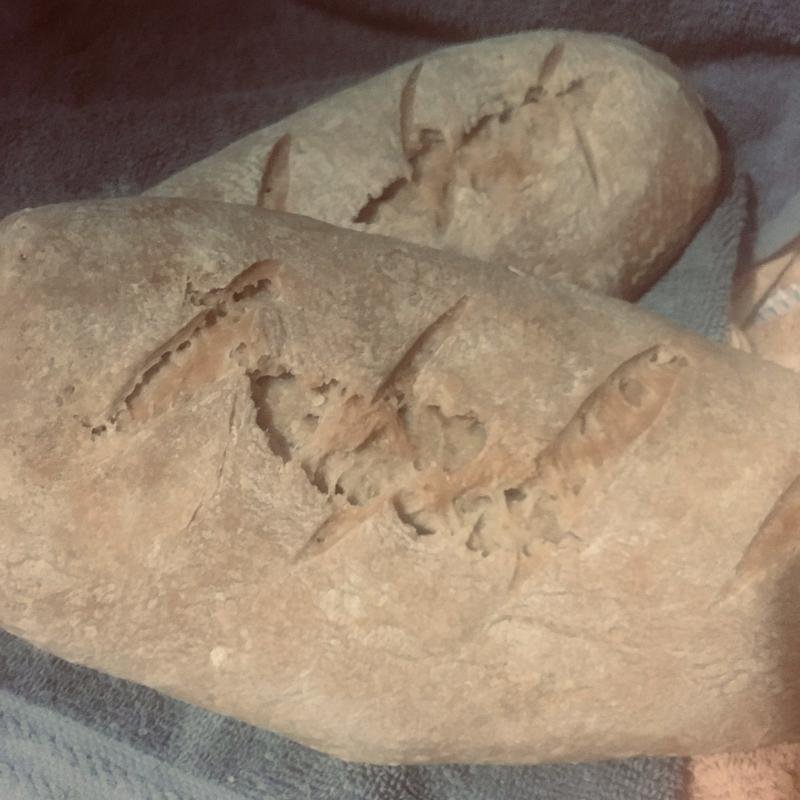 Begin by making a "sponge".
Stir the starter thoroughly then pour half of it in a large non-metal bowl.
Add about ¼ - ½ Cup of liquid(water, milk, apple juice, potato water, etc.,.).
Next, add 1 - 2 cups of flour. I like to add my oils at this point but it can wait.
Stir in about 2 Tbls. - ¼ cup of sweetner. Honey, sugar, maple syrup, molasses, etc.
The purpose is for food to attract more wild yeast and
not necessarily to make the bread sweet.
Add more liquid or flour to create a thick pancake mix consistency.
Cover with a towel then set a warm sunny location for 2 - 6 hours.
Stir every 2 hours. The longer it sets, the more yeast it will catch,
the better texture and flavor of the bread.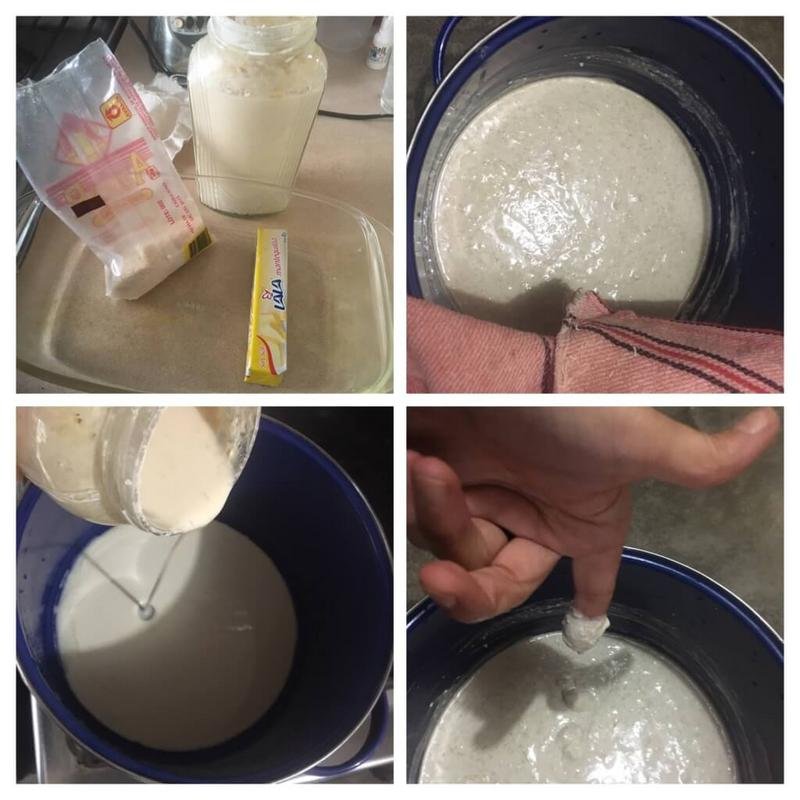 REMEMBER: Feed the starter after you use half of it.
Replenish the water and flour you removed . Stir. Cover.
Making the Dough: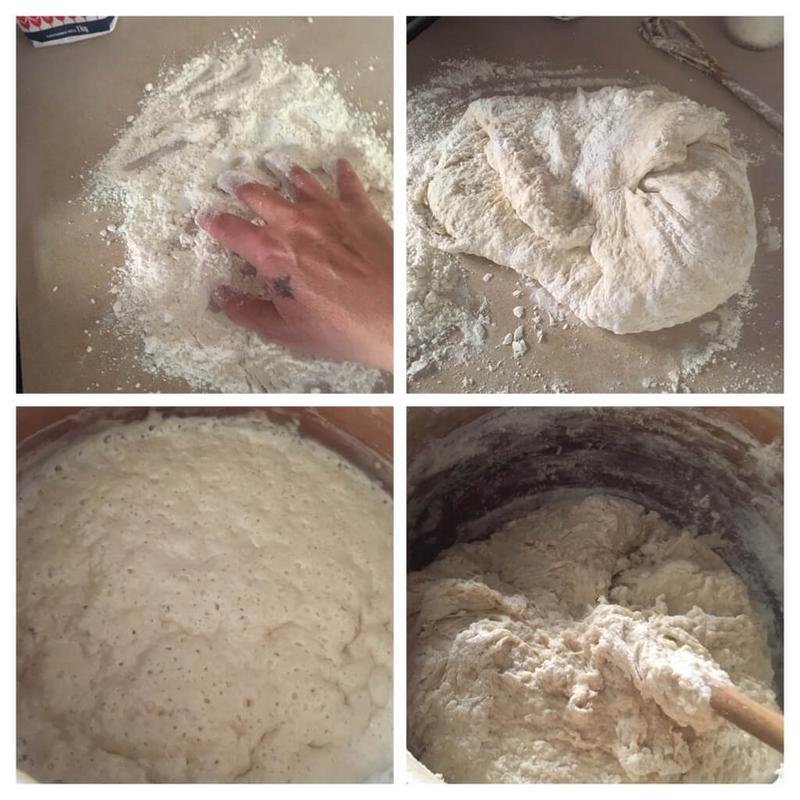 Stir down the sponge.
Add salt and the oils if you did not earlier.
I prefer olive oil, butter or coconut oil.
SIDE NOTE: Cheap oils such as canola or soy oils are not only bad for your body
but are in conflict with the whole system of bacterias of the sourdough.
So, basically, if you use poor quality oils all the great health benefits of sourdough
are sabotaged by introducing poor quality ingredients.
Please don't offend the hard earned healthy bacterias.
Now it's time to add any specialty flours. My rule of thumb is
I never use anymore than 40% specialty flour.
The more white flour you use the fluffier the bread will be.
The more other grains you use the denser your loaf will be.
So, just keep in mind as you're playing with your ratios of
white flour to other, special grains; the white flour
creates the fluff and other grains weigh it down.
Other grains to consider:
Whole wheat
Fine cornmeal
Pulp from your almond milk or coconut milk
Oatmeal
Boxed cereals that have been pulverized such as Corn Flakes or Shredded Wheat
Cooked potatoes
Cooked rice
Continue by adding a couple cups of flour and stirring in then repeating
until dough pulls together into a ball and is no longer stir-able.
Put a handful of flour on a clean table then dump your dough on top of it.
KNEAD: The purpose of kneading is to work a little more flour into the dough so it's no longer sticky and to fold air into it, activate the gluten process. Kneading looks easy but it's one of those things that can really take a lot of practice before you develop your own dependable kneading rhythm. I first began kneading as a child but didn't really master it until early adulthood.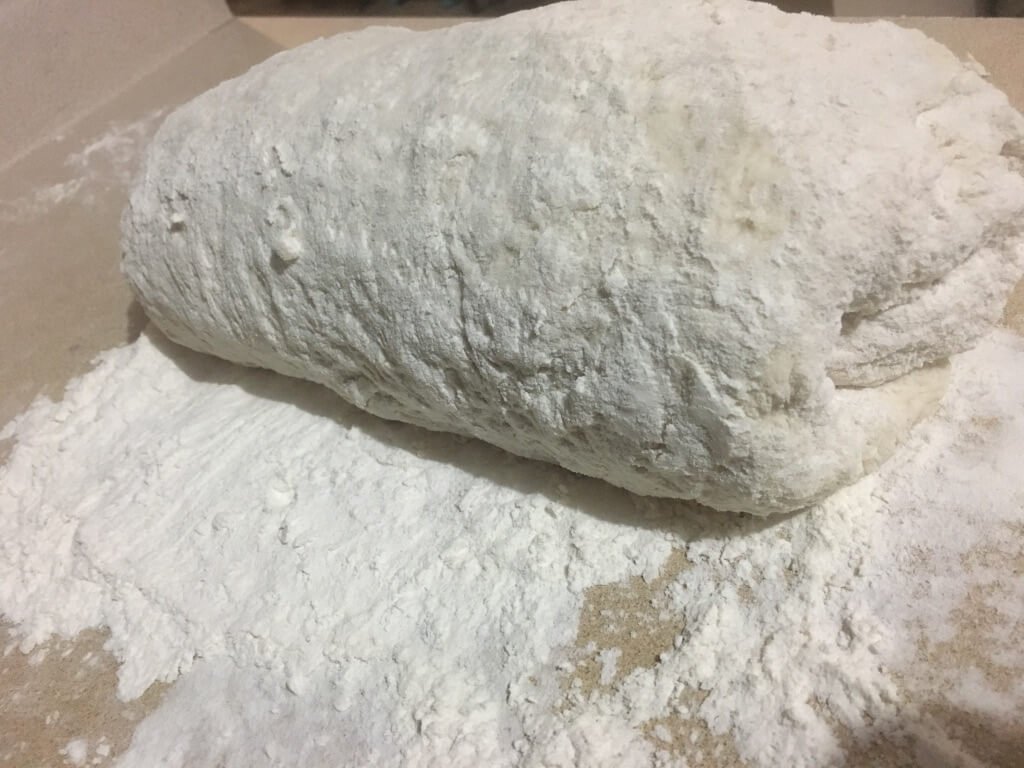 When you first begin kneading the dough there will be a bit of focus
on incorporating more flour. At some point you will notice the dough
becoming considerably less sticky.
At this point, only add a sprinkling of flour as needed.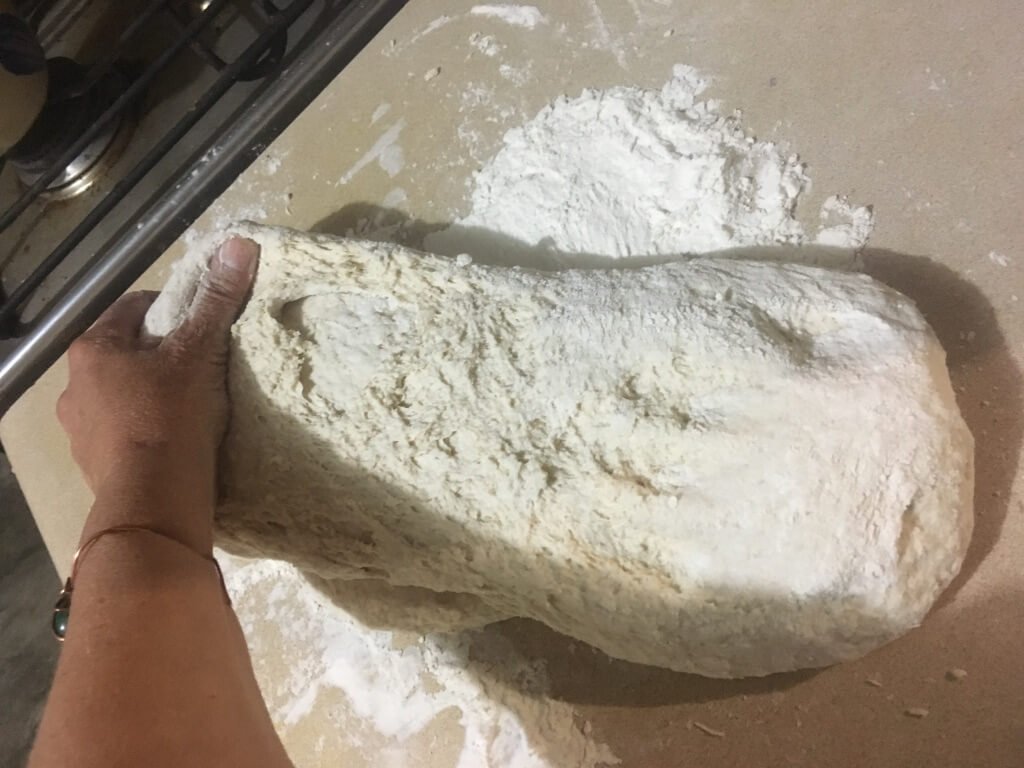 Begin by stretching away from you then fold towards you.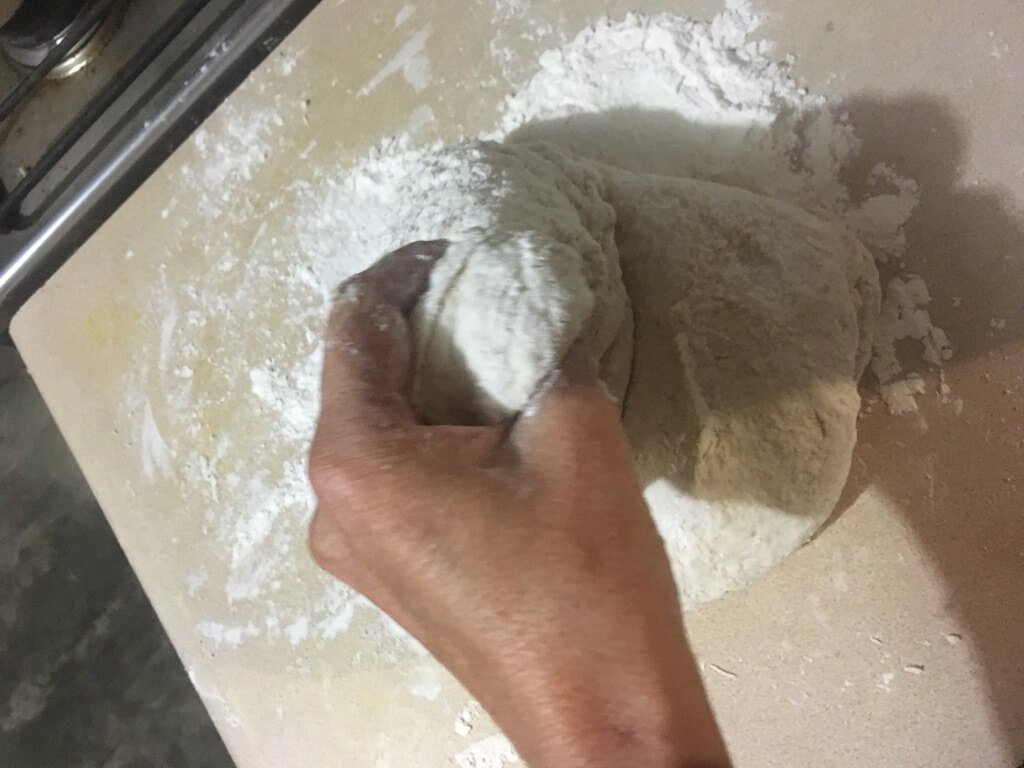 Push down with the heel of your hands. (I am holding the camera
with one hand but ordinarily kneading is done with 2 hands.)
Then turn the dough a 1/4 turn.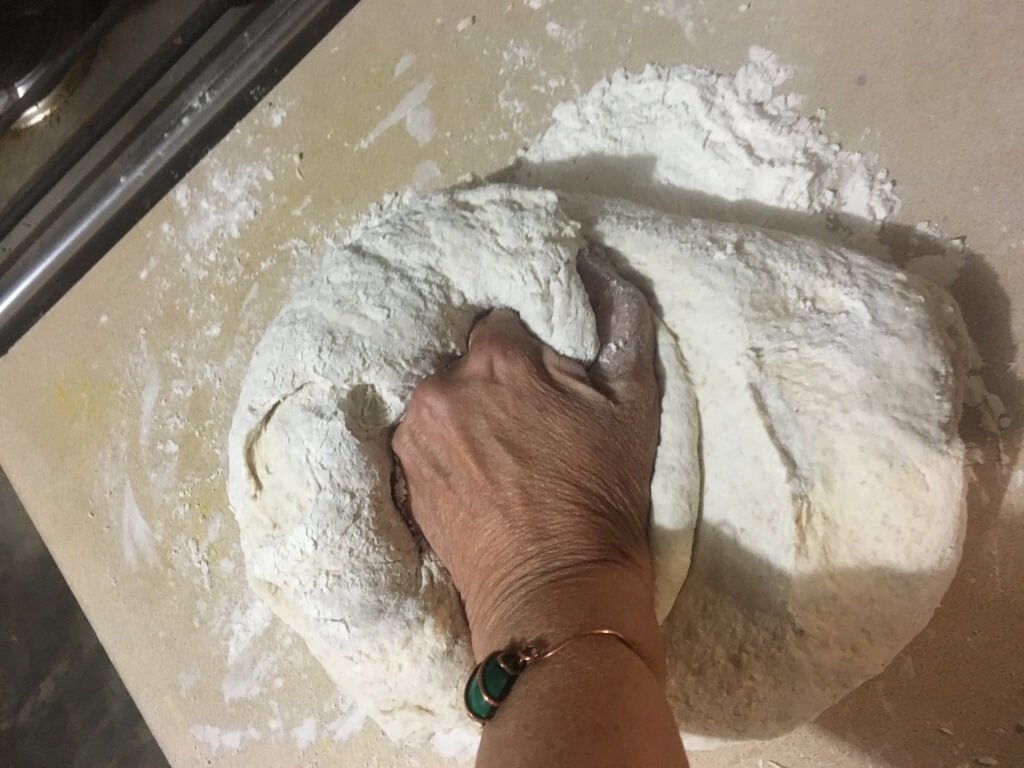 In simple form, it's: Stretch, fold, push, turn. Stretch, fold, push, turn.
When the dough is no longer sticky but is smooth and
beginning to show elasticity, add only a sprinkling
of flour to your working surface.
Stretching the dough is also no longer necessary. Just fold, push, turn.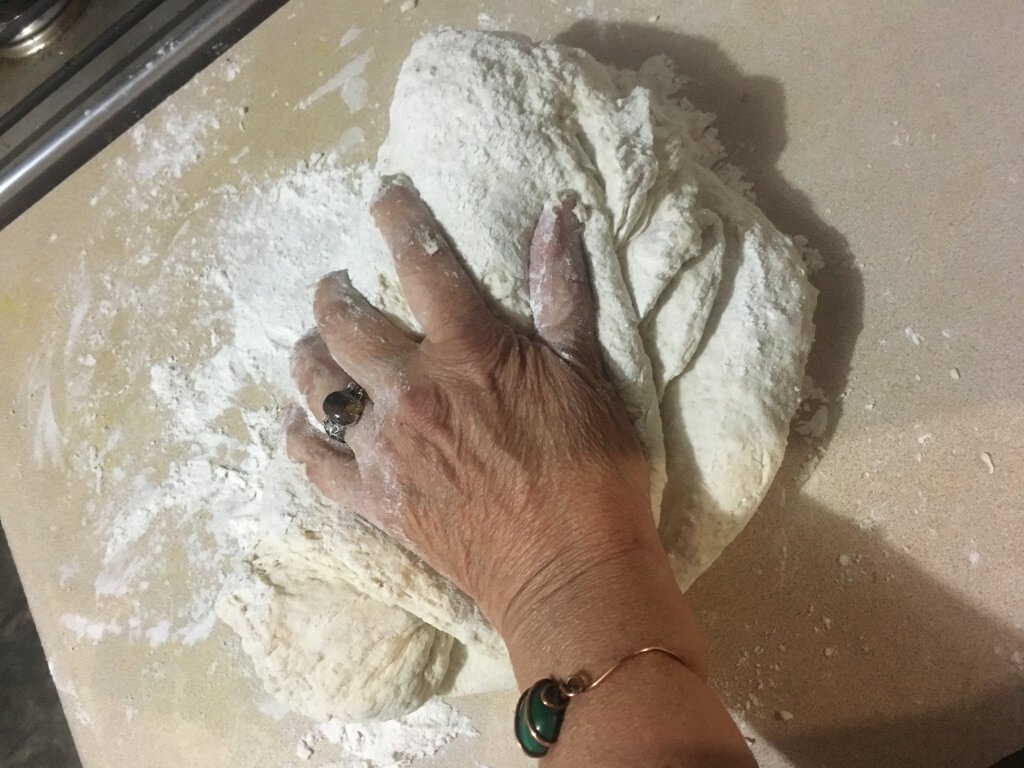 Kneading looks easy but it is a skill.
The following video is a short demonstration of
kneading in action and a glimpse of
the sounds of a kitchen in Monterrey, Mexico..



When you feel you are getting close to finishing the kneading
(10-15 minutes is normal) let your dough rest while you clean the
mixing bowl and oil it very well. After about 10 minutes of
resting finish up the kneading.
The dough will be very smooth and elastic.
You should be able to pull on a chunk of the dough and it will spring back.

The following video is a quick visual of elastic dough.



Put the kneaded dough into your prepared bowl,
top side down, swirl around then flip it over.

Check out this super short video for a
visual of what that actually looks like.
Cover with a towel then let rise until doubled in a warm place, 2 - 10 hours, until doubled.
If it's a warm sunny day then set it outside in the sun.
A really active yeast will double quickly but could have less sourdough flavor.
A less active yeast will take longer but develops a really delicious sourdough flavor.
When the dough has doubled give it a punch to knock it down.
Pinch the dough in half for 2 loaves or
cut into 3 - 4 equal pieces for more loaves.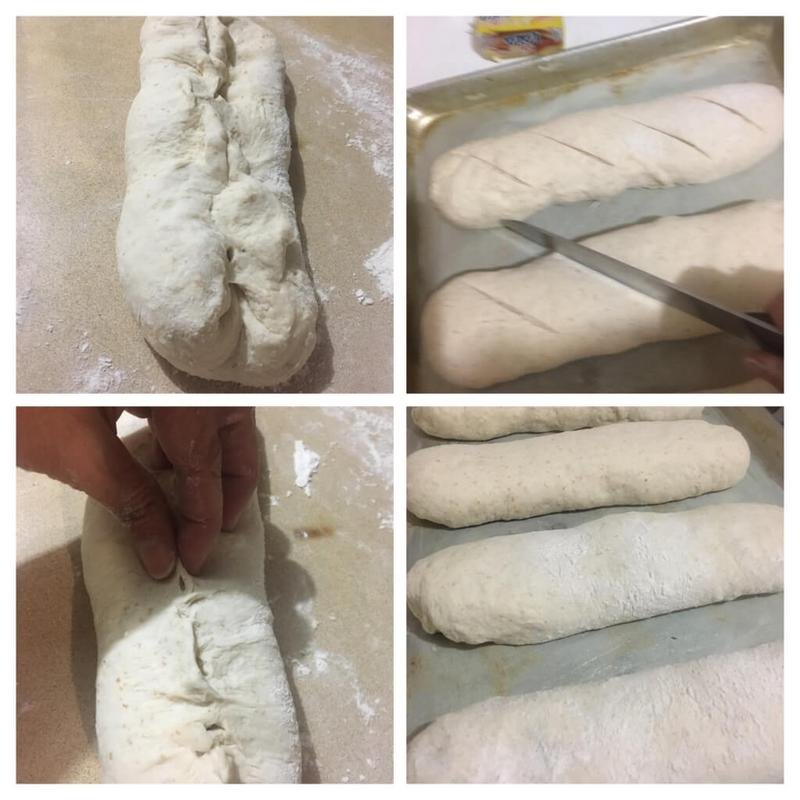 Form your loaves into the shape you want.

You can do rounds, logs or place into a
well oiled pan to make other shapes.
Sometimes I use cast iron or terra cotta flower pots.
Whatever you use, make sure it is well oiled
before you place the formed loaves on it.
Try sprinkling cornmeal on the oiled surface to create a yummy crust.
Be creative.
Cover the top of the loaves with butter, egg wash or oil.
Sprinkle with sesame seeds or sea salt if you want.
Cut slits in the top but no deeper than a 1/4".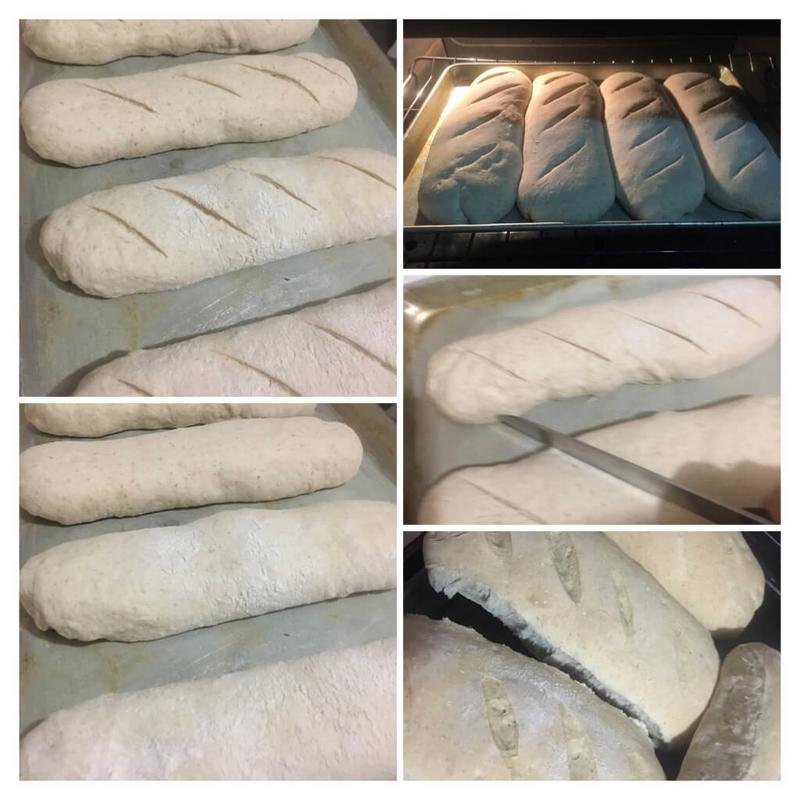 Cover the prepared loaves with a towel, place in a warm place for 2- 10 hours,
until they have risen about double.
I like to set mine in a cold oven to rise then gently
remove the towel and turn on the oven.
Starting in a cold oven gives the bread just a little more rise.
Heat the oven to 450 then after about 20 minutes turn it down to 350.
If you put bricks soaked in water in the
oven the steam will create a beautiful crust.
The loaves are ready when you can finger thump the
loaf and it sounds like a hollow wall.
Immediately set on cooling racks, not a solid surface,
so the bottoms do not become soggy.
Store in paper bags or wrapped in cloth.
Enjoy!


~-~-~-~-~-~-~-~-~-~-~-~-~-~-~-~-~-~-



Keep Following.
I got many more fun-believable food experiences,
and amazing adventures.
I'm serious!
My stories are continuously unfolding as
I continue my unique journey through Latin America.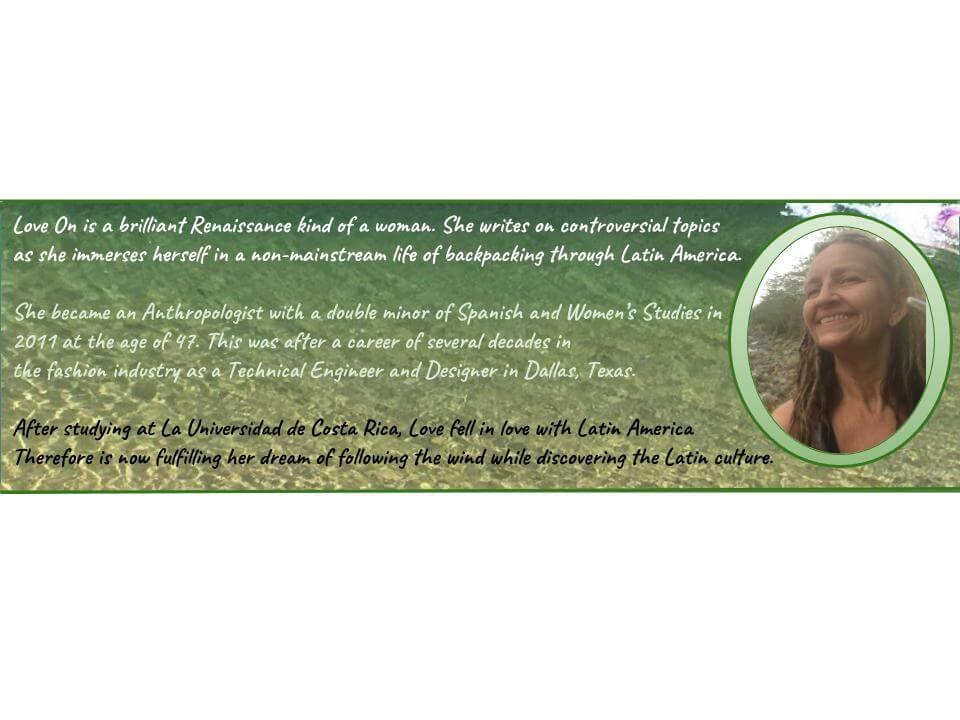 Your UpVote, Follow, Repost and Comments support me to keep the...