The Korean invasion is well entrenched in the Philippines as music, shows and food are so prevalent that you can see in almost any street something that sells korean food.
Everything from those massive all you can eat korean bbq places to those that serve street food and desserts.
I love Korean food. I have made my own kimchi, followed a half and half Korean fried chicken recipe and made Ramyun hacks when hungry but lazy at the same time.
I love the spiciness of Korean dishes and so always have some Korean ingredients at hand.
Waking up around midnight and hungry I made my way into the pantry to see what I could prepare. I saw some gochujang (Korean chili paste) and remembered buying some fish cakes and rice cakes together with some ice cream and so I decided to make some Tteok-bokki!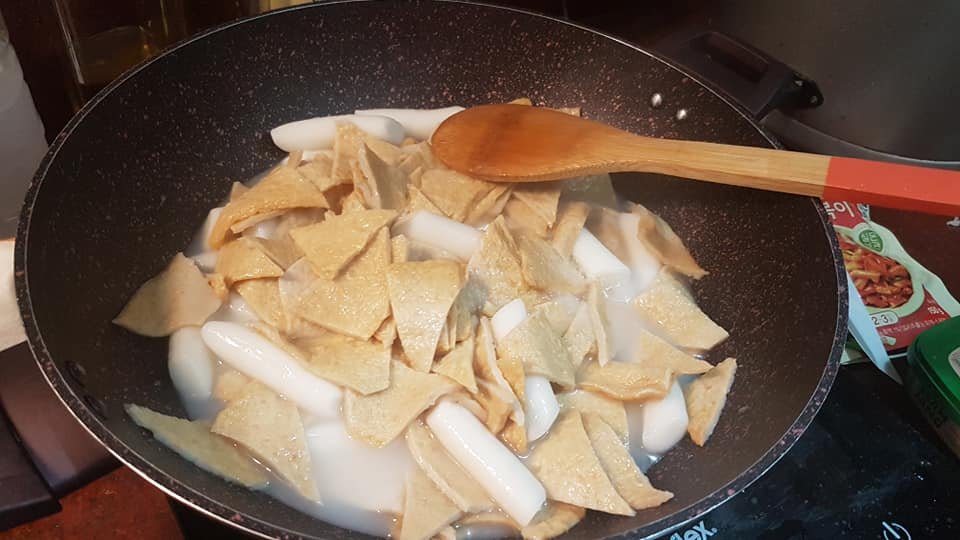 It is easy to make and involves boiling the main ingredients while preparing the sauce.
Main Ingredients:
350g one pack of Korean rice cakes soaked in some hot water
4 pieces Korean fish cakes,one quick boil and cut into bite size pieces
2 cups stock which I just used some bouillon cubes because time is of the essence
1 small onion, thinly sliced
Put everything in a pan and have it boiled and then make the sauce
Tteokbokki sauce (prepared in a bowl)
3 Tbsp gochujang (Korean chili paste)
1 1/2 Tbsp honey instead of sugar
1 Tbsp soy sauce
1 tsp Mirin because I like it
1 tsp minced garlic
I also toasted some pounded sesame seeds for some texture and fragrance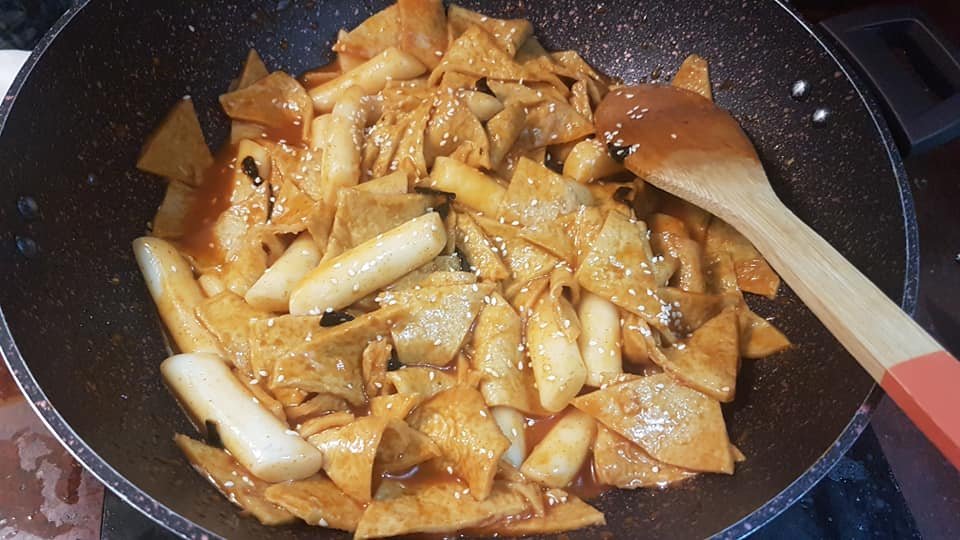 Incorporate the lovely smelling sauce and add 1 Tbsp of Sesame oil for added fragrance and a more pronounced nutty taste.
Mix it well and viola a street food snack prepared in less than 10 minutes.
Dig in and marvel at the different textures of the rice cake, fish cake and enjoy the spicy flavor and hint of sesame.
Good for 2 people but I ended up eating more than my share lol.
Enjoy!