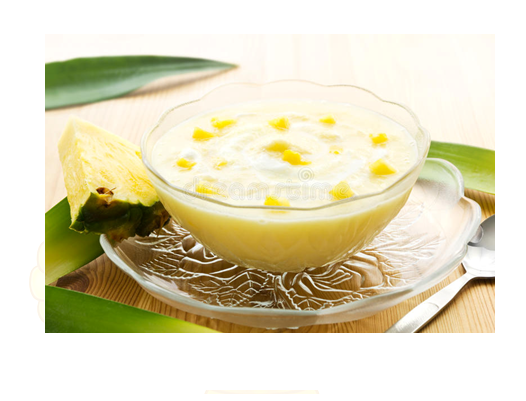 Image source: https://www.dreamstime.com/royalty-free-stock-photography-pineapple-yogurt
A single serving of pineapple has more than 130% of the daily requirement of vitamin C for human beings, making it one of the richest and most delicious sources of ascorbic acid.
Vitamin C helps in reducing illnesses and boosting the immune system by stimulating the activity of white blood cells and acting as an antioxidant to defend against the harmful effects of free radicals.
Free radicals are dangerous byproducts of cellular metabolism that can damage various organ systems and disrupt function, as well as cause healthy cells to mutate into cancerous ones. The vitamin C content of pineapple defends against this.
 Although pineapple is not famous for having strong calcium content, which most people immediately associate with bone health, it does have an impressive amount of manganese.
Manganese is another trace mineral essential for the strengthening of bones, as well as their growth and repair.
It is the most prominent mineral in pineapple, and a single serving can provide you with more than 70% of your daily requirement of this mineral.
 Other probiotics are often added to yogurt for their health effects.
Some common ones are Lactobacillus acidophilus, Lactobacillus casei and Bifidus.
These probiotics can help maintain the balance of bacteria necessary for a healthy digestive system; boost the immune system, shortening the length and severity of sickness; and may reduce eczema in babies.
When taking antibiotics, many people suffer unpleasant side effects such as diarrhea, intestinal pain and/or bloating.
This is because some antibiotics upset the balance of bacteria in the digestive tract. Eating foods rich in probiotics may help relieve these side effects of antibiotics.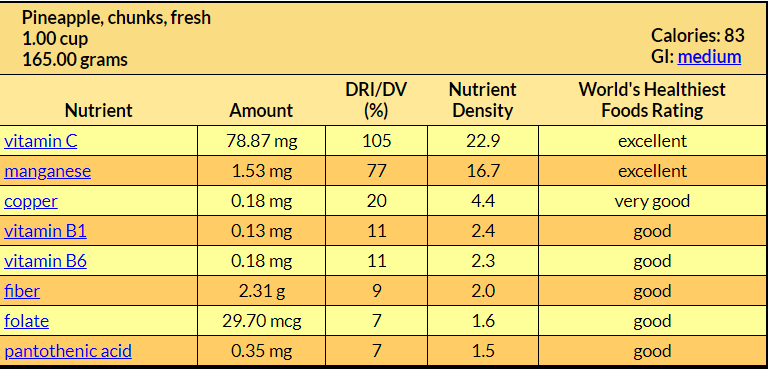 Image source: http://www.whfoods.com/genpage.php?tname=foodspice&dbid