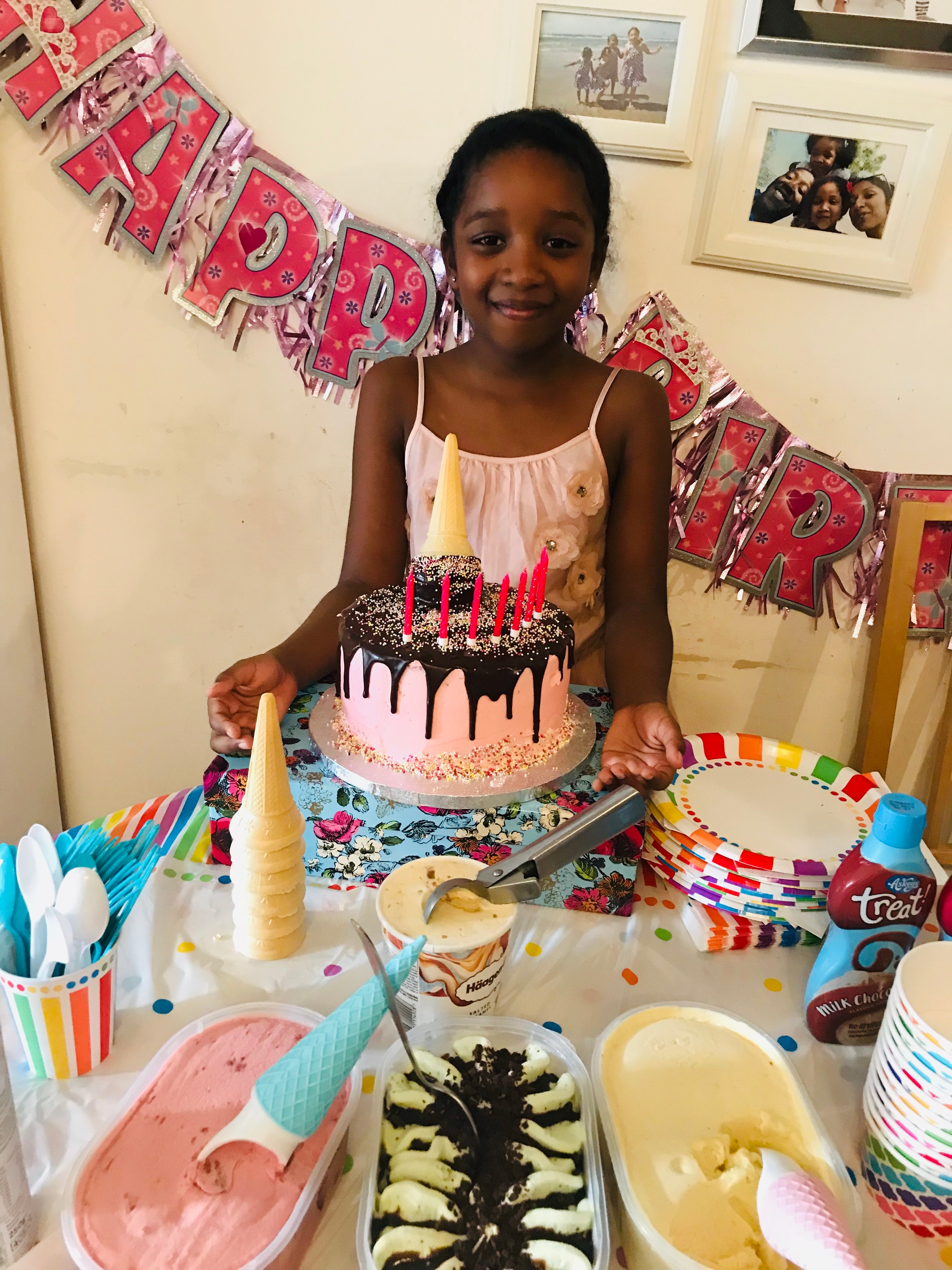 I wanted to do something different
Those of you who follow my blog know that I get pretty exited about making my daughter's birthday cakes....almost as excited as they get about eating them! I try to go with a different theme every birthday. For Mini Me 1's 9th birthday earlier this year it was all about unicorns (https://steemit.com/food/@mummyimperfect/how-to-make-a-two-tier-unicorn-rainbow-cake). I wanted to do something a little different for Mini Me 2's 8th birthday, but something that wouldn't require too much effort. So I decided on Ice Cream Parlour Party!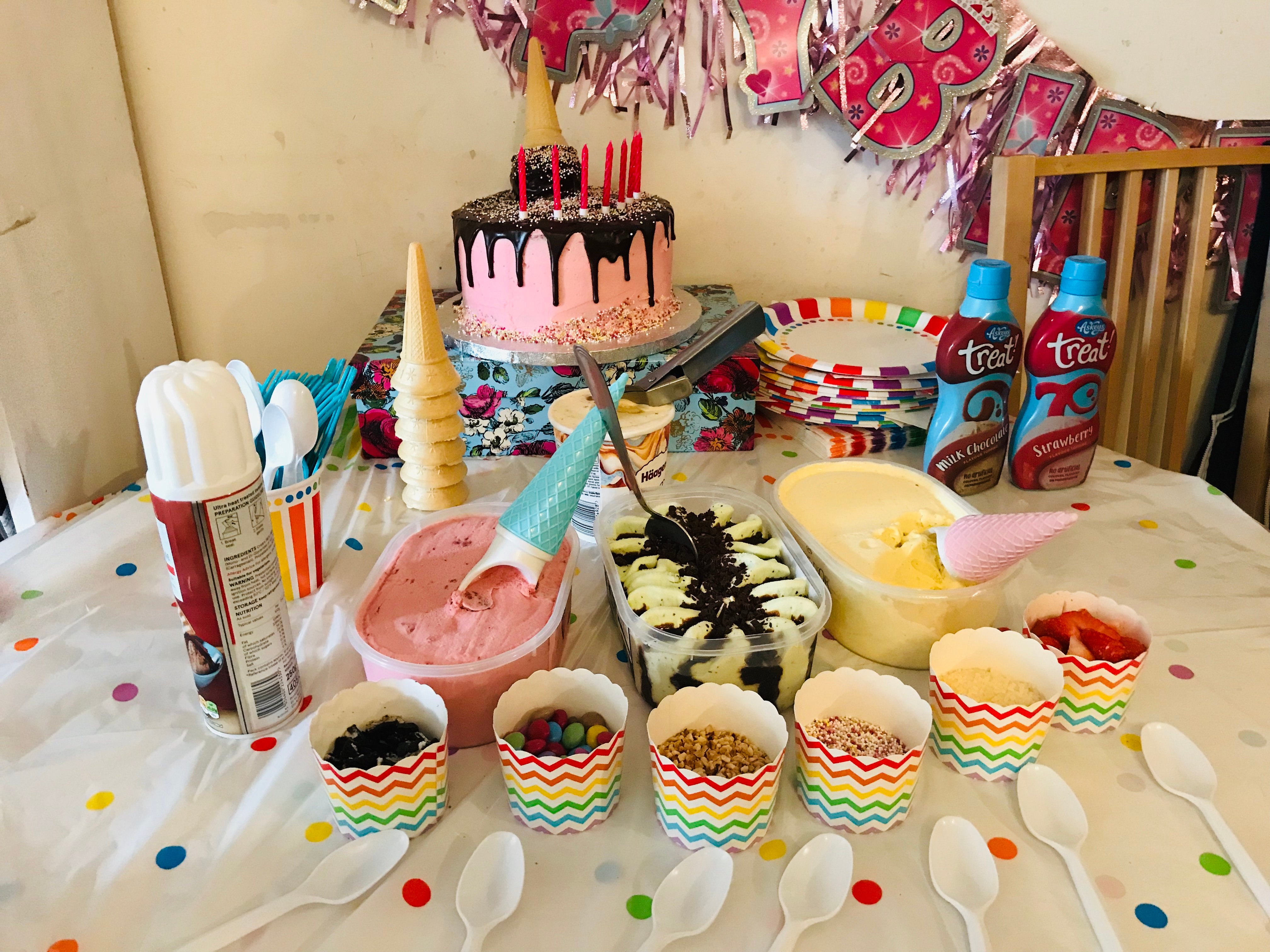 Build your own ice cream sundae
The idea was for the kids to build their own ice cream sundaes. I had ordered individual ice cream tubs, and smaller ones for the toppings. They were both from https://www.partypieces.co.uk as were the rainbow coloured tableware. I put out four different ice cream flavours - vanilla, strawberry, salted caramel and mint choc chip (Mini Me 2's favourite!). I filled the smaller tubs with different toppings that the kids could choose from - colourful sprinkles, smarties, toasted chopped nuts (I made sure no one had an allergy before I put those out!), small chocolate jazzies, popping candy, Oreo cookie pieces and chopped strawberries. I also had some ice cream cones, a can of whipped cream, strawberry sauce and chocolate sauce. This was basically the desert, as well as the birthday cake, which no one was interested in eating so I packed slices and put them in the kids party bags. I had only put savoury food and fruit out as part of the party buffet, didn't want the kids going home with type 2 diabetes!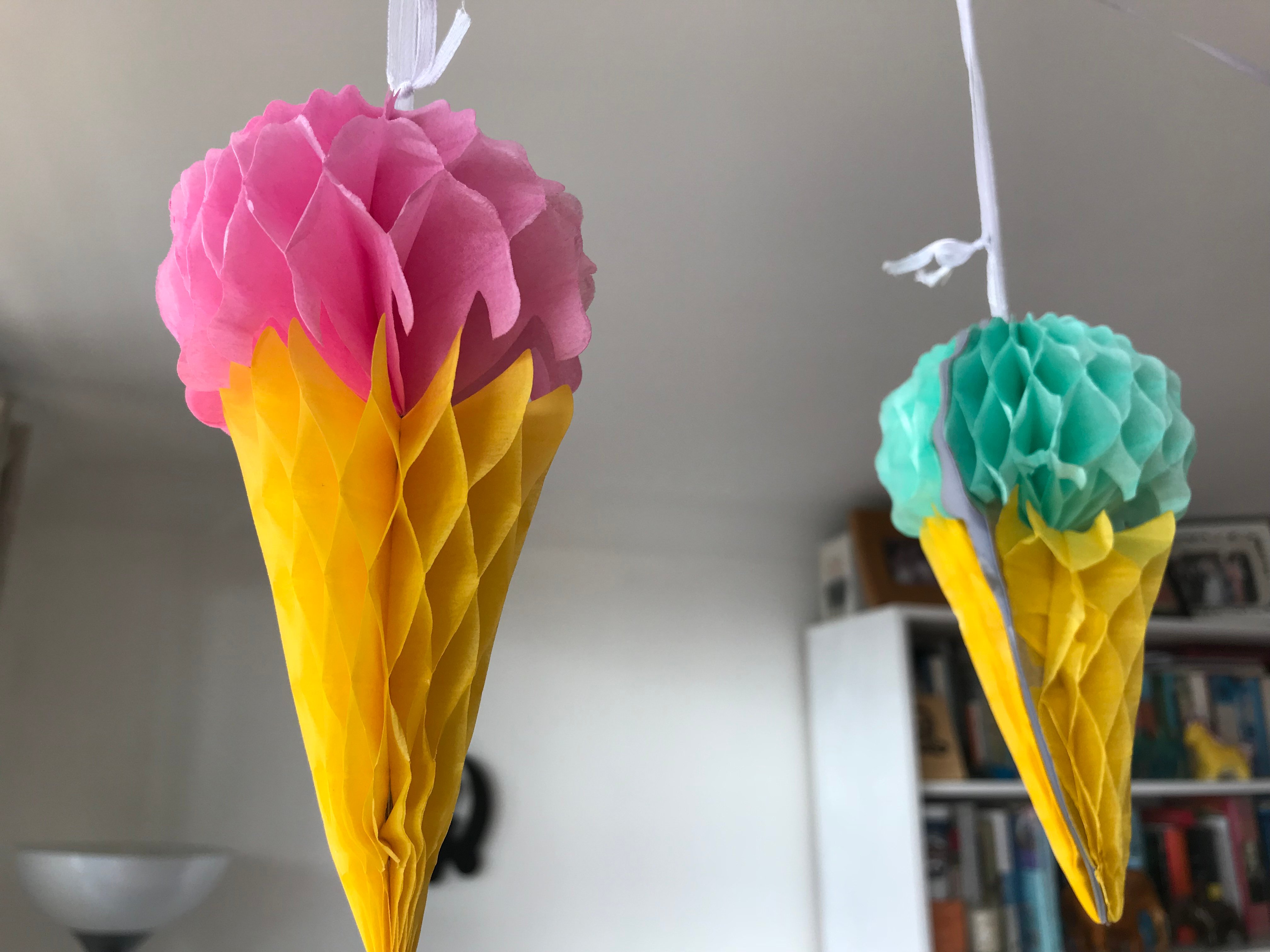 Everything was ice cream themed
According to my husband I went ham! I got some great ice cream hanging decorations from eBay. They cost £5.49 for two rows. They looked great and really set the scene. Even Mini Me 3 looked at them and said "Wow! Cool!".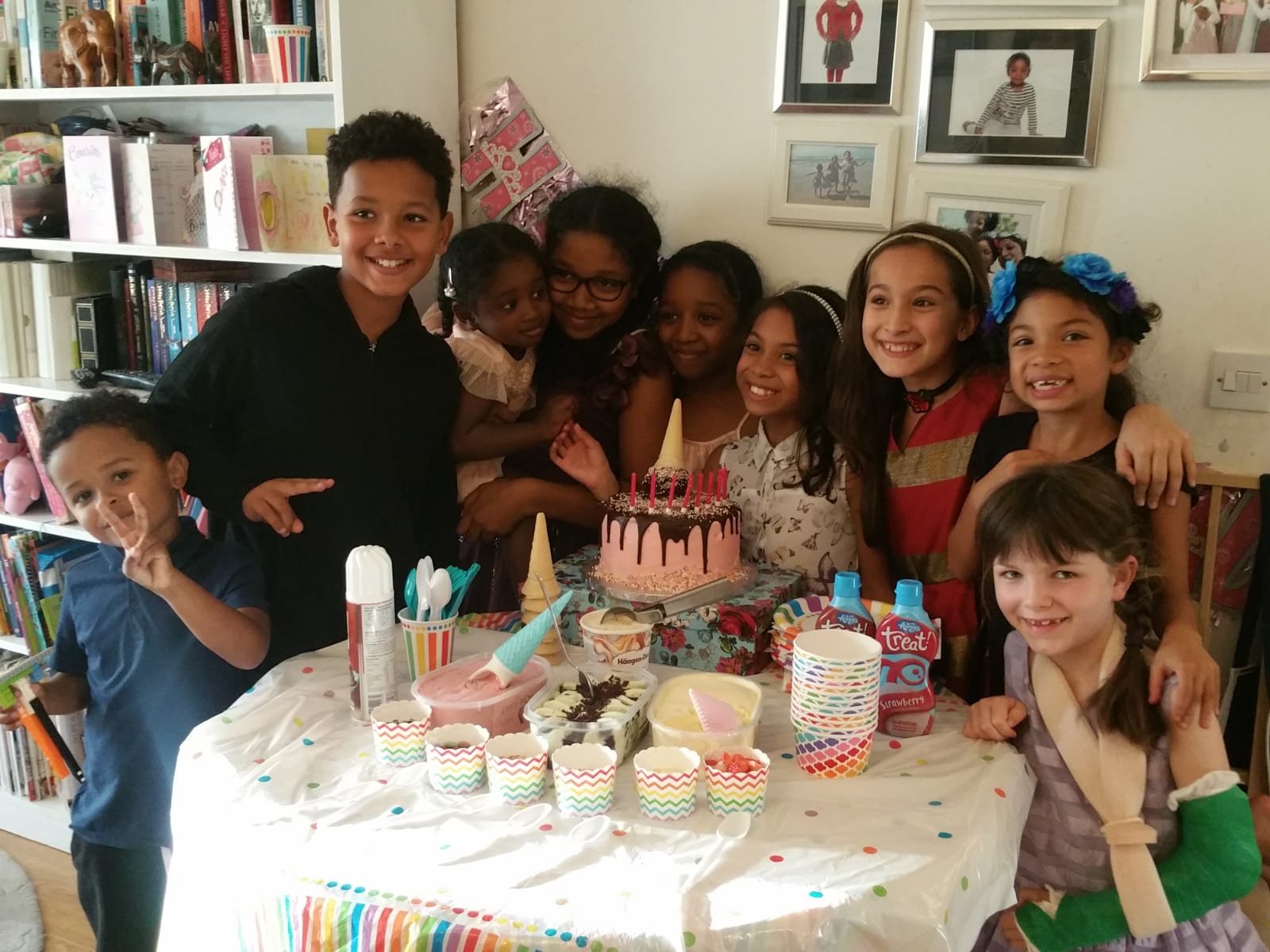 Party games
I got a huge piece of paper and (badly!) drew an ice cream sundae on it for the kids to play pin the cherry on the ice cream sundae. They were very forgiving and didn't really notice the shoddy drawing. I think they were too busy enjoying the game. Other party games included musical statues and karaoke.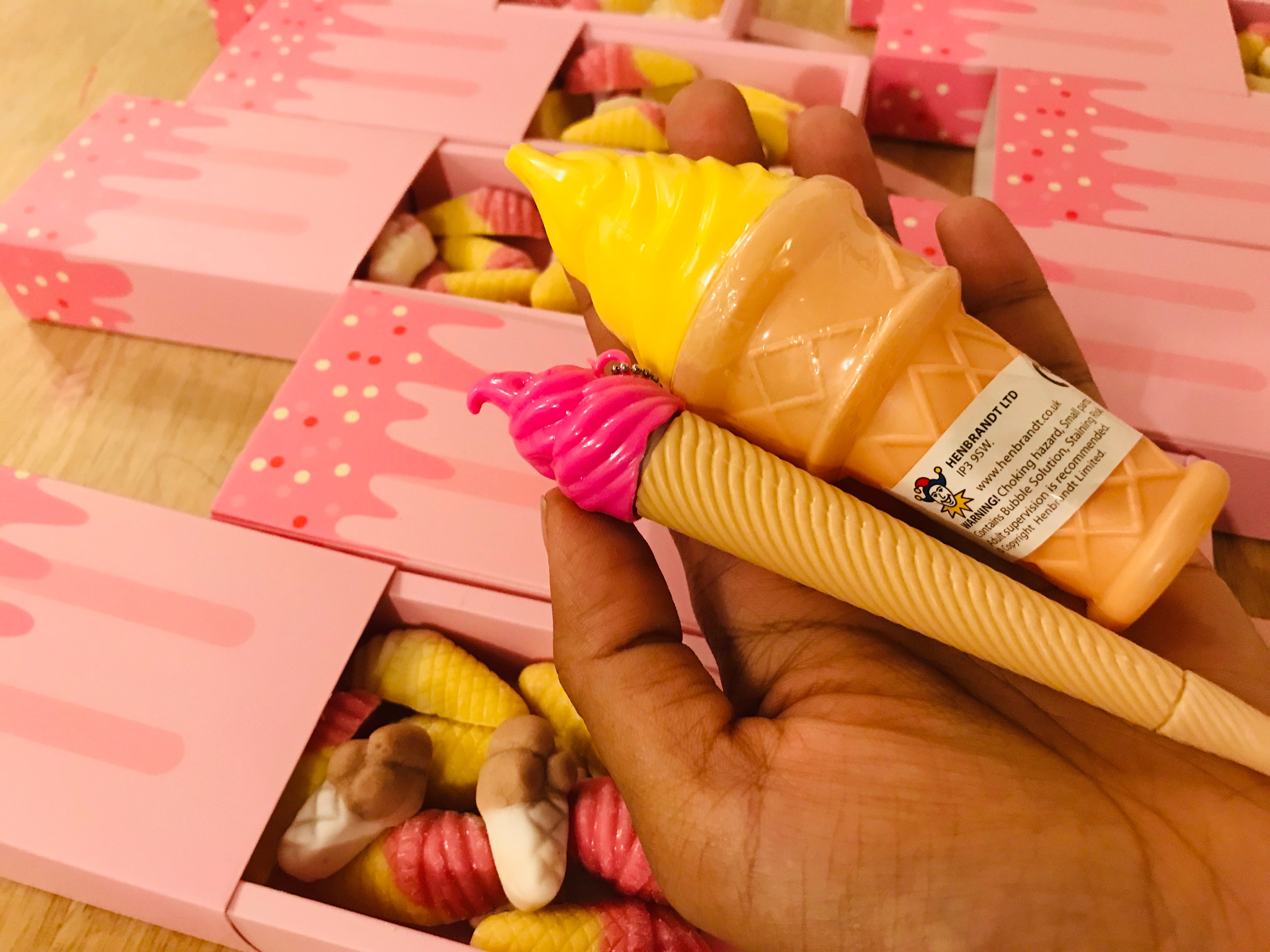 Party bags
For the party bags I put in an ice cream pen for each child. They weren't the best quality but they were from eBay and just under a fiver for 10 pens! I also added an ice cream shaped bottle of bubbles (£3.49 for a pack of 4 from party pieces) and an ice lolly shaped box filled with ice cream shaped sweets. My husband was right, I did go ham! The sweets were from eBay and Tesco, and the sweet boxes were from eBay at £4.99 for 10. They looked really cool and were quite big that they filled the party bags nicely. The bags were packed when I added a piece of foil wrapped cake.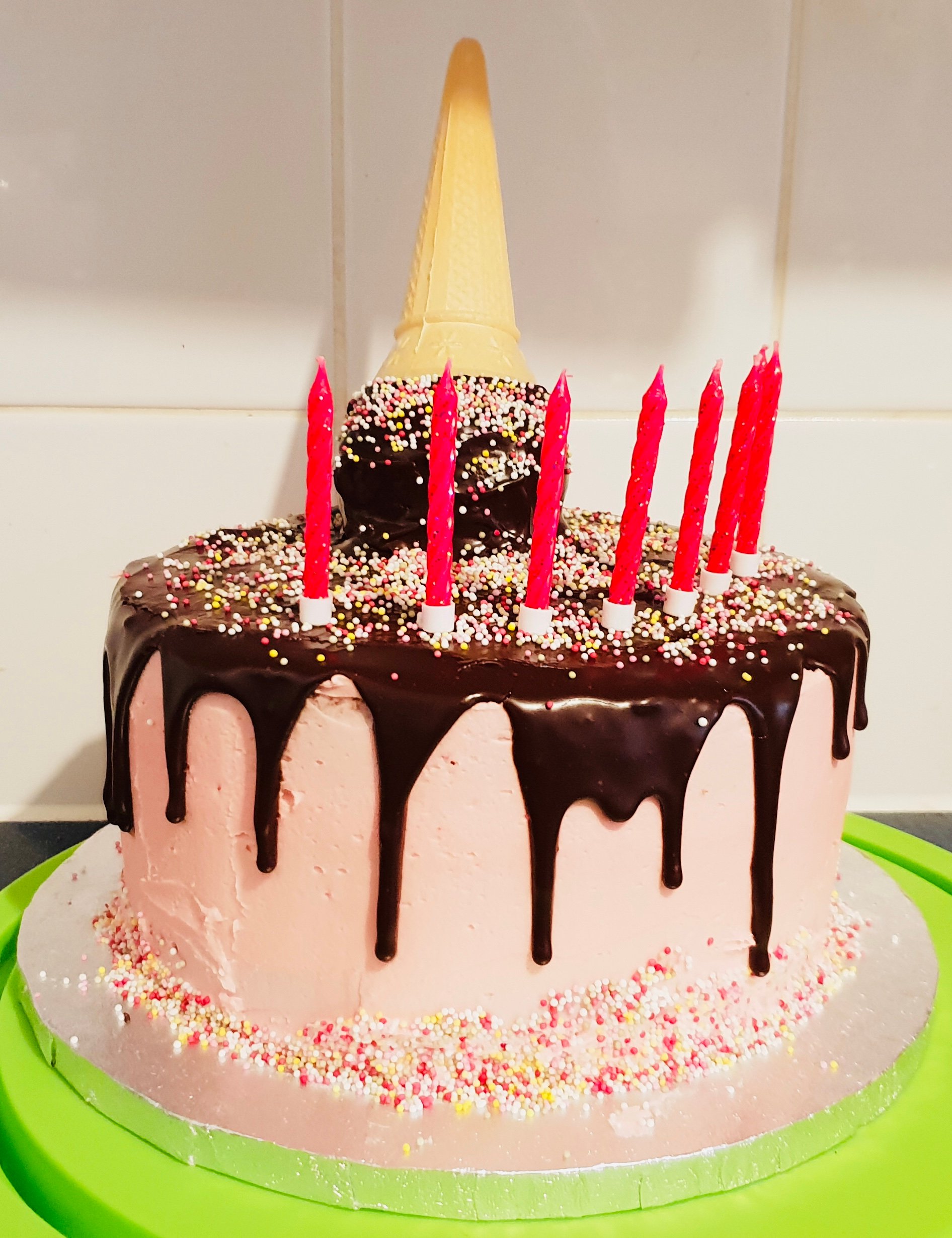 The cake
What brought it all together was the birthday cake. I had planned on making a mint choc chip birthday cake as Mini Me 2 loves that ice cream flavour but I tried it out a few weeks ago and she didn't actually like the cake. So I decided it to play it safe and make something everyone actually liked. I based the cake on the neopolitan ice cream flavours (vanilla, chocolate and strawberry). I made the chocolate layer using my usual chocolate cake recipe (https://steemit.com/food/@mummyimperfect/how-to-make-a-harry-potter-quidditch-chocolate-cake-vlog), the vanilla sponge was a simple easy recipe and I just put pink food colouring in the strawberry sponge as using real strawberries had not turned out well when I tried it a few weeks ago. I did however make strawberry buttercream to sandwich the layer. It was just regular buttercream with some smooth strawberry jam beaten into it. I also made chocolate buttercream to sandwich the chocolate layer. It was regular buttercream with some cocoa powder beaten into it. I covered the cake in pink vanilla frosting and the drip effect on top was runny chocolate ganache. The "ice cream" on the top was actually made using chocolate cake crumbs from the bit I saved when I levelled the cake off. I mixed the crumbs with a little buttercream so I could mould it into a ball. I then put it on top of the ganache covered cake and dripped more ganache over it and some sprinkles before finished with a cone. I have to say it tasted pretty good! I got a lot of compliments on it.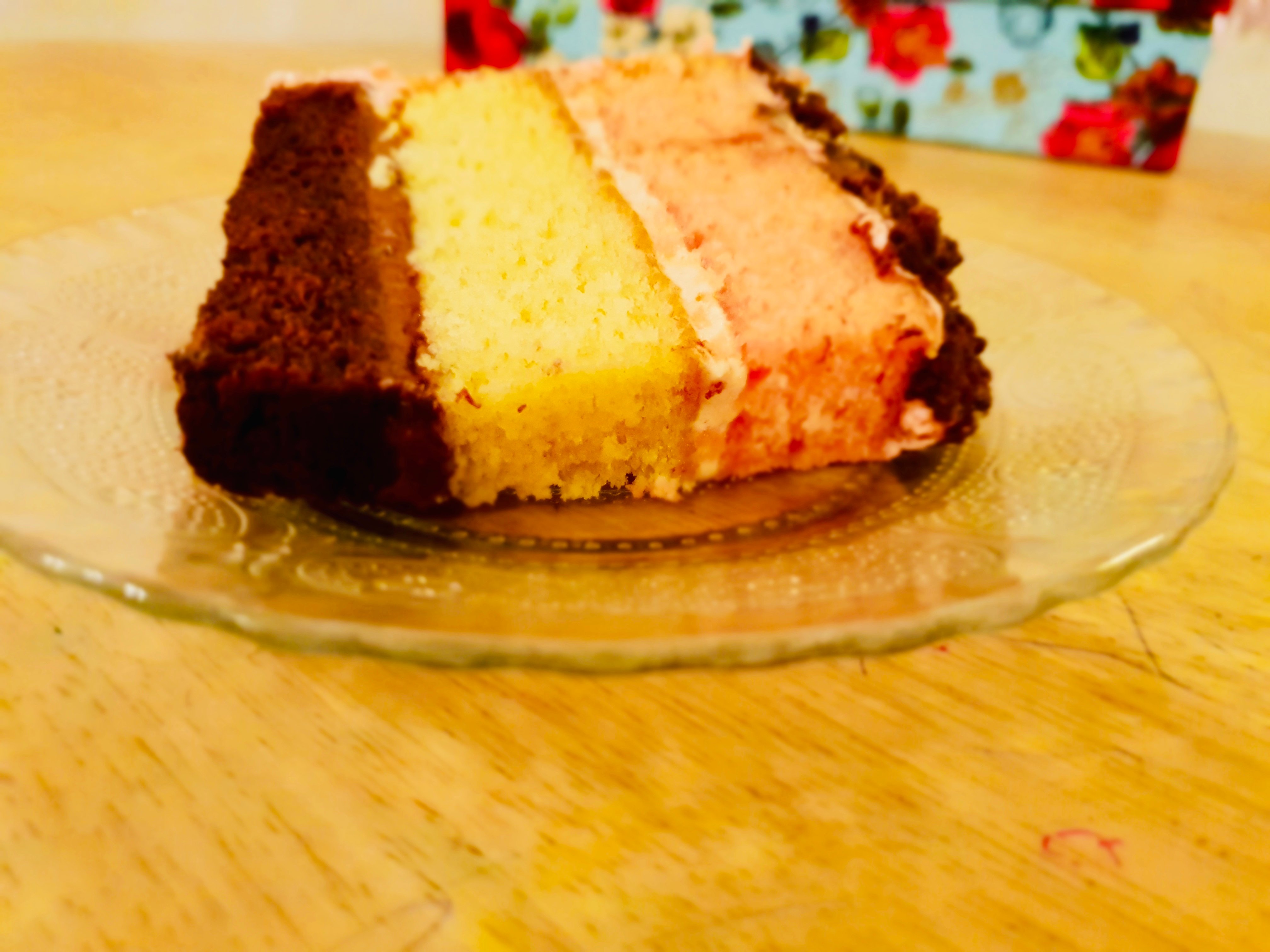 "10 out of 10 Mummy"
The kids loved the ice cream parlour! I would say be prepared for a mess if you are going to try this idea at home! The whole floor ended up being smeared in strawberry sauce! But then floors can always be mopped....if only I had remembered to pick up the rug and it put it away before the party! The main thing wa that Mini Me 2 thoroughly enjoyed it and felt special. At the end of the party she said to me "thank you so much for the party, I loved it. 10 out of 10 Mummy!". I'm still smiling :)
MummyImperfect x