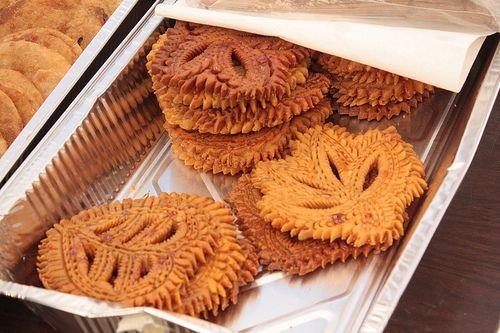 source
Ingredients :
For the cake
1.5 cups of rice powder
1.5 cups of water
1/2 teaspoon of salt
For molasses syrup
1 cup of date molasses
2/3 cup of water
It will take more
Oil as required for frying
Date cutting / large needle / toothpick, thin tin (for grooving), comb.
Instructions :
First heat the water in the oven. Add salt in it. When the water boils, pour the whole rice powder in the water.

Now keep the pot on low heat and cover the pot for about four to five minutes so that the rice powder is cooked nicely.

After four or five minutes, shake everything well with a wooden handle. Then turn off the oven and cover the yeast for a while.

Then smooth the yeast and cover with moth.

Divide the yeast into several parts and take one part and thicken the bread.
. Apply a little oil on the bread and cut the dates, make a design with a needle and comb. Cut a groove along the side of the cake with a tin sheet.
. When all the cakes are made in this way, heat the oil in the oven.
When the oil is hot, fry the cake one by one in deep oil over medium heat for a long time. Be careful not to overheat the oil. In hot oil the cake will turn red quickly but will not fold well inside.

When one side of the cake becomes golden brown, carefully invert the other side.

Once all the cakes are folded, drain the oil from the cakes and place on a separate plate.

Now make the cake syrup. To make cider, first add molasses and water to the pot. When the molasses melts and the vinegar boils well, take a little vinegar with a spoon and hold it in your hand to see if the fingers feel sticky. If the syrup is sticky or if it is made between two fingers, you will understand that the syrup is made. Remove the cilantro from the oven and let it cool slightly.

Now dip the fried cakes in this light hot gum syrup for about a minute. Then pour the extra cider from the cake and place the cakes on the plate.

Delicious and eye-catching nakshi cake made.