How to make simple rice cake mixed in the simple South of Vietnam is a very popular snack food in the South and many people love. Combining the different ingredients to produce a delicious and appealing product, you need to know how to choose the ingredients and how to process them. Today we will guide you how to make rice cake mix the simple South.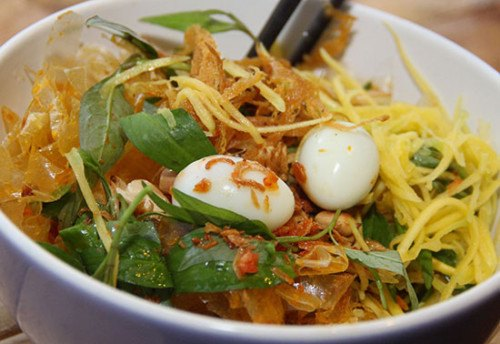 Ingredients: dry rice paper (round type, white): 1 x green mango: 1 fruit quail eggs: 10 fruits fresh fruit: 3 fruits Pork: 5g (toast) 40g Green onion and onion: 100g Vegetables: 50g (you chopped) Roasted peas: 50g Sautee: delicious with water. Salted shrimps
Note: You should leave your own raw materials even though they have already been processed.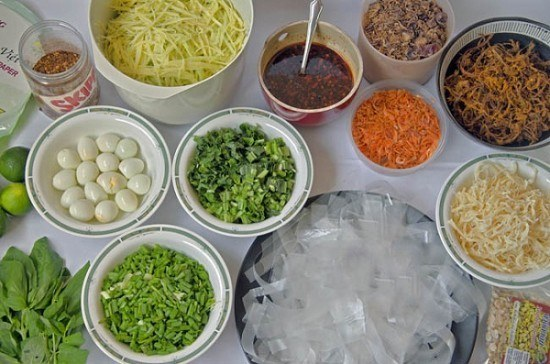 How to do it:
Step 1: Use the scissors to cut into long rectangles, wide.
Note do not cut, too short so that when you mix it is easy to soak through the water and scrape out. Recipes make pizza Dalat delicious crispy tan The secret to making delicious rice cake at home
Step 2: Mango you peel and cut into long fibers, separate bowl.
Step 3: Sliced ​​thinly sliced ​​onions, topped with hot oil, not so sweet when it comes to beautiful orange color, you turn off the kitchen. Continue to add 1 teaspoon of sauté and mix well and let cool.
Step 4: Squeeze the finely chopped green onions and add to the oil. When the onion leaves you stir a few turns off the stove, do not let the onion over will not be delicious. Step 5: Your eggs are boiled and peeled.
Step 6: For rice paper, mango, dried beef, pork shoulder, onion, grease and satay into the bowl. Continue to use less salt and water, use gloves mixed up. Finally, add the ground peanuts, add the peanut again, and then put the eggs.
So what are you waiting for that do not go to the kitchen for everyone to enjoy, raw materials you can also easily buy. Good luck.