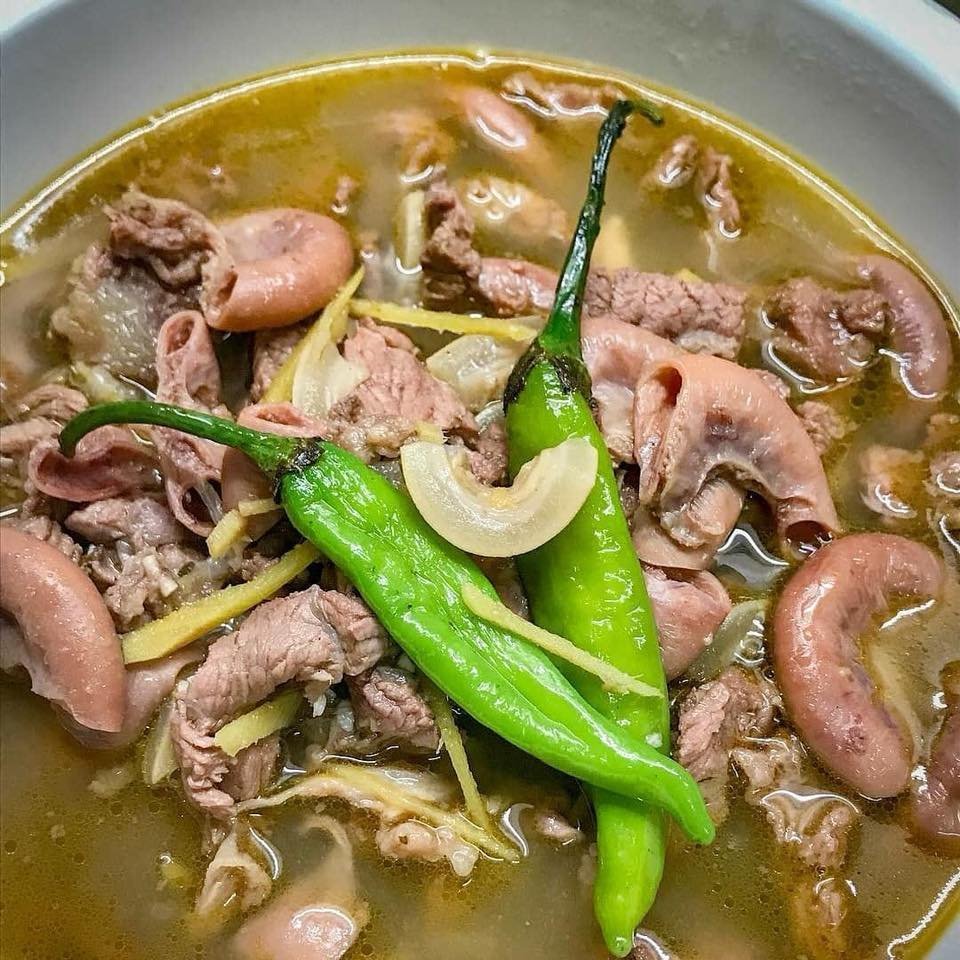 "PAPAITAN SOUP"
Papaitan Soup is one of the famous food in our country which is the Philippines. Mostly papaitan is made up and composed of either cow or goat innards. The term Pait is derived from the Filipino term and which means bitter in english. This papaitan soup is so hot and delicious soup that is commonly serve in public places such as restaurant and other Karenderia's here in the Philippines. papaitan soup is mostly consists of liver, kidney, heart pancreas, cube, tripe and other intestines of a cow or goat. Mostly some of papaitan is made up of a pig's innards but the most common main dish is usually the goat and or cow. This type of food that I am going to share is what I have tried to eat this day in our nearby karenderia store. This is so delicious because it taste a little bitter and spicy.
Here are some ingredients/recipe that I have searched in an internet in order to follow a good cooking strategy :
Papaitan Ingredients
1/2 kilo following beef innards; cut in 1" cube
tripe
liver
kidney
heart
pancreas
intestines
1 cup beef tenderloin; cut in 1/2" cubes
1/4 cup bile
1 onion; minced
4 cloves garlic; minced
1 head ginger; minced
1/4 cup onion leaves
5 Philippine bird's eye peppers (siling labuyo)
Salt and pepper
Fish sauce
Ingredients for cleaning and boiling the innards
1 lemon; sliced(optional)
8 kalamansi; sliced (optional)
Banana leaves (optional)
1 ginger root; crushed
Papaitan Cooking Instructions
Wash and mash the raw innards with salt and banana leaves to get rid of the odor.
When cleaned, boil in a large kettle with ginger and lemon or kalamasi until tender. Cut into 1/2 inch cubes/lengths. Set aside.
Saute ginger, garlic, and onion. When onion appears translucent, drop the beef innards.
Spice with salt and pepper and continue sautéing until enough broth comes out from the innards. Pour enough water to cover the mixture.
Bring to a boil and then drop the beef tenderloin. Stew the mixture until cooked, then drop the siling labuyo.
Add bile little by little, drop by drop, (be careful not to over bitter taste) and adjust seasoning with fish sauce according to taste.
Serve hot in a bowl and garnish with chopped onion leaves.
Cooking Tips
To make it healthy and if you have the time, cook the papaitan long before you intend to serve. Let it cool, then refrigerate. All the fat will solidify, and you can easily scrape it from the surface. The taste will not change, it will even improve as the meat and all the condiments will have blended so well in the broth already.
Stewing the mixture in low fire for long hours until it becomes yellowish in color will bring the best result.
Calamansi juice will further enhance the taste. And if you want a stronger pepper aroma but not the spice, put some chopped siling haba.
source : http://www.myfilipinorecipes.com/papaitan-pinapaitan
Location : Tubod, Lanao Del Norte
Camera: Oppo a3s
Thanks for passing by! I encourage everyone to taste this kind of food to taste how delicious our very own proud dish here in the Philippines.