Colombian Ajiaco is one of the most popular dishes in Colombia, is a very delicious stew, it consists of various solid ingredients such as legumes or tubers chopped into pieces, and small pieces of chicken. Depending on the area or the country it could include avocado.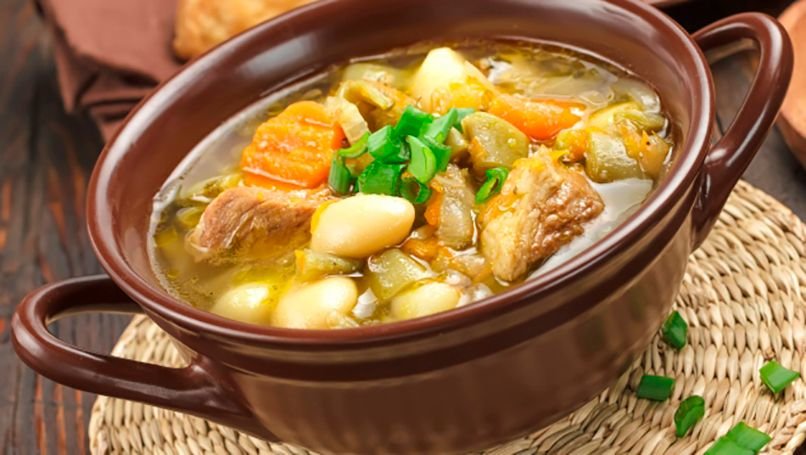 To prepare Colombian Ajiaco you will need the following ingredients:
7-1/2 cups of water
4 skinless/boneless chicken breasts
1 cup of Galinsoga Parviflora (Colombian plant)
2 garlic cloves
3-1/2 pounds of potatoes
1/2 chopped onion
4 ears of corn
1/2 cup of green peas
1 chicken bouillon cube
salt to taste
How to prepare Colombian Ajiaco:
In a big pot, add the 7-1/2 cups of water, all the chicken breasts and a half of the cup of Galinsoga Parviflora, then cook at low heat for about 40-45 minutes, once the chicken is cooked, cut it in small chunks and cover them with aluminium foil to keep the chicken chunks warm, don't throw the water away.
In the same pot filled with the same water you originally used to cook the chicken, add the 3-1/2 pounds of potatoes, the onion and the garlic. Then cook the mix for about two hours in order to soften the potatoes.
Add the chicken chunks, the 4 ears of corn (cut into pieces), the chicken bouillon cube, the green peas and salt to taste inside the pot. Mix carefully with all the ingredients, and cook for another hour at low heat.
Add the other half of the cup of Galinsoga Parviflora and cook for 5 more minutes.
Let the Ajiaco rest at room temperature for 20 minutes.
Then you can taste this magical Colombian flavor that will seduce your palate in a unique way.
*A very important thing about this soup is to cook all the ingredients at low heat.
*In some parts of Colombia, Ajiaco is served with capers, white rice and avocado.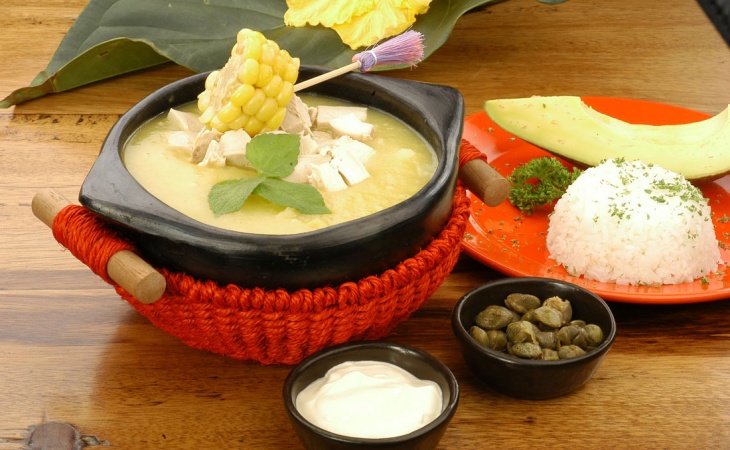 Sources of images:
http://www.quericavida.com/que-rico/modas-sabrosas/sabor-familiar-el-ajiaco-y-sus-diferentes-versiones-en-latinoamerica
http://www.elnuevosiglo.com.co/index.php/articulos/10-2017-el-ajiaco-una-delicia-en-el-adn-cachaco
I want to thank @cervantes @steemfamily @provenezuela @votovzla @goya #steemfamilyhi because of their role in the development of this steemit community.
Thanks to @Hogarcosmico @merlinrosales96 @bettino @rchirinos @annyclf @paolasophiat @luisrz28 @jesusrafaelmb